Our customers have been hired by:
Finding a new job is like a job in itself. You spend hours browsing through advertisements, selecting interesting offers, and writing job applications. The process can leave you feeling drained—especially if you don't hear back.
It's no wonder you're asking yourself: how many jobs should I apply for each day? 3? Over 10? A hundred?!
I've got the answer. And more than that—I'll share advice that will help you minimize the effort and increase your chances of landing an interview.
In this guide:
Tips on how many jobs should you apply for each week
How many applications it takes on average to land a job
Advice to help you apply for jobs faster
Tips to help you get a job with fewer applications
Want to save time and have your resume ready in 5 minutes? Try our resume builder. It's fast and easy to use. Plus, you'll get ready-made content to add with one click. See 20+ resume templates and create your resume here.
Sample resume made with our builder—See more resume examples here.
We've got several guides that can help you in your job search. Check the articles below:
You can also check our collection of resume examples for various professions.
How Many Jobs Should You Apply for?
At a glance, it seems that finding a job should be easy. With unemployment at a low 3.4% as of April 2023, many employers face labor shortages. They should jump at the chance to hire you.
So, why haven't they called you yet?
Most likely, it's because the numbers are against you. A good job offer can get 200+ applications. And do you want to know how many applications does it take to get a job?
Between 21 and 80, on average.
Take a deep breath. I know these numbers may sound discouraging. But that's not a reason to quit looking for a job. Instead, step up your game. Don't bombard employers with the same application again and again. If you don't tailor your resume to the job offer, you can send 200 applications and get zero callbacks.
So, how many jobs should you apply for? I recommend going for 2–3 job applications each day, or 10–15 applications in a week. Of course, this depends on the amount of time you have. Sticking to 2–3 applications per day will allow you to prepare tailored applications, rather than generic ones.
However, if you need a job now, this number can be small. Let's have a look at different situations and consider the best number of applications per day:
How Many Jobs Should I Apply to Per Day If I'm Graduating?
If you're graduating from high school or university, it's likely that you're actively looking for a job. But so are your fellow students. Beat them to the chase. Send a bit more than the 10–15 applications recommended above. Go for 15–20 job applications per week. Just remember to be realistic about your qualifications—it's not likely that you'll get a six-figure job straight after graduation.
How Many Jobs Should I Apply for a Day If I'm Unemployed?
Being unemployed is stressful. But it also gives you an advantage—you've got time on your hands, and you can use it for your job search. So, go for more than the average Joe and try to send 3–5 applications each day.
How Many Job Applications Per Day Should I Send If I'm Quitting My Job?
If you're currently employed, finding time for polishing your job applications might be difficult. But it can be so worth it! If you don't have enough time to send 2–3 applications a day, pick a specific time slot each weekend. Then, focus your full attention on searching for a new job. Even if you send just 5 applications each week, that's much better than 0.
One more thing—even if you hate your job, don't use your work time to apply for new positions. This could get you fired immediately. It's better to get a paycheck from a job you hate rather than get nothing.
How Many Applications Should I Send If I'm Changing Careers?
In this case, it all depends on how early you are in the process. Changing careers can be very complex, depending on your current job and the desired profession. If you're only beginning, dedicate your free time to learning about the new profession and getting all the formalities ready—certifications, licenses, required education, etc.
Once that's done, you can move on to searching for jobs. Use your free time each day to find job opportunities and send out job applications. Go for 10–15 applications per week.
Applying to Multiple Jobs at the Same Company
So, you've found a company that advertises several job openings, and they all sound exciting. In fact, you'd like to apply to a few of them. That's fine—but pick just two, maximum, and make sure you're really qualified for them. Then, make a tailored application for each job posting. Sending a generic resume and applying for too many positions will make a bad impression.
How can you learn about interesting job openings? See here: 5 Ways to Find a Job
How Much Time to Spend on a Job Application?
Well, that's a tough question. It all depends on your experience with applying for jobs as well as writing resumes and cover letters. It also depends on the company, the desired position, and the research you've done. Aaand the amount of information you include on your resume. See, there are tons of moving parts here.
However, aim for efficiency. Try to spend around 1–1.5 hours on each job application. This will allow you to find enough time each day or each week to apply to several positions. At first, you may need more time, for example, to learn about different resume formats and how to write a cover letter. But after a few tries, it will come easier.
Here are a handful of tips to help you speed up the process:
How to Apply for Jobs Faster
Prepare Reusable Content for Your Resume
Do NOT mistake this step for sending the same resume to a hundred jobs. That's a crime. What I mean is: prepare resume descriptions that you can mix and match to tailor your job application. Make a Word document with your resume contact information, work history, details about your education, a list of all hard and soft skills, names of certifications, etc. You can even write a sample resume profile and prepare descriptions of your professional achievements. Then, when you want to apply for a job, you can copy at least some of the information from this document onto your resume. That's a good way to write a resume quickly.
Try a Resume Builder
Online resume builders are pretty good at making job applications fast. They take care of the resume layout, offer a choice of the best resume templates, and make sure you don't forget anything essential. Many builders even offer pre-written text you can use to fill a few resume sections. They're not expensive, and it's worth paying for a resume builder if it can help you apply for more jobs.
When making a resume in our builder, drag & drop bullet points, skills, and auto-fill the boring stuff. Spell check? Check. Start building a professional resume template here for free.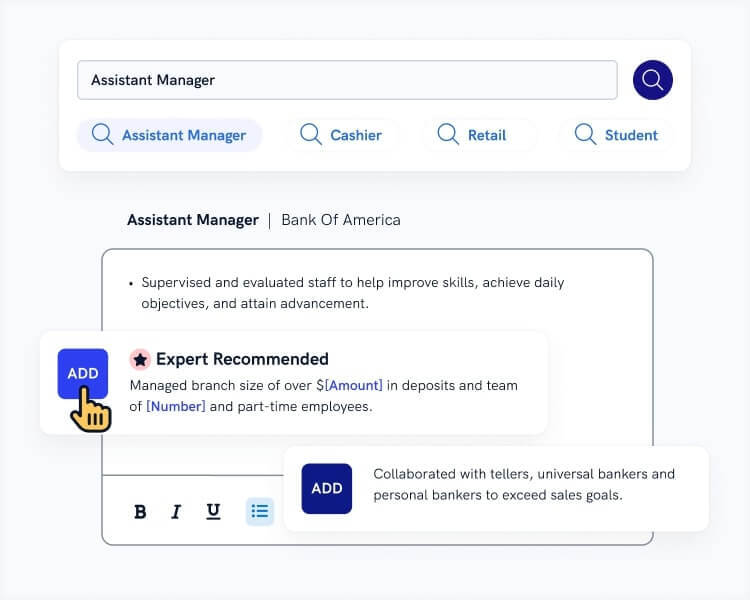 When you're done, Zety's resume builder will score your resume and our resume checker will tell you exactly how to make it better.
Use Professional Resume and Cover Letter Examples
You're truly lucky in this regard. You can find hundreds of resumes and cover letters online. Need a resume for someone with no experience? Check. Want a C-level cover letter sample? Check. Just browse through our collection and find what you need. Following a good example will help you when you feel stuck.
Use Keywords from Job Ads
Read job advertisements carefully because they tell you exactly what to put on your resume. For example, the requirements say, "looking for a communicative IT helpdesk agent with customer service skills." Then, your resume must mention communication and CS skills, as well as show examples of how you used them in the past. Master resume keywords, and writing a resume will become easier.
Track the Jobs You've Applied for
Don't just apply and forget about the job posting five minutes later. Make a spreadsheet and track each job application. Make notes about when you applied and jot down your progress. This will help you prepare to follow up later.
Patience is a virtue, but how long should you really wait? Learn here: What's the Average Wait After Applying for a Job?
How to Boost Your Chances of Getting a Job with Fever Applications?
I've mentioned that the average number of applications needed to get a job is 21–80. Obviously, you want to get a job offer letter ASAP. So, is there a way to be among those lucky ones who find a job after 21 applications or even fewer?
Yes—there are ways to boost your chances:
1. Quality Over Quantity
Pssst, I'll tell you a secret: the quality of your job application is more important than the number of applications you send. If your resume is bad, you can send it to 100 companies, who won't call you back. You'll be simply wasting your time. The strategy is to apply for jobs you're qualified for and ensure your job application screams quality.
If you're uncertain about what quality means, our career blog has all the answers. Learn what are the big resume dos and don'ts asap.
2. Write a Targeted Resume
I will repeat this again and again: target your resume at the job you want. Sending a unique resume each time will increase your chances of getting an interview invite. I know—you're busy, and writing a resume takes time. But at the end of the day, this can help you get the job sooner.
3. Optimize Your Resume for ATS
Businesses use ATS scans to pre-select job applicants. These systems reject all resumes that don't fit the requirements. They also discard applications which can't be scanned—for example, resumes that use fancy fonts or excessive visuals. If you want a human to read your application, make an ATS-optimized resume.
4. Always Write a Cover Letter
I get it, nobody likes writing cover letters. But they give you an opportunity to show your worth in a more personal way than your resume does. And there's one more thing—many hiring managers reject applicants who don't send one. Don't risk it. Learn how to write the perfect cover letter and create a unique one for each application.
Plus, a great cover letter that matches your resume will give you an advantage over other candidates. You can write it in our cover letter builder here. Here's what it may look like: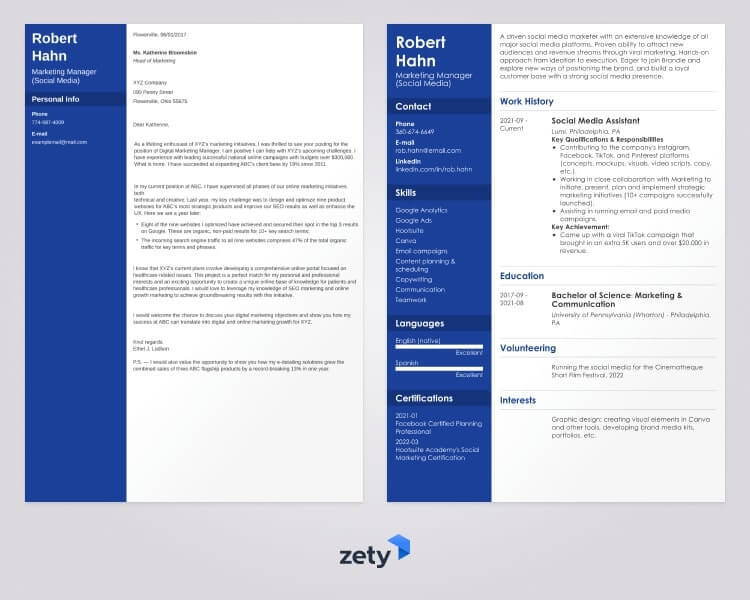 See more cover letter templates and start writing.
5. Improve the Job Application Email
OK, your resume and cover letter are perfect. You're a great fit for the job. But still, no interview invite. What might be wrong? Well… Maybe your job application email wasn't that great. Maybe it went straight to spam? Or got lost among dozens of other emails in the recruiter's inbox? Spend a few minutes learning how to email a resume and what to say in an email with your resume and cover letter. It's really worth it.
6. Follow Up on Job Applications
A week passed, and you haven't heard from them. Maybe the company confirmed receiving your application and said they'll reach out but then didn't. What do you do? Give up? Definitely not. Following up on a job application is a great way to remind them you're out there and ready to talk.
7. Invest in Your LinkedIn Profile
Applying to job postings is not the only way to find a new position. Why not let headhunters scout you? Optimize your LinkedIn profile, update your work experience, and even share a post saying what kind of job you're looking for.
8. Check Your Professional Network
Talking about LinkedIn: scroll through posts from your connections and see if anyone's looking for job candidates. That's a good start to use your professional network. You might also ask your friends whether the companies they work for are hiring. Many businesses rely on referrals and rather hire someone from recommendations. If that fails, check networking opportunities in your area. Maybe there's an industry event coming up, and you can use it to meet other professionals.
You might get a surprise phone call any time. Be prepared! Use these 10+ Phone Interview Tips
Key Takeaways
That was a lot of information. Let's sum up briefly:
Try to apply to 2–3 jobs daily, or 10–15 job postings in a week.
Spend around 1–1.5 hours polishing your job application every time.
Always make a tailored resume and cover letter.
Perfect the job application email so it doesn't go to the spam folder.
Follow up on job applications 1–2 weeks after applying.
Use your network to learn about job opportunities.
That's it! Good luck finding that dream job!
Want to share your thoughts? Got any tips for other job applicants? Feel free to let us know in the comments below.
About Zety's Editorial Process
This article has been reviewed by our editorial team to make sure it follows Zety's editorial guidelines. We're committed to sharing our expertise and giving you trustworthy career advice tailored to your needs. High-quality content is what brings over 40 million readers to our site every year. But we don't stop there. Our team conducts original research to understand the job market better, and we pride ourselves on being quoted by top universities and prime media outlets from around the world.
Sources