3 Cover Letter Paragraphs That Every Cover Letter Needs
Are you wondering how many paragraphs should a cover letter have? We've got the answer. Learn about the 3 essential cover letter paragraphs and follow the writing tips.
You started scribbling your cover letter, but then you got stuck. You've seen hundreds of examples, but they're all so different. Some are short, like an email, others seem like a biography. How many paragraphs should a cover letter have? One? Five? Over 10?
Take a deep breath and relax—we've got you covered. This guide is all about cover letter paragraphs and how much you really need to write.
This guide will show you:
Great examples of the main cover letter paragraphs.
Explanation of how many cover letter paragraphs are essential.
Tips for writing each cover letter paragraph.
Want to write your cover letter fast? Use our cover letter builder. Choose from 20+ professional cover letter templates that match your resume. See actionable examples and get expert tips along the way.
Sample cover letter for a resume—See more cover letter examples and create your cover letter here.
Make sure you know the fundamentals of cover letter writing. These guides can help:
You can also check our cover letter examples collection to get inspired.
Now, let's talk about those mysterious cover letter paragraphs:
How Many Paragraphs Should a Cover Letter Have?
The standard cover letter format includes 3 main paragraphs:
The central paragraph can be split into two parts—one focused on relevant experience and skills and the other explaining what the candidate can do for the company.
Of course, these 3 main cover letter paragraphs don't cover all elements of the letter—you need to remember to add a cover letter header at the top of the document as well as a professional sign-off at the end of it. But these two parts don't include full sentences, so they're not considered paragraphs.
Wrapping all the important information in three or four cover letter paragraphs helps to achieve the perfect cover letter length, which is around 200–400 words. It's enough to include everything an employer needs to know about you.
Now, let's look at each cover letter paragraph in more detail:
Opening Cover Letter Paragraph
The first cover letter paragraph introduces you to the hiring manager. And the way you introduce yourself can make or break your chances of getting the job. Nail it using the following tips:
How to write the first cover letter paragraph:
Aim for 3–4 sentences and a conversational tone (but not super informal).
Say who you are and why you're writing.
Express your genuine interest in the position.
Hook the reader by recalling a recent achievement or showing your knowledge about the company.
Take a look at the example below:
Opening Cover Letter Paragraph Example
Dear Clotilde,
I've always admired the quality of services as well as the welcoming, people-centric atmosphere at each of your locations in the Hampton area. As a mother of two, I have visited several health offices around the city, and Cloud Health Clinic sets an example that's unmatched by any other practice. I was excited to learn about the opening for a Nutritionist position at your Rainstorm Drive location, as I believe I'm a great fit for this role and would be thrilled to hop on board and join other professionals on the team.
Selling yourself in a cover letter is not easy at first try, but once you get the hang of it, you'll compose job-winning letters in the blink of an eye.
Central Cover Letter Paragraph
The main body of a cover letter must prove you're qualified for the job. You can't leave any doubt about it. If you're an entry-level applicant or a student, you can write one middle cover letter paragraph to go over your skills and knowledge. Experienced professionals will benefit more from splitting this part into two middle paragraphs.
How to write the central cover letter paragraph:
Pick 3–4 skills mentioned in the job description and provide examples of your relevant experience.
Highlight a professional achievement that aligns with the position description.
Show how your work can contribute to the company's goals.
Say how the company will benefit from hiring you.
Take a look at the example below:
Main Cover Letter Paragraphs Example
In my current role as a Clinical Nutritionist at Bloom Health Clinic, I have excelled in performing all my essential duties, including evaluating patients' nutritional status during interviews, developing individual diet plans, and keeping all patient information up to date. Collaboration and communication skills are a significant part of this job, and I strive to succeed by regularly teaming up with my colleagues and making sure that we're all on the same page.
In the position description, you mention that you'd like to grow the nutrition department of the clinic in the foreseeable years. I'm sure that I could contribute to this goal. At my current placement, I developed a series of 10 training sessions focused on improving the staff's knowledge of nutrition. Working at Cloud Health Clinic would give me an opportunity to utilize my experience as a trainer to provide workshops for physicians and nurses.
You can find more inspiration for this part in this guide: What's the Perfect Cover Letter Like?
Closing Cover Letter Paragraph
The best cover letters end on a high note. Saying "Thank you for your consideration" is not the way to go—it sounds flat and uninteresting. Instead, show your initiative and suggest the next steps. It's much more impressive.
How to create the final cover letter paragraph:
Repeat your interest in the job and thank the reader for their time.
Include a Call to Action—suggest a meeting or a phone call to discuss the matters further.
Add a P.S. with a unique value proposition to convince the reader of your worth.
Here's an example:
Final Cover Letter Paragraph Example
I appreciate this opportunity to show how my experience and skills can benefit Cloud Health Clinic. How about a call on Thursday to discuss the requirements of this position in more detail?
Best regards,
Barbra Perth
P.S. — I would also love to share my idea on broadening the array of services available at Cloud Health Clinic to bring in more clients.
These are all the cover letter paragraphs you need to write. Now it's time for you to give it a try!
When making a resume in our builder, drag & drop bullet points, skills, and auto-fill the boring stuff. Spell check? Check. Start building a professional resume template here for free.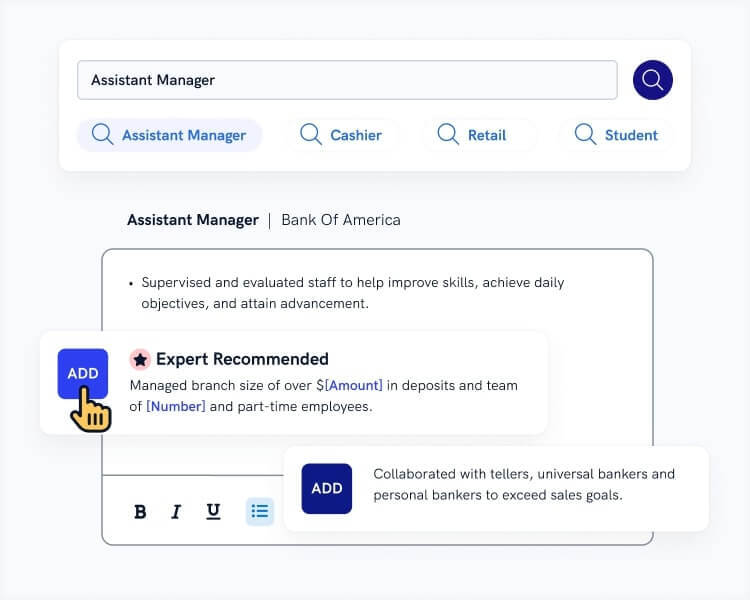 When you're done, Zety's resume builder will score your resume and tell you exactly how to make it better.
Key Takeaway
To sum up: A typical cover letter includes the following paragraphs:
Opening paragraph that introduces the author and expresses their interest in the job.
Main paragraph (or two), which presents the applicant's experience and qualifications for the position.
Final paragraph with a Call to Action.
Thank you for reading this short guide! Now, over to you:
- Do you enjoy writing cover letters?
- Which cover letter paragraphs are the most difficult to write?
- Got any tips for writing the perfect cover letter opening paragraph?
Let us know in the comments below!
About Zety's Editorial Process
This article has been reviewed by our editorial team to make sure it follows Zety's editorial guidelines. We're committed to sharing our expertise and giving you trustworthy career advice tailored to your needs. High-quality content is what brings over 40 million readers to our site every year. But we don't stop there. Our team conducts original research to understand the job market better, and we pride ourselves on being quoted by top universities and prime media outlets from around the world.