CV vs Resume in Australia—What's the Difference in Meaning?
CV? Resume? What's the difference? You no longer have to guess and jeopardise your chances of getting the job. Read the article to learn the difference between a CV and a resume.
Imagine you're in your class asking a simple question, and what the professor responds with is—
Oh! It actually depends on a number of factors…
And from that moment, you knew. It was a mistake.
It was no mistake, though, to try to find out the outcome of CV vs resume sparring. My answer is not one of the professor's. I am to the point. Let's get to it then!
This guide will show you:


Whether a CV is the same as a resume with a template.
The difference between the CV and resume meaning in Australia and other parts of the world for you to acknowledge before sending a job application.
Want to save time and have your resume ready in 5 minutes? Try our resume builder. It's fast and easy to use. Plus, you'll get ready-made content to add with one click. See 20+ resume templates and create your resume here.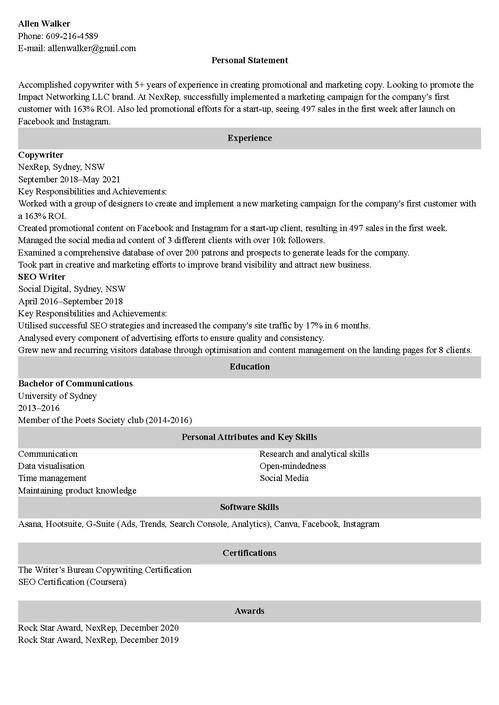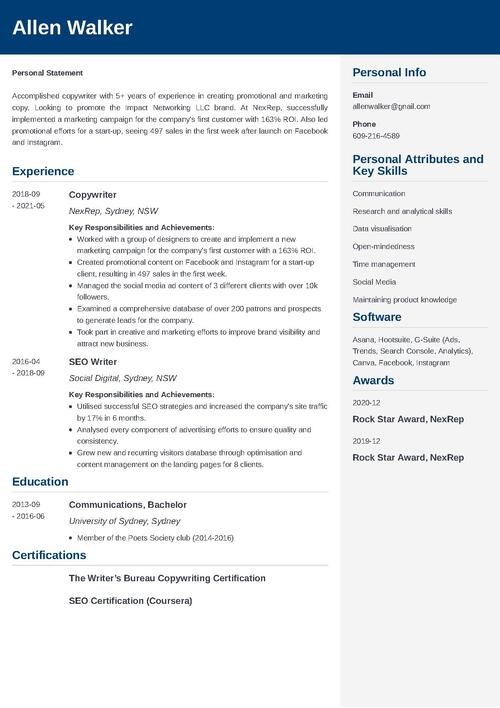 Sample resume made with our builder—See more templates and create your resume here.
CV / Resume Template
Allen Walker
Phone: 609-216-4589
E-mail: allenwalker@gnail.com
Personal Statement
Accomplished copywriter with 5+ years of experience in creating promotional and marketing copy. Looking to promote the Impact Networking LLC brand. At NexRep, successfully implemented a marketing campaign for the company's first customer with 163% ROI. Also led promotional efforts for a start-up, seeing 497 sales in the first week after launch on Facebook and Instagram.
Experience
Copywriter
NexRep, Sydney, NSW
September 2018–May 2021
Key Responsibilities and Achievements:
Worked with a group of designers to create and implement a new marketing campaign for the company's first customer with a 163% ROI.
Created promotional content on Facebook and Instagram for a start-up client, resulting in 497 sales in the first week.
Managed the social media ad content of 3 different clients with over 10k followers.
Examined a comprehensive database of over 200 patrons and prospects to generate leads for the company.
Took part in creative and marketing efforts to improve brand visibility and attract new business.
SEO Writer
Social Digital, Sydney, NSW
April 2016–September 2018
Key Responsibilities and Achievements:
Utilised successful SEO strategies and increased the company's site traffic by 17% in 6 months.
Analysed every component of advertising efforts to ensure quality and consistency.
Grew new and recurring visitors database through optimisation and content management on the landing pages for 8 clients.
Education
Bachelor of Communications
University of Sydney
2013–2016
Member of the Poets Society club (2014-2016)
Personal Attributes and Key Skills
Communication
Research and analytical skills
Data visualisation
Open-mindedness
Time management
Social Media
Maintaining product knowledge
Software Skills
Asana, Hootsuite, G-Suite (Ads, Trends, Search Console, Analytics), Canva, Facebook, Instagram
Certifications
The Writer's Bureau Copywriting Certification
SEO Certification (Coursera)
Awards
Rock Star Award, NexRep, December 2020
Rock Star Award, NexRep, December 2019
Read to find out:
Let's jump right in—
Is a CV a resume in Australia?
Yes.
A curriculum vitae (CV) and resume are the same things in Australia. They both are a simple representation of your work history, summarising the professional highlights and skills you've gained throughout your career that you use to apply for jobs in the private or public sector.
What to include in a CV and resume?
Your CV or resume should include the following sections:
Heading
Professional statement
Employment history
Education
Key skills and personal attributes
Other: certificates, awards, foreign languages, hobbies & interests.
CV vs resume in various parts of the world
Most of the time, the terms CV and resume aren't used interchangeably.
In the US and Canada, the term CV applies only to lengthy applications for the academy or research placements. To apply for jobs, you should use a resume that's usually a one-page document—the one you'd use in Australia.
Also, don't get confused if you apply for jobs in the UK or New Zealand. They use the term CV more often but it still is your resume—a summary of relevant experience with an overview of your professional achievements.
In India and South Africa, both terms are used quite frequently and refer to a resume-like document.
When making a resume in our builder, drag & drop bullet points, skills, and auto-fill the boring stuff. Spell check? Check. Start building a professional resume template here for free.
When you're done, Zety's resume builder will score your resume and tell you exactly how to make it better.
Key Takeaway
Let's do some recap:
Resumes and CVs are the same things. They're short and summarise the main highlights from your career. You can use them to apply for any kind of job.
There are a number of sections you should include in your resume and CV: heading, professional statement, experience, education, skills, and other additional information.
In different parts of the world, CVs and resumes have different meanings.
And that's that.
Please tell us—
Do you have questions about the Australian CV or resume? Did you know of the differences between them before the article? Are the differences between the resume and CV still confusing to you?
Give us a shout in the comments! Let's get the conversation rolling.