How do you write a two-week notice letter? We'll get to this shortly, but first:
Woo Hooo!!!
You're leaving! Outta here! Hitting the road and setting fire to the rear view!
You waltz into the office singing Johnny Paycheck. Then you channel Jennifer Aniston's Chotchkie's scene from Office Space.
Two weeks later, you're unemployed and living on Top Ramen. Worse, you can't get a new job because your old employer won't provide a reference.
Hmm... Maybe you should have split with more professionalism?
So...
How to resign gracefully?
Want to save time and have your resume ready in 5 minutes? Try our resume builder. It's fast and easy to use. Plus, you'll get ready-made content to add with one click. See 20+ resume templates and create your resume here.
Sample resume made with our builder—See more resume examples here.
1
How to Write a Simple Two Weeks Notice Letter
"She was a fantastic employee. We'd hire her back in a heartbeat."
Your goal: To get your former boss to say that to a new employer.
Your best chance? Knowing how to write a great two weeks notice letter.
Here's the perfect simple 2-week notice letter format.
How to Write a Nice Two Weeks Notice Letter
A good formal letter with two weeks notice must stay positive.
You could just say, "Consider this my two weeks' notice," and be done with it.
But remember your goal. You want that old boss to think highly of you.
Follow the sample two weeks notice resignation letter template below to do it right.
[Your Contact Info]
[The Date]
[Your Boss' Contact Info]
Dear [Boss' Name],
[State that you're resigning, and when.]
[Say something positive about the job.]
[Offer to help make a smooth transition.]
Sincerely,
[Your Signature]
Your Typed Name
Will your boss jump up and down for joy? No. But at least you're not jetting like Edward Norton in Fight Club.
Make it read like a thank you letter. Come reference time, your boss will give you that all-important thumbs-up.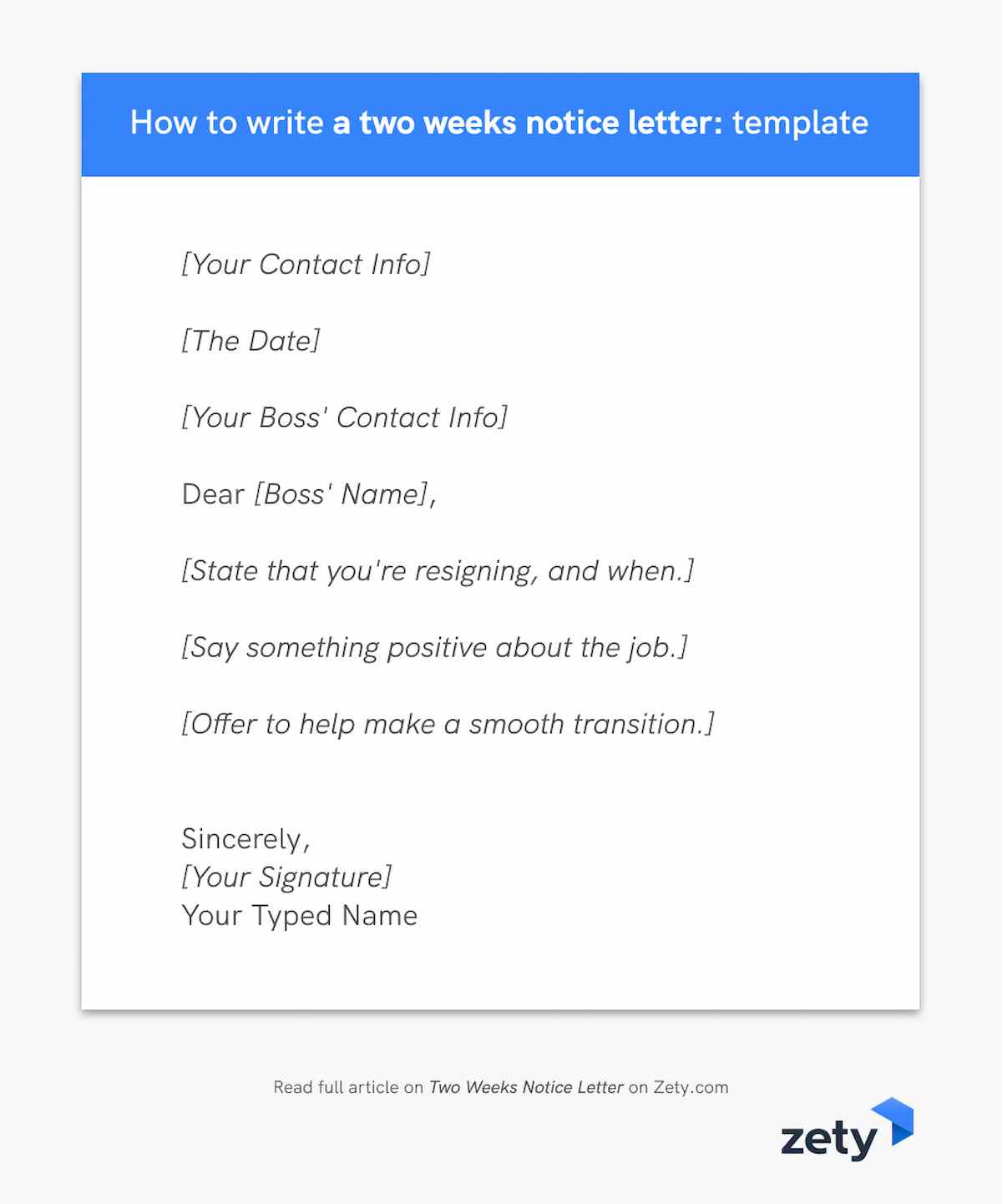 Pro Tip: Need tips for how to write a two weeks notice email, and what to put in it? You'll get some fantastic resignation email pointers next.
Before you write your 2 weeks notice letter, make sure quitting is the best choice. See this guide: How to Quit a Job Gracefully [What to Say]
2
How to Write a Two Weeks Notice Email
Picture this:
You send a two weeks notice letter by email. Your boss laughs so hard everybody thinks there's a hyena in the office.
You worry that an "I Quit" cake would have been better, or quitting via Facebook Live.
Can you resign by giving 2 weeks notice in an email?
Absolutely. How to write a two week notice letter and how to write an email resignation are very similar.
Just leave the contact info off the top, and put your info on the bottom.
Sample Two Week Notice Resignation Email
Resigning via email? Use this free, simple 2 week notice letter sample. It shows how to write a two weeks notice letter electronically.
Dear [Boss' Name],
[Say you're resigning, and when.]
[Say something positive about the job.]
[Offer to help make a smooth transition.]
Sincerely,
[Your Name]
[Your Contact Info]
You'll also need a 2 weeks notice email subject. That's as simple as:
Resignation - [Your Name]
Next, let's look at what to say in a two week's notice letter, and why.
Pro Tip: Resist the urge to call out your boss or coworkers in a letter of resignation. Your letter just needs to resign, say when, and stay positive.
Before you send your resignation letter by email, make sure your resume is updated. Use our fast resume builder and templates to create your resume in 5 minutes.
3
What to Include in a Two Weeks Notice Letter
Imagine you're putting patches on a pair jeans you've had for years.
You can't afford a new pair because you botched your two weeks notice letter.
You left out valuable info like the timeline and the offer of transition help.
That insulted your ex boss. Since then, every time a new employer called, he gave them an earful.
Check out these sample 2 weeks notice letters.
They show how to write a simple two weeks notice letter. They also show what to include, and why each piece is so important.
Two 2 Weeks Notice Examples [Resignation]
The most vital part of a notice of resignation? The resignation.
It includes the announcement (you're resigning) and the timeline (two weeks from now).
You'll also add your address, the date, and your boss' address at the top.
Right
Conor Shanahan
586 Peck Court
Anaheim, CA 92805
714-320-8765
conorqshanahan@gmail.com
11/22/17
Manuel Arroyo
District Manager
Capity, Inc.
518 Parkview Drive
Anaheim, CA 92801
Dear Mr. Arroyo,
I'm writing to inform you of my resignation from Capity, Inc., effective two weeks from today.
You can almost hear Mel Gibson yelling "Freedom!" But that's really all you need to put in a letter of resignation.
The rest is there to keep your valuable business relationship alive and kicking.
Now look at this "wrong" 2 week notice letter sample:
Wrong
I hereby resign from my job as head of marketing with Locklin & Deraps, Inc.
Well, that example gets the job done, but it doesn't say anything about giving two weeks notice.
It's an "effective immediately" letter, which leaves your old boss hanging.
What else should you put in a 2 weeks notice letter? Say something positive, and make an offer.
Pro Tip: Have you thought through the financial side of sending a two week notice letter? Waiting a few days before you drop it in the mail can save a lot of heartache.
Before you send that letter of resignation, make sure your LinkedIn profile is up to speed. See this guide: How To Optimize Your LinkedIn Summary & Profile To Get More Jobs
4
Keep Your Two Weeks Notice Letter Positive
This is where the rubber meets the road.
Maybe you're not getting a golden parachute. But don't exit in a ball of flame like Jerry Maguire.
To keep the boss' respect, a two weeks notice letter must stay complimentary.
Let's look at why that's as important as not yelling, "You can't fire me, I quit!"
Look at these two sample 2 weeks notice letter snippets:
Sample 2 Weeks Notice Letter Clips [Stay Positive]
Right
This was a difficult decision for me. The last five years have provided a wealth of opportunity. I've enjoyed growing into the role and leading an empowered team committed to high-end software development.
That takes the sting out of the insult. It's a far cry from this "Not going to take it anymore" example:
Wrong
Your management skills leave a lot to be desired. I suggest you take some classes or otherwise retrain yourself. Also, this entire department has serious communication issues.
Whoops, right? Someone's about to call security. Worse, can you picture that manager giving a good reference later?
You don't need to say anything negative in a resignation letter. Save that for an exit interview, if any.
Now let me give you one more golden tip to make cleaning out your desk a thing of joy.
Pro Tip: Can't find something nice to say about the job? Think hard. Don't lie, but come up with a silver lining. Your resignation letter will leave behind a pleasant aftertaste.
Need a reference letter, but your boss doesn't know how to write a good one? See this guide: How to Write a Reference Letter: Sample & Guide [+10 Examples]
When making a resume in our builder, drag & drop bullet points, skills, and auto-fill the boring stuff. Spell check? Check. Start building a professional resume template here for free.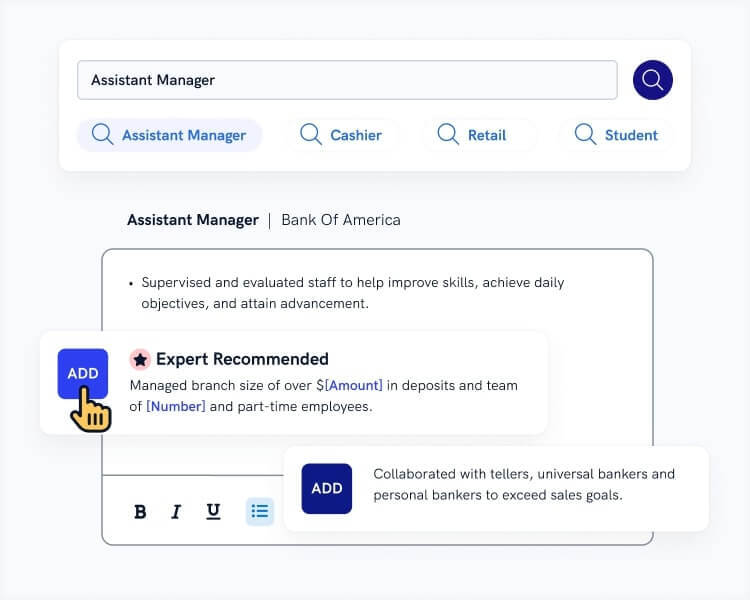 When you're done, our free resume builder will score your resume and our resume checker will tell you exactly how to make it better.
5
Make an Offer in Your Two-Week Notice Letter
You're done. You're already gone, like Kelly Clarkson or Glenn Frey.
You're so out of there you're basically Melanie Griffith in Working Girl.
But there's one more thing you need to do to shield your future from a vengeful former boss.
You need to make an offer.
It doesn't have to be big. It won't cost you much.
It just has to show there's no hard feelings, like in this sample two weeks notice letter snip:
Sample Two-Week Notice Letter Clip [The Offer]
Right
Thank you for the experience and mentoring you've provided. I hope and expect the company will continue its commitment to success and customer satisfaction. Please let me know of any help I can provide to make this transition a smooth one.
Sincerely,
Conor Shanahan
Bingo. Instant "Doberman Sandwich." (The doberman licks your face, knocks you down, then licks again.)
It's much better than the old Kaiser Soze ending:
Wrong
I'll be in Monday to clean my desk out.
Ouch, right? Poof, he's gone.
He just better not need anything a year from now.
Pro Tip: You don't have to offer the moon in a letter of resignation. Chances are good your boss won't even accept your help. She'll remember the offer, though, and that's what counts.
After you send your two weeks notice letter, don't wait to start your job search. Use our guide: How to Email Your Resume to Get More Job Offers (Examples)
6
Do You Need to Send a Two Weeks Notice Letter?
What if you just jump ship now?
By this time tomorrow your toes could be in the sand.
Of course your boss will hate you forever, and then there's that car payment...
Giving two weeks notice in a letter or email is essential when you leave a job.
Some alternatives to the two week rule are:
Giving one week notice. (Not recommended.)
Giving three weeks notice or four weeks notice. (Exemplary, but not required.)
There's no 2 weeks notice letter law. The real reason to know how to give notice is to save the relationship.
Generally, as long as you're not leaving before two weeks is up, you're covered.
When to Give a Two Weeks Notice Letter
Does it make a difference if you give your two weeks notice letter on Monday or a Friday?
You bet it does. Either way, you'll still need to work give 10 business days notice. That's 14 calendar days.
However, giving notice on a Friday gives your boss a full weekend for the news to settle in.
Writing a Thank You Note to Boss When Leaving Job
Your 2 weeks notice letter should read like a thank you letter to your boss when leaving.
Near the end include, "Thank you for the opportunity to work with your company."
You can also submit a short, separate thank you note at the end of your two weeks. It'll boost your chances of getting good references down the road.
Tell Before You Write
It's a good idea to give two weeks notice in a letter before leaving any job.
It's an even better idea to tell your boss before you drop the letter off.
A conversation about resignation is always awkward. But your boss will appreciate it, and it can pay off later.
Pro Tip: Give notice to your employer as much as four weeks in advance if you can afford to wait. She'll appreciate the extra help.
Want help with your resume before you send that quit letter? Use this guide: 42 Amazing Resume Tips That You Can Use in 30 Minutes [Examples]
Plus, a great cover letter that matches your resume will give you an advantage over other candidates. You can write it in our cover letter builder here. Here's what it may look like: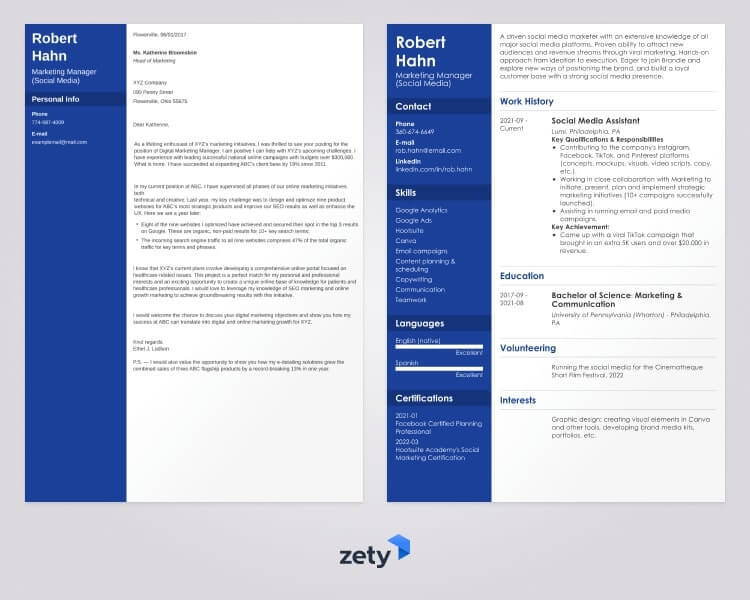 See more cover letter templates and start writing.
Key Takeaway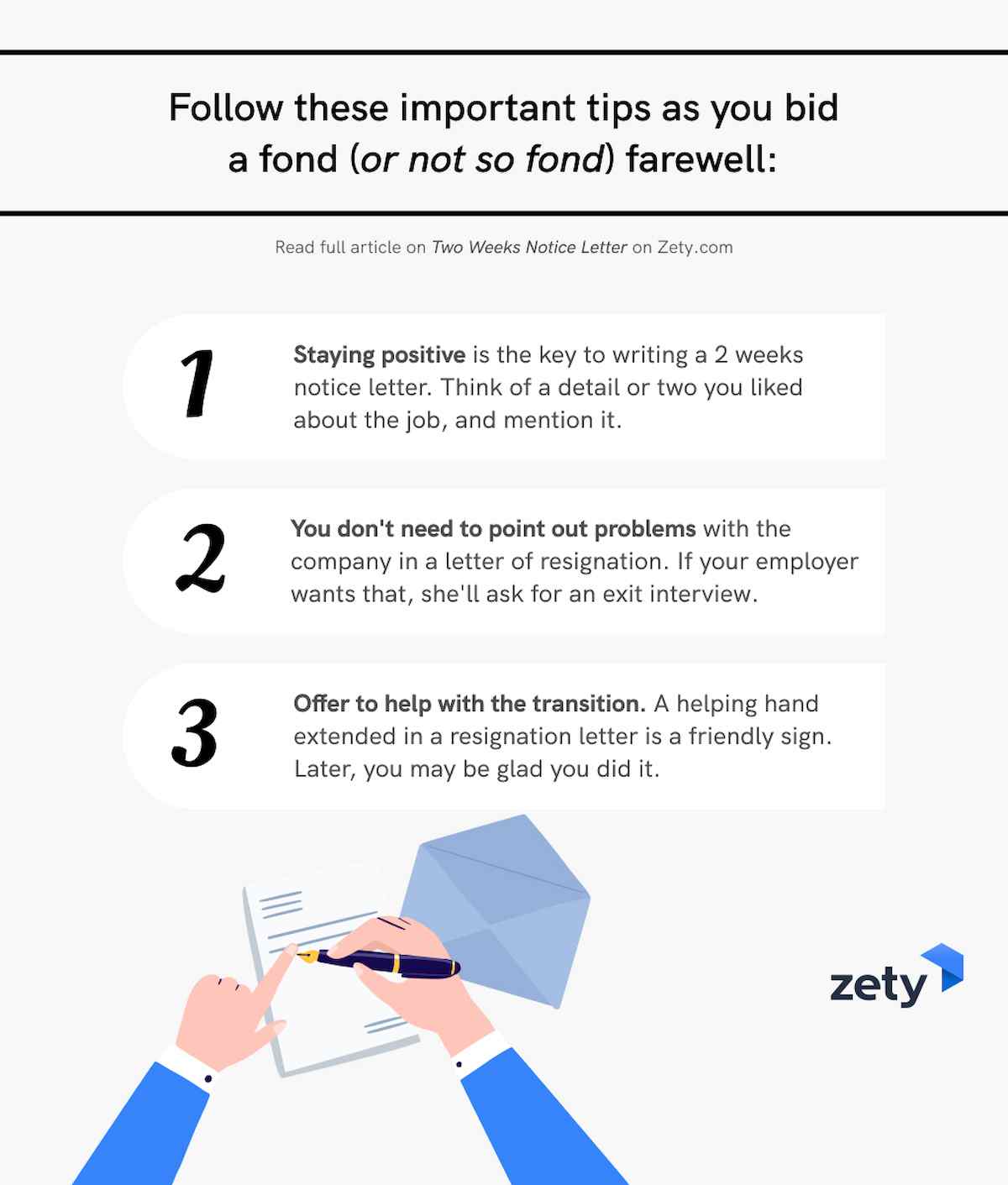 This guide presents the perfect sample two weeks notice letter of resignation. Follow these important tips to use it as you bid a fond (or not so fond) farewell:
Staying positive is the key to writing a 2 weeks notice letter. Think of a detail or two you liked about the job, and mention it.
You don't need to point out problems with the company in a two-week notice letter. If your employer wants that, she'll ask for an exit interview.
Offer to help with the transition. A helping hand is a friendly sign. Later, you may be glad you did it.
Want to know more about how to give two weeks notice? Maybe you found the best way to write a resignation letter? Give us a shout in the comments! We love to help!
About Zety's Editorial Process
This article has been reviewed by our editorial team to make sure it follows Zety's editorial guidelines. We're committed to sharing our expertise and giving you trustworthy career advice tailored to your needs. High-quality content is what brings over 40 million readers to our site every year. But we don't stop there. Our team conducts original research to understand the job market better, and we pride ourselves on being quoted by top universities and prime media outlets from around the world.