How Long Should a Cover Letter Be? Length and Word Count
How long should a cover letter be? That is the question. How many words are too few or too many? That's also a good one. And you're in a good place to find out those answers.
Are you staring at a cursor blinking?
Did you write too much? Too little?
Have you been rejected and now want to know more about cover letters?
It's really nice to meet you!
You're in just the right place to fix all the above. The question, "How long should a cover letter be?", will no longer haunt you.
This guide will tell you:
How long a cover letter should be to impress the reader and land you a job.
What the appropriate page length, word and paragraph count is that wouldn't bore recruiters.
All the how-tos that'll help you fit into proper cover letter length.
Want to write your cover letter fast? Use our cover letter builder. Choose from 20+ professional cover letter templates that match your resume. See actionable examples and get expert tips along the way.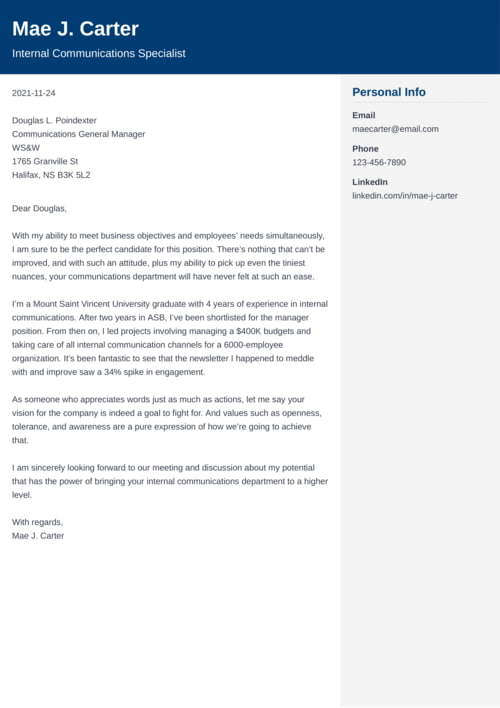 Cover letter sample for a resume—See more cover letter templates and create your cover letter here.
John McNeil
Marketing Specialist
123-456-7890
johnmcneil@email.com
linkedin.com/in/johnmcneil
November 16, 2021
Tory B. Smith
Head of Marketing
OnLooker
683 Eglinton Avenue
Toronto, ON M4P 1A6
Dear Tory,
Congratulations! I saw your company receive an award during the Brand Impact Awards, and it's a tremendous achievement, especially in the field of sustainable athletic wear. I attended the gala myself, and when I saw an opening at your company, I knew we were a good match.
My latest unisex athleisure campaign won the Sustainable Product of the Year Award, and I couldn't be prouder. Apart from that, please see other achievements of mine as a marketing specialist with a 5-year experience:
Implemented a new 360 strategy for all platforms, bringing a sales boost of 23% in a year.
Suggested changes to the SEO processes and raised traffic by 40%.
Managed a $4M marketing budget for a couple of clients simultaneously.
You're looking for a specialist in digital marketing, and I'm sure my Digital Marketing Pro (DMI) and Digital Analytics (CMA) certifications evidence my capabilities and fit. My skills in G-suite, involving Google Analytics and Search Console, will bring valuable insights, followed by an increase in revenue.
Why don't we schedule a meeting to discuss how I can make that happen for you?
With kind regards,
John McNeil
P.S.—I'd also be happy to tell you how I'm a volunteer at a local community centre, for whom the number of active volunteers has grown 130%, thanks to my online and offline marketing efforts.
Skip to the details to reach the part you're interested in most:
How Long Should a Cover Letter Be?
Half to one page.
200-400 words.
3-4 paragraphs long.
While crafting your cover letter, keep the limits in mind. Such a cover letter is Faberge-egg perfect.
How come? Well—
It takes a few seconds to make an impression, and recruiters need only six to decide whether you're a good fit or not. So neither they nor you need a longer piece than the above. Shorter is just as bad.
Write a cover letter that takes one page and sell yourself in three to four concise paragraphs. You've got 200 to 400 words to use, so do it well to reach the top of the shortlist for an interview.
How to Stay on One Page With Your Cover Letter?
No matter whether you're to the point or words seem to flow freely below your fingertips, tapping away your laptop's keyboard while the rain taps on the window, don't go below or beyond the desired page length.
It's not a piece of cake, especially if you're writing a cover letter for the first time. So here are a few tips that'll help you:
Format it First
Whenever you're formatting a cover letter, stick to the business letter format, which means:
Line spacing between 1 and 1.15
Double-spacing between paragraphs
One-inch margins on every side
Legible font, like Arial or Calibri in 12 font-size points
Contents aligned to the left
Picking a pre-formatted cover letter template also helps. They're designed for your cover letter to fit the page limit, and you'll save yourself trouble and time.
Keep a Concise Structure
Don't reveal everything—leave a bit of mystery. Recruiters read cover letters first to see whether they should follow their hunch and see your resume. That's where all the facts should be.
Another thing is to break it into three to four paragraphs with a double space between each. That visual trick will earn you points for clarity.
The first paragraph should ideally set the scene for you to walk onto. But you'd better sell out, or else there's no chance of getting cast for the main gig. The second paragraph speaks all about your skill set and experience, which you prove with a bullet list of two or three achievement statements. The third is there to reinforce your message and highlight your perfect fit for the job. The fourth and last paragraph gives you what you came for—an interview. Be direct about scheduling a meeting and give them a reason to come.
Then, a formal sentiment right below, et voilà! You're all set.
Stay Relevant
Imagine you're an aspiring writer, and the book with words co carefully crafted ends up in the publisher's trash.
Ugh. It gives me chills.
That's because the publisher thought the book was irrelevant. And recruiters do the very same thing with irrelevant cover letters.
To not see your cover letter in the trash, make sure to tailor it to the job you're applying for—quality over quantity. It means you should pay attention to what's in the job description and use the exact phrases—keywords—that the employer used. That way, you'll pass not only the ATS test, but it'll also give you a chance for an interview.
Proofread
Write the words and leave it be for a day or two. Create a checklist to make sure you covered everything. Then go back to it and let the words become sentences without mistakes, awkward structures, and typos. A checklist will do you a world of good at this stage.
Key Takeaway
How long a cover letter should be in a nutshell:
Stick to these limits: 0.5 or 1 page, 200-400 words, and 3-4 paragraphs. You'll have enough chance to speak about your strength and convince recruiters they're what they've been looking for.
Format your letter to give yourself an advantage.
Plan out the structure, and don't dwell on irrelevant details.
Make sure there aren't errors in your writing.
And you're done!
It's not so difficult, is it?
Please tell us—
Do you have more questions about how long should a cover letter be? Is it difficult for you to stay on one page with your cover letters? How do you feel about tailoring it to every job you apply for?
Give us a shout in the comments! Let's get the conversation rolling!