How to Best Answer: What Are Your Salary Expectations?
You know recruiters ask you about it. You shiver and wish for a miracle. No need for magic or tricks. Find out how to answer your salary expectations. It's easier than you think!
You've researched the employer, made a list of questions, rehearsed your delivery—you're ready to take on the world! But there's this one question you're not looking forward to. Does anyone handle it gracefully, ever?
Don't worry. You're about to find out how to answer your salary expectations with ease.
This guide will show you:
How to answer salary expectations questions better than 9 candidates out of 10.
What to put for salary expectations to keep the job offer and get what you want.
How to form reasonable salary expectations that are based on facts.
Tips on how to negotiate effectively with your smart salary expectations answer in mind.
Want a stronger resume to negotiate a higher salary? Looking to update your current resume to reflect your career progress? Try our resume builder. It's fast and easy to use. Plus, you'll get ready-made content to add with one click.
Sample resume made with our builder—See more resume examples here.
Looking for something else? See our guides on challenging interview questions:
1. Know the Company's Reasoning
Before you can map out your salary expectations, it's important to know the employer's thinking behind this question. It can be a bit more complex than people expect.
According to studies, replacing an employee may cost the company up to 150% of their salary. With this in mind, it's easier to understand why recruiters take their time to screen and evaluate each candidate carefully.
The company-side vision during the recruitment process is usually trifold. They need to establish how well you:
Fit into their budget.
Qualify for the team.
Understand your worth.
In HR words, this means that recruiters who interview you have to decide whether:
They can afford you (there's typically a budget set for each role).
Your expertise matches the position (you're not over-/under-qualified).
You know how to prove your value to the company.
Taking this into account, your goal is to do some research, analyze your background and expertise, and come up with the numbers you'll have in mind during the interview (including your "walk-away" number). This way, you won't be taken aback by the question and will have the power to negotiate from an informed position.
Not happy with the offering? Read our guide: How to Decline a Job Offer (+ Example)
2. Research the Market
Some companies provide a salary range when they post a job ad, but that's not always the case. Looking up similar job titles and positions in other companies will help you understand the usual compensation, thus giving you an idea of your potential salary expectations.
Use top job search engines and dedicated websites:
The "Jobs" section on LinkedIn.
Pro Tip: As you're exploring, note down what kind of benefits companies generally offer with the role. This will come in handy when you get a chance to negotiate.
3. Set Your Range
Show you're flexible and open to discussion: provide a salary range vs. a flat number. Decide on your absolute minimum, but aim higher—the company will always strive to reduce costs, so make sure you don't sell yourself short. Ideally, the range should be within $10K per year.
Pro Tip: There's a nice technique to politely sayyou won't go below a certain threshold. Saying, "This is what I've been making in my previous position, and I'm just not comfortable going lower than that," will be a perfect justification for your salary requests.
4. Decide if There's Room for Negotiation
As you narrow down your salary expectations, various additional factors may come into play. Are there any perks that could potentially make you concede? Is there something that's absolutely crucial?
Make a list of those. Here are some ideas:
Specific benefits, like insurance or memberships
Ability to work remotely/come to the office
Cuts on certain expenses (like lunch at the office), etc.
According to the Bureau of Labor Statistics data, benefits constitute around 30% of overall employee compensation! This is why it's so important to factor them in.
5. Avert or Deflect Before You Respond
When the time comes for your interview, there are several things you can do to give the best possible answer. And sometimes it means not answering right away.
When the hiring manager inquires about your salary expectations, you can flip the question a bit and ask them to:
Describe the job responsibilities in greater detail so that you can have a clearer understanding of the workload and more precise salary expectations.


"I would really appreciate a few more details about the role before I answer. Could you describe the typical tasks and workday, and how many items are to be completed weekly, on average?"


Give you an idea of the budget for this role and how much people are currently making in similar positions—or simply provide the current salary range.
"Could you tell me the projected range for this role so that I could get a full picture?"
Provide the particulars on the benefits.
"Do benefits usually constitute a big part of the compensation? Could you please elaborate a bit on that aspect, just so I can give you a more realistic estimate?"
In general, these are all great questions to ask at the end of the interview to make an informed decision about a job.
Read more: How to Negotiate Your Salary
6. Be Confident and Back Your Request with Numbers
Finally, it's important to listen to your gut, stand your ground, and give solid justifications for your salary expectations. Remember to:
Emphasize your experience.
Talk about outstanding results in your previous jobs.
Describe how your work resulted in revenue growth, cost reductions, or excellent customer satisfaction.
Read more: Interview Tips That Get Jobs
When making a resume in our builder, drag & drop bullet points, skills, and auto-fill the boring stuff. Spell check? Check. Start building a professional resume template here for free.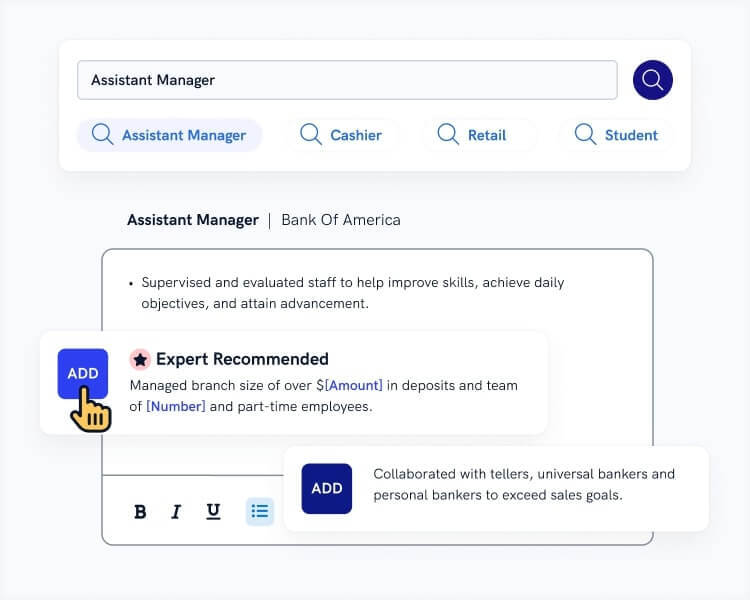 When you're done, our easy resume builder will score your resume and our resume checker will tell you exactly how to make it better.
Key Takeaway
Let's go over the strategy for answering "What are your salary expectations?":
Understand where the recruiters are coming from.
Take the time to do your homework.
Set your salary expectations range, and come up with negotiation points.
Ask extra questions, and remember to follow your instincts.
Now you know how to answer salary expectations questions—there's nothing standing between you and the successful outcome of your job interview!
Hope you found our guide informative! Do you have any questions about building up your salary expectations? Maybe you have some ideas on "what are your salary expectations" best answers? Feel free to share in the comments below!
About Zety's Editorial Process
This article has been reviewed by our editorial team to make sure it follows Zety's editorial guidelines. We're committed to sharing our expertise and giving you trustworthy career advice tailored to your needs. High-quality content is what brings over 40 million readers to our site every year. But we don't stop there. Our team conducts original research to understand the job market better, and we pride ourselves on being quoted by top universities and prime media outlets from around the world.