Key Skills to Put on a Resume & List of Skills Examples
Worried that building hotels in Monopoly isn't the best skill to put on a resume? Worry not. Learn skills for a resume that are equally impressive, but way more relevant.
I don't think you're Elon Musk. And I don't think you're Steve Jobs, either.
Correct me if I'm wrong, but it means you still need a resume.
Aye!
In that case, the skills section is the key to unlocking your dream career.
Read on because you're about to find out the best skills for a resume that give you access to all doors.
This guide will show you:
Top examples of skills which put on a resume impress potential employers.
List of 99+ skills for resumes suitable for different types of jobs.
What skills to put on a resume that demonstrate your strengths in the best light and land you an interview.
How to write skills examples and where to add them to your resume.
Want to save time and have your resume ready in 5 minutes? Try our resume builder. It's fast and easy to use. Plus, you'll get ready-made content to add with one click. See 20+ resume templates and create your resume here.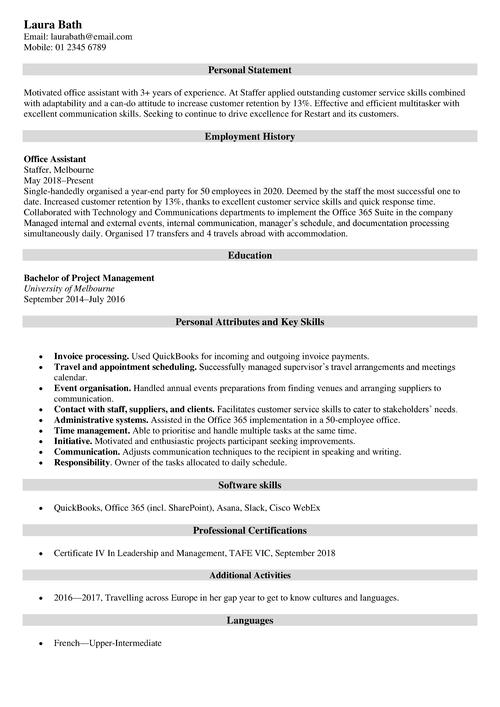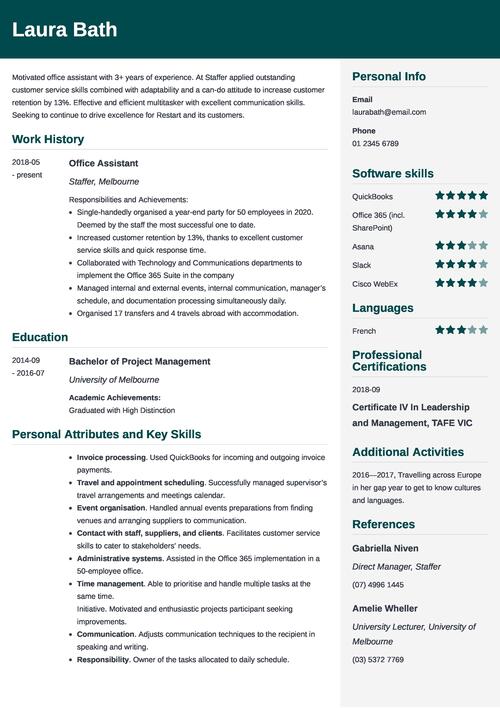 Sample resume made with our builder—See more resume examples here.
Quickly reach each section of this guide with this list of contents:
1. Top Skills to Put on a Resume for 2023
Here are the top skills for your resume:
Interpersonal skills
Communication skills
Problem-solving
Decision-making
Critical thinking
Collaboration
Customer service skills
Adaptability
Conflict resolution
Leadership skills
Organisational skills
Computer skills
Pro Tip: These are employability skills to include on every resume. But! They're the most effective on resumes for candidates who have had too small a chance to pick up industry-specific skills yet.
They're indeed top of the top because they're transferable. It means you can learn and apply them at any job.
But if you're interested in the top skills based on the current situation in the labour market, get insight into what's desired from future employees. That's actually what you should always do—research.
A snippet from the National Skills Commission report should be enough for now: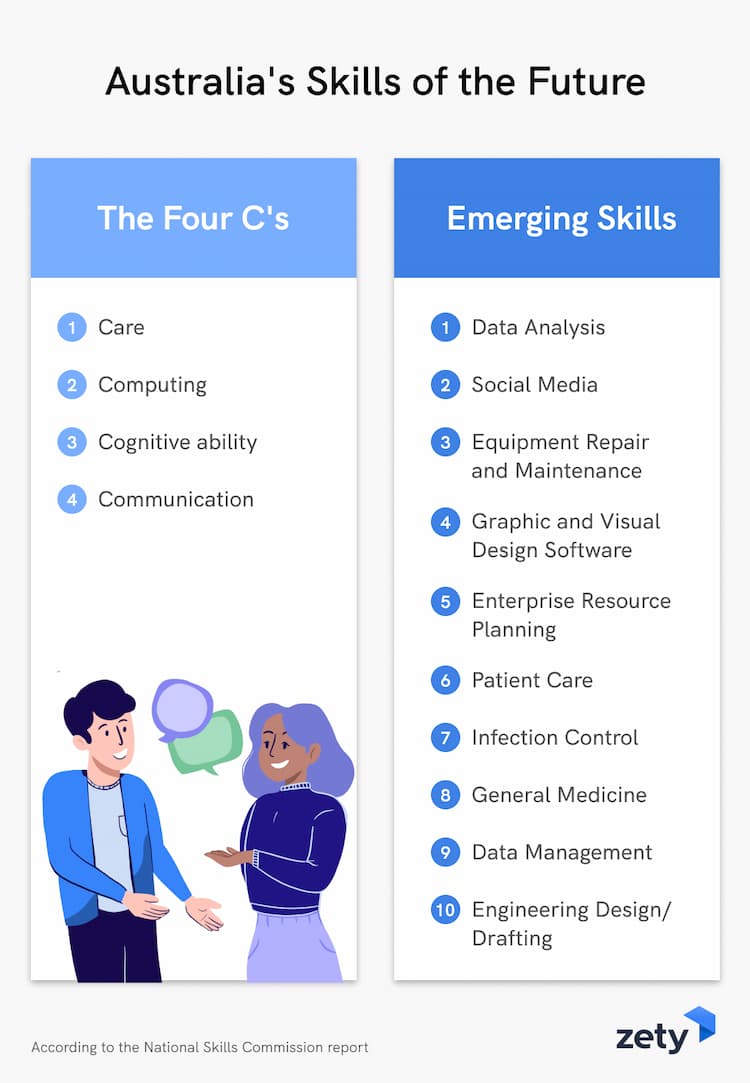 2. Examples of Skills on a Resume
Employability skills are fine for inexperienced or junior candidates.
But too generic a skills section says zeeuh·row about specialist or senior's qualities, which ultimately gives you no chance of landing the gig.
If you tailor your skills well enough, you'll convince the recruiters of your perfect fit.
Give them what they want using the right keywords from this list of skills:
Communication Skills Examples
Active listening
Public speaking
Presentation
Confidence
Clarity in speaking and writing
Persuasion
Constructive feedback
Responsiveness
Computer / Technical Skills Examples
MS Office & G-Suite
Web development
Big data
Database management
Social media and digital marketing
Coding and programming
Search Engine Optimization (SEO)
Project management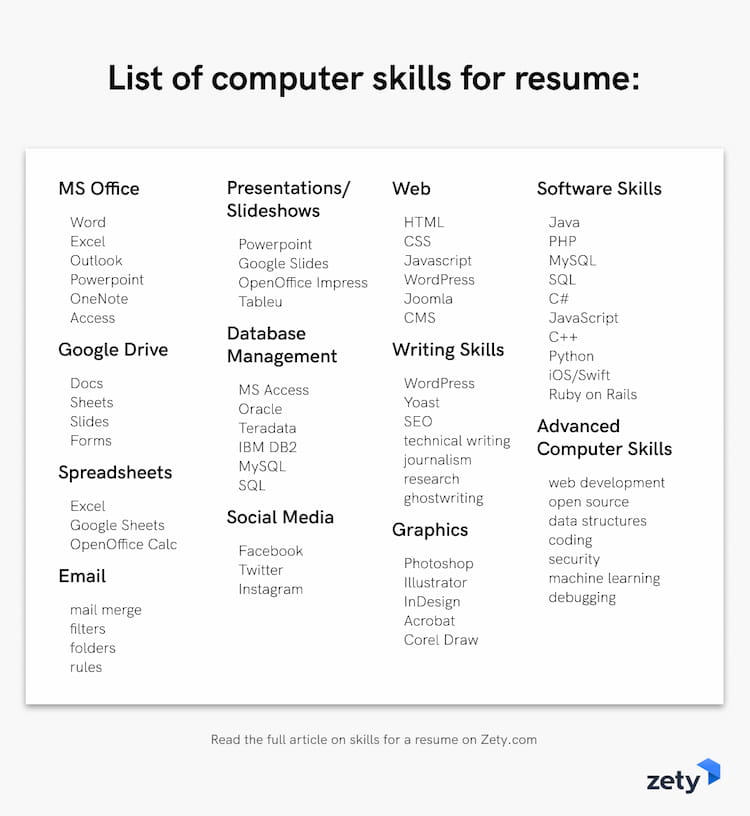 Leadership Skills Examples
Mentoring
Task delegation
Team building
Time management
Stress management
People management
Strategic thinking
Conflict resolution
Interpersonal Skills Examples
Empathy
Emotional intelligence
Adaptability
Collaboration
Trustworthiness
Dependability
Negotiation
Networking
Organisational Skills Examples
Coordination
Prioritisation
Self-management
Initiative
Integrity
Scheduling
Ownership
Logical reasoning
Customer Service Skills Examples
Resourcefulness
Positive communication
Persuasive speaking
Responsibility
Patience
Attentiveness
Product knowledge
Problem-solving
Analytical Skills Examples
Comparative analysis
Research
Data mining
Troubleshooting
Data visualisation
Classifying
Deductive reasoning
Auditing
Teamwork Skills Examples
Reliability
Accountability
Respectfulness
Perceptiveness
Understanding non-verbal cues
Open-mindedness
Friendliness
Fairness
Critical Thinking Skills Examples
Attention to detail
Interpretation
Self-regulation
Evaluation
Reasoning
Inference
Identification
Observation
Problem-Solving Skills Examples
Creativity
Data gathering
Historical analysis
Forecasting
Brainstorming
Weighing
Flexibility
Problem recognition
When making a resume in our builder, drag & drop bullet points, skills, and auto-fill the boring stuff. Spell check? Check. Start building a professional resume template here for free.
When you're done, Zety's resume builder will score your resume and tell you exactly how to make it better.
3. How to List Skills on a Resume?
Right.
You've got the list, but you must've noticed something's off.
There aren't just soft skills, universal abilities, that is.
SEO, historical analysis, data mining?
Those, you can't learn without training or formal education. And that's what hard skills are. Compared to soft skills, which you're naturally predisposed to, hard skills require practice and experience to master.
To write a resume, to show recruiters you know what you're talking about, you've got to display a mix of both, with a dominance of industry-specific skills.
See how—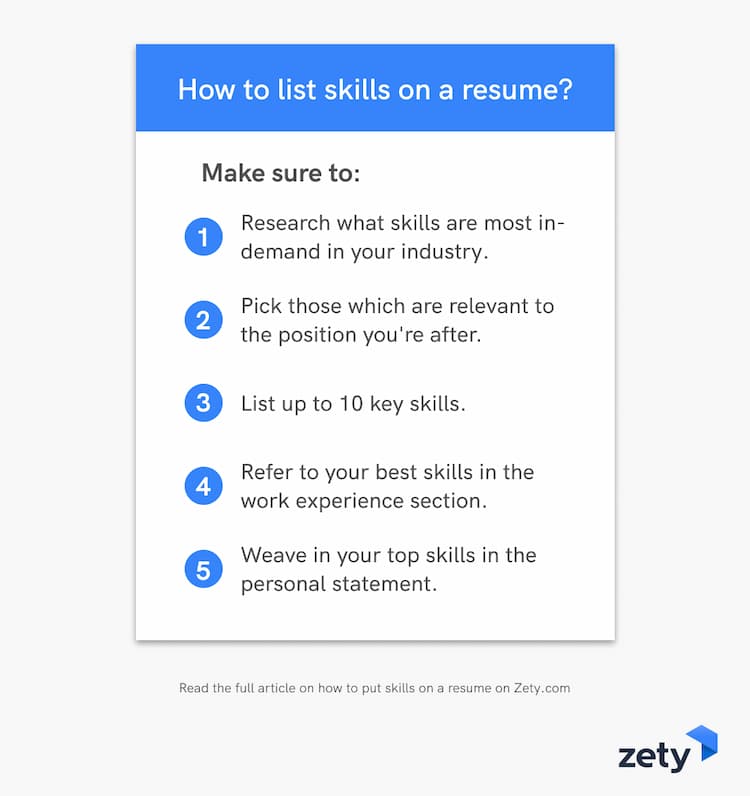 Now onto practice, you go—
Below, you can read a job posting and mark the keyword for skills an employer wants you to have.
Responsibilities:
This role involves helping with business administration tasks that include travel arrangements, organising events, managing your supervisor's calendar and most important tasks, maintaining administrative systems, and liaising with staff and external parties.
Key skills for you to become our office assistant:
Discretion and trustworthiness

(you'll have access to confidential information)

Adaptability

Good oral and written

communication skills

Ability to

multitask

Proactivity

Tact and diplomacy
Now that you know the selection criteria, let's work those qualities into the skills section, work history, and personal statement.
And if you're wondering why skills are scattered all over, it's because you have to display them but prove them, too.
Let's give the skills section a fair go—
Skills Summary on a Resume
Invoice processing. Used QuickBooks for incoming and outgoing invoice payments.
Travel and appointment scheduling. Successfully managed supervisor's travel arrangements and meetings calendar.
Event organisation. Handled annual events preparations from finding venues and arranging suppliers to communication.
Contact with staff, suppliers, and clients. Facilitates customer service skills to cater to stakeholders' needs.
Administrative systems. Assisted in the Office 365 implementation in a 50-employee office.
Time management. Able to prioritise and handle multiple tasks at the same time.
Initiative. Motivated and enthusiastic projects participant seeking improvements.
Communication. Adjusts communication techniques to the recipient in speaking and writing.
Responsibility. Owner of the tasks allocated to daily schedule.
You can clearly see the employer requires a mix of hard and soft skills. So to get the chance for the interview and the job, you need to evidence both.
In the skills section, create a list of the most vital hard and soft skills. Recruiters scan resumes, so if they see the desired skills at the top, they'll know you're their best candidate.
Then, get to the specifics. Not only will you target more keywords to please the ATS, but you'll also give your hiring manager an insight into your job responsibilities.
Now check out the work history section—
Skills on a Resume—Experience Section
Office Assistant
Staffer, Melbourne
May 2019–December 2021
Responsibilities and Achievements:
Singlehandedly organised a year-end party for 50 employees in 2020. Deemed by the staff the most successful one to date.
Increased customer retention by 13%, thanks to excellent customer service skills and quick response time.
Collaborated with Technology and Communications departments to implement the Office 365 Suite in the company
Managed internal and external events, internal communication, manager's schedule, and documentation processing simultaneously daily.
Organised 17 transfers and 4 travels abroad with accommodation.
Noice!
The experience section should also be tailored to the job description, emanating from relevant achievements galore.
Why?
Because you shouldn't dare make ATS your enemy, plus this is the only way your employer could find out what you can actually bring to the table.
And if they can read skills between the lines of your achievements, you can start getting ready for an interview.
Skills for a Resume—Personal Statement
Motivated office assistant with 3+ years of experience. At Staffer applied outstanding customer service skills combined with adaptability and a can-do attitude to increase customer retention by 13%. Effective and efficient multitasker with excellent communication skills. Seeking to continue to drive excellence for Restart and its customers.
The idea behind the skills in the personal statements is to present yourself as the perfect candidate for the role. And to prove you've got what it takes to do the job well.
Include there the most important skills from the job description, and she'll be right.
Pro Tip: Did you know that the Applicant Tracking Software is the first step on a resume's way to reach the recruiter? Yes! It's not recruiters nor hiring managers who get to see your job application first. If the ATS approves it based on the presence of keywords, only then it lands in your recruiter's hands. That's why tailoring your resume with relevant skills is so important.
Plus, a great cover letter that matches your resume will give you an advantage over other candidates. You can write it in our cover letter builder here. Here's what it may look like: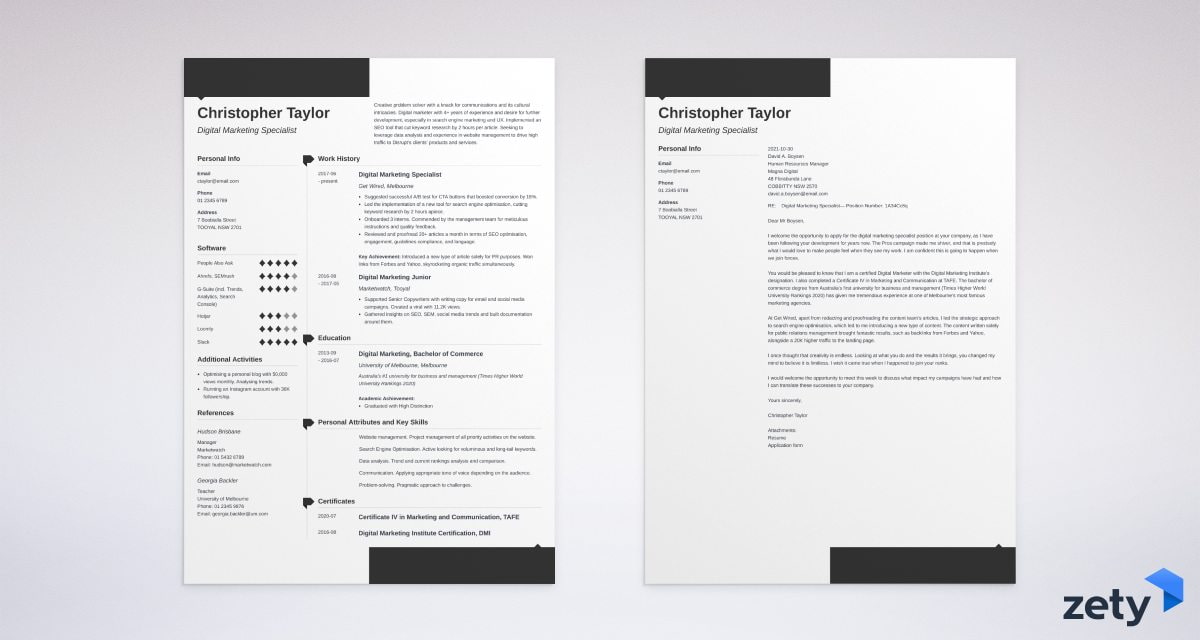 See more cover letter templates and start writing.
Key Takeaway
Take these home:
Do your research and find the desired skills for the position you're applying for.
Get into the specifics of each skill to prove relevancy and allow yourself to cover more keywords from the job posting.
Always tailor your skills to those listed in the job posting.
Include the required skills in the skills list, experience section, and personal statement.
Please tell us—
Do you have questions about skills for a resume? Which examples of skills are the hardest for you to give proof of? What do you think are good skills to put on a resume?
Give us a shout in the comments! Let's get the conversation rolling.