Job Application Email: How-To Guide + Template and Example
A good job application email is a big chunk of your job-hunting success. Learn how to write an email for a job application by following our template and tips to boost your chances!
You've heard about the job of your dreams, and you're absolutely sure you're a perfect fit. Or maybe a friend is referring you to a position, and it's a match made in heaven. In any case, sometimes you need a convincing job application email if that's what the employer requires.
It's essential to get the hiring manager's attention and give them a reason to open your resume. Include just the right things and convey the right message. How? We know the answers.
This guide will show you:
What a job application email is and how to format it properly.
A job application email template that you can customize and make yours.
The key elements of an email for a job application that is better than 9 out of 10 others.
Great job application email samples to help you create your own and land the job.
Do you make sure to tailor each resume to every position you're applying for? That's a proven way to boost your chances. It's so much easier with our resume builder—you'll get ready-made content to add with one click. Pick from 20+ resume templates and improve your resume here.
Sample resume made with our builder—See more resume examples here.
Looking for different job application scenarios? See these guides:
Job Application Email Template
Subject line: [Role title, number of the job ad (if there is one), your name]
Salutation:
Dear [Recruiter's last name] (preferable) OR Dear hiring manager,
Opening Paragraph
Introduce yourself and explain the purpose of writing. Mention the position you're applying for and why you think you're a good fit. Remember that the opening paragraph is the "hook," so cut to the chase and don't waste time on clichés and placeholders. Present your most important achievements or experiences that prove you're just who they've been looking for.
Main Body
Depending on whether the job application email serves as your cover letter or not, either include an expanded or a reduced overview of your relevant qualifications and skills.
Mention measurable results of your work (not just duties). Talk about your experience, training, certifications, etc.—anything directly related to your future responsibilities at your new job. Study the job description religiously to ensure each sentence supports the idea that you're a perfect candidate.
Talk about your skills (including transferable skills) and how you got them—this may be especially useful if you're an entry-level candidate. You may also talk about your academic successes and vision for your future career (and how this job aligns with this vision).
All in all, the main goal should be to describe the potential benefit of hiring you and the value you'll bring. Also, show that you've done your research, you know what the company is all about, and that it's an informed, deliberate choice.
Mention enclosures, if any.
Call to Action & Closing
This is a very important step that is often overlooked. State your intentions clearly by asking to schedule a call. You can amp up their interest by saying you have some ideas about what you would do in the first weeks of work (or any general ideas about what you could add to the company/your new team).
Sign-off
Sincerely,
[Your full name]
[Your contact information (email, phone #)]
Enclosure
Attachments:
Resume
What Is a Job Application Email?
A job application email is an email you send directly to the potential employer (as opposed to an ATS/their website/job portal). It should contain your resume, cover letter, and any additional materials required in the job description. It may also serve as a cover letter.
Need a separate cover letter? Read our dedicated guide:How to Write a Good Cover Letter
What to Include in a Job Application Email
First, study the job ad carefully. It may contain the company's specific requirements that will prompt you about what you need to add.
Then, follow the basic guidelines and include the following details in your email for the job application:
Who you are and why you're writing
Your reasons for applying to that particular position
Relevant skills, training, and qualifications that make you a suitable candidate
What your potential contribution to the company's success is
Any possible attachments
The desired next step
A job application email will usually contain the following attachments:
Your resume
A cover letter (unless the email itself serves as the cover letter)
Your portfolio (if applicable)
Pro Tip: Having doubts about your application? Make sure you take all the necessary steps to improve your resume and send it with confidence.
How to Write a Job Application Email
1. Craft a Clear Subject Line
This is an important step that should be considered. If the hiring manager doesn't open your email, all your efforts will be wasted. To not let that happen, make it very clear what your letter is about: mention the name of the job you're applying for, the number of the job posting (if there is one), and your name. A clean subject line will ensure the recipient will prioritize your email.
2. Address the Hiring Manager Properly
The best scenario is if you have the name of the person you're emailing. If you don't, take some time to do your research, have a look at:
The company's official website
The company's LinkedIn page
Otherwise, start your job application email with Dear hiring manager. Keep in mind that To Whom It May Concern is too impersonal and outdated and is not commonly used anymore. Beginning with Dear Sir/Madam is also too formal for this occasion.
3. Open With a Strong First Paragraph
The first paragraph is your best chance to make an impact. Because job application emails are not meant to be long, you need to get right to the point. State the reason for writing clearly. Mention the position you are applying for (and also if someone's referring you). Then explain why you think you're a good candidate—mention your most relevant experience and some prominent achievements.
4. Persuade Them in the Main Body
Think of your job application email as an elevator pitch. Don't waste a single line—explain why you want this job, what skills you have to perform it well, and how your professional background matches your future responsibilities. Remember, this has to be about them, not just about you. Providing sound reasoning as to the value you'll bring to your potential employer is the winning strategy here.
5. Add a Call to Action and Close
Before you close, there's one essential thing to do. Indicate that you're interested in a call or an interview and that you'd be happy to answer further questions and provide additional details. Mention the files you're attaching and what's in them. You can also thank the hiring manager for their consideration.
6. Finish With a Professional Sign-Off
To close your job application email, go with:
Don't forget to state your full name after, and add your contact information to the signature (email, phone number by which you can be contacted, optionally your LinkedIn account). Below, you can also mention a list of enclosures.
Pro Tip: Ensure you optimize your LinkedIn page before sending your application email so that it's up-to-date.
Job Application Email Sample (Entry-Level & Experienced)
Here's a job application email sample for an entry-level position, which would also work if you don't have a lot of experience:
Subject: Accounting Assistant (#TU45748), Eric Sweeney
Dear Ms. Newman,
My name is Eric Sweeney, I'm a recent honors graduate from the University of Texas (McCombs School of Business). I would like to apply for the position of Accounting Assistant at Lintex.
I've just completed my 5-month internship at Aventus Accounting. The strong practical focus of McCombs proved essential, and I was able to integrate into the team quite seamlessly and perform all the duties assigned to me in full capacity. I gained valuable experience using accounting software and deepened my knowledge of legislation and accounting best practices. My supervisor would be happy to provide additional details should it be necessary.
I would be proud to join the accounting team of Lintex. I'm very much looking forward to bringing in a strong work ethic and attention to detail I've managed to nurture while applying to the McBride scholarship (which I benefited from), my years at UT Austin, and my internship.
Attached, please find my resume and letters of recommendation from my thesis advisor and Aventus Accounting manager. I would be happy to provide any additional information and answer your questions during a call.
Sincerely,
Eric Sweeney
eric.sweeney@email.com
337-278-1682
According to studies, the most important aspects of recruitment include not just finding a candidate that's a good fit for the position, but also one that matches company culture and values. So don't be afraid to show some personality in your writing!
And here's a job application email sample for an experienced professional:
Subject: Marketing Director—Edna Foster
Dear Mr. Moore,
I'm writing to apply for the position of Marketing Director that has recently become available at TechCon (I've been referred by my former business partner, Janice Wilkinson). With over 15 years of experience managing small and medium-sized marketing teams, including running a marketing agency for 5+ years, I'm convinced I possess the right combination of skills to push TechCon to a new level of success.
Previously, I worked for Uber, overseeing the branching out to the Eastern-European market. The campaigns we've initiated with a creative team of 23 are to this day considered the benchmark for the brand. Later, we received a prestigious Sabre award that brought the company extended exposure.
Later, Janice and I created our own brand agency, offering a full branding, marketing, and PR cycle. The clients of Integrity Branding included Aurabeat, Musiq, and Sonovox, among others. Our business doubled our investments within the first year, and we've built a loyal roster of clients over the years. We've made a decision to suspend our operations due to the pandemic, but the business connections we've made are invaluable.
Please, find attached my detailed resume to see what experience I'd be ready to bring to TechCon. I already have several ideas for how the company could grow its fan base and sales, and I'd be happy to share them during a meeting.
Looking forward to our work together!
Best regards,
Edna Foster
e.foster@email.com
863-781-5855
Job Application Email Tips
Here are some final things to consider before you hit "send" on your job application email:
Proofread it for spelling and grammar.
Have a look at some cover letter examples for every job possible that we've compiled—you'll find industry-specific ideas there if you're stuck.
Make sure the style is coherent. If you can tell that the company vibe is more laid-back, there's no need to go all formal on them.
Don't forget to attach all the necessary documents! A resume in PDF format is usually the best way to go, as it will preserve its structure on all devices.
If you don't get a response right away, don't worry. Check out how you can follow up on a job application and write them another email in a week or two.
When making a resume in our builder, drag & drop bullet points, skills, and auto-fill the boring stuff. Spell check? Check. Start building a professional resume template here for free.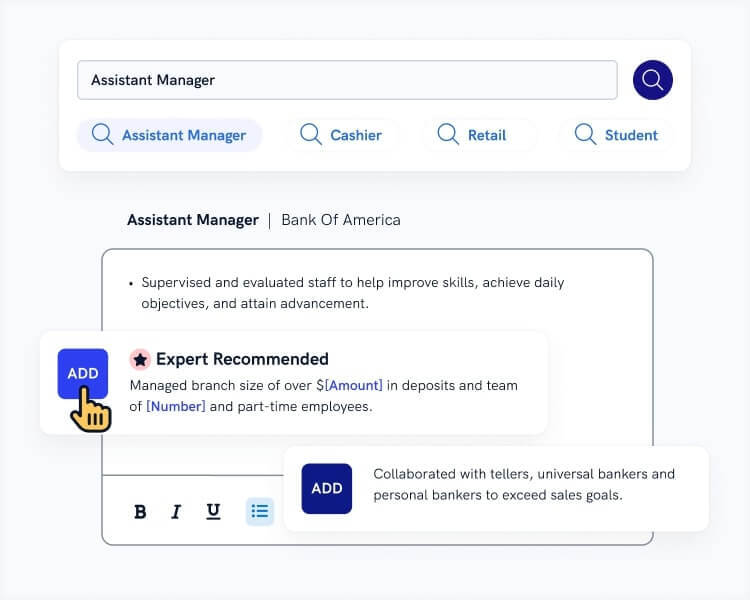 When you're done, our professional resume builder will score your resume and our resume checker will tell you exactly how to make it better.
Key Takeaway
Writing an email for a job application can be a breeze if you have the right guidelines in place:
Study the job ad again to craft a targeted message.
Structure your email for the job application correctly.
Remember to make your subject line informative.
Read your job application once more to see if it conveys a coherent message: "I'm a good fit because…" and "you'll benefit from hiring me because…".
Add a call to action and attach everything that's necessary.
Feel free to send a job application follow-up email if you don't hear from the employer.
And that's all you need to know about writing a good job application email!
Hope you enjoyed reading the guide! Do you have any ideas that could make it better? Tell us in the comments below.
About Zety's Editorial Process
This article has been reviewed by our editorial team to make sure it follows Zety's editorial guidelines. We're committed to sharing our expertise and giving you trustworthy career advice tailored to your needs. High-quality content is what brings over 40 million readers to our site every year. But we don't stop there. Our team conducts original research to understand the job market better, and we pride ourselves on being quoted by top universities and prime media outlets from around the world.
Sources