10 Signs Your Boss Wants You To Leave & What's Next
There are some signs your boss wants you to leave that you can spot and prepare yourself for change. And there are also some ways to deal with this situation.
You've been working in a company for a while now, and you've grown rather confident in your own skills. But suddenly, you feel you're getting fewer projects on your table, you're not invited to the meetings you took part in before, and some of your responsibilities are taken away from you. These are the signs your boss wants you to leave.
Read on to find there are some other signs to look out for, actions to take, and tips on handling that unpleasant situation.
This guide will show you:
10 signs you are being pushed out of your job.
What's better if you see some sings that indicate your boss wants you to leave: quitting it or getting fired.
What to do when you notice signs your boss wants you gone.
As you might discover that you're about to lose your job, you shouldn't wait too long to start updating your resume. Try our resume builder. It's fast and easy to use. Plus, you'll get ready-made content to add with one click. See 20+ resume templates and create your resume here.
Sample resume made with our builder—See more resume examples here.
10 Signs Your Boss Wants You To Leave Are Being Pushed Out Of a Job
There's getting fired, and there's quitting voluntarily. But there's also being pushed out of a job. This passive-aggressive behavior might get you to leave, even though you haven't considered leaving. The reason your employer may do that is that it's much better for the company to encourage you to leave, as it saves the paperwork and avoids stressing out your co-workers. Dealing with getting fired can be easier than facing those signs day by day.
1. You're Being Micromanaged
You know how to do your work, so why all of a sudden, every move you make is being constantly watched over your shoulder? This can mean two things. Either your manager doesn't trust you anymore and thinks you're unable to perform your tasks well, or they're waiting for you to slip.
This behavior can lead to you doubting yourself and your skills as a worker and might have an impact on how you'll see your performance in the future company.
To verify whether you should be worried, compare this managing style to the past. If the criticism is constructive and specific, your manager might want to help you improve. But ask yourself some questions to verify it further.
Did your manager use to watch you that carefully before? Do you feel it's a concern about the mistakes or nit-picking of your work? Do you feel the criticism coming your way is vague? If so, that might be a sign you're being pushed out of your job.
2. You're Being Excluded From Important Meetings and Conversations
You've been an active part of different group conversations and important meetings, but now your calendar is getting emptier every week? That's never a good sign. Sure, perhaps your manager has forgotten to invite you, and that can be the case once. But twice?
It can mean your opinion is no longer significant to the manager, to the team, and to the entire project. Your impact on things has declined.
The more distant you're from those meetings, the better. Your managers want to start operating without you, even though you're still employed. They want to plan new moves behind your back, they want to keep the information secret, and they want to make you feel unnecessary. That seems like a good way to make someone quit, doesn't it?
3. Your Duties Are Being Reduced
There used to be days when you were busy 9-5, and you could hardly stick a coffee break in your schedule. But now you feel like you could as well go home at 11 am? This can only mean your duties have been reduced, and you're not being groomed for the future.
This can mean the company is preparing to operate without you. If you're about to leave, they'll never give you more projects. On the contrary, they'll try to make your job as simple as possible—you might be given trivial projects only to keep you busy.
It's not a good sign, especially if you notice that your colleagues are taking your responsibilities. Suddenly having others perform your tasks for you can also affect your morale, since you sense your authority is being undermined. And feeling your importance decreases, you might want to quit, right? That's what they might be hoping for.
Pro tip: Your future employee might ask you why you left your last job. Mentioning being pushed out isn't a good option.
4. You're Beginning to Feel Ignored
You felt like a part of the team, and now you feel like you're getting the silent treatment? Being ignored is never pleasant, and in a work environment, it can be one of the signs your boss wants you to quit.
If you feel it's harder for you to contact your manager, schedule a meeting, or even have a brief call, it might be a sign that something is off. By avoiding you, they're avoiding a conflict. Which is always the easiest way out, at least for one party.
Remember, they know they want you to leave. Keeping this secret is harder than not replying to yet another meeting request. Similar behavior can be spotted amongst your co-workers, as they can learn about your departure before you and don't want to be in the situation when they're hiding something from you.
5. Your Achievements Aren't Recognized
You used to hear "well done" after a win, and now there's no celebration or acknowledgment? Just as it's motivating to hear praise, it's demotivating to receive no comment on your success at work. This can make you feel insecure about yourself and your abilities.
Lack of recognition can be stressful and can lead you to think about changing the environment into a place where you might feel appreciated again.
If you feel other team members are getting credit for their job, and you're left without one, your boss might be trying to tell you your achievements don't matter anymore. They might expect you to leave since you feel your work doesn't matter.
6. Your Mistakes Aren't Recognized Either
You did get a warning after a minor failure in the past, but now your performance doesn't seem to matter? That's also a sign your boss might be trying to push you out of your job.
While some people might feel that they're finally given a break, it's not a good sign if you can slack off and keep making mistakes while not facing any sort of consequences. Most likely, it means your work doesn't matter anymore. It can be followed by reducing your duties. Then you'll feel ignored, unnecessary, and bored with your job. A possible next step your boss might try to achieve with that treatment? You will quit and focus on looking for a new job.
Pro tip: Remember, speaking with an attorney can possibly show you some legal options available for you in this situation, especially if you feel you're being pushed out of your job because of discrimination or harassment.
7. You're Getting Impossible Tasks and Deadlines
While doing your day-to-day job, suddenly, your boss gives you an unexpected and complicated task with a strict and very near deadline? Or there's no deadline at all, but the task is simply impossible to accomplish? They might be hoping you'll fail over and over again until you start feeling you're not a good fit for the company. And that's yet another sign you're being pushed out of your job.
It's also a way they make you feel like you aren't capable of doing your job. They're putting more pressure on you and making you feel like you're failing. Setting you up for failure is a good way for a manager who tries to push you out of your job to make you frustrated. So perhaps, they might think, you'll consider moving somewhere where you won't constantly fail?
8. You're Required to Document Everything You Do
Your manager used to give you informal feedback, sometimes over coffee or during 1:1 meetings, but now it's all in the e-mails with tons of people CC'd? Moreover, you're asked to fill out time sheets to report and keep track of everything you do?
This can mean a change in the company's politics, but not if you're the only one that this change applies to. In that case, it's more likely that they're trying to make you feel stressed all the time and undermine everything you do.
This stress will likely reflect on your performance. And that will reflect on you feeling insecure about whether you're a good fit and whether you might get fired due to your bad performance and constant reviews.
9. You're Being Undermined and Blamed for Everything
Suddenly, everything that doesn't go well is your fault, and you feel you're being constantly undermined in front of your colleagues? That's bullying. And it can be an attempt to make you quit. Undermining your work, making you feel guilty, bad about yourself, and simply unhappy is one of the tactics bosses use to push someone out of a job.
It's damaging your reputation, it can lead to professional burnout, and it's how others lose faith in you as an efficient coworker. And it's all just a build-up to make you go and look for a place where you'll feel better about yourself. It's definitely one of the signs of pushing you out of a job, and it's probably the most obvious one.
Feeling like you might be facing professional burnout? Read more: How to Deal With a Burnout
10. You Hear the Rumors
Your coworkers are telling you your boss is trying to push you out of a job? They're probably right. The other people's perspectives on your relationship with your boss can give you insight into how it looks from the outside. It's perspective without the stress filter, and it's usually an honest one if delivered by a trustworthy colleague.
Remember to always re-think the entire situation before taking their word for it. However, if you were already suspicious about it, it can mean you're right. And it's pretty big validation to hear it from someone else.
On the bright side, if you hear your boss is trying to push you out of your job, it means you're not paranoid and did not imagine it. Your performance is not horrible. You are being given impossible tasks. You are being undermined, ignored, and excluded. There's no reason to be stressed about your performance. But perhaps, it's time to act.
These behaviors are all just a means to an end. Remember that being pushed out of a job is a form of workplace bullying, and no matter the reasons, whether it's your poor performance, insubordination, or just layoffs, you should never be encouraged to quit. If the company wants to end your cooperation, they should fire you and not try to make you feel so bad you'll just leave.


That's why when you feel it's happening to you, you should consider seeking advice from an employment law attorney, who might be able to help you go through this process and present you with the options you have.
Thinking about quitting your job, but you're unsure how to do it? Read our guide: Best Ways To Quit Your Job
What Should You Do If You're Being Pushed Out of a Job
Changing the work environment can be a great next step for your career. Action is always better than inaction, and being active in some situations makes us feel we're able to have a real impact on them, while doing nothing can feel like we've surrendered to the circumstances. Also, depending on the contract, if you quit, it allows your employer not to pay you unemployment.
Trust your gut. If you feel something is wrong, perhaps you're right. Don't let someone else control your career, and don't wait till they decide that if you don't want to leave yourself, they must fire you or make your time in the company even more difficult.
What should you do if you've spotted some signs your boss wants you to quit your job?
1. Don't Blame Yourself
Sure, it's easier said than done, but you must never blame yourself for this situation. Even if your performance wasn't what the company expected, they should never try to push you out of your job. If they're not pleased with your work, they should talk to you openly about it or even fire you, but never show a passive-aggressive attitude towards you.
Think about this process as a learning experience and focus on gaining as much as possible. Stay positive and try to think about what you've learned in the company. That will surely help you update your resume. Try to pinpoint your greatest professional achievements from your time there. Focus on the new work experience you've gained.
When making a resume in our builder, drag & drop bullet points, skills, and auto-fill the boring stuff. Spell check? Check. Start building a professional resume template here for free.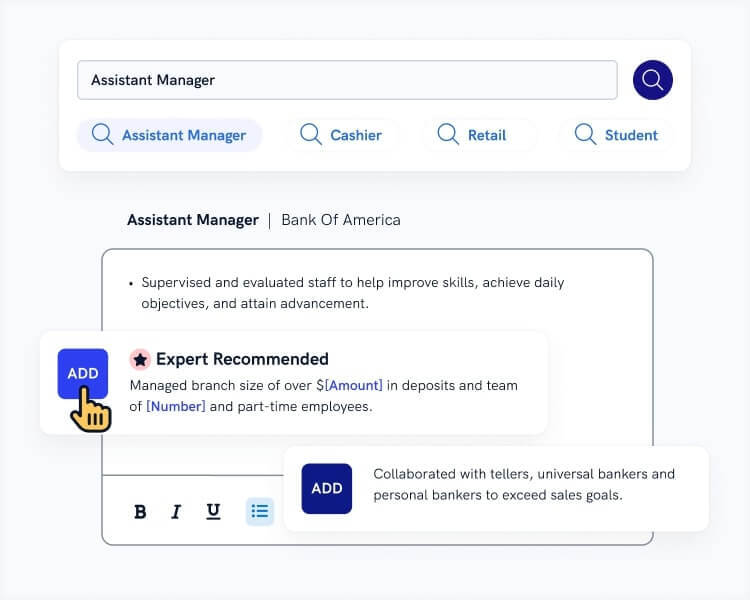 When you're done, Zety's resume builder will score your resume and tell you exactly how to make it better.
2. Think About What You're Looking For Next
You surely know what you don't want. Now focus on what type of company you would love to work for now! Don't compromise, and don't just take any job. Use this time well and find what suits you best
Perhaps you're being pushed out from a little start-up, and working in a big corporation might suit you more now? Or you still want to remain in a small company, but you're looking for something that values work-life balance more and allows you to work remotely whenever you like?
You're not sure where to look for the opening that interests you? Read more: How to Find a Job? Best Ways to Look For a Good Job Opening
3. Start Searching For a New and Better Job Right Now
You still have your job. It means there's no knife on your throat, as you're not unemployed. You still earn money! But it's time to put some extra work into searching for the next career.
Look for openings that interest you. And most of all, start writing your resume. You probably have one, but it needs refreshing, as you've gained some experience. Also, it's always a good idea to tailor your resume to a job description. And in the meantime, learn how to write a cover letter as well. Having it well-written can be your winning point!
Finding the job of your dream doesn't have to be difficult. Read more: The Best Job Search Sites
4. Enjoy Your Free Time
You're currently in an extremely stressful situation, and you need some distractions from thinking about it 24/7. It can feel difficult to focus on more pleasant things, but you should try to do that, as it'll help you distance yourself from what's happening at work.
Waiting can only increase your stress, disappointment, anger, and frustration. It can also lead to work-triggered depression. Acting while being pushed out of your job is what helps not only your career, but also your health.
Remember, this difficult time is only temporary, and it can be a blessing in disguise for your career. Putting extra effort into searching for a new job is what will help you move to a better workplace. But spending quality time with your friends and family will help you get through what's happening to you right now.
Is It Better to Be Fired or to Quit Your Job?
Okay, so now you know what the signs you are getting fired and what to do in that situation. But what should you choose? Should you wait until you get fired, or should you just quit? What's better for you and your career?
Remaining in the job you're being pushed out of guarantees the cash flow, and it seems like a safer option. But while it's safer moneywise, think about your health and how being ignored, undermined, or excluded makes you feel in the long run. Do you overthink it after work, and does it impact your life? And also, if you stick long enough, you will eventually get fired. And that's, obviously, never easy to handle.
On the other hand, quitting immediately after noticing those signs is good for your health. But there's still something to think about. Quitting means leaving on your own terms, yes, but you end up unemployed. And pride is not something you can feed on.
Having an honest conversation about your concerns with your boss or an HR department can be a good start and can allow you to hear their perspective. However, it can also lead to putting your boss in a situation where it'll be difficult to keep pretending everything is fine, and you might get dismissed sooner than later.
Some firings are unlawful. Learn more about what to do in these situations: What To Do If You Were Wrongfully Fired
If you decide to have that meeting, despite the risk, don't ask them if you're being pushed out of a job. Try to assess the situation a bit more subtly.
Speak about your history in the company and your past achievements. Show your recent work. Ask about setting goals for the future that will improve your performance. Showing your successes, trying to engage in special projects, collecting kudos, being proactive and visible—it can all be helpful during that meeting.
Only then ask about your future in the company and what it'd take to earn a promotion or a raise. If they give you an evasive answer, and you've spotted some of the signs we've listed above, you'll have the answer to whether they're trying to push you out of your job or not.
And don't forget, if they want you out, they've probably already made up their mind.
That's why, if you're being pushed out of your job, doing some extra work and trying to prove you're a valuable worker might only lead to you feeling even more disappointed and distressed. Instead, think about you and your future. Remember: you deserve to find a job that makes you feel appreciated and happy!
And just to make it easier for you to find one, write a great cover letter that will make your new employer want to hire you ASAP. You can write it in our cover letter builder here. Here's what it may look like:
Sample cover letter made with our builder—See more cover letter examples here.
Key Takeaway
Now you know what some of the signs you're being pushed out of your job are.
It's never easy to spot them all correctly, and it's never easy to be 100% certain of the situation. However, if you feel unhappy in your workplace, it's always a good idea to consider other options and not wait until you become dissatisfied with your situation.
As cliché as it may sound, happiness isn't something that's given; it's earned. And the best way to do that is by taking the matter into your own hands.
So if you feel you're being pushed out of your job, act now. Identify your best course of action, whether it's leaving or having that difficult conversation. Do what you believe is right for you at the moment.
And good luck! You've got this!
Thanks for reading!
Have you noticed any other signs your boss wants you gone? Or have you got any other advice for someone in that situation? Or perhaps you just want to share your story, how you overcome it, and inspire others to do it? Feel free to share it all in the comments below!