Typing "resume objective examples" into Google seems like opening Pandora's box, doesn't it? So many unfortunate results once it clicks—incomplete definitions, bad examples, and faulty how-to guides.
Think of it no more: this article will help you break the curse and give you resume objective examples worthy of a job interview.
This guide will show you:
15 examples of resume objectives that employers will actually read.
Career objective on resumes for various careers and circumstances.
General objective for a resume that you can use every time.
Step-by-step manual on what to write in a career objective.
Want to save time and have your resume ready in 5 minutes? Try our resume builder. It's fast and easy to use. Plus, you'll get ready-made content to add with one click. See 20+ resume templates and create your resume here.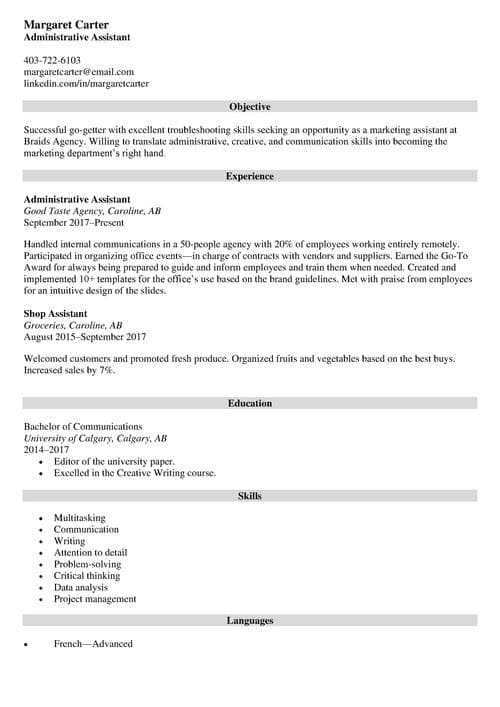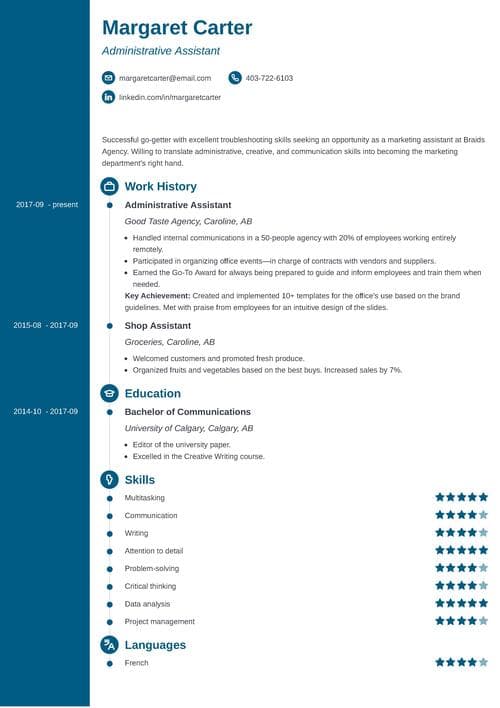 Sample resume made in our builder—See more templates and create your resume here.
What is a Resume Objective?
A resume objective is a professional statement at the top of your resume saying how you'll meet your employer's expectations. It has a 2- to a 3-sentence structure including keywords referring to your experience, skill set, and overall fit for the specific position.
The purpose of the resume objective is to catch the recruiter's attention immediately. It's the first thing your prospective employer will notice on your job application, and you only have 6-7 seconds to make an impeccable impression.
What to Put in the Objective for a Resume?
To succeed, you should include resume keywords that you can take from the job description. They will most likely be qualifications, skills, and work history-related keywords. For example, in a financial analyst resume, you could write "regulatory requirements," "MBA degree," or even "proficiency in Excel."
Having relevant keywords is vital for recruiters to know what kind of professional they're dealing with. But it's also crucial for the Applicant Tracking Software. It parses your application searching for those keywords to establish whether your resume is relevant enough.
When to Use a Resume Objective?
While we're at it, let's settle the debate on whether to use a resume objective or not.
It depends on where you're with your career.
Do write one if you're writing a first job resume and only starting. Or when you're changing your careers. The objective will convince your prospective employer of your aptitude for the job.
But if you're a seasoned professional with years of experience, write a resume summary—a more detailed paragraph of your career accomplishments that highlights your strengths and provides reasons to hire you.
15 Resume Objective Examples
Look at the below examples of a career objective and get inspired to write your own:
Resume Objective Example for Students
Objective for a Resume for Students
BA student of Media Studies at the University of British Columbia looking for an internship position at Sic Media Agency. Seeking an opportunity to use the editing and writing skills to meet the business needs of the content team.
Career Objective for Resume For Freshers
Recent University of British Columbia graduate with Communications and Media major. Seeking to leverage a 3.8 GPA and 80 classroom hours of communications-related courses and apply for the external communications assistant position at Head Communications Inc.
Beginner / No Experience Resume Objective Example
Focused and energetic high school student wishing to volunteer for the Mass Media Agency and assist in building social media strategies for clients. Looking for ways to utilize knowledge from having created a successful TikTok account with 1 million views per video.
Entry-Level Resume Objective for a College Grad Sample
Highly motivated Business Administration graduate with a 3.9 GPA looking to fill a position as a Management Assistant at ABC Corp. Wishing to use strong data analysis and management skills to help ABC Corp with your upcoming challenges.
Career Objective Example for a College Student
Senior year biology student at Anytown University (current GPA: 3.7), looking to join XYZ State University Department of Marine Biology Research Team as a part-time research assistant. Seeking to leverage strong data entry and lab maintenance skills gained through volunteer lab experience at the campus to ensure all research databases and libraries are easily accessible to XYZ State's students.
High School Student Resume Objective Sample
Dedicated team player (captain of the swim team 2 years) with proven leadership and communication skills earned as editor-in-chief of the official school blog. Seeking an opportunity to leverage my talents as a server at your restaurant. I have the follow-through and positive attitude that will allow me to achieve company targets.
Career Change Resume Objective Examples
Resume Objective for Career Change into Different Industry
Successful go-getter with excellent troubleshooting skills and 2+ years experience in succeeding in office environments, seeking an opportunity as a marketing assistant at Braids Agency. Eager to translate my administrative, creative, and communication skills into becoming the marketing department's right hand.
Career Change Resume Objective from Freelance to Full-Time
Results-driven freelance software developer seeking to use proven Python and Ruby skills to deliver coding excellence to Cryptoconic, Inc. Have developed 3 web apps and 5 mobile apps. Contributed to 7 GitHub projects and debugged 17 apps. Wrote backend code for 40 working business websites.
Resume Objective Examples for Multiple Jobs
Customer Service Resume Objective
Communicative high school graduate seeking entry-level customer service position. Advanced speaker of Spanish and Portuguese. Experienced in assisting customers while working part-time as a shop assistant. Hoping to develop my negotiation skills and apply my problem-solving attitude to assist customers of BirdyBorder.
Nursing Resume Objective
Compassionate nursing graduate with basic life support training determined to secure a community health nurse residency at the St Joseph Community Care. Eager to go the extra mile for its patients and provide them with utmost care. Commended for completing 100% of procedures error-free during 3-week externship at St John's Hospital.
Truck Driver Resume Objective
Reliable CDL truck driver with Class A licence seeking to leverage organization, planning, and communication skills to deliver ordered goods for Beth's Logistics' customers on time.
Assistant Resume Objective
3rd-year marketing student hoping to secure a Junior Marketing Assistant position at Ecom. Looking forward to improving my skills in SEO and SEM while using my content creation and social media management knowledge to grow traffic and revenue for Ecom's prestigious corporate clients.
Objective for Early Childhood Education Resume
Passionate early childhood educator with volunteering experience teaching in daycare. Commended by the staff and parents for solid work ethic, patience, and warm personality. Seeking an opportunity to become the next Small Giants's ECE teacher.
Objective Manager Resume
Self-driven Marketing student seeking Social Media Marketing Manager position. Set up and managed social media profiles of three local businesses for 8 months. Used content creation knowledge to gain 4,400+ followers on Instagram account for a local florist. Hoping to support Einarp's clients by improving their brand recognition through social media presence.
Social Work Objective Resume
Empathic LCSW skilled in counselling and developing treatment plans. As a volunteer social worker at Big Brothers, Big Sisters, coached two at-risk children for two years. Commended for high EQ during fill-in fee-for-service counselling at BHC.
When making a resume in our builder, drag & drop bullet points, skills, and auto-fill the boring stuff. Spell check? Check. Start building a professional resume template here for free.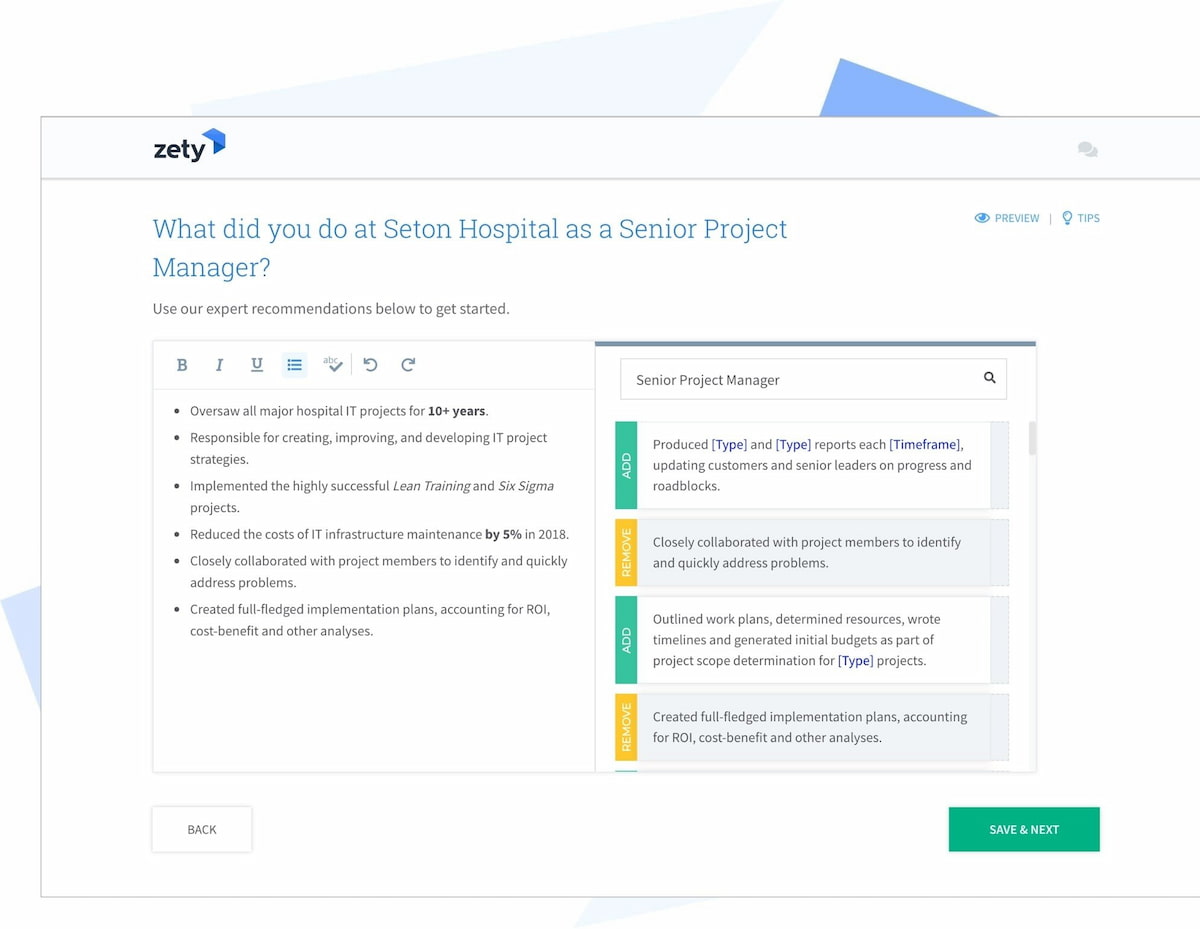 When you're done, Zety's resume builder will score your resume and tell you exactly how to make it better.
How to Write a Resume Objective?
You can use the following template that works every time—
General Objective for a Resume—Template
[Adjective(s)/Certificate(s)] [Your Job Title or Degree] seeking employment as [Position Name] at [Company Name] to apply my [Your Relevant Skills] to help [What Do You Want To Help The Company Achieve].
Or go for it based on the below tips on how to write a professional resume objective:
How to Write a Good Objective for a Resume?
Tailor your career objective to what the employer and ATS want. All in all, you want to include the qualification and skills keywords that the job description mentions.
Avoid using "I" too often. It's best to write in a third person, e.g., Manager leading a 5-person team…
Start with a strong and dynamic adjective to describe your work ethic, and, if certification or licence is necessary to do the job, mention yours right away. That's what will set your application apart from the competition.
Follow with the proudest achievement that has to do with the skills required in the position you're after. Or focus on proving your enthusiasm and drive if you have no specific achievements to speak of yet.
Lastly, solve the company's problem. Say why and how you're the best fit.
Write all that in two to three sentences. It's best for maintaining an organized resume layout.
Double-check for any misspelled words or typos.
And that's it! It's not that complicated, is it?
A great cover letter that matches your resume will give you an advantage over other candidates. You can write it in our cover letter builder here. Here's what it may look like: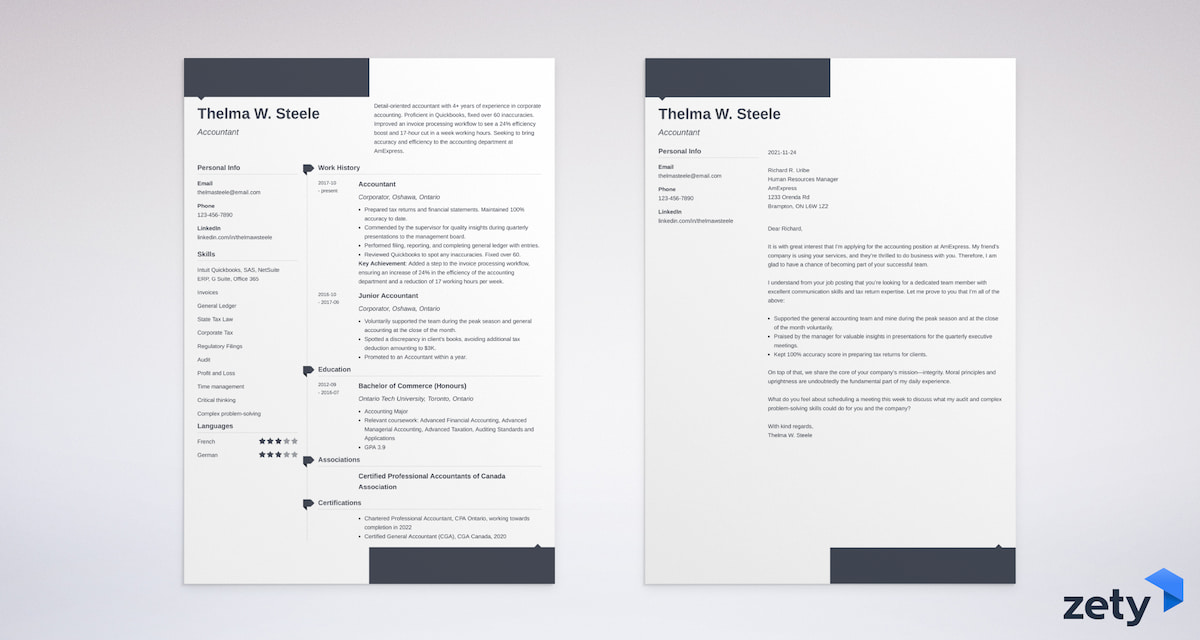 See more cover letter templates and start writing.
Key Takeaway
Let's sum up the article and highlight its main points:
A resume objective is about how you meet your employer's expectations of you instead of your personal goals alone.
The keywords from the job description will get you through the ATS and land your application on the recruiter's desk.
Action verbs and third-person singular helps avoid too many "Is."
You can prove your skillset by mentioning an accomplishment.
Thank you for reading this article!
What strikes you the most about the resume objective? Is any stage of developing your career objective difficult for you?
Give us a shout in the comments! Let's get the conversation rolling.