Writing a CV is a big deal. You're at a crossroads every time you send one out—
Maybe not life and death, but what job you get can have a huge impact on your life. Plus, writing a CV can be a painful process, especially if you got about it the wrong way.
Some extra CV advice will give you that edge you need to get ahead of your competition.
This guide will show you:
A CV example better than 9 out of 10 of those out there.
Expert CV advice on how to make your CV quick and easy for hiring managers to navigate.
Tips and examples of how to give your CV an edge over the competition.
What to do once you think you've finished writing your CV to make sure you're truly ready to click "send".
Want to save time and have your CV ready in 5 minutes? Try our CV builder. It's fast and easy to use. Plus, you'll get ready-made content to add with one click. See 20+ CV templates and create your CV here.
Sample CV made with our builder—See more CV examples and create your CV here.
See some of our related posts to take a deeper dive:
Looking for CV tips and examples for a specific profession? See: 100+ Best CV Examples for Every Industry
Now then! Let's start by looking at an excellent CV example. You can refer back to this sample as you read the advice below, and you're even welcome to copy it and use it as a template for your own CV.
CV Writing Advice: Example CV
James Carpenter
IT Specialist
07884 692 085
james.carpenter@zety.co.uk
linkedin.com/in/james.carpenter9
Summary
Passionate Junior IT Specialist and Information Technology student with 2+ years' experience. At UVEM Training, compiled an inventory of 300+ pieces of hardware across four training centres and migrated 500+ email accounts between domains without data loss. Seeking opportunity to leverage automation skills in helping Star Vultures modernise its IT infrastructure.
Experience
Junior IT Specialist
UVEM Training, London
May 2020–present
Added three new, fully backed-up virtual drives for administrative and accounting staff to use.
Compiled an inventory of 300+ pieces of hardware across four training centres.
Migrated 500+ email accounts between domains without data loss.
Commended for exceptional IT support by 11 trainers and three times by the director.
Education
B.Sc. (Hons) Information Technology
University of West London, London
2022–2025 (expected)
Maintained an 87% grade average over three semesters.
Pursuing a passion for network administration coursework.
Vice-president of the Kernel Developers' Club.
A-levels: ICT, Mathematics, English
Anders Sixth Form, London
2018–2020
8 GCSEs (including Mathematics and English)
Anders High School, London
2016–2018
Skills
Automation
Troubleshooting
Server maintenance
Communication
Organisation
Programming and Scripting Languages
Languages
English—native speaker
Ukrainian—communicative
Now here's the best CV advice to get your CV looking at least as good:
1. Follow this CV advice to not shoot yourself in the foot
Most of the CV advice you'll find in this post will be about what you can do to make your CV better while making writing it easier. There are things, though, that you can do that'll ruin your chances of landing an interview. Here's some CV advice to help you avoid them.
Seek out proven CV writing advice
There's a lot of CV writing advice out there. Like with anything, not all this advice is worth paying attention to. Look for trustworthy resources, written by career and CV writing experts. Our guides fit the bill, not all the others do.
Use the right CV format
Yes, the reverse-chronological CV format is by far the most common one. It's probably for you, but "probably" isn't enough—you need to be sure. Even the best CV guides have to make assumptions about their readers. Make sure you know which of the CV formats is right for you.
Include the right email address
Email is such an important channel of communication in a job hunt, you want to be sure the one you include is up to the task. Never use your work email, it's just not a good look. Ensure that your personal email is professional-looking and appropriate.
Your name and surname is perfect. If that's already taken, try adding your middle initial or a single number at the end (not your birth year). You can also try different providers—an email address that's taken on Gmail, for instance, might still be free on Outlook or Yahoo.
right
james.carpenter@email.co.uk
wrong
jimbo.partayboi@doofdoof.com
Keep your contact details up to date
You'll never get invited to a job interview if employers have no way of contacting you—or rather, if they don't have your current contact details conveniently on hand in your CV. It's easy to overlook old contact details or typos when working from an old CV. Double and triple check your contact details.
2. Advice on how to write a CV
These pieces of CV advice aren't meant to show you how to write a CV from start to finish, that's what a CV writing guide is for. Instead, they'll give you a couple of good habits to implement and a couple of bad ones to avoid.
Keep checking the job advert as you go
Whether this is the only job you're applying for this month or one of ten you're applying for today, keep referring back to the job advert. You should almost know it off by heart by the time you're finished writing your CV. Not speaking to all the requirements is a great way to miss out on an interview.
Read and re-read the job advert at each stage of writing your CV. What you put in your summary, work history, education, and skills sections depends on what the job advert mentions. Your extra CV sections may well depend on it too.
Leave the CV summary till last
Most of our guides suggest this, but people still plough on and try to write their CV from top to bottom. Trying to write your CV summary or objective first will only bog you down and make it less likely you'll do a good job. Leave your summary or objective until last, you'll be glad you did.
Avoid corporate gibberish
Using so-called corporate speak in a CV is a bad idea. It smacks of padding and can be difficult to decode, even for people very used to dealing with it. Use simple and direct language. If what you're trying to say doesn't sound impressive without all the corporate babble, then it's just not impressive.
right
Motivated sales team, increasing sales by 15%.
wrong
Actioned plan to act as thought leader for sales team, inspired them to give 110% and positively impacted sales to the tune of a 15% uptick.
Use specialist jargon sparingly
Legitimate jargon is often unavoidable. It's not a bad thing as long as your reader understands it. The potential for problems arises when HR and hiring managers don't share your specialist background.
Use obscure or niche jargon sparingly. Avoid it if you can. Write in a way that an educated, non-specialist reader can follow. It's a balancing act: you're writing for both the specialist experts and HR managers at the same time.
When making a CV in our builder, drag & drop bullet points, skills, and auto-fill the boring stuff. Spell check? Check. Start building a professional CV template here for free.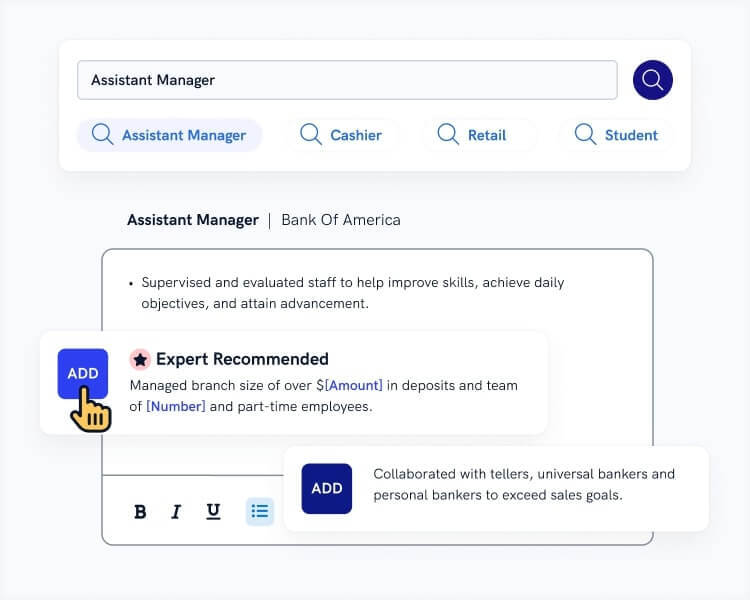 When you're done, Zety's CV builder will score your CV and tell you exactly how to make it better.
3. Save yourself a lot of time and effort with this CV advice
If you're not writing a new CV for every job application, you're doing it wrong. This can seem like a lot of work, but there's a lot you can do to make the process of writing each CV more efficient.
Make master lists
Keep master lists of your skills, certifications, academic qualifications, conferences, work-related achievements, awards, and commendations. Don't delete anything that might come in handy later. You never know when you might need these things, and you'll be glad you kept them when you do.
Keep a plain-text version of your CV
Fancy CV layouts and templates are nice and PDF files are great, but you should also have a simple, unformatted, plain-text version of your CV. Proprietary formats can lose support, copying from PDFs can get wonky. A simple text file will be rock solid for years to come.
Organise and backup your files
Master lists, old CVs, commendations, references, and whatever else might come in handy in future job searches—keep all of it organised and backed up. Create a directory on your computer and organise its contents with subdirectories.
Adopt a logical and descriptive file naming system to make finding what you're looking for faster.
right
cv-company-abc-220615.docx
cv-company-xyz-220615.docx
skills-master-list-220615.docx
skills-master-list-220713.docx
wrong
cv (1).docx
skills.docx
skills (1).docx
Untitled.docx
Read more about making a skills master list: 99+ Key Skills You Can Put on Your CV
4. Appearances matter—CV advice
Getting your CV looking good is not (just) a matter of making it look pretty. Hiring managers deal with more CVs than you might think, and have much less time to do so than they'd like. At some stages of the recruitment process, they have mere seconds per CV.
Anything that makes it difficult for them to find what they're looking for is going to hurt your chances.
Choose a great font or don't choose one at all
There are two kinds of fonts you don't want to use: those that are hard to read and those that look unprofessional. You might be tempted to choose a weird font in order to stand out from the crowd. It'll do that alright, but not in a good way. Giving your reader a headache won't work to your advantage.
Pick an all-rounder font family like Calibri, a classic-yet-modern font like Garamond, or a simple-and-modern font like Helvetica. Fonts all look the same to you? Then don't rock the boat and just leave the default in place, whether that's Liberation, Calibri or Arial—they're all fine.
Read more: Best Fonts to Use on Your CV
Set and forget: Font size, line spacing, and margins
We're so used to reading off screens these days that it's easy to forget that many CVs end up getting printed out and read off the page. Cramped, claustrophobic text is not going to make a good impression, not to mention soothe hiring managers' work-fatigued eyes.
Set your font size to 11–12 points. Make headings larger (and bold) at 14–16 points. Make your name really stand out, pushing it to as much as 18–20 points, depending on the font. Set line spacing to 1–1.15x. Leave the margins at the default one inch.
Don't tweak any of the above settings if you find yourself running out of space. If you have a line or two popping over to a new page, start deleting unnecessary words and rephrasing things until that extra page disappears.
Use white space to your advantage
White space boils down to extra lines left blank between subheadings and sections. Subheadings are there to allow your reader to instantly jump to different parts of your CV. Nestling them up against blocks of text defeats this purpose like nothing else.
Use plenty of white space to separate subheadings and sections from each other. Zoom out and make sure your CV looks balanced, with even spacing throughout and a clean, airy look. Modern, elegant, and professional is what you're going for here.
Know how to make subheadings stand out
Font size and line spacing aren't the only ways you can make subheadings and important details really "pop". Use bold, italicised, and CAPITALISED text to add emphasis and increase clarity. Don't use underlining, though—it's a throwback to typewritten CVs, and it shows.
Using a little colour is also a good idea, provided you do it right. Firstly, by a little we really do mean a little. Stick to one colour and use it sparingly. Secondly, make sure that the colour doesn't make the text hard to read (like if you put black text on a dark-blue background).
Last but not least, keep in mind that recruiters may print your CV in black-and-white. Ensure that your CV is still readable in that form—ideally, print it out yourself in low quality and in monochrome. Black text on a bright-blue background may look great on your screen, but turn into a dark blob on a poorly printed page.
Let a CV builder do all of the above
Use the Zety CV Builder to put all of the above CV advice into practice without lifting a finger. Professionally designed, our templates combine graphic design prowess with CV writing expertise.
Read more: What Makes a Good CV?
5. CV advice for keeping it simple
The purpose of your CV is to show hiring managers that you're exactly who they're looking for, as quickly and clearly as possible. Employers are busy, especially when in the thick of a recruitment process. They're not in a position to dig through your CV looking for any gems buried there.
Stick to standard headings
When hiring managers are looking for your work history, they're scanning for words like "work", "experience", and "history". They're not expecting to see "my journey so far" or "recent, relevant employment history". Always use the simplest, most obvious and direct subheadings for your CV sections.
Cut all unnecessary words
This is one of the most important pieces of CV advice you'll see. Padding your CV with unnecessary words and phrases will only hurt your chances. It's a waste of space, a waste of hiring managers' time, and a great way to let key information get buried among the details.
Use something like the STAR method to structure the achievements in your CV summary or objective and work experience and education sections. Don't include extraneous detail or unneeded background information. Don't repeat yourself or state the obvious.
You also shouldn't be using any personal pronouns anywhere in your CV. If you have the words "I", "me" or "my" in your CV, you should be able to simply delete them. Do read through your work to make sure it still makes sense once you do, though.
right
Received 17 letters of thanks for reassuring distressed patients.
wrong
I regularly reassured both children and adults who were distressed prior to their appointments, and ended up receiving 17 heartfelt letters of thanks.
6. Do this when you think you're done—Not just CV advice
There's nothing like punching in that last full stop in your CV and taking a deep sigh of relief that it's all finished. Do that, but know that you're not done yet. Take a breather and follow the following CV advice and general job-search tips.
Proofread and then proofread again
Spelling and grammar mistakes say a lot about you, none of it good. Even if you're applying for a job that couldn't have less to do with writing, the quality of your CV still speaks to your attention to detail, conscientiousness, and professionalism. There's no job in which none of these things matter.
Check and double-check your CV for spelling and grammar. Use the spellcheck function of your word processing software, making sure you've got the language set to UK English. Run your CV through a grammar-checking web app like Grammarly. Get someone to read through your work, or go online and pay for a proofreading service.
Pay attention to how you name your outgoing files
When attaching your CV and cover letter to an email or uploading it during an online application, make sure your file names aren't sabotaging your candidature.
right
Carpenter-James-CV.pdf
Carpenter-James-cover-letter.pdf
wrong
CV (3) Final_final-v4.pdf
letter.pdf
Write a cover letter
All our CV guides stress this point, but it bears repeating here: the only reason for not including a cover letter is being explicitly told not to include one.
If the employer is expecting a cover letter and doesn't receive one, they're likely to just toss your job application aside and focus on the ones that meet their requirements.
Follow one of our cover letter writing guides after you've finished writing your CV. You'll find that you already have everything you need—it's just a matter of putting it all together and getting it to flow nicely.
Follow up if you don't hear back
Moving even further from purely CV advice, here's something that takes 30 seconds and could make all the difference, yet not many people do it. Say you sent in your job application a week ago and still haven't heard anything back.
Follow up with the employer. Give them a call or fire off a quick email. This shows your enthusiasm and demonstrates that you're able to take the initiative. This doesn't mean being pushy or bombarding them with questions—just a single polite enquiry. It can really put you on their radar.
Sanitise your online presence
These days, one of the first things many employers do with shortlisted candidates is search for them online. Does searching for your full name bring up your social media and other profiles? Do you have anything on there that's embarrassing, inappropriate, or unprofessional?
Clean up or delete anything that you don't want a potential new employer to see. Depending on the platform, it might be enough to change the name on your profile or tweak your privacy settings to stop it showing up in a cursory search for your name.
Try different Zety templates
Our CV builder makes it easy to try on a wide range of CV looks and templates with a single click. Make full use of this feature and try them all. Make your CV something you're proud of—choose a template that speaks to your style and tweak it to match your preferences.
Plus, a great cover letter that matches your CV will give you an advantage over other candidates. You can write it in our cover letter builder here. Here's what it may look like: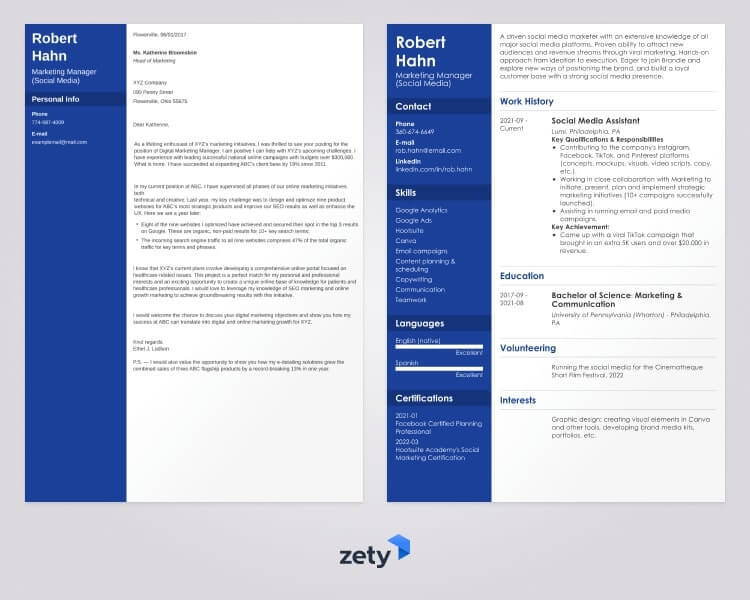 See more cover letter templates and start writing.
Key takeaways
Here are the top pieces of advice on CV writing in the UK:
Take care not to sabotage your job application by including an inappropriate email address, failing to write a cover letter or using the wrong CV format.
You'll be writing many CVs in your lifetime, plan ahead to save time and effort.
Make your CV look as good as you can—it's not just about aesthetics, it's about making it as clear and easy to read as possible.
Keep it simple, from the words you use to how much detail you go into.
Don't stop once you think you're done—that last full stop or bullet point is just the beginning of the end of the job application process.
You've got all the advice you'll need. Now we'd love to hear what CV advice you've got to share:
What do you find most difficult about writing a CV?
What strategies have you found to make the process easier?
Let us know in the comments. We and your fellow readers are waiting!