There's so much advice about resume format online that you feel as if making your way through the Never-Never.
Hey! No worries.
I brought you a hatchet so sharp that you'll find the best camping spot in a jiffy.
Read on to find a resume format crafted just for you.
You'll get:
A full guide to professional resume formats, complete with advice on how to choose the best job resume format for you.
A sample of the best resume format that recruiters prefer.
How to format a resume: simple resume formatting rules that are true for every job resume format.
Want to save time and have your resume ready in 5 minutes? Try our resume builder. It's fast and easy to use. Plus, you'll get ready-made content to add with one click. See 20+ resume templates and create your resume here.
Sample resume made with our builder—See more templates and create your resume here.
See a handy list of contents:
Now let's get into it—
Job Resume Formats
Writing a resume can be Muldjewangk-level scary, especially if you're unaware there's something like a resume format or when you're getting confusing info about which is the right one for you.
Choosing a resume format is the first step in the entire process, so I'm not surprised you're not a fan if you get discouraged at the start.
Let's clear things up once and for all to make it a bit less daunting.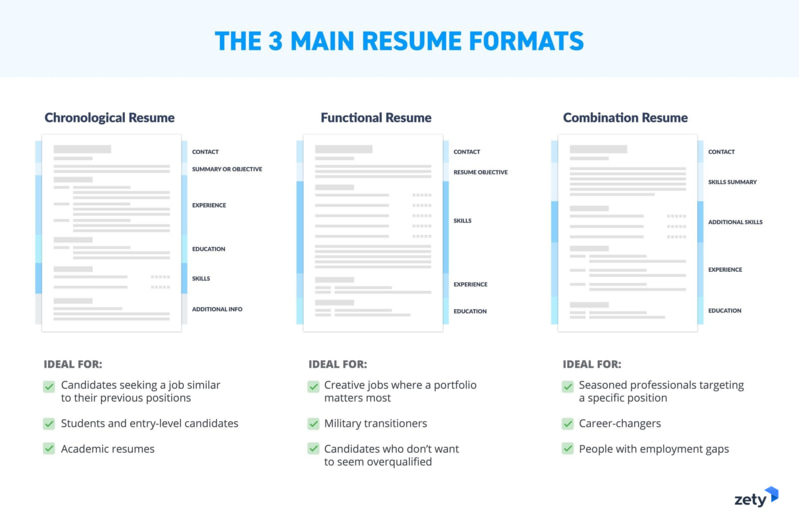 There are three types of resume formats:
Chronological (aka reverse-chronological)
Functional (also skills-based)
Combination (sometimes called hybrid).
1. Chronological / Reverse-Chronological Resume Format
The chronological resume format focuses on your work experience and professional achievements, but—
It's versatile, which makes it the best resume format out there. No matter where you are with your career, having none or years of experience, changing careers, or going back to the workforce, it's a safe bet all the way.
The reason is, recruiters have known it for years and got used to it. So, you're making their job a lot easier, writing your resume in a chronological format.
Sounds like extra points for format only?
Perfect!
Plus, most of the Applicant Tracking Software treats the chronological format as default. And because it has access to your resumes first, you can be sure to score high (assuming you did a great job tailoring it) and get your resume onto your recruiter's desk.
The reverse-chronological format also requires you to write everything in reverse order, listing your jobs, schools, and the rest starting with the most recent.
Have a dekko at the below chronological resume format example:
Chronological Resume Format Sample
Alannah Vasey
Email: allanahvasey@email.com
Mobile: 01 2345 6789
Personal statement
Certified Event Manager with 6+ years of experience in the wedding industry, seeking an opportunity with We Will Marry You to deliver excellence and brilliancy to every client's wish about the most important day in their lives. Oversaw project budgets from $50K to $1M and catered to client's needs with unshakeable 100% customer satisfaction.
Employment History
Event Management Consultant
Happyendings, Perth
November 2016–February 2021
Responsibilities and Achievements:
Managed an established portfolio of 45+ vendors, suppliers, and contractors.
Tracked budgets ranging from $50K to $1M.
Coordinated shipments and receipts, making 25+ calls a day.
Successfully handled multiple (4-6) projects at the same time.
Oversaw the development of a wedding planning website, raising the number of signed contracts by 29% in 8 months.
Managed a team of 3 event planners.
Wedding Coordinator
Wed Co., Perth
October 2014–September 2016
Responsibilities and Achievements:
Designed over 60 wedding reception proposals, also international.
Delivered 100% of the client's event requirements and wishes.
Coordinated all activities, from troubleshooting on the day to clearing the venue, for 100- to 250-guest weddings.
Education
Bachelor of Communication and Media
University of Western Australia
2011–2014
Personal Attributes and Key Skills
Active listening. Made client's wedding wishes come true within budget and before the deadline.
Collaboration. Worked with teams, encouraging good communication and delegating tasks based on my teammates' strengths.
Problem-solving. Successfully troubleshot inconsistencies with the plan on the wedding day.
Organisation and planning. Delivered multiple tasks on schedule.
Interpersonal skills. Communicated with empathy and understanding the importance of their events.
Professional Certifications
Advanced Diploma of Event Management, TAFE WA
Certificate in Business Administration, Career Academy
Languages
Mandarin—Advanced
Italian—Intermediate
References
Lucy Richard
Business Owner
Wed Co.
Phone: (01) 2345 6789
Email: lucyrichard@email.com
James Farrow
Direct Manager
Happyendings
Phone: (01) 2345 6789
Email: jamesfarrow@email.com
Here's the sections order in a reverse chronological resume:
Header with your contact information.
Personal statement highlighting your fit for the job with a career summary or resume objective.
Employment history in reverse order, going back no further than 15 years, with your relevant and quantifiable accomplishments in bullet points.
Education with the highest degree you completed, plus your academic achievements.
Personal attributes and key skills as a list of the most relevant resume skills and qualities you have.
Other sections (certificates, volunteering, awards, etc.), although optional, including relevant achievements that add value to your application.
References with contact details to two eligible individuals.
If you're a student or graduate, give the reverse-chronological format a fair go.
The only thing to tweak is to put education right below the personal statement instead of employment.
You can add your academic achievements, like making the Dean's list, graduating with honours,or club / society presidency. Relevant coursework will also do because you prove you already have the basic know-how.
And then, go on with employment history and the rest of the sections.
Pro Tip: If you want to check if your resume is scannable, copy and paste its content onto a TXT text editor, e.g., Notepad. If you can see what you wrote instead of hieroglyphs, the ATS will manage.
When making a resume in our builder, drag & drop bullet points, skills, and auto-fill the boring stuff. Spell check? Check. Start building a professional resume template here for free.
When you're done, Zety's resume builder will score your resume and tell you exactly how to make it better.
2. Functional Resume Format
The functional format of a resume, or skills-based if you prefer, puts your skills and attributes on stage. So, if you're experiencing stage fright in the skills department, you'd better avoid this one. But—
It's definitely for you if you'd rather saw your work experience backstage.
That's why in the skills-based resume format, a skills summary will be at the top and work history at the very bottom.
Here's how you should structure a functional resume:
Header.
Personal statement.
Skills summary.
Education.
Employment history.
Other sections (optional).
References.
Let's strip the critical sections down like Neenish tart layers:
Personal statement in a functional resume should be stuffed chocka with your relevant skills.
Skills summary should show your strongest and relevant skills as subheadings (both soft and hard), with 4 to 5 bullet points giving proof of that skill, for instance:
RIGHT
Skills Summary
PROBLEM-SOLVING
Wrote down backup plans together with bride and groom in case the main items on the list fail.
COLLABORATION SOFTWARE
Tracked team workload and progress using Asana.
Employment history needs only your job titles, company names, locations, and dates you worked there.
Education could do a world of good for you if you included relevant training or certificates, along with academic achievements.
Based on the structure, you've probably deduced it's for you because you're a student, have little to no experience, or you're branching out.
Fair enough.
It's perfect for creative industries where your portfolio speaks for itself. But—
Recruiters dread that format nonetheless.
It says you've got heaps of skills but leaves that iffy feeling behind.
Why wouldn't you disclose your experience? Haven't you progressed? Didn't you want to take on responsibility?
If that's true, your resume isn't worth a Zack.
But if not, the recruiter won't know that, and you won't be given a chance to explain.
3. Combination Resume Format
The combination resume format is, well, a combination of the chronological and functional formats. It gives away your work accomplishments and a detailed skills summary.
The best of both worlds, too right, but you must make considerable effort to pull through. Everything you put down needs to complement itself and present relevant highlights of your career instead of a summary.
And—
The ATS prefers to take five than to scan such a resume on top of it all.
Feeling stuffed already?
Don't be.
If you have big mobs of experience and seek an advancement opportunity, writing that type of resume will be good fun.
Have a geek at how to order sections in the combination resume format:
Header.
Personal statement.
Skills summary.
Employment history.
Education.
Other sections (optional).
References.
Onto the most important bits—
Personal statement works here only if you speak of your experience and skills combined, plus you should conclude with how they come in handy in the new job.
Skills summary is the exact same section as in the functional resume.
Employment history mirrors the one from the chronological resume, where you listed your quantifiable professional achievements under each job in bullet points.
Picking the resume format is just a portion of the success.
To go a long way with any of the above formats, you need to present your accomplishments and highlight the qualifications and qualities that employers are looking for.
The best way to do that is to look into the job description. Every keyword to match in your application is right there.
How to Format a Resume
Whichever format you choose for your resume, you should always create a clean layout not to give your recruiter a headache.
Find basic resume formatting rules below to follow every time you write a resume:
Standard Resume Format
Pick a resume font that's legible and easy to decipher by the ATS and by human eyes, namely Calibri, Arial, or Helvetica. Choose between 10 and 12 pts in font size.
Align text to the left.
Create whitespace by setting 1" margins on every side and 1–1.15 line spacing. Add extra space between the section heading and contents.
Design a resume header with your basic information: full name, phone number, and email address. Never include your DOB, photo, marital status, or religion. The mailing address is optional.
Divide your resume into sections: personal statement, employment history, education, personal attributes and key skills, and references. Feel free to include additional parts, like certificates or languages, among others.
Use resume bullet points to write about your activities.
Write about the relevant achievements and experiences as much as you need to, but don't go over four pages. 2 to 4 pages are an ideal resume length.
Always check whether your recruiter wants a Word or PDF document. If there's no information, save your resume to PDF file format.
Remember to save your resume with the proper file name, like AllanahVasey_EventManager_Resume.pdf.
Plus, a great cover letter that matches your resume will give you an advantage over other candidates. You can write it in our cover letter builder here. Here's what it may look like: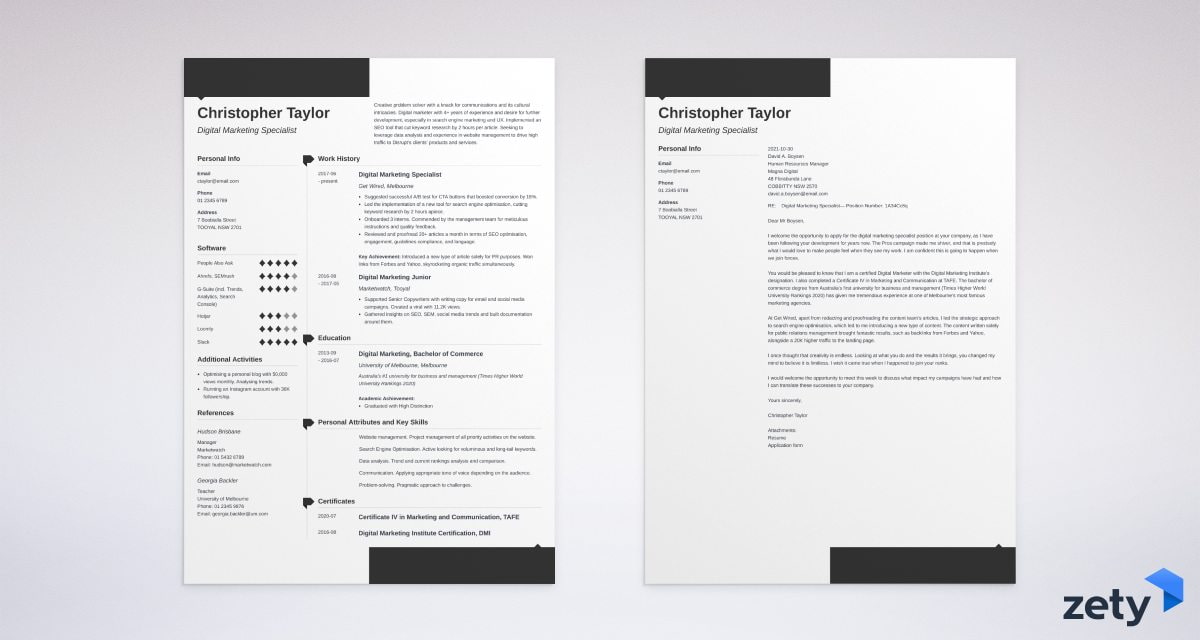 See more cover letter templates and start writing.
Key Takeaway
I reckon a good recap will come in handy:
There are three different types of resume formats, and their structure depends on what you wish to highlight in your job application.
The chronological format is the best choice for every job applicant because both recruiters and the ATS are familiar with it.
Regardless of the format, always make sure to create a clean layout.
And never forget to tailor your resume to the job you pursue.
Beaut!
Give one of the resume formats a burl, and good luck!
Please tell us—
Do you have questions about resume format templates? Still unsure of a good resume format for you? Perhaps we missed any advice?
Give us a shout in the comments! Let's get the conversation rolling.