You're writing a resume and can't stop asking yourself these questions: What skills do I have? What skills does my employer want me to have? What…
I'll tell you what—you're about to see a massive list of skills for a resume and ways to include them into your application that'll sweep recruiters off their feet.
This guide will show you:
The best skills to put on a resume and get the recruiter's attention you deserve.
A detailed list of skills for your resume, no matter your industry.
Plus, tips and examples of how to list those skills and get the job you've always wanted.
Want to save time and have your resume ready in 5 minutes? Try our resume builder. It's fast and easy to use. Plus, you'll get ready-made content to add with one click. See 20+ resume templates and create your resume here.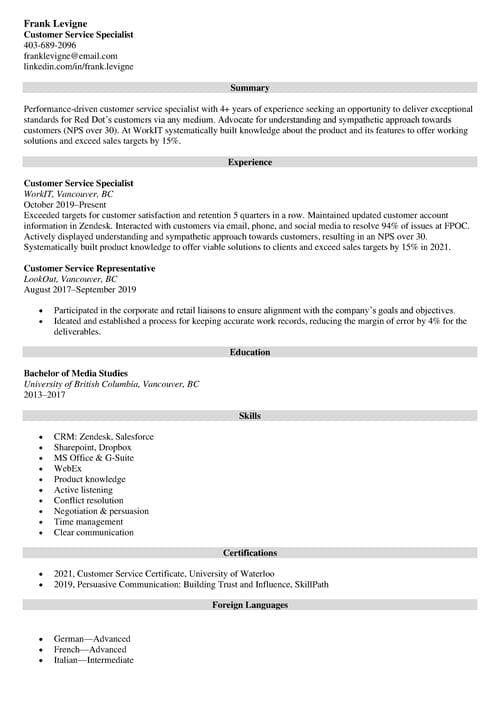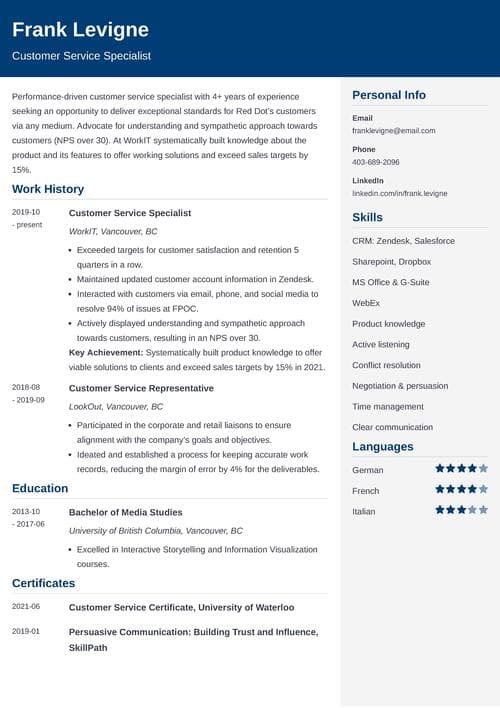 Sample resume made in our builder—See more templates and create your resume here.
Best Skills to Put on Your Resume
The best skills list on a resume includes soft (personal) and hard (professional) skills. Recruiters spend only seconds reviewing an application, so you've got to do a perfect job and highlight only those skills they'd like to see.
Here are the best skills for a resume recruiters are looking for:
Customer service skills
Computer skills
Leadership skills
Project management
Problem-solving
Analytical skills
Emotional intelligence
Collaboration
Organizational skills
Communication skills
Examples of Skills and Abilities on a Resume
If you're writing your first-job resume, a general resume skills list like the one above may be acceptable if the skills you included target the right keywords in the job posting.
However, specialists and senior candidates won't benefit from it at all. You need to be dead specific on the skills you're targeting with your entire application.
The below examples of skills and abilities on a resume will help you achieve exactly that:
Customer Service Skills for a Resume: Examples
Product knowledge
Conflict resolution
Patience
Problem-solving
Adaptability
Email writing
Attentiveness
Clear communication
Computer Skills for a Resume: Examples
MS Office & G-Suite
Programming
Website development
Graphic design
Machine learning
Debugging
Social media management
Database management
Leadership Skills for a Resume: Examples
People management
Strategic thinking
Stress management
Conflict resolution
Interpersonal intelligence
Time management
Delegation
Flexibility
Project Management Skills for a Resume: Examples
Agile frameworks
PRINCE2
Risk management
Budgeting
Technical expertise
Scheduling
Tracking and monitoring
Meeting facilitation
Problem-Solving Resume Skills: Examples
Troubleshooting
Forecasting
Problem identification
Data collection
Creativity
Decision making
Self-reliance
Root cause analysis
Analytical Skills to Put on Resume: Examples
Research
Data interpretation and visualization
Classification
Auditing
Comparative analysis
Data access and sharing software
Reporting
Data mining
Emotional Intelligence Skills to Put on Resume: Examples
Empathy
Motivation
Sensitivity
Active listening
Teamwork
Dependability
Adaptability
Perceptiveness
Collaboration Skills to Add to a Resume: Examples
Empowerment
Group facilitation
Responsibility
Open-mindedness
Fairness
Tolerance
Self-awareness
Inspiring and applying trust
Organizational Skills to List on a Resume: Examples
Ownership
Self-management
Integrity
Self-motivation
Planning
Goal setting
Analytical thinking
Attention to detail
Communication Skills to Add to a Resume: Examples
Nonverbal communication
Public speaking
Constructive criticism
Negotiation and mediation
Presenting
Responsiveness
Emotion control
Listening
When making a resume in our builder, drag & drop bullet points, skills, and auto-fill the boring stuff. Spell check? Check. Start building a professional resume template here for free.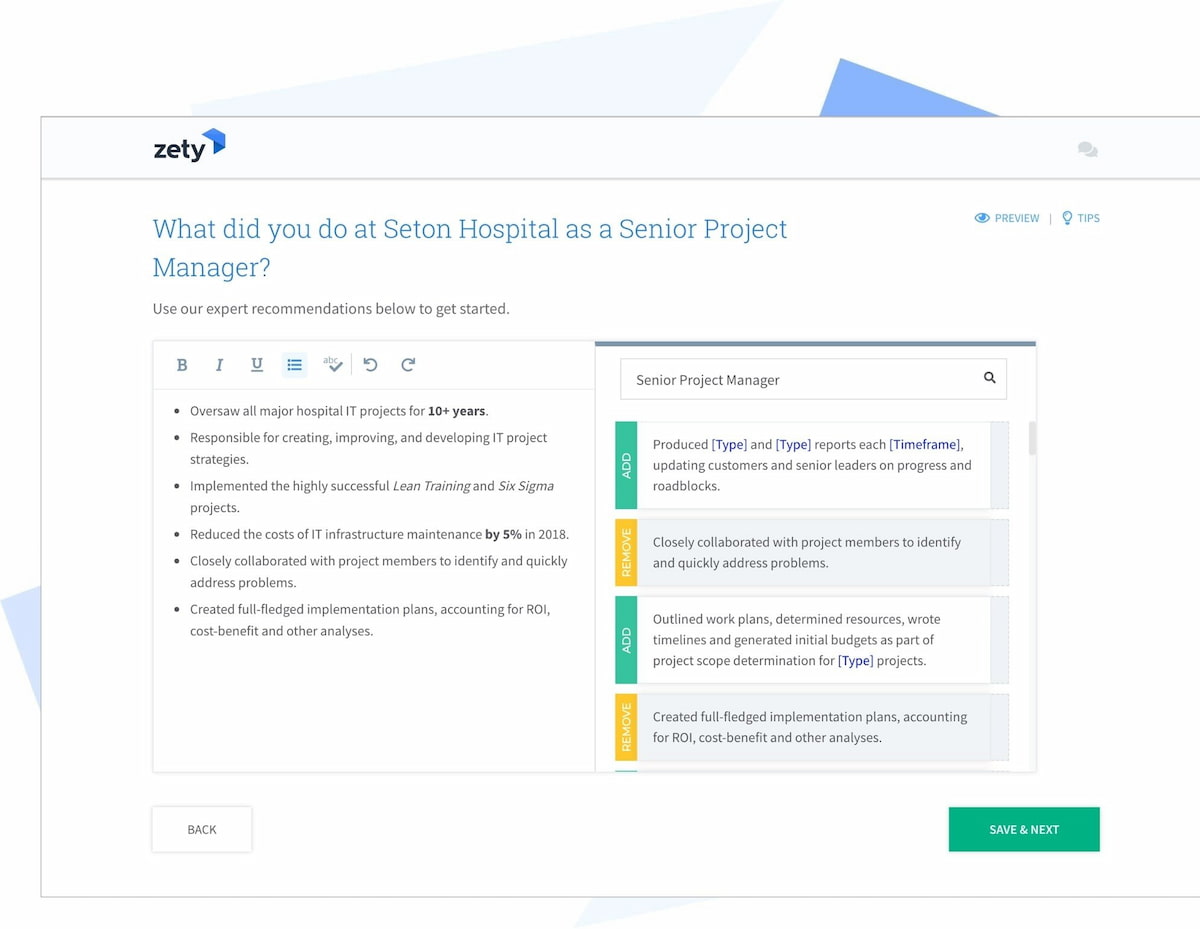 When you're done, Zety's resume builder will score your resume and tell you exactly how to make it better.
How to List Skills on a Resume?
It all comes down to those five steps:
1. Research What Skills Are in High Demand in Your Industry
Think of all the giants in your industry and open their career pages. Look for the skills they require or recommend as nice-to-haves in their job descriptions.
That way, you'll learn what's in demand in your niche and make your resume stand out from the competition.
Of course, avoid lying to your recruiters and making things up only to fit into the picture of a perfect candidate.
2. Make a Targeted Selection
When you find a job opening that you wish to apply for, be careful not to miss any of the required qualifications and qualities—they're the skills you need to target with your resume.
Here's how you can do it:
Think of the skills you've gained throughout your career and education.
Turn them into a list.
Match them with the skills enlisted by the employer in the job description.
And there you have it!
Now you're ready to pepper them all over your application. You don't know where? Follow along to find out:
3. Create a Resume Skills Section
Your recruiters will look for your skills in the dedicated section, so remember to single it out from the rest of the resume parts.
Start with your strongest skills that correspond to the employer's list of the desired skill set. Ensure that you include hard and soft skills, and aim for a list of 5–10 skills.
Check the following to see an example of the perfect skills section on a customer service resume:
Skills
CRM: Zendesk, Salesforce
Sharepoint, Dropbox
MS Office & G-Suite
WebEx
Product knowledge
Active listening
Conflict resolution
Negotiation & persuasion
Time management
Clear communication
We're not quite done with your resume just yet. You can also list skills in other sections, such as your work history.
4. Tailor Your Work-Experience Section to Include the Relevant Abilities
As work experience is a second-to-none section in your resume, you really need to pay special attention to what you write there. Accomplishments are one thing. Skills worked in between the lines are the other. But there's a formula to mix them into a good employment history.
You've already read the job description a couple of times, no? So you know which skills your employer wants to hear about from you. It's your job now to think of the best accomplishments demonstrating those skills.
I'll show you an example of a job posting and a corresponding experience section, so have a look below:
As a Customer Service Specialist, you will communicate courteously with customers by telephone, chat, text, email, letter and face-to-face, improve customer service procedures, policies and standards for the entire company, and keep ahead of developments in customer service by reading relevant publications, going to meetings and attending courses.
Now see a sample work experience section in response to the above job description:
Experience
Customer Service Representative
LookOut, Vancouver, BC
August 2017–September 2019
Ideated and established a process for keeping accurate work records, reducing the margin of error by 4% for the deliverables.

Interacted with customers via email, phone, and social media to resolve 94% of issues at FPOC.

Actively displayed understanding and sympathetic approach towards customers, resulting in an NPS over 30.
Key Achievement: Systematically built product knowledge to offer viable solutions to clients and exceed sales targets by 15% in 2021.
5. Work In the In-Demand Skills in the Summary or Objective
The resume summary or objective is the very first thing your recruiter will read after picking up your application. That's why it's critical to pepper it with the most important skills and prove you've got what it takes.
All in all, it's an excellent opportunity to mention more keywords from the job description.
Have a look at the example of customer service skills laid out in a resume summary:
Summary
Performance-driven customer service specialist with 4+ years of experience seeking an opportunity to deliver exceptional standards for Red Dot's customers via any medium. Advocate for understanding and sympathetic approach towards customers (NPS over 30). At WorkIT systematically built knowledge about the product and its features to offer working solutions and exceed sales targets by 15%.
A great cover letter that matches your resume will give you an advantage over other candidates. You can write it in our cover letter builder here. Here's what it may look like: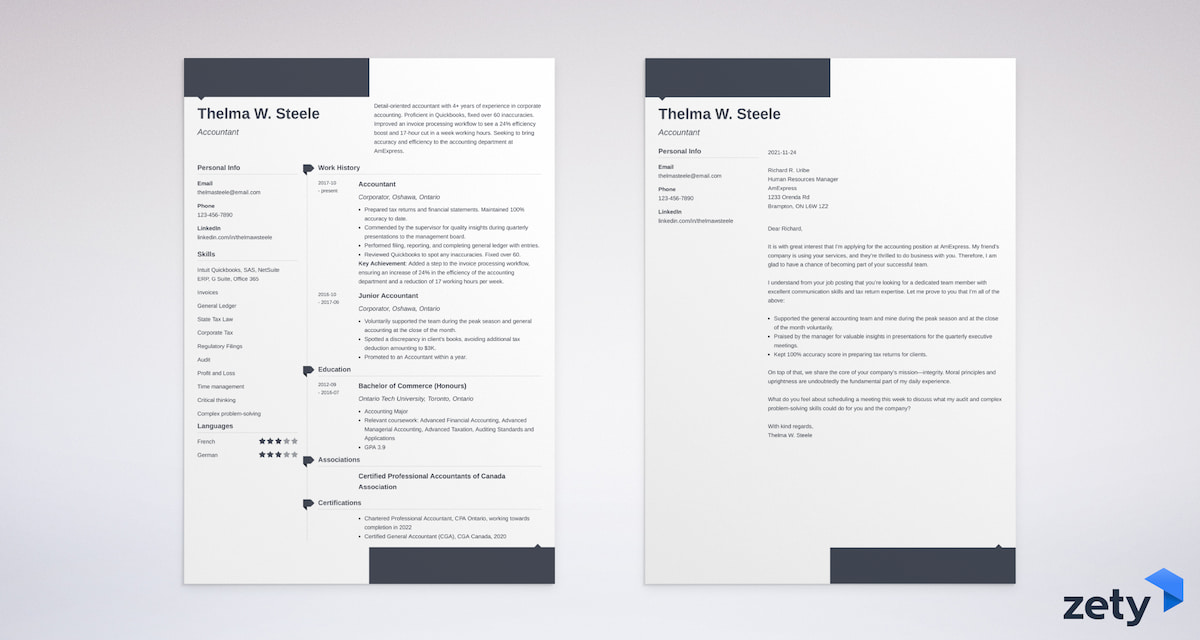 See more cover letter templates and start writing.
Key Takeaway
Skills on a resume in a nutshell:
Make room for the essential skills at the top of your skills list.
Mix hard and soft skills to satisfy all requirements of the job offer.
Target only those skills that the employer lists. Use the room left for your relevant achievements.
Weave the skills in the employment history and professional statement sections.
And that's a wrap!
Thank you for taking the time to read my article!
Please tell us—
Do you have more questions about skills for your resume? What do you think are the best skills to put on a resume? Do you believe soft skills are equally valuable as technical skills on a resume?
Give us a shout in the comments! Let's get the conversation rolling.