CV Templates
Whether you're looking for a simple, creative, or modern CV template, Zety's got you covered. Just pick the best CV template for your needs, fill in the details, and be ready to apply for your dream job in minutes!
Rated Excellent on Trustpilot
Need online CV templates with content tailored to specific jobs?
See CV examples
Editable CV Template: Free Download
Personal Information
[Your Name]
[Your Job Title]
[Phone Number]
[Email Address]
[LinkedIn]
[Optional: Personal Website, Twitter, Instagram, Or Other Relevant Links]
CV Summary or Objective
Dependable/Detail-oriented/Creative [Your Job Title] with [X] years of experience in [Your Industry/Niche]. Helped [increase revenue/cut costs/train employees/other achievements] by [X]%. Looking to join [Company Name] to ensure [the highest customer satisfaction scores/a steady boost in ROI/prompt project delivery/other metrics and KPIs you hope to deliver for the prospective employer].
[Your Job Title]
[Company Name]
[Date Range]
List your jobs in reverse-chronological order. Go with the most recent one first.
Go back no more than 15 years of your work history.
Use up to 6 bullet points to describe your work history. Don't cram your CV with unnecessary details. As you go back in time, limit the number of bullet points under each entry.
Focus on your relevant achievements and skills. List them as accomplishment statements beginning with action verbs, e.g., [Boosted sales/cut costs] by [X]% through implementing a new system of [invoicing/project management/procurement, etc.].
Stay on one page.
Education
[Degree]
[University Name]
[Graduation Year]
If you have a few years of professional experience, limit your education section to your highest degree.
If you don't, leverage your academic achievements. Include your CGPA if it's high enough to impress recruiters and add relevant extracurricular activities.
Skills
[Skill #1: Advanced]
[Skill #2: Advanced]
[Skill #3: Basic]
Additional CV Sections
[Certificates And Licences]
[Volunteering]
[Industry Conferences]
[Awards]
[Foreign Languages]
[Hobbies And Interests]
Create your CV now
Best CV templates
for freshers and professionals
Creating a CV from scratch quickly turns into a nightmare. Uneven margins, messed up layouts, and 3 pages too many. This is where professional CV templates come in: just pick a design, fill in the details, and the Zety builder will take care of the rest.
Attractive designs
Each template features a professional CV format that highlights your best-selling points. Eye-catching icons help to free up space that you can use for your achievements. Modern graphs draw attention and show off your skills. Plus, one- or two-column CV templates make it possible to keep your CV to a single page, showing off only your best assets.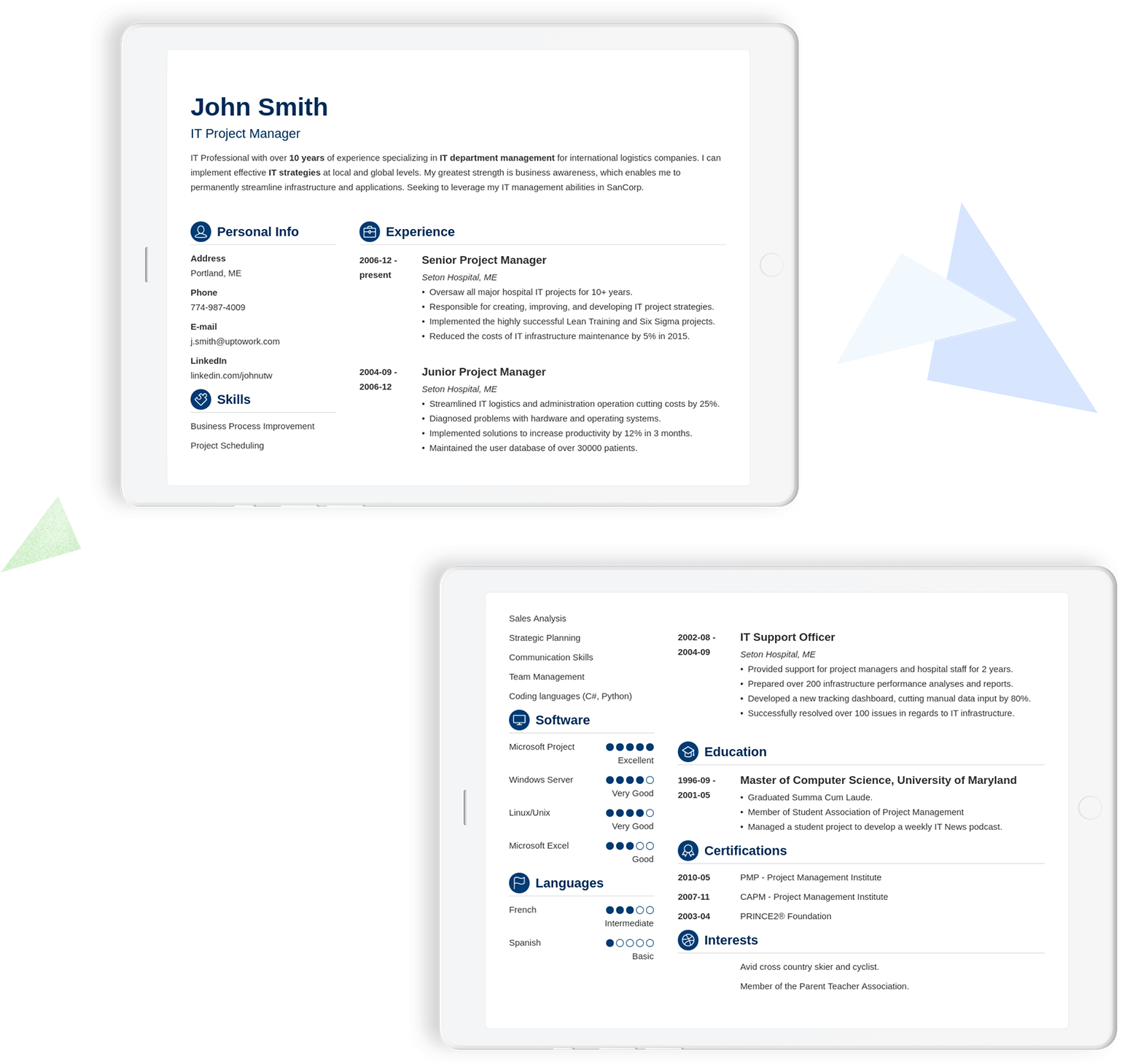 Easy to use
Ever downloaded a free CV template that went all over the place as soon as you started typing? Not the case with Zety. We keep it simple: pick a best CV template for your needs, add your content, and let our builder handle the rest. To make your life even easier, our CV wizard will guide you every step of the way, providing writing tips and ready-made content. Drag, drop, and adjust as much as you like: your editable CV template will adapt to your needs.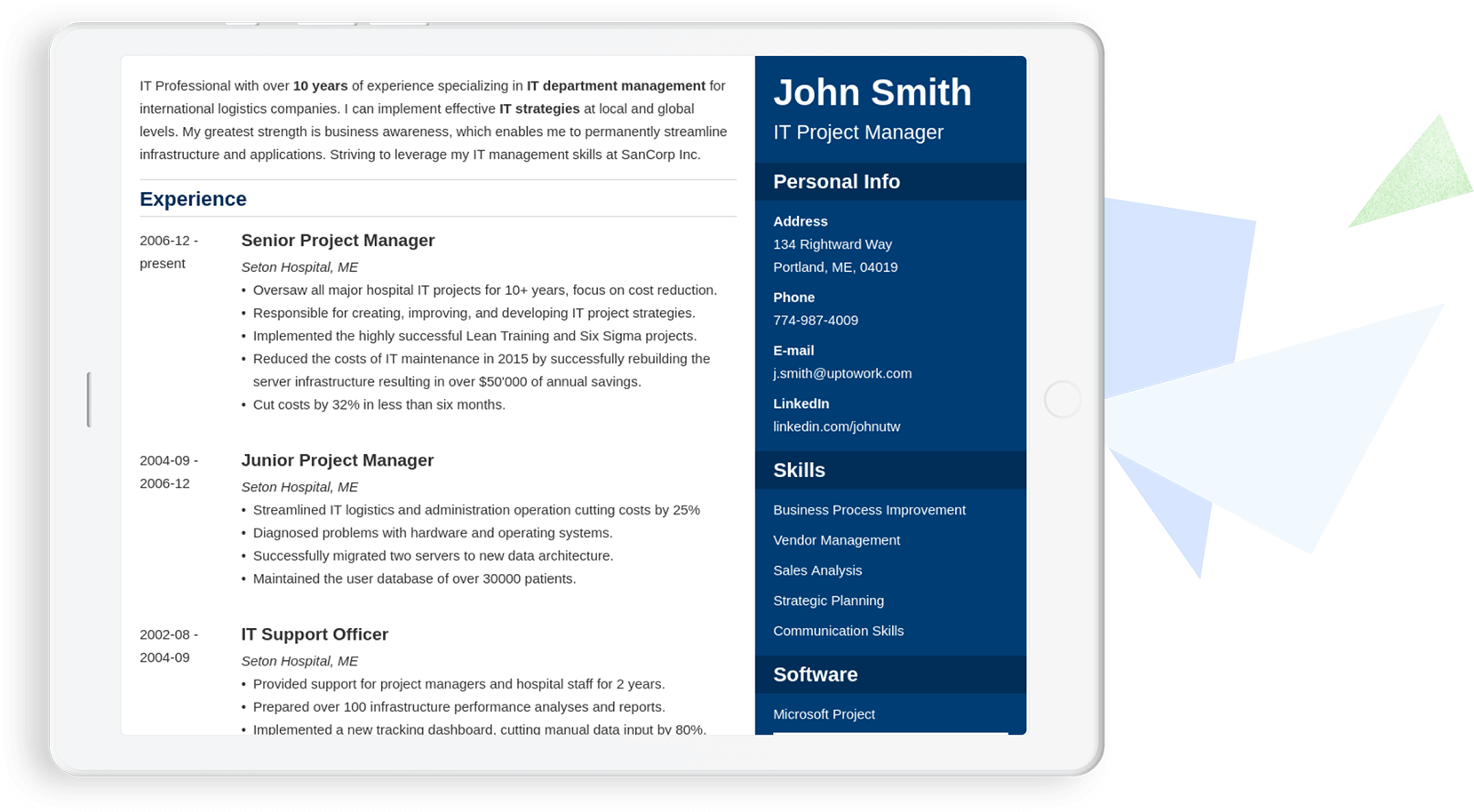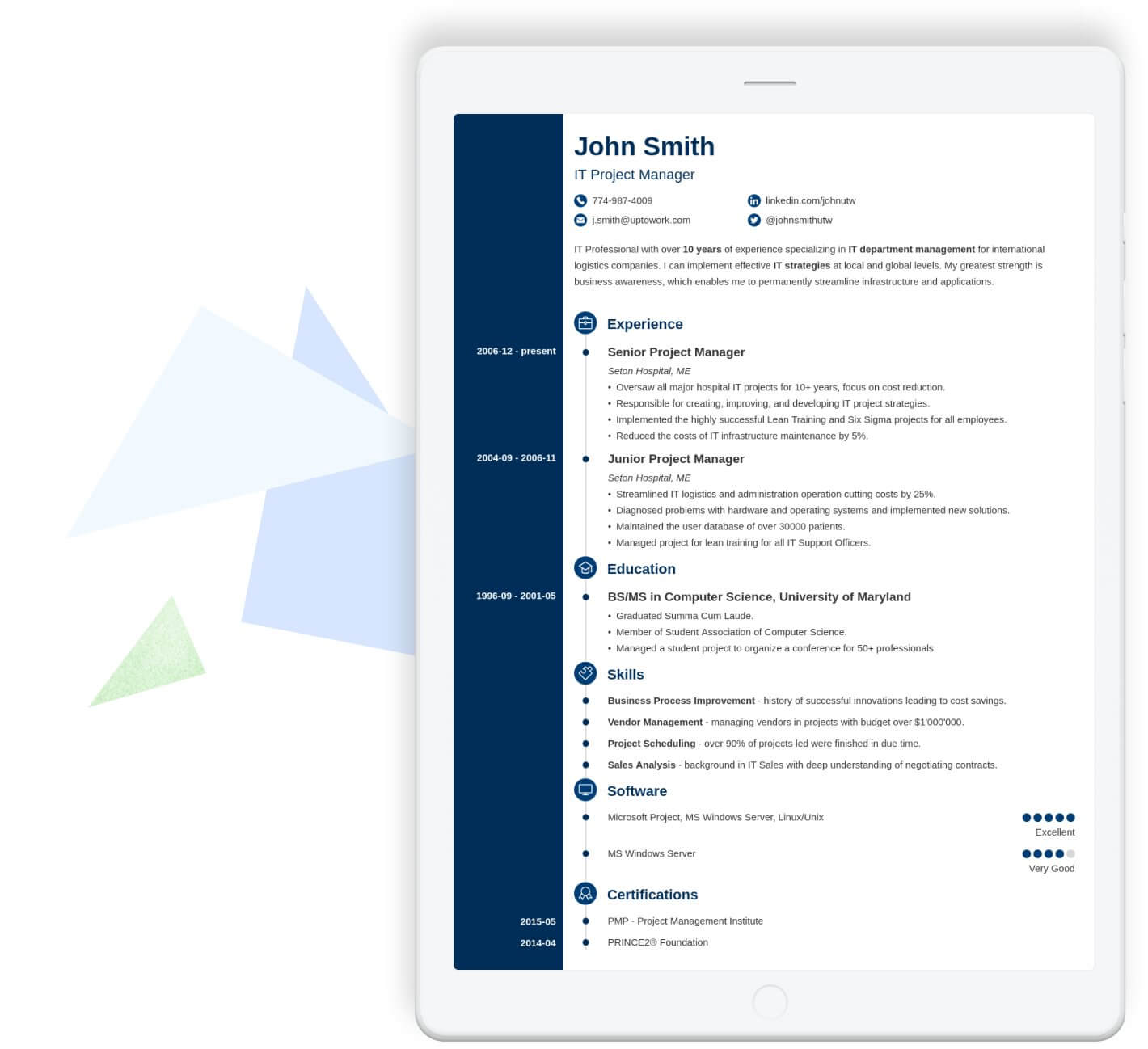 Quick & intuitive
Why waste your time on building your CV when there's a tool to do it for you? With Zety, all you have to do is choose your favourite curriculum vitae template and follow the in-app tips. Pick a CV template for freshers and start from scratch, or upload your old CV to give it an updated look. You can even create a cover letter while you're at it. You'll be ready to apply for your dream job in minutes, hours ahead of your competition!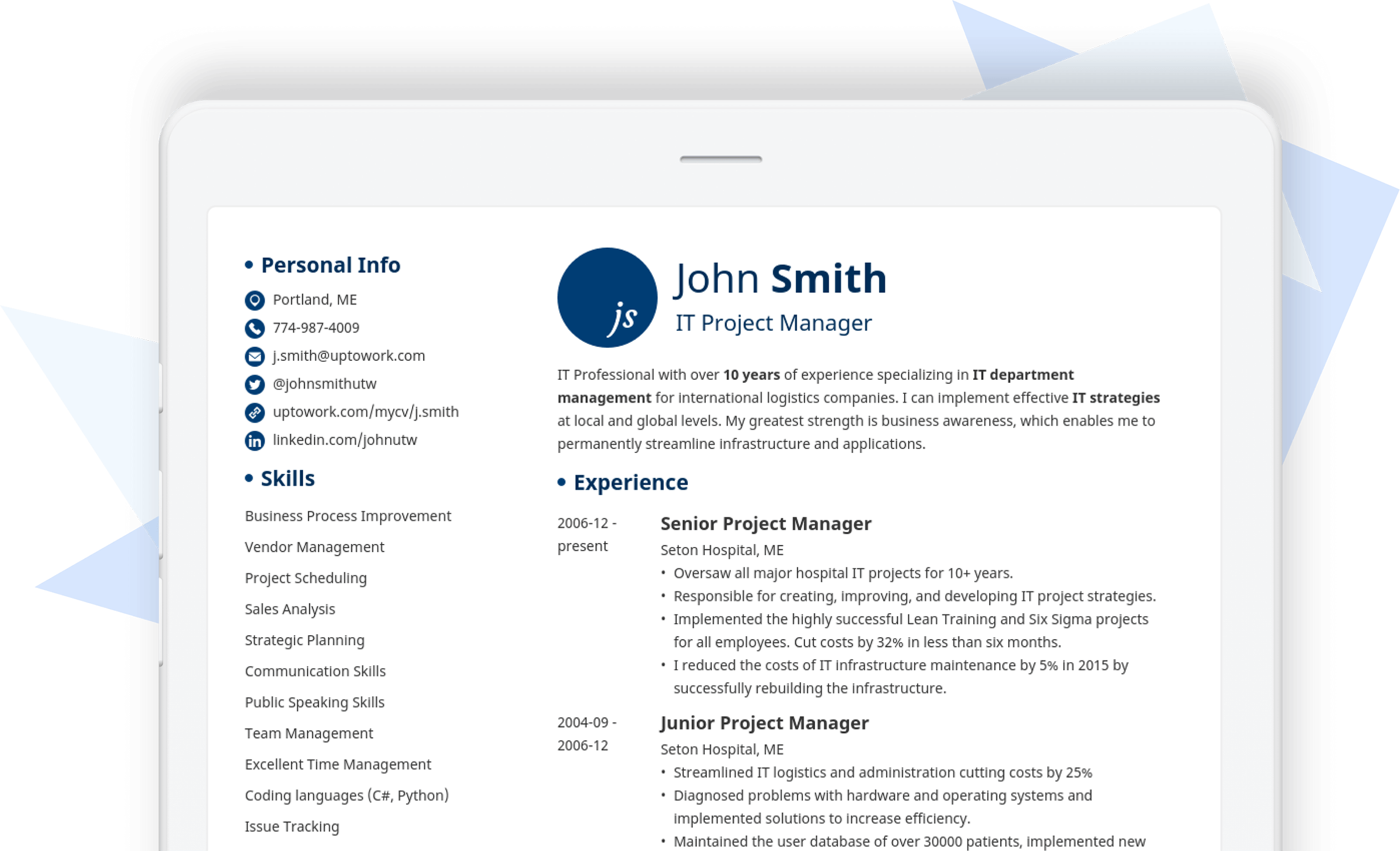 Confidence boost
Ever get jealous looking at your competitor's flashy CV designs? With Zety, you can make your CV look as if it was custom-made by a team of designers. Each of the 20+ CV templates will impress recruiters and make you stand out from the competition, giving you the confidence boost you need to land the job.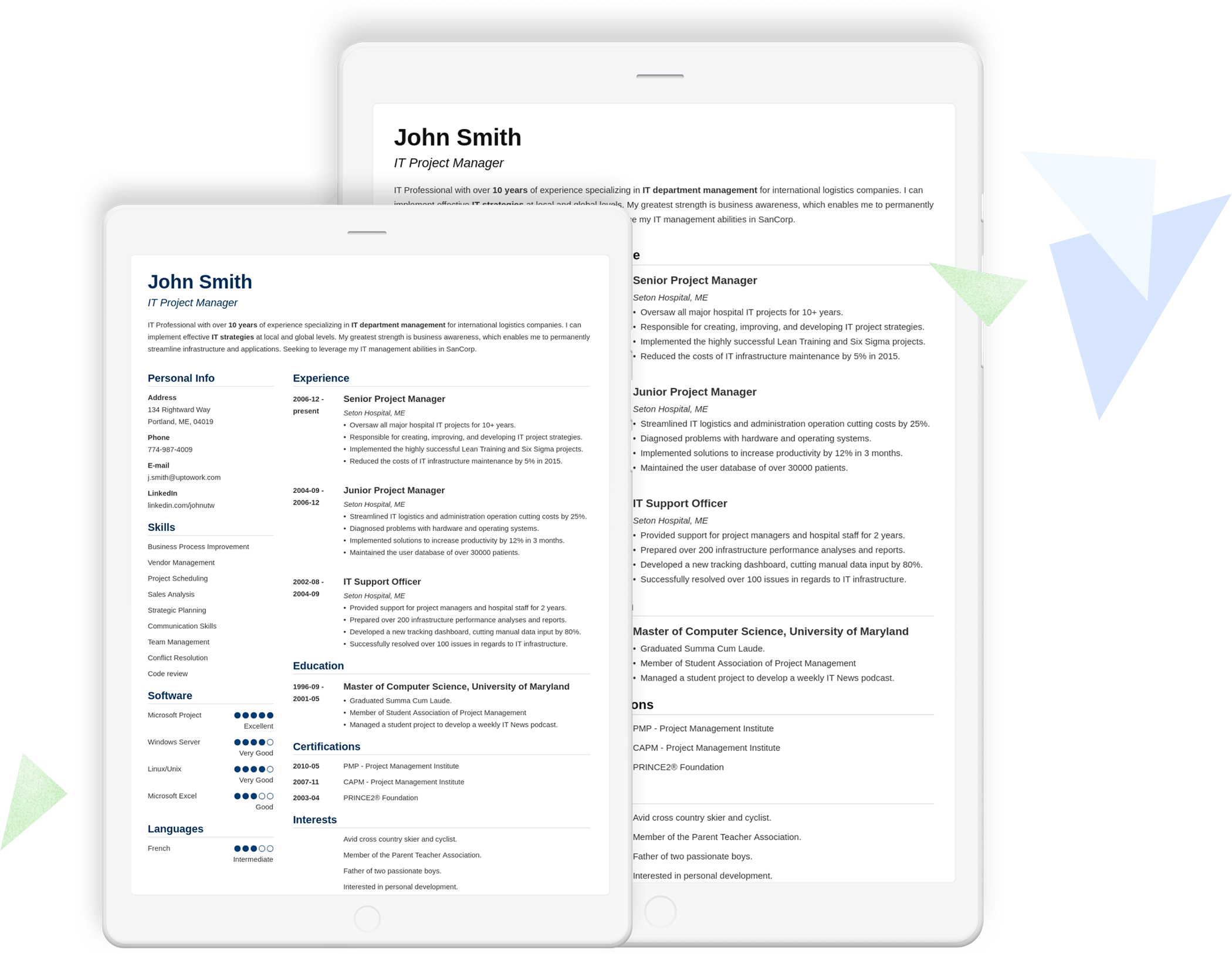 100% Effective
Ever wondered what makes for good CV design? Now you can find out: our professional CV templates were designed by career experts who know exactly what recruiters want to see.
With Zety, hiring managers and recruitment software alike will have no trouble recognizing you for who you are—the perfect candidate.