What is a Cover Letter for a Job? Purpose & Examples
Is it the email you write when sending your resume to a recruiter? Is it a thing of the past? What is a cover letter and what's it for? Time to find out!
Hey, so—
What's the point of writing a cover letter for a job, when everything you needed to say is already in your resume?
Won't you just repeat the same things over and over, only in a different way?
As it turns out, no.
Your cover letter has a specific purpose, and it's always worth including one when you apply for a job—no matter how detailed your resume is.
This guide will show you:
What is a cover letter for a job application, including an example cover letter.
What is the purpose of a cover letter and how it's different from a resume.
What to include in a cover letter to boost your chances of getting hired.
Want to write your cover letter fast? Use our cover letter builder. Choose from 20+ professional cover letter templates that match your resume. See actionable examples and get expert tips along the way.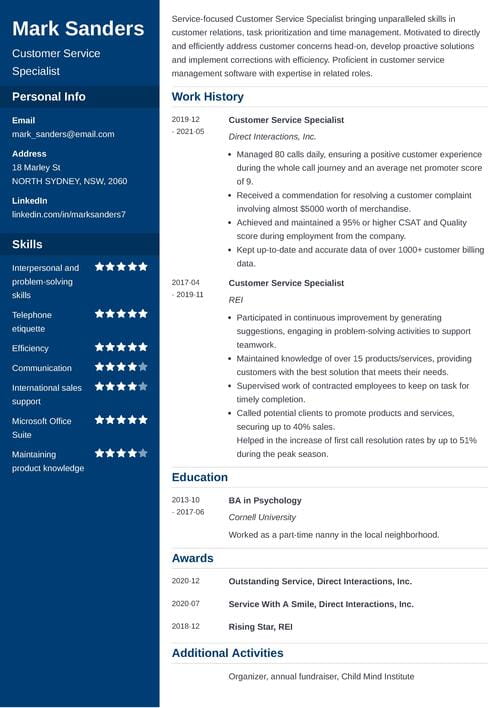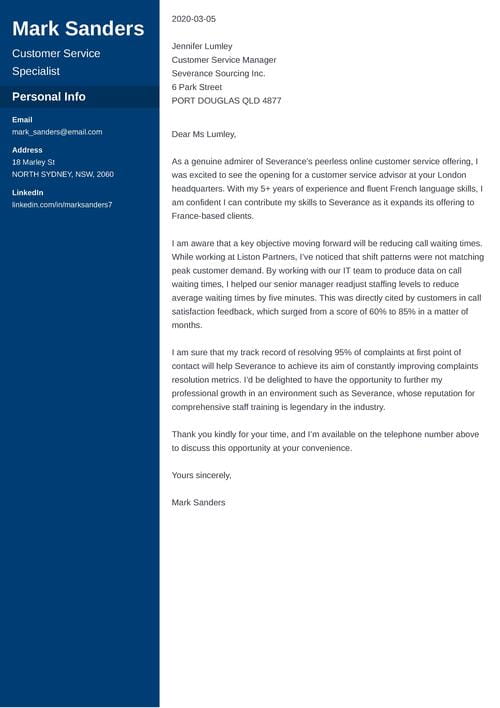 Sample cover letter for a resume—See more cover letter templates and create your cover letter here.
What is a Cover Letter: Example
Dakota Barrett
Waitress
32 Oak Street
Armidale, NSW 2350
(02) 1234 5678
dakota.barrett@email.com
5th May 2022
Bethany Harriman
Restaurant Manager
Nome Falso
43 Patton Street
Armidale, NSW 2350
Dear Ms Harriman,
As a professional waitress with 5+ years of experience in providing excellent customer service, I was thrilled to see the job opening at Nome Falso. Having reduced table clear and reset time by 50% and boosted tips by 15% at Ristorante X, I'm ready to take on new challenges and use my skills towards ensuring an exceptional dining experience for your guests.
I understand that you're looking for someone who's not only friendly and approachable, but also able to multitask, learn quickly, and thrive in a busy, fast-paced environment. My accomplishments from previous roles show exactly why I think I'd be the perfect fit for this job:


Processed 200+ orders per shift, achieving a 99.7% accuracy rate over 3 years at Cindy's Diner.
Memorised an average of 10 specials per shift and successfully upsold them to customers, earning 4 Employee of the Month awards at Cindy's.
Served up to 150 guests per shift in an 8-table section at Cindy's and 200+ guests per shift at Ristorante X, achieving 100% positive customer feedback at both restaurants.
Truth be told, I've been eagerly waiting for an opportunity to join your team. I've been a loyal customer of Nome Falso since moving to Armidale 2 years ago, and I can confidently say that your food is second to none, just like the atmosphere in your restaurant. I always feel welcome and special when visiting Nome Falso, and it would be wonderful to contribute to sharing this feeling with all of your customers.
I'd love to discuss my skills and suitability for this role in more detail. Given the chance, I'm sure I would prove a valuable asset to your Front of House team and a friendly, welcoming presence for your clients.
Best regards,
Dakota Barrett, Waitress
P.S. I'm eager to tell you more about how I found a way to increase order processing efficiency by 20%—perhaps you could put it to use at your restaurant, too!
1. What is a Cover Letter for a Job Application?
A cover letter is a formal business-style letter you send along with your resume or CV when applying for a job (in Australia, resume and CV mean the same thing, by the way). Back in the days of paper job applications, the letter would serve as a 'cover' for your resume: so it would be the first thing the hiring manager would see; hence the name. To this day, the idea behind the cover letter is to introduce you and your skills to the recruiter.
You should send your cover letter together with your resume, but as separate files (assuming you're applying online).
When making a resume in our builder, drag & drop bullet points, skills, and auto-fill the boring stuff. Spell check? Check. Start building a professional resume template here for free.
When you're done, Zety's resume builder will score your resume and tell you exactly how to make it better.
2. What is the Purpose of a Cover Letter?
Writing a cover letter is a major hassle for most people, so why bother attaching one to your resume? Well, let's think about it this way—
The two documents serve different purposes.
The purpose of a resume is to give a brief, concise outline of your experience that's relevant to the job. In most cases, that means condensing several years of your life into one or two pages of short bullet points.
The basic facts will be there, but your resume can't hold everything—
There's no space on a resume for describing your love for your career, for instance. There's no room for talking about what excites you about the job you're applying for, or for presenting your achievements in more detail, or even for explaining gaps in employment.
There's no section on a resume to speak directly to the recruiter and convince them you're the right choice.
Guess what?
That's what the cover letter is for.
The purpose of a cover letter is to expand on key points from your resume, telling the recruiter what you'd bring to this particular company if hired. With a cover letter, you can show more of your personality and your motivation behind applying for the job—
Put simply, the point of a cover letter is to convince the hiring manager you're the best candidate for the job.
Not sure what your resume should look like? Check this out: How to Write a Resume in Australia: Guide & Examples
3. What to Include on a Cover Letter
Every cover letter will be different—
Even if you're applying for the same position at several companies, you should still write a dedicated cover letter every time.
Some elements will stay more or less the same, though, so here's a quick outline of what goes onto a typical cover letter:
Header / contact details: first your contact info, then the date of writing, then the addressee's details, just like in a business letter. For bonus points, use the same header as in your resume and address your cover letter directly to the person who'll read your application.
First paragraph: a brief introduction to your candidacy. Mention the position you're applying for and definitely include a big achievement here to hook the reader.
Second paragraph: a more detailed look at your relevant professional achievements, proving you'd be a great fit for the role. You can use bullet points here to boost readability.
Third paragraph: why you and the company are the perfect match. For instance, you can talk about what drove you to apply and what you like about the company, or cover your shared values.
Fourth paragraph: time to say goodbye! As your parting words, offer to achieve a specific goal for the company.
Signature: a polite Best regards, followed by your full name and job title. For extra impact, you can include an additional achievement or offer to the employer as a P.S. below your signature.
All in all, the recommended length for a cover letter is under one page—
So let's be honest, it's not really that much work in the end!
Before you send off your job application, just make sure to format your cover letter correctly: one-inch margins, a readable font that matches your resume, and plenty of white space will do the trick.
Read more: How to Write a Cover Letter: Template & Examples
Plus, a great cover letter that matches your resume will give you an advantage over other candidates. You can write it in our cover letter builder here. Here's what it may look like: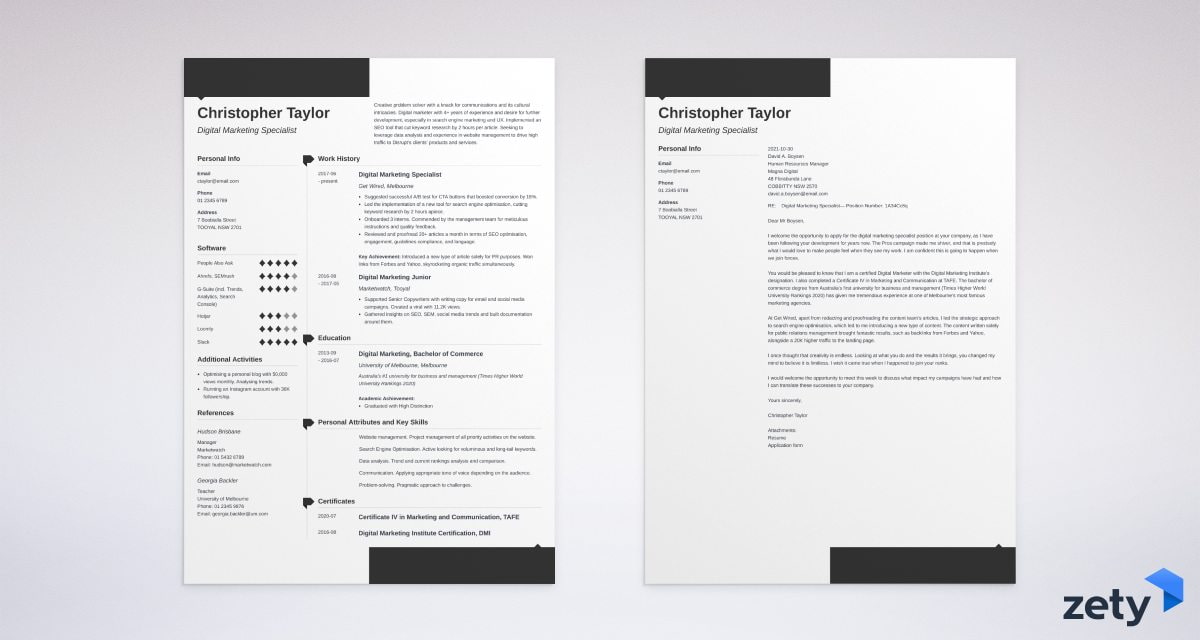 See more cover letter templates and start writing.
Thanks for reading! Are you now confident in your knowledge of what is a cover letter? Perhaps you still have some unanswered questions, or there's something you'd like to share? Let us know in the comments section below, we're always up for a chat!