So you want to know how to become a teacher. Maybe you had great tutors when you were in school. Perhaps your own kid amplifies the importance of a great education. Whatever the case may be, you've made up your mind.
Even if it seems like getting there isn't easy, we'd be happy to walk you through the common career paths for how to become a teacher to support your excellent choice.
This guide will show you:
A simple career plan to learn how to become a teacher or educator.
What do you need to become a teacher, including degrees, certifications, and more.
How to get a teaching certification, teaching license, or teaching certificate.
Simple steps to becoming a teacher from education through employment.
Disclaimer 1: Each locale and country has different prerequisites for becoming a teacher. This guide shows a general plan for becoming a teacher in the US, but it's applicable in most English-speaking areas. Check with the school district in which you are interested to be sure.
Disclaimer 2: This guide focuses on public, compulsory education in the United States.
Want to save time and have your resume ready in 5 minutes? Try our resume builder. It's fast and easy to use. Plus, you'll get ready-made content to add with one click. See 20+ resume templates and create your resume here.
Sample resume made with our builder—See more resume examples here.
1
Consider Your Teaching Career Path
Before you jump right in and go through the bureaucracy of learning how to become a teacher, it's important to plan out your teaching career path. First, you'll have to consider the general age and education level of the students you want to teach.
Here are the various education levels for US learners prior to reaching university:
Education Levels for US Learners

| | |
| --- | --- |
| Teaching Level | Age Group or Grade Level |
| Early Childhood Education (ECE) | Ages 0-8 |
| Preschool / Pre-Kindergarten | Ages 3-5 |
| Elementary | Ages 4-11, Grades K-5 |
| Middle School | Ages 11-14, Grades 6-8 |
| High School | Ages 14-18, Grades 9-12 |
| Special Education | All Ages & Grades |
In the first three teaching levels above, the students are younger and the curriculum is broader. Therefore, a teacher here would be responsible for instructing across multiple subjects.
Future teachers of middle school and high school levels instead must specialize in a particular area (biology, geography, etc.), as these students' widening knowledge calls for it.
Special education (as opposed to general education, above) teachers are those who instruct children with various learning disabilities and developmental disorders.
How long does it take to become a teacher?
The time it takes to become a teacher varies drastically, mostly based on the students' age and education level.
You may not need experience and more than the basic certification to teach younger children. However, the older the pupils, the longer it takes for aspiring teachers to get work-ready.
How many years of college to be a teacher? In general, it will take at least four years to become qualified to teach, including the time it takes to earn the minimum degree and certification requirements.
What do teachers make?
Teacher salaries differ even more than the education levels. A teaching salary varies by age level, degree, school district, length of employment, subject matter, and other factors. Generally, teaching paychecks go up as the students' age increases. Also, most teachers have two or three months free during the summer break with which they can work a part-time job, if they wish.
The average teaching salary for the US was about $61,000 for 15 years of experience. Canada was just above that at $65K, and Australia was right below, at $60K. As an average, those numbers are subject to vary, especially by education level: Kindergarten teachers in the US make an average of $40,000 per year, but middle school teachers make $61,000, more than 50% more, just for specializing in a particular subject.
The OECD has a great guide on average teacher salaries by country and area, and so does the U.S. Bureau of Labor Statistics.
Pro Tip: The US Dept. of Education also provides a higher salary or a bonus to teachers who are willing to work in a shortage area, such as a certain subject area or geographical location.
Should I be a teacher?
If you are unsure if a teaching job is right for you, ask yourself these questions:
Do I have a desire to teach?
Will I be able to complete all the teacher requirements?
Is the general teaching salary acceptable?
Do I have the patience and willingness required to give students the best education?
Job outlook for teachers
In the United States, employment of elementary school teachers is projected to grow by 7% from 2016 to 2026, as rising student enrollment should increase their demand. Middle school and high school teacher employment are expected to grow 8% in the same time.
You may not need a teaching degree, per se, but you will need a degree to teach.
What degree do you need to be a teacher?
Teachers need to earn an accredited bachelor's degree at the very least. For future elementary school teachers, they usually major in elementary education. For those who will teach older students and higher grade levels, they will generally major in the subject they'll want to teach.
For example, learning how to become an elementary school teacher, kindergarten teacher, or preschool teacher is easier than understanding how to become a high school teacher. However, as you may remember from earlier, the compensation differs greatly, too.
What degree should I get?
If you know you want to dedicate your career to teaching, you should pick a major that coincides with the level of education or specialty (for higher grade levels) that you are interested in instructing.
What education is needed to become a teacher? Here are some common examples of the education requirements to become a teacher of higher grade levels:
For how to become a history teacher: bachelor's degree in education (preferably with a major in history).
For how to become an English teacher: bachelor's degree in English (or at least a minor in English).
For how to become a math teacher: preferably a bachelor's degree in education with a mathematics concentration.
For how to become a science teacher: bachelor's degree in science education (preferably a bachelor's in the specific scientific field).
For more, check out our article on how to choose a major.
Pro Tip: Aside from a degree in elementary education, other popular teaching-specific degrees include special education, physical education, education administration, and early childhood education.
What is TEACH?
The Teacher Education Assistance for College and Higher Education (TEACH) Grant Program provides grants of up to $4,000 per year to US students who agree to become a full-time teacher in a school that serves students from low-income families. A student receiving the TEACH Grant is obligated to teach for four years within eight years of completing the program. See the US DOE site for more on the TEACH program.
Pro Tip: You may get by with less than a bachelor's degree for education levels prior to kindergarten, but it's quickly becoming a requirement there, too, so don't count on it!
3
Get a Teacher Certification or License
We can't just let anyone teach our children, just like we won't let just anyone perform brain surgery.
Though it's a prudent measure to have in our society, unfortunately, it means some extra work on your end.
How to get a teaching certificate?
Here are the general steps (in most states) to get a teaching certification or license:
Obtain a relevant bachelor's degree.
Complete a district- or state-approved teacher preparation program.
Pass required exams in the school district and/or state (like the Praxis).
Submit a state teaching license application.
Check the US Department of Education website for resources state by state. For how to get a teaching certificate if you already have a bachelor's degree, we'll get to that in just a moment.
Pro Tip: The Praxis, a credential earned by taking the Praxis I and Praxis II, is the most common teaching certification. Forty states use the Praxis, though each state has their own acceptable scores.
Get teaching experience in the classroom
Obtaining teaching experience is a requirement for most teachers. But wait, how do I get classroom experience if I'm not yet licensed to teach?
Most future teachers (depending on location) need a certain number of hours of supervised classroom teaching experience if they want to get licensed. Similar to flight hours before becoming a full-fledged pilot, these student teaching hours can come during your studies or after you graduate.
Pro Tip: A teacher preparation program can be a part of your bachelor's degree, especially if you are majoring in elementary education or something teaching-related.
Consider the national board certification
The National Board Certification is a US teaching certificate for teachers who have at least three years of full-time classroom experience. Though optional, the national teacher certification is just about the highest that a general education or special education teacher can receive.
Alternative teacher certification
An alternative teacher certification is a way for someone to obtain a teaching license without completing a traditional teacher certification program. Though a bachelor's degree is still required, the certification test and the supervised classroom teaching may not have to be completed. In the US, an alternative teacher certification is offered in 48 states and Washington DC. Check out the Alternative Teacher Certification Guide for more.
When making a resume in our builder, drag & drop bullet points, skills, and auto-fill the boring stuff. Spell check? Check. Start building a professional resume template here for free.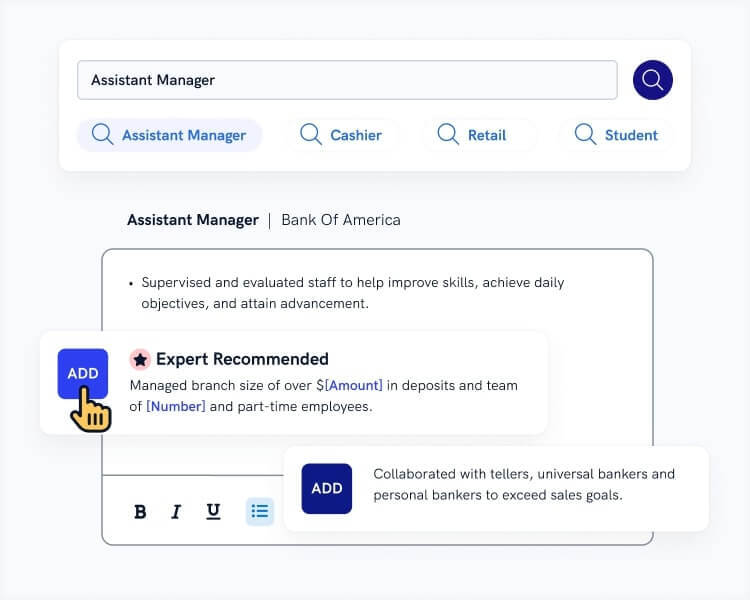 When you're done, our online resume builder will score your resume and our resume checker will tell you exactly how to make it better.
4
Search for Teaching Jobs
Searching for teaching jobs will seem like a vacation after the years and tears you took to get this far.
Here are the general ways for aspiring teachers to find open teaching positions:
General Job Boards
General job search engines are the easiest way to look for open positions. According to G2Crowd among the most popular job search boards are Indeed, LinkedIn Job Search, Handshake, or Glassdoor. Take a gander at our post on the best job sites to look for teaching jobs. Google for Jobs is a good start.
Niche Job Boards
Niche job boards are those that cater specifically to a particular industry or type of job seeker.
Education and its related categories have their own niche job sites, and here are the most popular:
AcademicKeys.com—Over a million prospective teachers use this site, and it features over 3,500 job listings that are strictly teacher-related.
HigherEdJobs.com—Caters mostly to higher education, as the name implies, but still has some great resources for all teacher positions.
Teachers-Teachers.com—Over 2,000 teaching employers (schools, districts, etc.) have listings on this website, and the service is completely free (job hunters).
Specific Websites of Schools & Districts
Though it's the least simple of the three, searching the online portals of specific schools and school districts is undoubtedly the best option.
It is more difficult, but not in any major way; it just takes more time to go to several websites of the schools in your area.
First, check with the school district, which is a good place to understand all the cities and schools located within. For example, if you want a teaching job in NYC, check out the New York City Department of Education website.
The school district page may itself have job listings, but they could just be administrative or managerial in nature. For actual listings for teaching jobs, find the specific website of the school in question.
Pro Tip: Searching by school is not as hard as it sounds. Depending on what you considered from the beginning when deciding how to teach, you would narrow it down by education level, as well.
5
Create a Perfect Teacher Resume & Cover Letter to Apply
You've narrowed it down. Now you have a particular school or schools in mind.
Make a great teacher resume
A great resume for teachers is the most important document to get right, as it will list all your teaching experience and certifications in one place.
Check out Zety's official teacher resume guide, education resume guide, and our guide on how to write a resume, but we can also help you write a substitute teacher resume, tutor resume, or teaching assistant resume.
Create a perfect teacher cover letter
You've got to grab the principal's attention, and, to do that, you need to make the best teaching cover letter possible. We have a dedicated guide on writing a teacher cover letter, from header to footer.
Pro Tip: Don't stop at a bachelor's degree! Most public school districts require a minimum amount of continuing education course hours if the teacher wants to renew their license. Also, obtaining a master's degree is encouraged for most teachers.
Send it off and follow up
6
Ace the Teaching Interview
Teaching interviews are like regular interviews—in that they'll ask you questions.
But that's about the only similarity.
To ace this kind of interview, you'll have to answer more than the basic and common interview questions; you'll have to have knowledge of specific teaching interview questions and answers.
Also, it shouldn't be an interrogation; you should be prepared with questions to ask the interviewer, as well.
Prepare further by understanding situational interview questions, informational interview questions, and behavioral interview questions.
Finally, write a thank-you letter after the interview so they don't forget you!
Plus, a great cover letter that matches your resume will give you an advantage over other candidates. You can write it in our cover letter builder here. Here's what it may look like: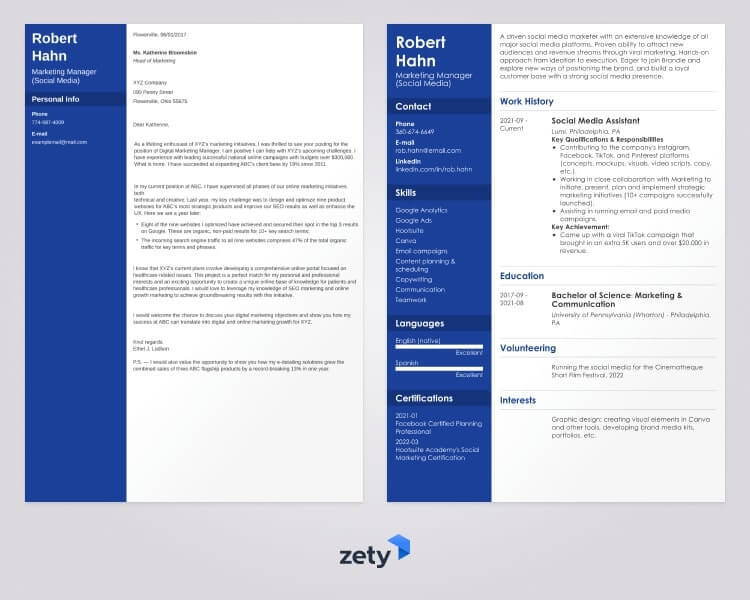 See more cover letter templates and start writing.
So, what do you think? I hope this guide has made it easy for you to understand the process of how to be a teacher.
As you are learning how to become a teacher, keep these points in mind:
Choose the right major. The earlier you understand which bachelor's or master's degree is right for your teaching career, the better.
Get the best credentials for teaching. You can get a teaching certificate or an alternative certification, but go for the nationally-recognized board certification when you're eligible.
Use the best job sites. The best job sites, for teaching jobs, are the websites of the school and school district themselves.
As William Arthur Ward once said, "The mediocre teacher tells. The good teacher explains. The superior teacher demonstrates. The great teacher inspires."
Hopefully this guide has inspired you and set you on the right path to inspire our next generation.
Do you have any questions on how to become a teacher? Not sure if you are on the right career path? Get at us in the comments below, and we'll answer your question. Thanks for reading!
About Zety's Editorial Process
This article has been reviewed by our editorial team to make sure it follows Zety's editorial guidelines. We're committed to sharing our expertise and giving you trustworthy career advice tailored to your needs. High-quality content is what brings over 40 million readers to our site every year. But we don't stop there. Our team conducts original research to understand the job market better, and we pride ourselves on being quoted by top universities and prime media outlets from around the world.