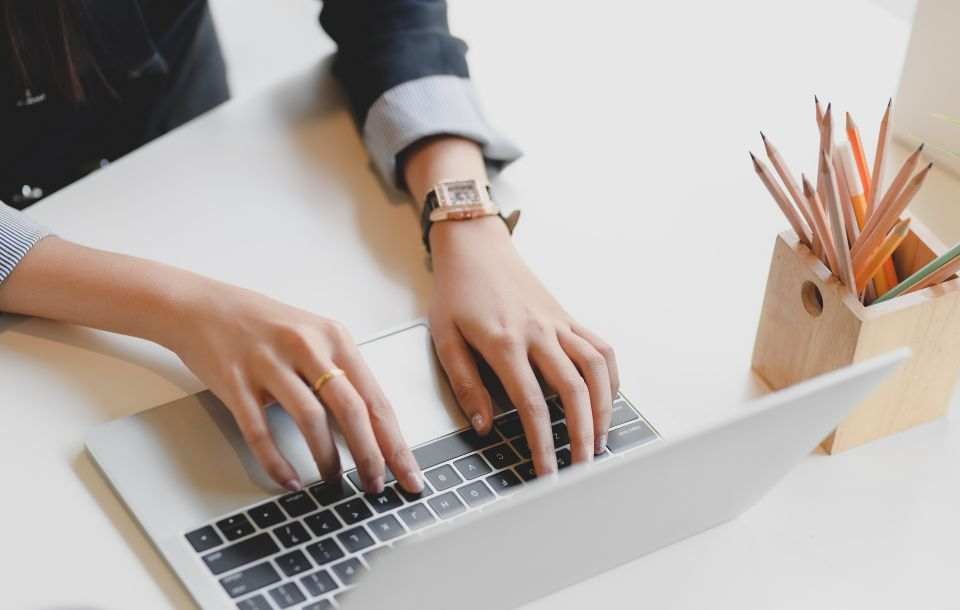 Medical Receptionist Cover Letter Guide [+ No Experience]
Described your skills on a resume, but still don't know how to write a cover letter for a medical receptionist? Look no further, we have all the answers you need!
You take "highly organised" to a whole new level. The cost of a mistake is particularly high at your job, and you have to deal with sensitive matters fast—and with immense compassion.
At some point, you might want to explore your options—that would mean you'll need a medical receptionist cover letter to go with your resume.
Terrified you're already super busy as is? No worries, it's easier than it seems. With our medical receptionist cover letter tips, of course.
Our guide will provide you with practical advice for writing a medical receptionist cover letter, plus show you a good medical receptionist cover letter example.
Want to write your cover letter fast? Use our cover letter builder. Choose from 20+ professional cover letter templates that match your resume. See actionable examples and get expert tips along the way.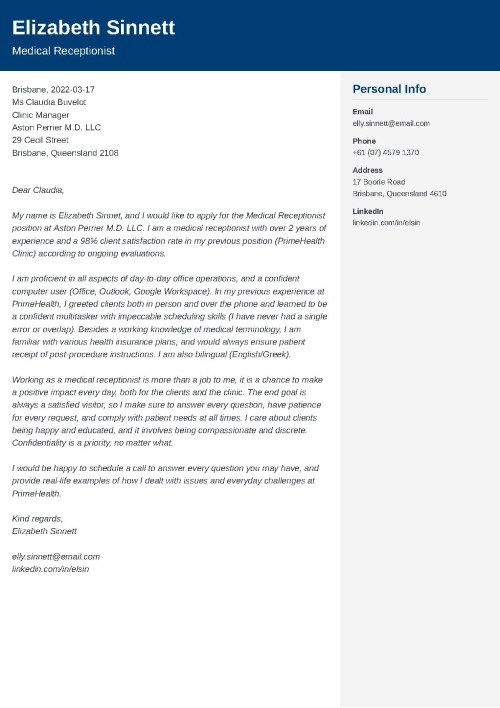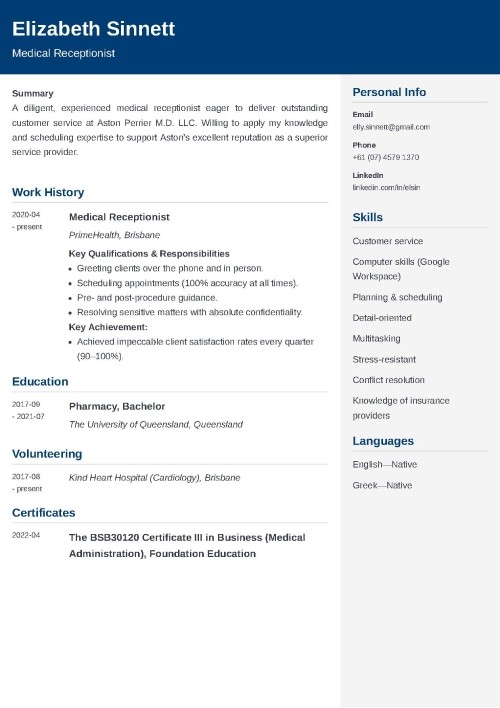 Sample cover letter for a resume—See more cover letter templates and create your cover letter here.
Medical Receptionist Cover Letter Sample
Elizabeth Sinnett
Medical Receptionist
17 Boorie Road
Brisbane, Queensland 4610
+61 (07) 4579 1370
elly.sinnett@email.com
linkedin.com/in/elsin
Brisbane, 3/17/2022
Ms Claudia Buvelot
Clinic Manager
Aston Perrier M.D. LLC
29 Cecil Street
Brisbane, Queensland 2108
Dear Claudia,
My name is Elizabeth Sinnet, and I would like to apply for the Medical Receptionist position at Aston Perrier M.D. LLC. I am a medical receptionist with over 2 years of experience and a 98% client satisfaction rate in my previous position (PrimeHealth Clinic) according to ongoing evaluations.
I am proficient in all aspects of day-to-day office operations, and a confident computer user (Office, Outlook, Google Workspace). In my previous experience at PrimeHealth, I greeted clients both in person and over the phone and learned to be a confident multitasker with impeccable scheduling skills (I have never had a single error or overlap). Besides a working knowledge of medical terminology, I am familiar with various health insurance plans, and would always ensure patient receipt of post-procedure instructions. I am also bilingual (English/Greek).
Working as a medical receptionist is more than a job to me, it is a chance to make a positive impact every day, both for the clients and the clinic. The end goal is always a satisfied visitor, so I make sure to answer every question, have patience for every request, and comply with patient needs at all times. I care about clients being happy and educated, and it involves being compassionate and discrete. Confidentiality is a priority, no matter what.
I would be happy to schedule a call to answer every question you may have, and provide real-life examples of how I dealt with issues and everyday challenges at PrimeHealth.
Kind regards,
Elizabeth Sinnett
elly.sinnett@email.com
linkedin.com/in/elsin
Template: Cover Letter for a Medical Receptionist
Now, let's see how you write a great cover letter for medical receptionists step-by-step:
1. Choose a Nice Medical Receptionist Cover Letter Format
Let's assume at this point you already know what a cover letter is, and now you'd like to know how to write one. This starts with the looks, i.e., formatting.
You know first impressions are crucial. Just as the front desk makes or breaks a clinic, the format of your medical receptionist cover letter can really swing the recruiters' attitude in your favour.
How to get your medical receptionist cover letter format right:


Go for no more than 1 page (3–4 paragraphs).
Keep enough white space with equal margins on all sides and 1–1.15 line spacing.
Align text left.
Choose a neat, professional-looking font (Verdana, Arial, etc.), 10–12 pts.
Download the file as a PDF so that it stays intact on all devices.
Name the file properly: [JobTitle_YourName_CoverLetter.pdf].
Pro Tip: It really does save you a lot of time if you use a ready-made template for your resume, and then design your medical receptionist cover letter utilising the same style. That way, it's easier to read and digest, plus you can be sure both documents will pass the Applicant Tracking Systems' checks.
2. Start With Putting Together a Medical Receptionist Cover Letter Header
According to studies, there's a relationship between predictability and trust. The good news is, we can very much control the predictability of our medical receptionist cover letter!
Just as your smile and genuine interest make people feel at ease, arranging all the info on your cover letter will make things a lot easier for the hiring manager.
Here's how you set up the header of your cover letter:
Place all the contact info in the left-hand corner.
Add your contact details (name, position you're applying for, address, etc.)
Follow with the date and location of writing.
Finish off with the recruiter's contact details.
Read more: How to Format a Cover Letter in Australia
3. Open Your Medical Receptionist Cover Letter With a Greeting
The greeting? Well, obviously you're the professional here.
The only problem is that it's not that easy to smile through a letter. A close enough equivalent? For a medical receptionist cover letter, that will be doing a bit of research to find the hiring manager's name, so that you can address them properly.
This is how you address someone on your cover letter:
"Dear + [First Name]"
"Dear Ms/Mr [Last name]"
Pro Tip: If you've run out of options (yes, even calling their front desk to enquire), go with "Dear Hiring Manager".
4. Show Them How Great You Are With Your Medical Receptionist Cover Letter Intro
Nailing the contents of a good cover letter won't have to cost you big bikkies—but it will require some prep.
You've probably learned to predict people's expectations to handle or de-escalate complex situations, and approaching the intro for your medical receptionist cover letter is a similar effort.
How to write a good cover letter introduction:
Look at the position requirements carefully.
Think of what the expectations are for a "perfect" candidate.
Analyse your background, and chose a major accomplishment that would fit that description.
Pro Tip: There's a massive number of studies confirming that first impressions are a deciding factor in things like trustworthiness judgments and hiring decisions. Use your first sentence wisely, communicating your professional value and making sure the recruiter wants to keep on reading.
5. Explain Why You Want the Job
Even though "this job pays better" is a good enough reason, you'll most likely never see that on cover letter examples for a medical receptionist. Why? Because to win a job, you'll need to focus on what they want just as much.
Now, there can are many ways to nail the main body of your cover letter:
Showcase your strongest suits and key skills (unseen multitasking despite the interruptions, staying friendly after the 100th phone call, etc.)
Prove that your relevant experience is the solution to their problems (you can even add a real-life case of how you handled a sensitive matter).
Strike them with some outstanding numbers (remember: highlighting your professional accomplishments will always outweigh simply listing your duties).
That's if you've been working for a while. If not, there are still some winning strategies out there.
How to write a cover letter for a medical receptionist with no experience:
Convey your passion for the job or the company you're applying for (some research won't hurt).
Mention how you found out about the job, especially if someone's referring you.
Explain how you've acquired some knowledge and transferable skills that will be relevant to the new position.
Could use some extra tips? Read more: Writing a Cover Letter: Samples + Templates
6. Add a Call to Action
A positive attitude and an ability to validate people's feelings to calm them down is what really makes a difference at your job.
The key to making a difference for your medical receptionist cover letter is to gently nudge the hiring manager towards arranging the interview.
Medical receptionist cover letter closing strategy:
Ask for a meeting! There's nothing wrong with being direct about the desired next step.
Make it irresistible. Hint at your ideas for the company, make them an offer or emphasise your value one more time.
7. Close with a Professional Sign-off
You've crafted your cover letter, underlined all your superpowers, and explained the benefits that come with hiring you. You even made them a proposition, and are ready to wait patiently for the callback.
Time for a cuppa coffee and a toastie (in a minute), you just have to say your goodbyes.
Finish your medical receptionist cover letter this way:
Use a conventional closing phrase ("Best/Kind regards", or "Sincerely yours" will do).
State your name and mention your contact info again briefly for convenience.
The only thing that's left to do is brew yourself that coffee because you defo deserved it.
When making a CV in our builder, drag & drop bullet points, skills, and auto-fill the boring stuff. Spell check? Check. Start building a professional CV template here for free.
When you're done, Zety's CV builder will score your CV and tell you exactly how to make it better.
Thanks for reading our guide on how to write a cover letter for medical receptionists. Hope you enjoyed it and found our medical receptionist cover letter example helpful. Something missing? Let us know in the comments!