10+ Phone Interview Tips to Help You Prepare for the Call
Palms so sweaty you can't answer your phone. Yuck. Interviews shouldn't be so stressful. Read our phone interview tips guide and let no job opportunity slip through your fingers.
"Hello! I represent the XYZ company and would like to invite you for a phone interview..."
Hell yeah!
You've been waiting for that call.
So why a heartbeat ba-booming like a boom box? It's your loud mind playing tricks.
Turn it down with our phone interview tips guide. Follow along and get invited to the second round.
This guide will give you:
Twelve tips and tricks on how to prepare for a phone interview.
Common over-the-phone interview questions and answers examples.
Best phone call interview questions to ask the recruiter.
Ways to ace the initial phone interview.
Congrats for being at this stage! You must've done a great job tailoring your resume.
Want to save time and have your resume ready in 5 minutes? Try our resume builder. It's fast and easy to use. Plus, you'll get ready-made content to add with one click. See 20+ resume templates and create your resume here.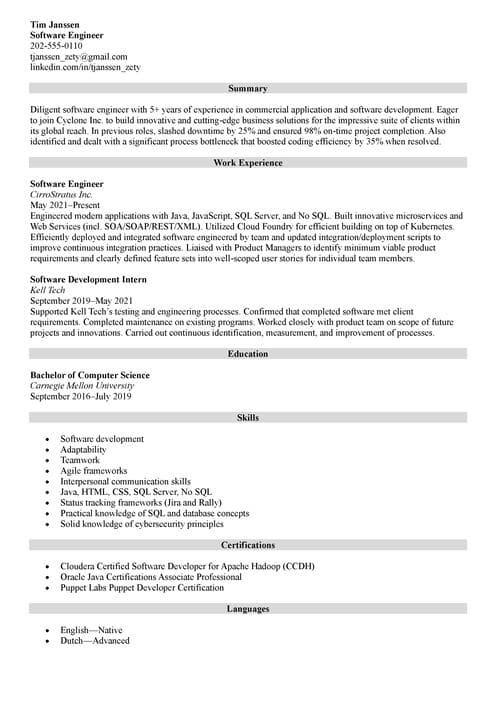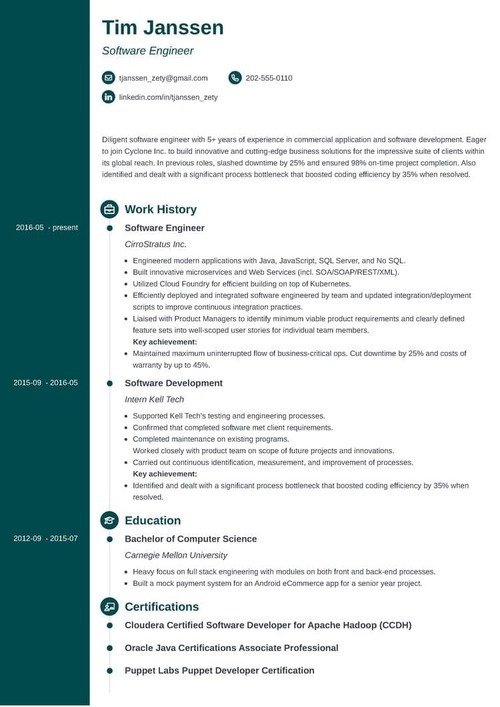 Sample resume made with our builder—See more resume examples here.
Check out more interview tips in our guides:
And here are even more interview tips for specific roles:
Alright—
Let's dive in.
13 tips for a phone interview to champion the first interview with HR:
1. Confirm the Phone Interview Details
There's nothing worse than not showing up for a scheduled meeting with your recruiter.
Whether you received an email or a phone call, confirm the time and date of your interview. And remember to add it to your calendar and set a notification. It's better to be safe than sorry.
When speaking to your recruiter, ask about the course of the upcoming phone interview:
Who will I talk to?
How long will the interview take?
What areas will I need to touch on, e.g., motivation, current responsibilities?
What will be the format of the interview?
Is there anything I should prepare for the interview?
That way, you'll already get ahead of your competitors and show the recruiter you care about your phone screening interview.
"Oh, crap! I double booked!"
It happens sometimes. Especially when you speak with recruiters on the phone and there's time pressure.
Don't worry if you do that, though.
Get back to your recruiter as quickly as possible and ask for rescheduling. Do the same when something unexpected comes up.
2. Do Your Research About the Company and Position
OOO, this one's big.
Make the time for researching the company. Take a closer look at their website, blog, social media, and what news outlets write about them.
You want to work for them for some reason, so—
You need to know what they do and why, their services and products, and recent developments. If you have a chance, go a little further and test their products out.
But—
You also must know the length and breadth of your role description and prove you understand what the job is all about.
For real.
Grab a pen (or place your fingers on a keyboard) and make a cheat list. Nobody will be watching you, so take advantage of it. Write a list of things your role will require alongside the company values and refer to them during the discussion.
Another cheat sheet is your resume. Print it out and mark the keywords. It'll be much easier for you to speak about your job responsibilities while looking at them than trying to come up with something on the spot.
3. Take Good Care of Yourself Before the Phone Interview
Don't underestimate the power of a good night's sleep before the interview. You'll feel fresh, well-rested, and come up with great answers without effort.
"Shush. Where's my coffee?"
Skip that espresso. It'll make you jumpy and stressed more than necessary. (Of course, if you can't function without it, you do you.)
Coffee may not be your buddy, but a glass of water always is. So if a frog's coming up your mouth, just take a sip, swallow it, and get back at it.
Finally, suit up. It sounds silly because the recruiter won't be around you, but it'll help you get your act together and feel professional. It shouldn't be a problem to wear a shirt for a couple of minutes, should it?
4. Get Rid of All Distractions
Notification beep. TV on. Your pet demanding attention.
Distractions. Distractions everywhere.
The worst thing is, they can take a job opportunity away from you. To infinity… and beyond!
"Nah. I'm fine with talking anywhere." Are you, though?
It's so easy to get fixed on the news ticker or distracted by constant walk-ins and email notifications. Save yourself a shot at the second interview and make sure you:
Turn off all screens, background sounds, and the call-waiting function
Tell your family members you'll be unavailable for some time
Find a place where nobody can interrupt you
Prepare a headset to cut off the background noise in case you can't reach a quiet space
The next step is to get ready for the call itself. So charge your phone, turn up the ringtone, and check the signal.
5. Show Off Your Phone Etiquette
You, too, ask your friend to call and order pizza?
Well, this time, it has to be you who does the talking.
Don't worry. It's super easy.
There are just a few rules you need to remember, and you'll be all good:
The chewing gum belongs in the trash.
Never speak with your mouth full, and don't try to sneak in a bite or two. Leave the grilled cheese for after the interview.
Start by introducing yourself, saying: This is Jane Doe or Jane Doe speaking! It's good to reassure the interviewer they called the right person.
Get ready for small talk—no matter whether you're a chatterbox or the Silent Bob.
Not a convo expert? We've got you covered: Amazing Conversation Starters To Save The Day
6. Prepare for Common Phone Interview Questions
Phone call interviews tend to be rather general. Recruiters need to figure out whether your motivation is still there and if you're a cultural fit. So—
Here's a list of the top phone interview questions to prepare for:
Build your job interview answers using the STAR method. Start by describing the situation, then add more about the task, action you took, and final result.
When you do that, try to stay calm, speak slowly and open your mouth.
Say what?
Yes, go full-on Magikarp-style to speak clearly and loud enough.
Rushing with your responses is never a good idea.
First, your hiring manager won't understand you. Second, you may get carried away and go off-topic. Third and last, the go-with-the-flow approach is recruiters' nightmare.
And smile when you give your answers. Even if recruiters can't see you, they can hear you smile. It speaks tons about your enthusiasm.
If there's an awkward pause after your answer, take over. Ask your recruiter whether it was satisfactory or you need to say something more. You'll make a harmless push to move on or give yourself a chance to reinforce your response.
When making a resume in our builder, drag & drop bullet points, skills, and auto-fill the boring stuff. Spell check? Check. Start building a professional resume template here for free.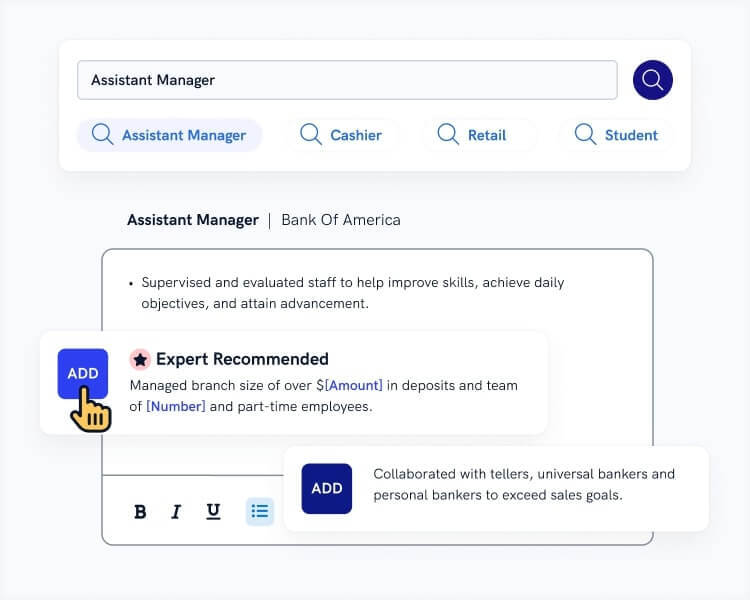 When you're done, our free resume builder will score your resume and our resume checker will tell you exactly how to make it better.
7. Tell the Truth
Don't lie.
Be honest.
Whichever you prefer, really, just don't get caught lying. Not on your resume nor at an interview. You can pack your bags if you do because there's no way out of this.
Can you justify a lie? See the Consequences Of A Lie In Your Job Application
8. Think Ahead About Your Salary Expectations
Recruiters may or may not ask you about your salary expectations over the phone. But—
Uncertainty is not a reason to ignore it altogether.
Start by researching how much other companies pay their employees for similar jobs. You can use Salary, Glassdoor, or Indeed to check that. And to make on-the-money estimates, compare your findings with your company's numbers.
Then, set your low, mid, and high points. Write them down. And during salary negotiations, use the salary range between the middle and high points.
Don't underestimate yourself.
Know your worth. And let the recruiters know it, too. See How To Negotiate Your Salary During An Interview
9. Focus and Actively Listen
Remember when we asked to get rid of all distractions?
Great! You paid attention.
A quiet setting for your phone interview will help you focus on what the recruiter says and prove active listening skills.
"What do you mean?"
Well—give enough space for the recruiter to speak without interruption, react quickly and decisively to what they ask of you, and pay attention to the discussion. Jot down all uncertainties, build questions around them, and ask them away at the end of the interview.
Recruiters appreciate it when a candidate shows genuine interest in the conversation.
Practice your active listening skills with our guide: Active Listening Skills And Techniques
10. Write Down Notes
Take notes as if attending a lecture, with no access to the professor's presentation afterward.
You got to be the Flash of Making-Notes-At-A-Speed-Of-Light City one more time.
Get a pen and piece of paper to write down questions that come to your mind during the call (and remember to ask them at the end of the interview!). Also, make sure you take note of all the details about the job and the recruitment process.
If you don't catch something, ask for a come-again. There's nothing wrong with that.
11. Interview the Interviewer
The phone job interview is for both sides to get to know each other. So don't pick up the phone feeling like you're the only one who should answer questions.
Recruiters are the very first people you meet on your way to a new job, and they'd better make a good first impression on you, too.
Alright! So how to get the conversation going?
Have a list of the questions that you want to ask your recruiter. You won't need to worry about forgetting anything if you write them down.
Here's a handy list of questions you should ask your interviewer: 65+ Interview Questions To Ask Your Recruiter
12. Send a Thank-You Note
It's the first time you hear about a thank-you note?
Oh, dear.
You've probably missed great job opportunities over this. Let's not repeat that mistake.
Write a personalized thank-you email to your interviewer 24 hours after your conversation.
Appreciate their time and effort in your interview, restate your motivation to join the company, and finish with a personal sign-off.
Find all the nitty-gritty about writing a thank-you note in our guide: Thank-You Letter Samples After An Interview
13. Wait With a Follow-Up Email
Now's the tricky part.
"How long do I have to wait to send a follow-up email?"
Hopefully, you don't have to wait at all.Your recruiter should tell you when you can expect to hear back, but—
Life can happen to them, too. So, when their deadline's up, tell them you're still interested in the position and ask if they need more information from you.
There are different situations where you might consider writing a follow-up email after a job interview. Find all of them here: How To Follow Up After An Interview
Plus, a great cover letter that matches your resume will give you an advantage over other candidates. You can write it in our cover letter builder here. Here's what it may look like: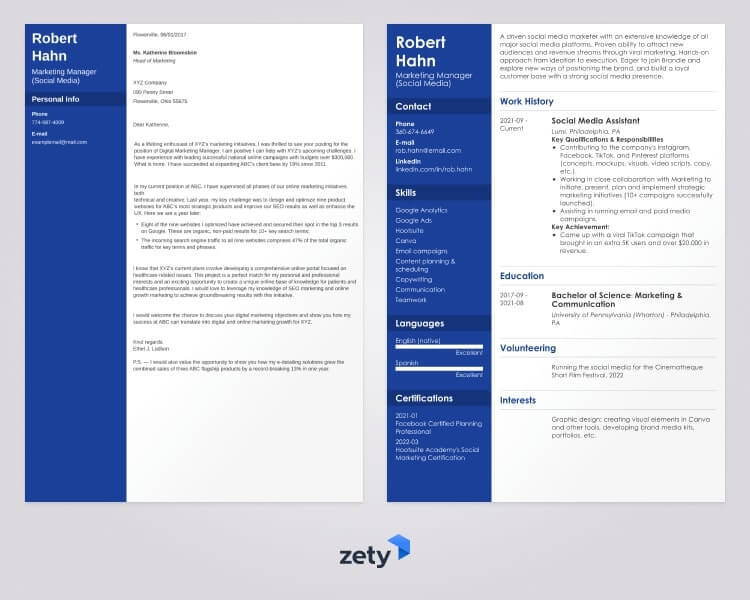 See more cover letter templates and start writing.
Key Takeaway
To sum things up, here's what you need to take home about phone interviews:
Prepare. Know your way around phone etiquette and find a quiet place to take the call.
Practice. Don't wing it. Read up on common interview questions, and don't get surprised.
Pay attention. Focus on what you two are talking about and take notes.
Phrase your questions. Out loud. Don't leave them unanswered in your notebook.
Part on a positive note. Write a thank-you email and once the deadline's passed, follow up on their decision.
Hands down, you're ready to win an invitation for the second interview. So go and seize the opportunity!
And hey! Please tell us—
Do you have questions about how to prepare for phone interviews? Did we miss any phone interview tips? Perhaps you'd like to add one yourself?
Give us a shout in the comments! Let's get the conversation rolling.
About Zety's Editorial Process
This article has been reviewed by our editorial team to make sure it follows Zety's editorial guidelines. We're committed to sharing our expertise and giving you trustworthy career advice tailored to your needs. High-quality content is what brings over 40 million readers to our site every year. But we don't stop there. Our team conducts original research to understand the job market better, and we pride ourselves on being quoted by top universities and prime media outlets from around the world.