Professional Cover Letter Design [Examples + Expert Tips]
Your writing is on point, but your cover letter design skills need some help. See job-winning cover letter templates and tips on crafting your own.
You've just written a cover letter with content that's going to make you stand out like a race horse at a donkey convention.
There's just one problem. It's the most boring cover letter design ever. Good old 12 point Arial on a plain white background is so vanilla it could sing "Ice, Ice, Baby."
But then again you don't want to put employers off with something too outlandish either. And the extent of your document design skills was the time you used lime green Comic Sans and glittery clipart for a school project.
How do you strike that balance? Like so.
This article will show you:
13 cover letter design templates better than 9 out of 10 others.
How to design a cover letter in no time.
Want to write your cover letter fast? Use our cover letter builder. Choose from 20+ professional cover letter templates that match your resume. See actionable examples and get expert tips along the way.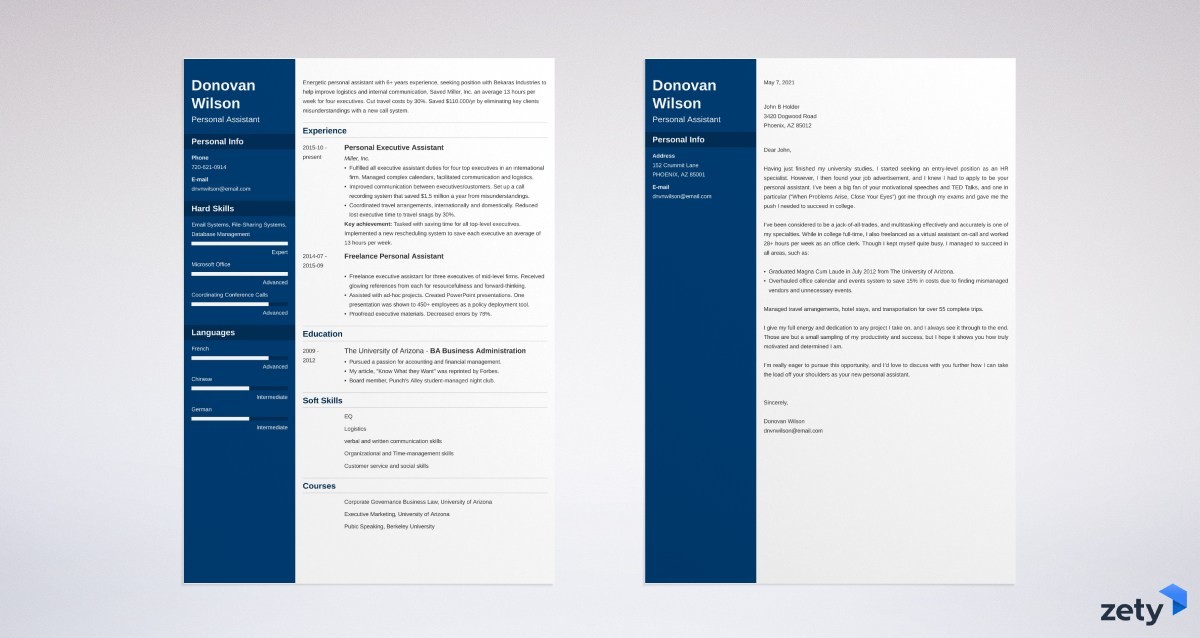 Sample Cover Letter for a Resume—See more cover letter templates and create your cover letter here.
A good cover letter design template has to meet the following requirements:
Use a clear and readable font.
Use good layout to keep it easy on the eye.
Keep any graphics simple so ATS software can read it.
You're going to see 18 templates that tick all those boxes. All you need to do is enter the text and our cover letter builder takes care of the design for you.
But if you want to try designing a cover letter yourself then keep reading, we've got some tips to help with that, too.
And don't forget, the cover letter designs come in matching sets with our 18 resume templates that will also work for a CV.
1
Cubic
We're starting off fancy with our first cover letter template. Cubic by name, this design shows you why it's hip to be square. Let's take it from the top. There's your name in lights, white text on a dark header. Then we've got all of the must-haves in terms of design. Clear font, great cover letter layout and ATS scannable. But there's a twist. It freshens things up with your personal info in a calming duck-egg blue sidebar.
A design this perfect demands the perfect cover letter. You'll learn how to write it with our guide: How to Write a Cover Letter in No Time
2
Crisp
Crisp as a new banknote, and you'll have plenty of those babies rolling in when you use this design for your cover letter. There are no fancy colors, but this cover letter design stays fresh with a two-column design and a subtle circular icon.
It's also just the thing to make the recruiter remember your name. Putting it in the top left corner is the best place for it. It's been proven that's the first place your eye lands and where you pay the most attention to.
3
Concept
A very simple text layout with two discreet icons to add a subtle accent. But the real star of the show is the bold color stripe to the left of the page. It really elevates the whole look of this cover letter design and is just the sort of thing to make a bored recruiter stop and pay attention.
Don't like the color? Change it! We've got hundreds of color options and you can customize the cover letter font size, margins, and spacing, too.
Ever wondered whether you even need a cover letter? Get the answers in our guide: Do I Need a Cover Letter? Are Cover Letters Necessary Anymore?
4
Vibes
The hiring manager's going to get good vibes only from this classic design. It's a great example of how white space is the best friend of cover letter and resume design.
Personal info is placed discreetly to the right in a pure white sidebar, so there's no visual distraction. Combined with the white space next to the cover letter header it forms a frame for the text. People prefer plenty of white space when they're reading and it improves their understanding, too. That's a win-win for your cover letter!
5
Diamond
Here's a design that'll make you stand out like a diamond in a world of rhinestones. There's a nice chunky top bar to fit your header in. In a nice twist the surname is in bold. It's subtle, but that's just the sort of styling tweak you need to help you stand out. Then you've got the benefit of the full page width below to fill with cover letter goodness.
6
Enfold
This cover letter design will enfold recruiters in a warm hiring-friendly glow. It's unique selling point is in the sidebar. See where it says "personal info." There's a darker tone there for emphasis. The effect is one of pure professionalism and elegance.
It's an elegant design, but what if you've got writer's block so bad, you don't even know where to begin? Get started with our guide: How to Start a Cover Letter: Introduction and Opening Line Examples
7
Muse
Another example of white space as an effective frame for the body of the letter. It's almost a mirror image of Vibes, except the contact details go to the left, in a more traditional position.
It's another two-column cover letter that looks great with its two-column resume twin. Also more in keeping with tradition, there are no graphical elements. This design would be a great choice for a conservative, corporate job application.
This cover letter design looks exactly like our Modern cover letter template. It's another double up, but the resume template that it accompanies is unique.
8
Cascade
Cascade should look familiar, it's a mirror image of Enfold. If you like this look then why not build your cover letter with both designs and see which you prefer. Print them out and put them side by side for a better feel of which one suits you.
9
Iconic
Iconic is another design that offers you maximum space to craft the perfect cover letter. No sidebar, no top bar. Just a clean, one-column canvas. There's also a delicate bit of graphic design to give it a hint of modernity. Can you spot it? That's right, two neat little icons for the contact details.
10
Primo
Primo is Italian for first and we're sure it'll be the first choice of cover letter design for job hunters who want to make an impression. It uses a bold monogram style graphic for the header which brings to mind a seal of approval. What better way to send a subliminal message to the recruiter to approve you for the job vacancy.
11
Initials
You may think we've just done a Missy Elliott on our Primo design. But we didn't just flip it and reverse it. There are two round icons in the personal info section instead of one. Being quite similar you might want to try swapping the cover letters. Try Primo letter with Initials resume and vice versa. Either way, they'll look great.
12
Simple
It's so simple you could name it Simon and introduce it to a pieman. The cleanskin two-column design makes a tasty appetizer to your resume main course. Clean cover letter designs like this are something of an all-rounder in fact. They'll look good with any resume template so feel free to mix and match.
13
Minimo
This design sounds like Mickey Mouse's pet name for Minnie, but it's actually another super simple cover letter layout. It has a distinctive matching resume but it's so simple it'll go with anything.
Minimo strips back the formatting to the bare minimum for a look that's more classic than a 1964 Ford Mustang.
When making a resume in our builder, drag & drop bullet points, skills, and auto-fill the boring stuff. Spell check? Check. Start building a professional resume template here for free.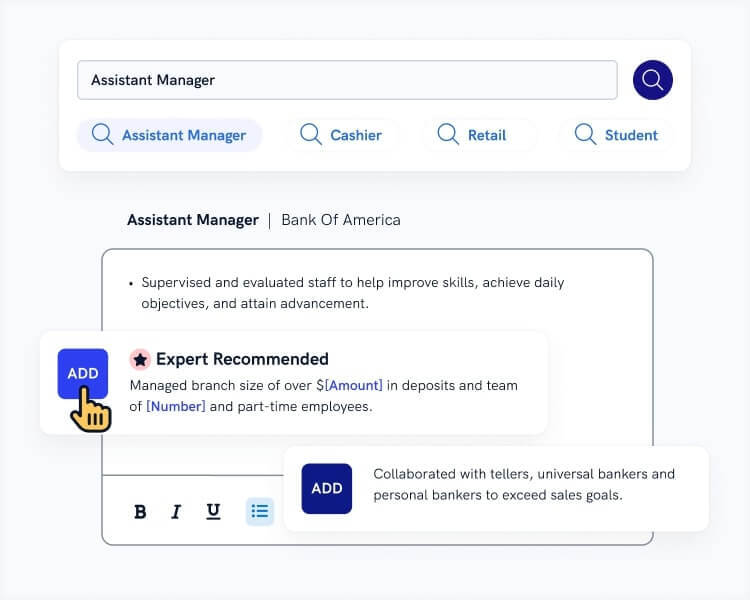 When you're done, Zety's resume builder will score your resume and tell you exactly how to make it better.
How to Design a Cover Letter
Are you confident enough to try designing a cover letter yourself? Read on. Here's some tips to make sure you get it right.
It's all about striking a balance between making your letter stand out, while keeping it ATS readable and following standard business letter format. Here's the basics.
Follow Cover Letter Design Rules
Set one-inch margins on all sides.
Set your spacing to 1 or 1.15.
Choose an easily readable font set at 11 or 12 point in size.
Double space between paragraphs.
Use a digital copy of your handwritten signature to end your cover letter for an extra professional touch.
Save your cover letter in PDF with the right cover letter title. It's the best cover letter file format because it keeps the design intact.
Find more tips here: Proper Cover Letter Format [20+ Examples]
Optimize Your Cover Letter Header
Your cover letter header is the first place people look when they read your letter so it has to be perfect. Your cover letter is just like an advertisement for you so you've got to make the "product" stand out.
Emphasis is key. Write your name in a large font. 4–6 points bigger than the body text and bold.
Try out font pairing. Set your name in a different font to the rest of your cover letter. Fontjoy is a very cool tool to show you what fonts can look good together.
Immediately below your name, enter a headline, which should be your job title. If your experience backs it up, use the same title listed in the ad for the job you're applying for.
Here's how it should look.
Header Design Example
Michael Sanchez
Business Analyst
Then move onto your contact details. For a classic feel use the template below, and put the details in the top left corner just under your header.
Contact Details Design Example
[Street]
[City, State]
[Phone Number]
[Email]
[LinkedIn Profile]
[Date]
[Hiring Manager's Name]
[Hiring Manager's Job Title]
[Company Name]
[Street]
[City, State]
Feeling fancier? Take your design lead from our templates.
Create a separate section for your contact details with the title "Personal Info" and make use of icons.
Place this section directly under your header or at the top of a sidebar like many of our two-column designs do.
Keep the hiring manager's contact info simple and address your cover letter correctly. Make this info left aligned, immediately above the body of the letter.
Make use of color, but make sure your letter stays readable. If in doubt, print a test copy on your resume paper of choice, screens can be deceptive.
Choose a color scheme of dark, complementary tones. No more than three shades on a page, sorry E.L. James. Try this color calculator if you're stuck.
Read more: How to Start a Cover Letter?
Now let's design the main text, your cover letter body.
Find the Best Cover Letter Body Design
Keep it plain. You need a nice simple block of text laid out according to basic cover letter format rules.
Left align. Don't use justification as it's against standard business letter rules.
Lastly, let's take a look at your cover letter ending.
Explore Cover Letter Closing Ideas
Use an alternative to sincerely, try Thank You, Best Regards or Kind Regards instead.
Include a digital signature when submitting online and sign by hand with a good quality pen when submitting on paper.
For an email cover letter you can skip the signature.
Make sure to include your cover letter enclosure.
Last of all, use a P.S. to include a powerful call to action.
See more cover letter ending ideas: How to End a Cover Letter
That's all there is to it. And remember, always print out a copy of your letter to check how it looks on paper. Career fairs and job interviews are two situations where you need a paper copy.
The last thing you want is to print out your cover letter, find out it looks awful on paper and have to redesign it in a panic.
Want more of a deep-dive into different resume styles? Check out our guide here: Resume Styles Best Suited for Your Needs [20+ Tips]
Need more design guidance? Want to discuss a design you've come up with yourself? Ask away in the comments section and thanks for reading.