Accounting Manager Cover Letter: Sample & Writing Guide
You make sure the numbers add up when they have to. But that enough won't get you the job—use our guide to learn how to handle the wording of your accounting manager cover letter.
What makes a perfect accounting manager cover letter?
You're about to find out, but for now, if your idea is a finance degree, some experience, and knowledge of tax regulations, you've got another thing coming.
We're talking accounting manager, not just any regular accountant.
The other candidates will turn their cover letters up to 11, meaning you should do so as well.
This guide will show you an accounting manager cover letter example, and the best tips on how to write an accounting manager cover letter step-by-step.
Want to write your cover letter fast? Use our cover letter builder. Choose from 20+ professional cover letter templates that match your resume. See actionable examples and get expert tips along the way.
Sample cover letter for a resume—See more cover letter examples and create your cover letter here.
Check out these guides instead if they look more like they fit your inventory:
Accounting Manager Cover Letter Sample
Carol Schoonover
Accounting Manager
817-313-3697
Carol.E.Schoonover@zetymail.com
679 Oliver Street
Dallas, TX 75204
Dallas, 08/26/2019
Michelle Powell
Hiring Manager
ZScaler, 2907 Twin Willow Lane
San Jose, CA 95134
Dear Michelle,
As an experienced accounting manager with 7 years in the industry in a senior/leading role, I found it seemed logical to apply to the opening at your company. In the past, I managed a servicing staff consisting of 4 direct reports and consolidated their reports to introduce sweeping changes to the overall reconciliation process, reducing year-end inventory audit errors by 45%.
I take it from your website that ZScaler is a company with one primary goal in mind: diligence. I see that as the soul of the accounting profession itself, and stay true to its principles in my own approach. At Georgia Tech, I was able to resolutely reduce month-end close time frames by half through strict scheduling and deadline management. My direct supervisor, the then-Financial Department Manager, gave me glowing reviews for that reason (and many others), as well as a positive recommendation, which you will find attached alongside this letter and my resume.
I really love that ZScaler emphasizes accessible internet security and a secure, digital transformation the world over. And if I could contribute to that wonderful goal by becoming your new Accounting Manager, as unrelated as accounting may be in regards to ITSec, it would be a great honor and a wonderful step forward in my career.
If at all possible, I would welcome the opportunity to schedule an interview for next week and talk further about how I could improve the fiscal precision of ZScaler.
Sincerely,
Carol Schoonover
Accounting Manager
817-313-3697
Carol.E.Schoonover@zetymail.com
P.S.: I'd be really glad to discuss my proposed solution of increasing your inventory accuracy by up to 95%, in person or otherwise.
You've just seen a perfect accounting manager cover letter. We'll break down what we did here in just a minute.
First, though, keep in mind that in life, it may be death and taxes, but in career building, it's cover letter and resume. Read more here: Accounting Manager Resume Example & How to Write
Accounting Manager Cover Letter Template
This is how to write a perfect accounting manager cover letter:
1. Format the Accounting Manager Cover Letter Correctly
First things first: it's all about presentation.
The recruiter will be stunned if you can visually convince them of your worth, seeing as they've probably already been through a stack of copy-pasted walls of text.
(Side effects may include them asking you to do their taxes as a favor).
Still, though, taking care of the quality of your cover letter structure definitely pays off, so follow these tips:
Set your cover letter line spacing to 1 or 1.15. Increase it to 2 for inter-paragraph breaks.
The margins of your cover letter need to leave at least 1" of space on every side.
Pick a cover letter font that's professional and nice to look at. As for the size, 11 or 12 pt is your target.
Read more: Parts of a Cover Letter & How to Structure Your Document
2. Write an Accounting Manager Cover Letter Header
The cover letter heading is, naturally, the top-most area of your accounting manager cover letter.
And, as with everything, there are some GAAP standards for you to follow here:
Your current contact information, so your name, job title, e-mail address, and phone number, all need to make it there.
Optionally, add a link to your LinkedIn. Make sure your LinkedIn profile is optimized and shows you in the best light.
Skip a line and write the current date.
Below that, add the contact information of the party you will be contacting.
Pro Tip: It really pays off to know exactly whom you'll be writing to, so try your hardest to find their name online, or call in directly.
3. Reel in Your Reader in an Engaging Cover Letter Opening
We've nailed the formalities, now it's time to get into what your cover letter should really include.
The first impression your cover letter makes will play a key role in determining if you're worth the higher than average salary for accounting positions in the eyes of your employer.
After using a proper cover letter salutation, make sure to mention what position you're applying for, so they don't mistakenly forward your candidacy to the wrong department.
Give them a taste of your experience by listing a strength or achievement or two, but leave some for the middle of your cover letter, coming up next.
Read more: Why You Should Avoid the Phrase "To Whom It May Concern" on a Cover Letter
4. Emphasize Why You're the Best Candidate
This part is crucial.
What you put in the show-off part of your cover letter will determine if you get hired, or become the butt of another accrual accountant joke.
Utilize this section of the cover letter to stress your important achievements from past accounting experience.
You're already good with numbers, so make plenty use of them to keep your reader engaged and make your accomplishments pop more.
Emphasize your best skills. Be careful, though, because as some research suggests, accountants in different parts of the world need to show different skills.
Read more: What to Include in a Cover Letter
5. Prove You're Willing to Stick Around
Without a top-of-the-line accountant, a business can effectively crumble.
They'd have the IRS knocking on their doors and busting through their ceiling, SWAT-style.
Likewise, an accounting manager that doesn't seem interested in a long-term partnership to provide that security likely won't get picked up.
Make sure that's not the vibe you give off:
At some point in your cover letter, bring up something you personally value about the company you're applying to work for. It could be anything from their reputation through their CSR programs.
Explain how this unique trait of theirs matters to you to convince them it's your dream job, and not a stepping stone before you're off to greener pastures.
Read more: 35+ Cover Letter Tips and Expert Advice
6. Seal the Deal with an Exciting Offer on Your Accounting Manager Cover Letter
At this stage, you're approaching the end of fiscal year statement equivalent of your accounting manager cover letter.
If you mess up here, all that work will be for nothing.
To end your cover letter, reiterate why this job matters to you and how your expertise in accounting management can help the company.
Do not make it sound like you're in it for your own profit, and definitely avoid mentioning your salary requirements in your cover letter.
Make a call to action, and give them an exciting offer like "I'd love to discuss my ways of improving your inventory accuracy."
Read more: Cold Call Cover Letter: How to Write an Unsolicited Application
7. Learn How to Finish a Cover Letter Effectively
We're almost at the finish line.
All you need now is a professional finish to an equally professional accounting manager cover letter.
Sign off with your full name preceded by a simple "Sincerely."
Optionally, you can repeat your contact information.
If they asked for any cover letter enclosures, remember to attach them.
At the very, very end, including a postscript gives you one last chance to capture their attention.
When making a resume in our builder, drag & drop bullet points, skills, and auto-fill the boring stuff. Spell check? Check. Start building a professional resume template here for free.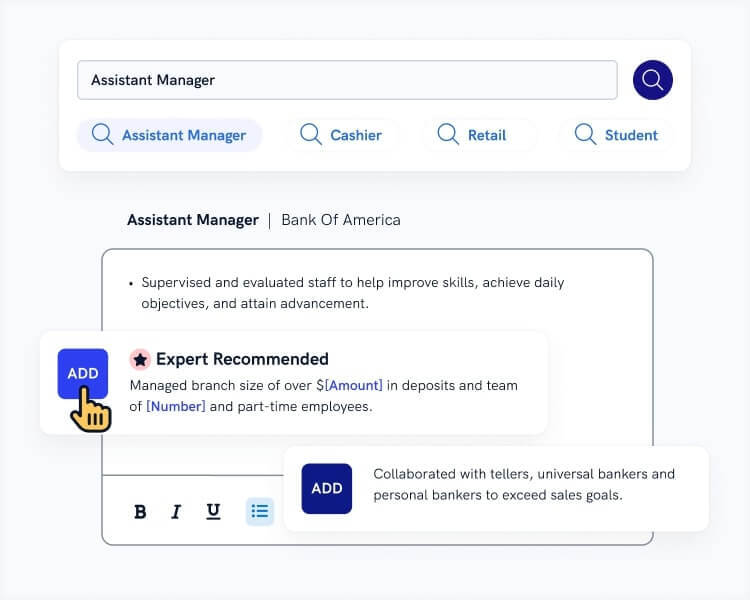 When you're done, Zety's resume builder will score your resume and tell you exactly how to make it better.
That's all there is to it! Do you have any doubts about your accounting manager cover letter? Not sure how to list experience and accomplishments? We're down to answer any and all questions in the comments!
About Zety's Editorial Process
This article has been reviewed by our editorial team to make sure it follows Zety's editorial guidelines. We're committed to sharing our expertise and giving you trustworthy career advice tailored to your needs. High-quality content is what brings over 40 million readers to our site every year. But we don't stop there. Our team conducts original research to understand the job market better, and we pride ourselves on being quoted by top universities and prime media outlets from around the world.