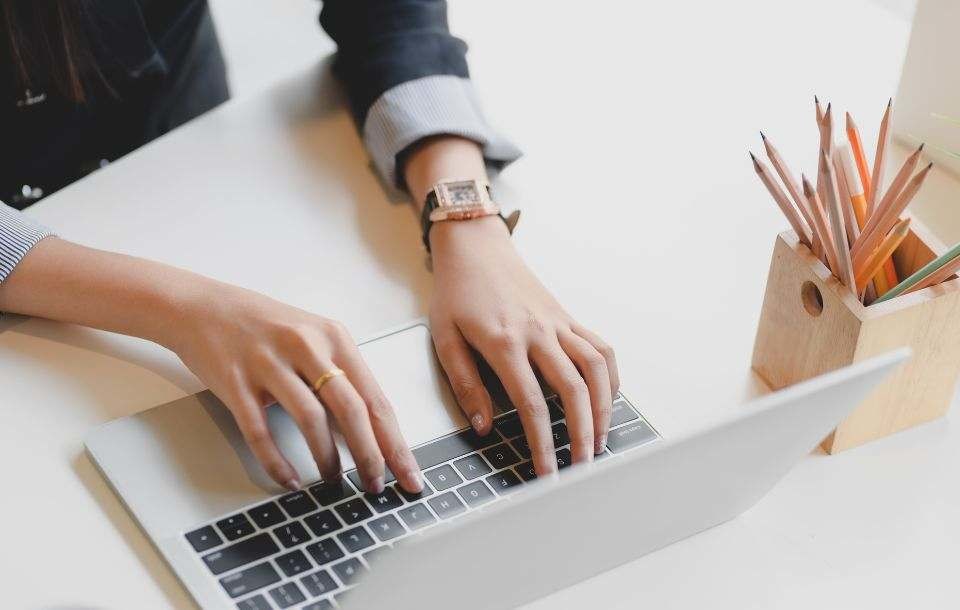 Good Cover Letter: Examples for Australia & How to Write
Want to write a good cover letter, but can't find good cover letter examples? We got you, mate! Wow the recruiter, and make your life easier with our job-specific examples.
So you found out you have to write a cover letter. You rush to the search bar and type "how to write a good cover letter".
Ugh. Hundreds of results. What am I even looking at? "Tl;dr! Give me some good cover letter examples!" Ye asked, and ye shall receive.
Behold! A guide that will unveil the mystery of writing a Good Cover Letter ©, plus good cover letter examples for Australia to accommodate any request.
Want to write your cover letter fast? Use our cover letter builder. Choose from 20+ professional cover letter templates that match your resume. See actionable examples and get expert tips along the way.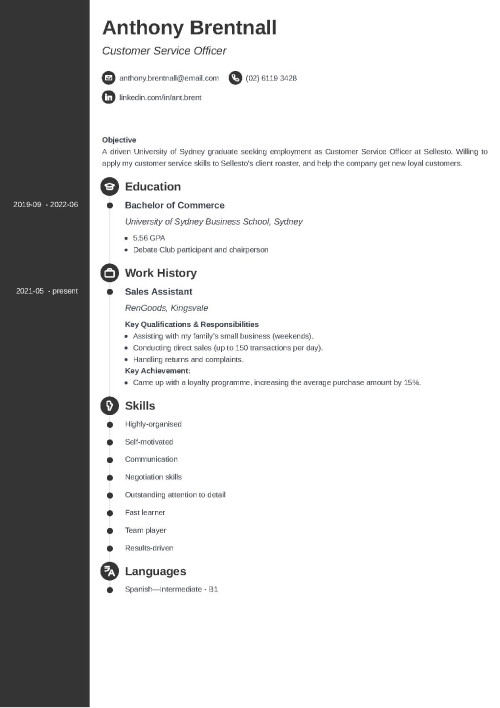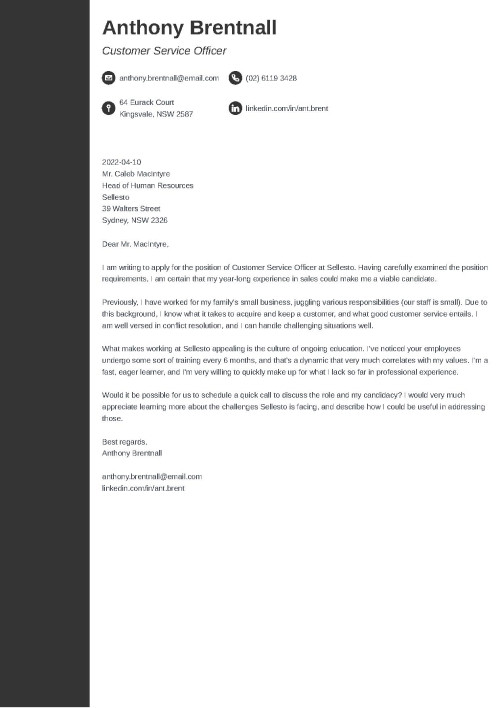 Sample cover letter for a resume—See more cover letter templates and create your cover letter here.
You can go to certain sections or job-specific good cover letter examples directly:
1. Good Cover Letter Examples
Let's start by looking at some good cover letter examples for various professional scenarios. You'll get a brief comment on why the given sample works, plus case-specific tips.
1. Good Cover Letter Example: Experienced Candidate
Okay, this isn't your first rodeo. You've been kicking goals, accumulating a bunch of experience, now how do you showcase it?
Have a look at this example:
Good Cover Letter Example: Experienced Candidate
Zoe Nixon-Smith
Managing Director
60 Campbells River Road
Lightning Ridge, NSW 2834
(08) 9021 3253
zoe.ns@email.com
linkedin.com/in/zoe.nixonsmith
Lightning Ridge, 4/2/2022
Ms. Amelia Becher
Head of Human Resources
PayScale
55 Cambridge Street
Sydney, NSW 2752
Dear Amelia,
I am reaching out to apply for the position of Managing Director at PayScale. I have over 15 years of managerial experience and a proven track record of bringing in profits, slashing costs, and building thriving teams.
In the past, I have lead 4 companies to greatness:
At Educt, we've increased sales over 120% in the course of 3 years with a brand-new marketing strategy.
Qualism saw 7% more leads each quarter, and an 80% cost reduction.
By switching to data-driven, results-oriented campaigns, Distro shifted to enterprise-sized clients and showed record KPIs.
We've saved over $100K annually at Indicor by leveraging marketing automation.
You might notice I'm saying "we", because I could never do that alone. I was leading outstanding, talented, innovative teams (at Qualism, it was a family of 250), and I am convinced a company is only as good as its employees.
This is what brought me to PayScale. I've heard first-hand accounts of the work ethic and dedication of your squad, and I'm nothing short of impressed. I am more than willing to come up with an overarching vision and a new game plan for the company, and I'd be honoured to lead its tactical execution.
Let's schedule a quick call, and I'll tell you what I have in mind for PayScale.
Best regards,
Zoe Nixon-Smith
zoe.ns@email.com
linkedin.com/in/zoe.nixonsmith
Numbers? Intriguing. Accomplishments? Impressive, but not overwhelming. Boldness? Irresistible.
Here's how to write a good cover letter if you're a pro:
Numbers, baby! You're in a strong position where you can actually provide those. Cost reductions, great KPI's, big teams you've managed, you name it.
Only focus on the most impressive stuff. Honestly, don't list every job you've had in the last 15 years in detail. Leave those accomplishments for your resume.
Be bold. If you're applying for senior/leadership positions, it's expected that you know exactly why you're proposing your candidacy (because you're it).
2. Good Cover Letter Example: Little/No experience or Internship
So you want to apply for a job/internship, but you have very little experience or none at all? You're certainly not alone.
Let's have a look at this example:
Good Cover Letter Example: Little/No experience or Internship
Anthony Brentnall
Customer Service Officer
64 Eurack Court
Kingsvale, NSW 2587
(02) 6119 3428
anthony.brentnall@email.com
linkedin.com/in/ant.brent
Kingsvale, 4/10/2022
Mr. Caleb MacIntyre
Head of Human Resources
Sellesto
39 Walters Street
Sydney, NSW 2326
Dear Mr. MacIntyre,
I am writing to apply for the position of Customer Service Officer at Sellesto. Having carefully examined the position requirements, I am certain that my year-long experience in sales could make me a viable candidate.
Previously, I have worked for my family's small business, juggling various responsibilities (our staff is small). Due to this background, I know what it takes to acquire and keep a customer, and what good customer service entails. I am well versed in conflict resolution, and I can handle challenging situations well.
What makes working at Sellesto appealing is the culture of ongoing education. I've noticed your employees undergo some sort of training every 6 months, and that's a dynamic that very much correlates with my values. I'm a fast, eager learner, and I'm very willing to quickly make up for what I lack so far in professional experience.
Would it be possible for us to schedule a quick call to discuss the role and my candidacy? I would very much appreciate learning more about the challenges Sellesto is facing, and describe how I could be useful in addressing those.
Best regards,
Anthony Brentnall
anthony.brentnall@email.com
linkedin.com/in/ant.brent
This is an entry-level candidate, but the letter's still dardy. Why? Because it's not just about what you have (or don't yet have) under your belt, but about how you can present it.
Here's how you nail your cover letter with no experience:
Focus on academic achievements.
Find anything in your background that's relevant. There's a reason you chose this position, right? Start with a list, write down anything you're proud of, and see if it matches the application.
Bring out the soft skills. You may not have a bunch of specific hard skills just yet, but there should have been situations that allowed you to develop certain capabilities. Wrote your thesis on time despite the tight deadline? That made you diligent and stress-resistant.
Make up for your entry-level status by your passion and desire to bring value.
3. Good Cover Letter Example: Jobs Relying on Soft Skills
You'd like to make sure the recruiter knows how great you are, thank you very much. But, you can't measure your communications skills and your critical thinking. Or can you?
Here's an example:
Good Cover Letter Example: Soft Skills
Noah Langham
Sales Manager
79 Edmundsons Road
Mollongghip, VIC 3352
(03) 5396 9315
noah.lang@email.com
linkedin.com/in/noahlang.ham
Mollongghip, 4/1/2022
Mr. Liam Haining
Head of Human Resources
Martecha
58 Taylor Street
Bunbartha, VIC 3634
Dear Liam,
I am reaching out today, because I'd like to sell you a pen.
Just kidding! My former colleague, Jordan Snowt, has referred me to the position of Sales Manager at Martecha, and I would like to explain why I'm the right person for the job.
I've been working in Sales for 3+ years. During my 3,5 years at Poshout, I've made the company almost 1M in sales. 74% of my customers were return clients. Before that, I worked in customer support, which proved to be invaluable. While working at Optino, I quickly learned that customer retention is much cheaper than constantly acquiring new customers, and I do my job every day keeping that in mind. Wanting to move up the ladder, I've also recently invested in the Executive Sales and Account Management Program in 2022, graduating top of my class.
James Squires, the CEO of Martecha, says he swears by the "work hard, play hard" ethic, and so do I. I'm convinced that executive sales are the right next step for me, and I'm certain I will fit right in at Martecha.
Let's schedule a quick call, and I'll share my ideas on how to make Martecha richer this year, plus give you insights into my client database.
Best regards,
Noah Langham
noah.lang@email.com
linkedin.com/in/noahlang.ham
Cheeky, but matches the company values. The first phrase grabs the attention, the letter feels tailored to the occasion, and ends with a value proposition. Who wouldn't want to tee-up an interview and find out how to earn more?
What makes a good cover letter is proof that you're a solution:
Focus on stories/experiences, and their outcomes. Great customer service? Say how many clients returned. Good organisational skills? Share how you came up with a simple checklist, and it reduced errors by 50% (because previously, that happened half the time, literally).
Show who you are. If your job heavily relies on your personal skills, it's crucial that your personality is there, shining through every line. At the end of the day, this is why cover letters exist in the first place. Be sincere.
4. Good Cover Letter Example: Jobs Relying on Hard Skills
Good news: your skills justify themselves. They are easy to quantify, which means you can impress by metrics only. You're literally killin' it.
Like here:
Good Cover Letter Example [Hard Skills]
Rachel Westgarth
Senior Software Development Engineer
84 Albert Street
Chinghee Creek, QLD 4285
(07) 5629 5133
rachel.westgarth@email.com
linkedin.com/in/r.westgarth12
Chinghee Creek, 5/6/2022
Mr. Jack Garrick
Head of Human Resources
Mobilivu
50 George Street
Cooladdi, QLD 4479
Dear Jack,
I am reaching out to apply for an opening at Mobilivu. I am a software development engineer with over 7 years of experience, including work for Amazed and FIA Mobile.
My motto for every job is "optimise it". I strive for unmatched efficiency, and my results reflect that. The team of 6 I led at FIA Mobile implemented frameworks for A/B testing that increased visitor conversion from 50% up to 73%. At Amazed, I cut infrastructure costs by up to 40% (~$250K monthly), revamping the configuration architecture and data storage utilizing with a team of 4. We managed to grow customer payloads from 32KB to 256KB without delays or errors, all within a year.
Mobilivu's projects are daring and innovative, and I am by no means intimidated by that challenge. On the contrary, I see it as a great opportunity to grow as a professional, and as a manger. I work really well under pressure, deadlines and changing circumstances, and I know how to drive teams to outstanding results. Bringing out the best in every team member is what makes a team strong as an entity, and content as a unity of singular individuals.
I would be happy to schedule a quick call to discuss how my expertise translates into Mobilivu's current and future projects.
Regards,
Rachel Westgarth
rachel.westgarth@email.com
linkedin.com/in/r.westgarth12
This letter keeps a delicate balance between being specific, precise, but still human. It makes it clear why the person is applying for a senior position, too: there are skills, there's leadership, and there are measurable, business-oriented results.
Here's how you make your good cover letter even better:
Be specific. Say, if you're familiar with all the programming languages the world has ever known, you don't need to mention them all. Focus on results vs. skills.
Don't forget about the soft skills, especially if you're applying for senior positions. Yes, being technical is nice, but someone has to handle the stakeholders, too.
5. Good Cover Letter Example: Speculative/Cold-Call
Why wait for the perfect moment, when you can seize the day and show initiative!
Not all the opportunities end up online, some have a "pending" status ("we could hire someone, if the person literally materialised or something"), so don't hesitate to shoot your shot.
Have a gander at this sample:
Good Cover Letter Example: Speculative/Cold-call
Mary Paramor
Junior UX Designer
18 Millicent Drive
Martins Creek, NSW 2420
(02) 4904 8056
mary.paramor@email.com
linkedin.com/in/m.paramor
Martins Creek, 9/8/2022
Mr. Flynn Foott
Head of Human Resources
Remarked
4 Trelawney Street
Ben Buckler, NSW 2025
Dear Flynn,
I have recently completed my occupational retraining, transitioning from a QA specialist to a UX designer, and I'm looking to start building my career in digital design. Being a big admirer of Remarked, I've decided to reach out and see if any similar opportunities are available.
Previously, I've been working in QA for 4 years, and I'm sure this period provided me with substantial insights into what the customers expect their experience to be like. Aquar has always been a very design-oriented company, and working there allowed me to expand my knowledge far beyond quality assurance. I've assisted on Aquar's biggest projects (NUTI and ChattiCloud, you may be familiar with these apps). Having worked closely with designers and developers, I managed to get a clear understanding of what working in UX entails. I've acquired a Professional Diploma in UX Design, and never looked back.
Remarked has been one of the reasons for the change of my professional trajectory. I have been following the projects the company had completed since 2017, and these projects have set the standard I'm striving to follow. Being very familiar with the portfolio, I'm sure I will be able to blend into the team seamlessly and catch up on the nuances quickly. Furthermore, I would be happy to undergo any additional training.
I appreciate your consideration. It would be an honour to contribute to the impeccable excellence of Remarked, and I would be delighted to find out my expertise applies. I am available for a call at your convenience, and I will gladly answer any additional questions.
Sincerely,
Mary Paramor
mary.paramor@email.com
linkedin.com/in/m.paramor
Enclosures: Resume, Portfolio
It is definitely harder to tailor your cover letter to the job, because there's no specific job and no description. Hard, but not impossible! The more input you have, the easier it will be. Good luck!
In this case, writing a good cover letter would involve:
Research. Find out as much about the company as you can, google their values, know what they're known for.
Referrals. If you could name-drop a bit, that would make you more appealing and less random (no, seriously, it's true: studies prove that familiarity leads to attraction).
Relevance. It should be instantly clear why you chose that particular company: maybe you worked on similar projects, or you've been following them for a decade, or both. In any case, it should be very obvious why you chose to apply.
2. How to Write a Good Cover Letter
You've seen some good cover letter examples, now let's explore the science behind them.
Here are the general tips for crafting a good cover letter:
1. Format Right: The Rules
First things first: what does a good cover letter look like?
"Not overcrowded". It has to be neat and laid out properly. This can be achieved via choosing a template (similar to what you're using for your resume).
Alternatively, you can follow these cover letter formatting rules:
Spacing: 1" margins on all sides, single or 1.15 line spacing.
Font: professional (no Comic Sans, yes Arial), 12 pts.
As for what goes where on the page, the top left corner contains:
Your contact info (name, position, address, phone #, email, etc.).
Date and location.
Employer's contact info (name of the hiring manager, title, address).
Done? Let's go flat chat to the main body and see how you write a cover letter.
Read more: Simple Templates for Your Resume
2. Open Strong: Greeting and Intro
Okay, the page is not as terrifyingly blank as it was before, what's next?
If you look at a couple of good cover letter examples, you'll see they begin with:
A proper greeting.
A powerful 1st paragraph.
This is how you do that:
Find the hiring manager's name. If it's not indicated, do some research via Google/LinkedIn
Go with "Dear [First Name]" or "Dear Mr./Ms. [Last Name]".
And then (important):
Lose the excessive niceties and cut to the chase.
Mention the position you're applying for, who's referring you (if applicable).
Stun the hiring manager with your most celebrated accomplishment.
We usually spend a lot of time thinking we'll be judged by how we write. With resumes and cover letters, it's more about what we write and how we structure it. Recruiters don't have time to read into every application they receive. They look through them, and it's your job to make the most important info stand out.
Pro Tip: Struggling to choose an accomplishment? Even Bradman made a duck. Analyse the job description, and try to understand exactly what the company is looking for. Then look back on your professional development. Any matches? Yup, that's it.
3. Tailor Carefully: Describing Skills/Yourself
The middle paragraphs of a strong cover letter are for describing how good you are at what you do, and why they HAVE TO choose you.
For example, it could go this way:
Paragraph 2: skills, achievements & how you got them (experience).
Paragraph 3: "personal touch" (what you know about the company, how you can relate to their values, how impressed you are by their projects).
BUT, all of that can't be random. How do we make it relevant? You guessed it: we come back to the job description.
Playbook:
Research the company and examine the job description meticulously.
Demonstrate your relevant experience based on your findings, and reflect how that expertise can become the solution to the company needs.
Talk numbers. Nothing's more impressive than measurable results.
Write about what you're proud of, mention something that you couldn't really develop upon in your resume.
Give compliments. After all, you want this job for a reason! Show that you know what they're all about.
Double-check. Does your cover letter show your best sides? Is it clear you'll be a great fit for their environment and an asset to the team? Is it clear why you want it, and why they should want to work with you? If it's "yes" to all of the above, it's a good cover letter.
Pro Tip: Want to write one good cover letter to rule them all? That won't work. Tailor each to the specific job. One position—one cover letter (and one resume).
4. Close Wisely: The CTA
The last paragraph is definitely not the least.
Do you think it's time to wrap things up, say thank you, and be looking forward to the response?
Then think about how you skim. According to a study, we all focus on introductions, summaries, first and last sentences of paragraphs. So, the ending is actually a strategic spot to place something important.
The last sentence of your good cover letter should include:
A call to action is a prompt for the hiring manager towards the desired next step. You're not writing that letter just to impress, right? The goal is to get an interview, so be very clear about that. And if you're asking for something, why not offer something in return? Tell them how you're planning to make the company a better place. Who can say no to THAT, eh?
For the closing, just go with "(Kind/Best) regards" or "Sincerely yours" + your name. Add your contact details below for convenience.
5. Add Value: The Postscript
The above sections were a must, but there's a little-known extra gem that can be the icing on your cover letter.
Introducing: the postscript.
The reason adding a P.S. is such an efficient technique is because it stands aside in your cover letter, drawing the recruiter's attention. Which means, you can use it to cement your message: you are whom they're looking for. Do that by:
Leaving them interested—share something about yourself and your career that truly makes an impression (1).
Offering to provide more information—preferably during an interview (2).
It may look something like this:
P.S. — I came up with a foolproof method of upselling enterprise clients (1), which I'd be happy to share when we get a chance to speak in more detail (2).
And just like that, you're all set! Let's summarise the above info:
How to Write a Good Cover Letter [Structure]
Formatting + Contact info
Greeting + Powerful Intro (paragraph 1)
Skills + Measurable Achievements + Values (paragraphs 2–3)
CTA + Closing
P.S.
When making a CV in our builder, drag & drop bullet points, skills, and auto-fill the boring stuff. Spell check? Check. Start building a professional CV template here for free.
When you're done, Zety's CV builder will score your CV and tell you exactly how to make it better.
Thanks for reading. Did you find those good cover letter examples helpful? Are you now 100% sure about how to write a good cover letter in Australia? Do let us know in the comments below if you'd like us to add something!