Our customers have been hired by:
Ready to take your cover letter writing game to the next level? You'll learn how to structure your assistant professor cover letter better than everyone else in just a few steps.
So put your reading glasses on, school is not out just yet!
This guide will show you a perfect assistant professor cover letter sample, and then, we'll tell you the ins and outs of preparing a stunning cover letter to get any professor to come after you!
Want to write your cover letter fast? Use our cover letter builder. Choose from 20+ professional cover letter templates that match your resume. See actionable examples and get expert tips along the way.
Sample cover letter for a resume—See more cover letter examples and create your cover letter here.
Check out our similar cover letter guides:
Assistant Professor Cover Letter Sample
Ray Alfaro
Assistant Professor of Sociology
530-245-1472
RayMAlfaro@zetymail.com
Linkedin.com/in/12Ray.Alfaro
Redding, CA, 01/02/2021
Professor Joshua Marvin
Head of Sociology Department
University of Tampa, Florida
401 W. Kennedy Blvd.
Tampa, FL 33606-1490
813-253-3333
Dear Professor Marvin,
I am tremendously excited to be able to apply for the position of Assistant Professor of Sociology at the University of Tampa. With my penchant for teaching and equipping students with the right skill set and knowledge, I am committed to furthering the students' career aspirations. All while moving the academic goal posts alongside the rest of the University of Tampa's body of professors.
In my career thus far, I have published, authored, and co-edited over 40 papers and articles, with a particular focus on the sociology of work, social stratification, and social psychology. It pleases me to no end that UT seems to also value these topics and has received multiple prestigious accreditations in these fields. Some of my other achievements include:
Taking over a Sociology 101 course after an absentee professor, increasing the number of graduating students by 25% in comparison to the previous 5-year average;
Publishing successful articles in the American Journal of Sociology, American Sociological Review, and the Journal of Health and Social Behavior, among others;
Attending over 25 conferences and seminars in the last year alone in pursuit of continued scholarly development.
I am sure that my proven ability as a teacher and accomplished researcher would come to be of great use to UT's research efforts, in particular, the "Applications of environmental and urban sociology" project by Professor Zeller. I have quite a few exciting (I dare not say "trailblazing") ideas that could really drive progress in this field and would be willing to share them with you if you're available for a call next week.
Sincerely,
Ray Alfaro
530-245-1472
RayMAlfaro@zetymail.com
You've just seen an example of how far you can actually take ~250 words of a cover letter. Now, it's time to replicate these results, reliably and effectively.
Cover Letter for Assistant Professors: Template
How to write an assistant professor cover letter:
1. Format Your Assistant Professor Cover Letter the Right Way
Like anything, for example, a good lecture, a great cover letter needs to have structure.
The ones that don't just stand out like a sore thumb wearing a "Dunce" hat. 0/10.
Follow these cover letter writing tips to help secure your position in the scientific world:
First, your cover letter line spacing should be set to 1 or 1.15. For in-between-paragraph breaks, set it to 2.
Your cover letter margins look best when they're at 1" on every side.
The cover letter font you go with should mirror that of your resume, and not be bigger than 12 pt.
As for cover letter length, you should keep it between 3–4 paragraphs at around 250 words.
Read more: What Should a Cover Letter Look Like?
2. Write an Assistant Professor Cover Letter Header
A professional cover letter header is imperative to your success.
Here's how to get it done right:
In the top left corner, insert your current contact information. That constitutes your cover letter header, so better make it look good.
You should provide your full name, phone, email address, and, optionally, your LinkedIn Profile and/or your ORCID.
After skipping a line, write down the current date.
Skip one more line, then add the contact information of the party you will be contacting.
For that last point: you may know what faculty or institution you're applying for, but finding who the head of that institution is can be tricky. If you can't find it on the school's website, calling in directly is always a great idea.
Read more: Cover Letter Heading & Header Template (4+ Examples)
3. Open the Assistant Professor Cover Letter with a Catchy First Paragraph
The opening of your cover letter is like the abstract of your academic paper. If it sounds wishy-washy, you won't get many points.
Cover letter salutations 101: Use "Dear [Title] [Last Name]" (if recruitment is handled directly by the department head), or "Dear [Name]" (if it's someone in the administrative office).
Clearly state what position you want to be considered for. Then, quickly transition to why your inclusion among the teaching staff will benefit everybody.
Make sure that your cover letters pop. No self-respecting academic institution will accept someone who lazily creates generic cover letters.
Read more: How to Start a Cover Letter With a Bang
4. Convince Them There Is No Better Choice than You
There's a lot of flukes and one-paper-wonders in academia. Use the middle section of your cover letter to set yourself apart from them.
In the body of the cover letter, include more information about your skills, achievements, and publications. Use numbers for a more convincing impression.
That last bit is particularly important, as field experts believe the number of your publications willcontinue to have an ever bigger impact on your academic success.
Pro Tip: 100% avoid the temptation to copy the achievements from your resume and reuse them on your cover letter. Once again, it screams laziness.
5. Explain Your Reasoning behind Wanting This Job in Particular
From the school's perspective, it would really suck to hire a new assistant who wants to dip after the first semester. Make sure that's not you (and that they know that, too!):
Ask yourself the question of why you're applying to that school or institution. Mention an aspect you're particularly fond of, their devotion to quality teaching practices, prolific on-campus experts, etc.
Prove you're not going to jump ship after just a couple of semesters. Contrary to what many believe,lecturers often have to take on a wide variety of duties other than just teaching. The school staff will want to invest in you, but if they see hesitation, you won't even be considered.
Read more: How to Sell Yourself in Your Cover Letter: Tips and Techniques
6. Seal the Deal With a Compelling Call to Action
Should you ask for an interview at the end of your cover letter? Sure, but only if you do it right.
The school likely gets dozens of these letters every week, and making puppy eyes simply won't cut it. There's a better way:
Start drawing the cover letter to a close and harp on the notion that you know you'd be a great addition to the body of professors.
Include an exciting promise they'd be silly to ignore, but keep the secret of how you plan on achieving that goal—you will only reveal that during the interview.
Read more: Best Ways to End a Cover Letter
7. Sign-Off the Assistant Professor Cover Letter Professionally
Eureka! You're done!
Well, almost. The very finishing touches you put on your assistant professor cover letter can quickly seal the deal, or have you fail at the last leg.
Let's avoid the latter:
Sign with your full name and repeat the contact information from the header.
If you have it, a digital copy of your handwritten signature will fit nicely below your sign-off.
Add any necessary cover letter enclosures.
Name the cover letter file something more specific than "Cover_Letter.pdf". That's not quite the level of professionalism you should strive for.
When making a resume in our builder, drag & drop bullet points, skills, and auto-fill the boring stuff. Spell check? Check. Start building a professional resume template here for free.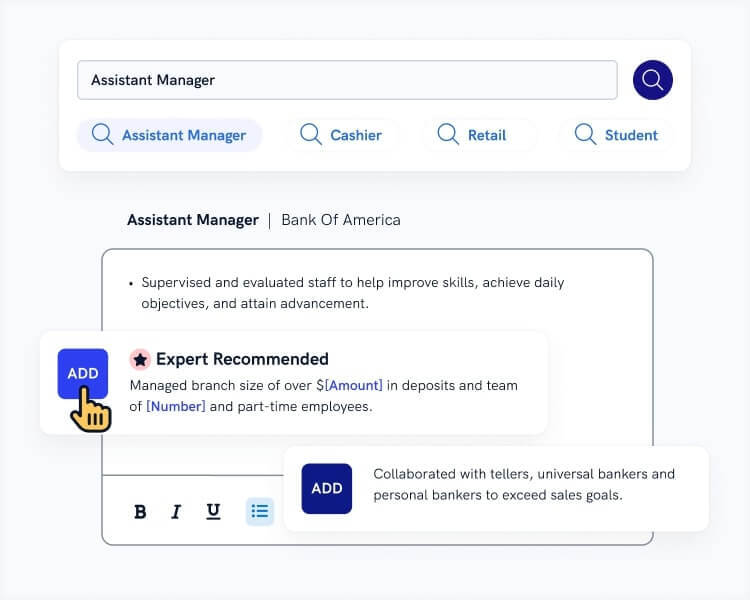 When you're done, Zety's resume builder will score your resume and our resume checker will tell you exactly how to make it better.
Thanks for the read. We love hearing your feedback, so if you're still not sure about any part of creating an assistant professor cover letter, or would like to add something, the comments section awaits!
About Zety's Editorial Process
This article has been reviewed by our editorial team to make sure it follows Zety's editorial guidelines. We're committed to sharing our expertise and giving you trustworthy career advice tailored to your needs. High-quality content is what brings over 40 million readers to our site every year. But we don't stop there. Our team conducts original research to understand the job market better, and we pride ourselves on being quoted by top universities and prime media outlets from around the world.