Law Enforcement Cover Letter Examples & Writing Guide
You spend 90% of your day waiting for something to happen, and 10% dealing with crazies. Prove your policing skills to the Chief with a professional law enforcement cover letter.
Ouch. A law enforcement cover letter. Why would you need to write one? You're not a writer, you apprehend criminals. But—you can't get hired unless the Chief at least reads your resume. He won't—unless your letter gives him probable cause. A professional cover letter shows why you're the best choice.
Sound intimidating?
This guide will show you a law enforcement cover letter sample and the best tips on how to write a cover letter for law enforcement jobs step-by-step.
Want to write your cover letter fast? Use our cover letter builder. Choose from 20+ professional cover letter templates that match your resume. See actionable examples and get expert tips along the way.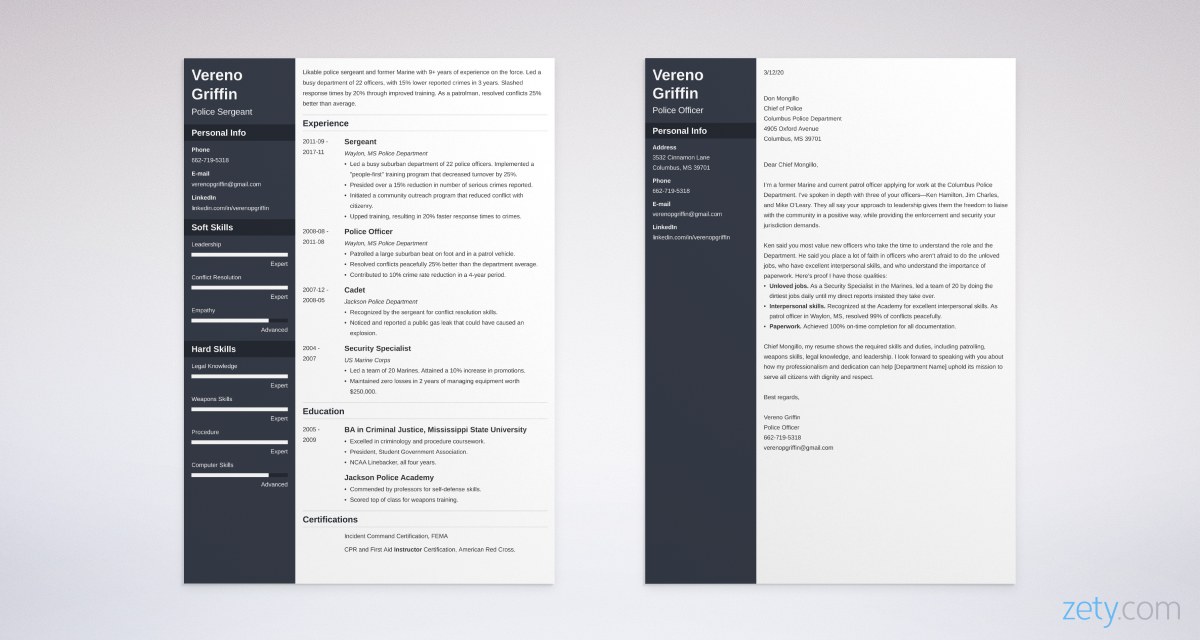 Sample cover letter for a resume—See more cover letter examples and create your cover letter here.
Law Enforcement Cover Letter Sample
Vereno Griffin
Police Sergeant
2642 Oxford Court
Columbus, MS 39705
662-719-5318
verenozgriffin@gmail.com
linkedin.com/in/verenozgriffin
4/23/20
Chief Brian Tanner
Chief of Police
Columbus Police Department
4274 Brownton Road
Columbus, MS 39701
Dear Chief Tanner,
As a former Marine and police sergeant with 9+ years on the force, I was glad to see your sergeant opening on GovernmentJobs.com. The Columbus, Mississippi Police Department values loyalty, integrity, and fairness, and strives to maintain confidence and trust. After speaking with two of your officers — Joe Datalano and Sarah Pleimelding — I know you're looking for a leader with training skills. You're also focused on crime reduction and lowering turnover.
At the Waylon PD, I led 22 officers in a busy suburban department. The "People First" training program I implemented resulted in a 25% cut in turnover, allowing me to preside over a 15% reduction in serious crimes reported to dispatch. I also facilitated a 20% faster response time to calls by broadening officer training throughout the department.
I was promoted to sergeant because of my 3-year track record of resolving conflicts peacefully 25% more often than the department average, and for contributing to a 10% reduction in the local crime rate. I developed my leadership skills in the Marine Corps, where I was in charge of a team of 20 Marines and drove a 10% increase in promotions.
I would be honored to work as a police sergeant at the Columbus Police Department. Your dedication to training and mutual respect would fit my own skill set and career goals. Could we set up a time next week to discuss how I can contribute to your mission to pursue excellence in police work and in community relations?
Best regards,
Vereno Griffin
Police Sergeant
662-719-5318
verenozgriffin@gmail.com
That cover letter sample walks the thin blue line.
But—don't skimp on your resume. See our guide: Law Enforcement Resume Sample
Seeking a career change? Relocating? See these guides:
Law Enforcement Cover Letter Template
Here's how to write a cover letter for a law enforcement job application:
1. Use the best law enforcement cover letter format and layout
Read more: Cover Letter Outline
2. Create a professional law enforcement cover letter header
Your cover letter header has to follow the standard rules for business letter layout. Here's how to get it right:
Start your cover letter with addresses.
First, your name, job title, mailing address, email, phone number, and LinkedIn.
Skip a line, then add the date.
Skip another line, then add the Chief's name and the department's address.
Make sure your resume and cover letter headers match.
Read more: How to Address a Cover Letter
3. Write a personal greeting and a strong first paragraph
Start with "Dear [Chief's Name]," instead of "To Whom It May Concern".
Make sure to mention the law enforcement position you're seeking.
Show you know what they're looking for right away.
Don't know what they're looking for? Check their mission statement online.
You can also do some quick informational interviews with other officers.
Read more: Best Ways to Start a Cover Letter
4. Show achievements in your second and third paragraphs
Show how you've aced their law enforcement job requirements.
Pick the most important ones, and list a couple matching resume achievements.
Add some numbers to prove your policing skills are NYPD-level.
Should you mention salary in a law enforcement cover letter? See our guide: How to Mention Salary in a Cover Letter
5. Say why you want this law enforcement job
Make sure they know this law enforcement job is near and dear to your heart.
The reason? So they'll know you won't move on too soon.
Think of some ways the department will help your career and skills.
According to the U.S. Bureau of Labor Statistics, there are 808,000 law enforcement jobs, growing by about 3,700 per year. A great cover letter will help you get the best of those.
6. End your law enforcement cover letter with an offer
Reiterate your skills and passion near the end, especially if you're writing an entry-level cover letter.
Revisit why this job matters to you.
Ask for the interview.
Promise to discuss how you can help the department.
Read more: How Should I End a Cover Letter?
7. Finish with a professional sign-off
End with "Best regards,".
Include a digital signature to ramp up your professionalism.
Finally, add your name, email, and phone number.
You can also add a list of cover letter enclosures.
Read more: How to Name Your Resume and Cover Letter Files
When making a resume in our builder, drag & drop bullet points, skills, and auto-fill the boring stuff. Spell check? Check. Start building a professional resume template here for free.
When you're done, our professional resume builder will score your resume and our resume checker will tell you exactly how to make it better.
Questions? Concerns? We're here for you. If you're still unsure how to write an LAPD-level cover letter for law enforcement jobs, drop me a line in the comments.
About Zety's Editorial Process
This article has been reviewed by our editorial team to make sure it follows Zety's editorial guidelines. We're committed to sharing our expertise and giving you trustworthy career advice tailored to your needs. High-quality content is what brings over 40 million readers to our site every year. But we don't stop there. Our team conducts original research to understand the job market better, and we pride ourselves on being quoted by top universities and prime media outlets from around the world.
Sources