Our customers have been hired by:
Tired of sending out your military resume and not receiving a reply from employers?
You're not alone. 5.3 million of Americans have served as active-duty soldiers since the Gulf War era, and thousands are now facing the difficult transition into civilian life and employment.
Want to be the lucky one getting those interviews? Learn how to write a military resume for a post-military career that will translate your military experience into skills and achievements civilian employers can understand.
This guide will show you:
A military resume example better than 9 out of 10 civilian resumes.
How to write a military to civilian resume that will land you more interviews.
Tips and examples of how to put skills and achievements on an ex military resume.
How to describe your experience on a military resume for a civilian job of your dreams.
Want to save time and have your resume ready in 5 minutes? Try our resume builder. It's fast and easy to use. Plus, you'll get ready-made content to add with one click. See 20+ resume templates and create your resume here.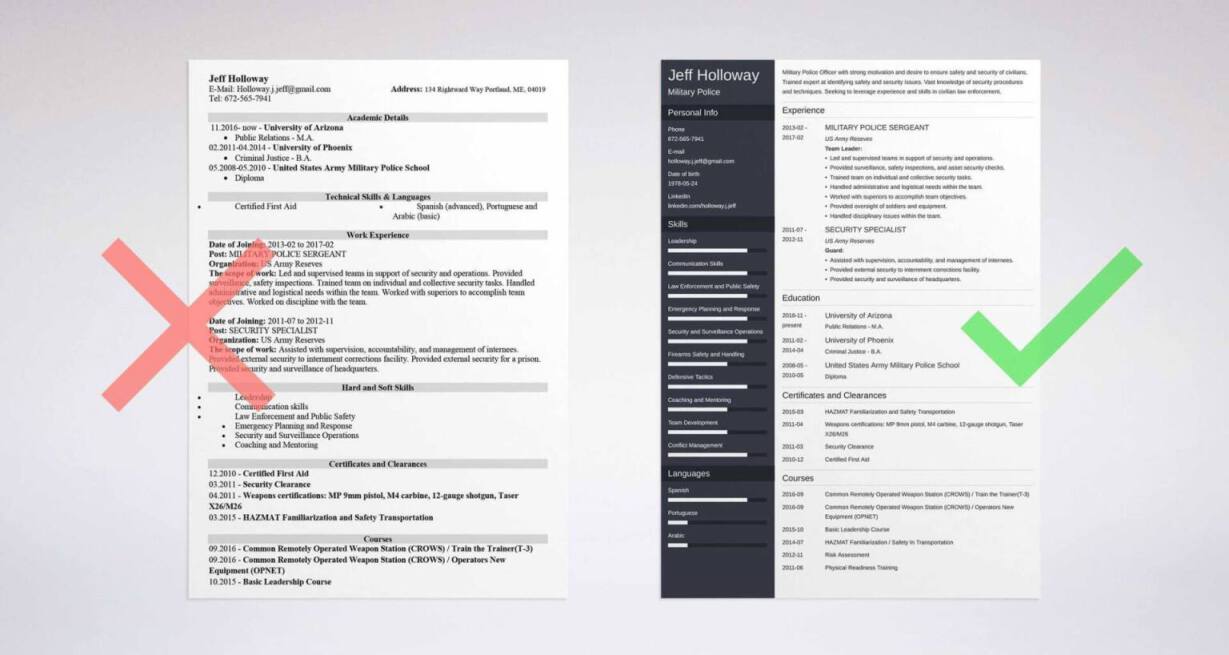 Sample resume made with our builder—See more resume samples here.
Looking for a different resume example? See:
1
Here's the Main Problem with Your Military Resume
Ex military veteran resumes contain terminology and acronyms that some recruiters might not understand.
Phrases like, "Assistant G-3 Training Officer" and "Battery Commander" might be impressive in the service, but don't mean much for potential employers.
Here is a military resume sample—
wrong
Army Ground Liaison Officer
McChord AFB, Washington
1980 - 1983
Briefed aircrews on dealing with airlift support of Army forces. Served as military representative to aerospace industry team responsible for the approval and certification of equipment and aircraft for airlifts.
Coordinated the administrative and logistical support of U.S. and allied forces deploying through the base.
Developed specialized Environmental Impact Statement that gained approval for use of an environmentally sensitive area as a tactical airlift training complex. Approval resulted in the saving of over $100,000 in yearly training costs.
This military resume example comes for a management job from Washington's government career portal.
What does the job experience above have to do with management? It's hard to tell without speaking to the applicant.
The applicant won't have a chance to explain her side of the story unless her army resume wows the recruiter.
That's why you need to know how to write a military resume.
Need to refresh your general knowledge about how to write a resume? Not sure what to include or what's the best military resume format? Read our guide: How to Create an Effective Resume
2
Your Mission, Should You Choose to Accept It
In writing a military to civilian resume, it is your mission to meet the following criteria:
Demonstrate the civilian applications of your hard-earned military skills, accomplishments, and experiences.
Entice recruiters and HR managers to call you for an interview.
Serve as a guide for future job interviews.
Prevent recruiters from doubting your ability to transition into civilian employment.
Bridge the gap between who you were in the service, and who you want to be as a civilian employee.
How can you write military resumes for civilian jobs?
It might be easy if you're an army medic or a Marine Corps chef.
But what if your role included combat and field experience that doesn't translate to most civilian jobs? I'll answer those questions and more in this guide.
When making a resume in our builder, drag & drop bullet points, skills, and auto-fill the boring stuff. Spell check? Check. Start building a professional resume template here for free.
When you're done, our professional resume builder will score your resume and our resume checker will tell you exactly how to make it better.
3
Planning Your Career Path Outside the Military
It's hard to figure out what military skills to put on a resume for a civilian job if you don't have a career path in mind. Strategize first before you start writing a military resume.
Research occupations closest to the jobs you held while on duty. Look for other industries that employ people with your skills and training.
And if you can't decide on one career path, that's okay. Start by creating a military resume template for yourself that you can use as a basis for different versions of your resume.
Make a master list of your professional merits. Which of your skills, training, military awards, and education are useful for the job you're targeting?
If you're applying to be an accountant, the award you won in marksmanship won't do you any good. Same goes for information about the bases where you've worked.
4
The Reality of Moving to a Different Industry
It's hard to accept that the skills it took you years to learn aren't going to help land your next job.
But you have to realize that everyone who moves to a new industry has this experience. A graphic designer who decides it's time to become an Air Traffic Controller doesn't need to put her Photoshop skills on her civilian resume. Right?
You will find it necessary to eliminate some of your experience and military skills for a resume. Focus on what's transferable to your new role.
Not sure what skills are valued most in your new industry? Used LinkedIn to find out and to network with civilian professionals. Not sure how? Read our guide: How To Optimize Your LinkedIn Profile To Get More Jobs
5
Assume Your Hiring Manager Knows Nothing About the Military
Here's the thing. You could be using language on your military veteran resume that civilian employers don't understand. It's normal after spending years in the military.
Recruiters and interviewers, who have no background in the military, can't understand the lingo used in the corps.
That's why you'll need to translate military to civilian terms, so whoever reviews your veteran resume sees your potential.
Resume writing tips for ex military personnel:
Avoid acronyms. Write "Base" instead of "AFB."
Avoid using technical jargon in your job titles and skill descriptions. Write "Supervisor" instead of "Non-Commissioned Officer."
Don't use military code. Don't include base or ship codes, unless it's relevant to your target job. Use your military job title or a civilian equivalent instead of your MOS designator.
| Right | Wrong |
| --- | --- |
| Squad Leader or Team Manager | 11B |
| Distribution Manager | 88H or Cargo Specialist |
Not sure about the civilian equivalent of your military job? There are tons of sites available to convert them for you.
Check out:
Just enter the military branch you served under, and your MOS code or job title. After that, you'll see a list of civilian job titles and in some cases, actual open positions.
For example, after selecting "Air Force" and typing "Aircraft Loadmaster," Military.com showed the following jobs for candidates with an air force resume: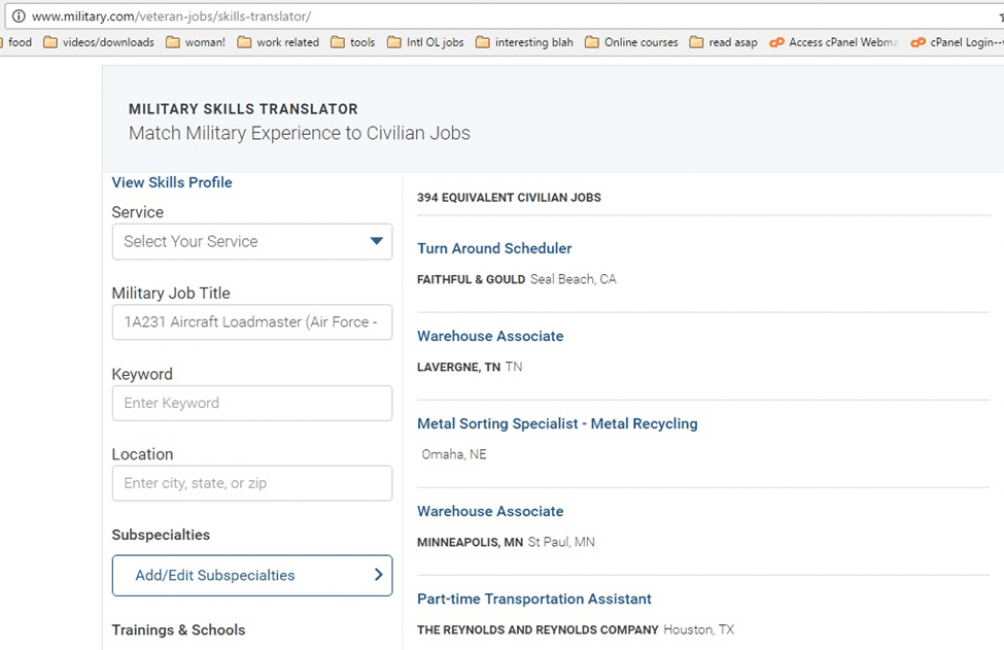 If you're not ready to apply just yet, that's okay.
Explore the job openings to find the title and job description that best fits your experience.
Whatever you do, don't copy anything from these sites verbatim—aside from job titles. Paraphrase and use the power of thesaurus to aid you.
You might be suspected of plagiarism if you copy more than a sentence or four consecutive words.
On the other hand, inserting keywords from the job description into an ex military resume never hurts.
6
Here's How to Create a

Civilian Friendly Career Summary
Michael Richards retired after a stellar 15-year stretch of military service during which he specialized in workforce management and deployment. He's now pursuing an executive position in HR and Talent Development.
Michael has two options when it comes to writing a resume career summary for his military transition resume. He can focus on who he was in the military or who he wants to become as a civilian.
Since your ex army resume summary is the first thing hiring managers look at, whatever Michael picks will affect his chances of landing the job.
Option A: Michael Focuses on his Military Background—
Military Resume Summary Example:
Workforce Management Director
Exceptional leader with analytical skills and talent development experience. Fifteen years in workforce management and personnel deployment for the United States Army. Assisted several Army staff agencies and commands in optimizing their workforce according to available talent resources and their mission's priorities.
Option B: Michael Focuses on his Civilian Potential—
Civilian Resume Summary Example:
Workforce Management Director
A workforce and talent development expert with 15 years of experience in sourcing, organizing, and deploying diverse talent to form top-performing teams for the United States Army. Helped decrease production backlog down to 7% using different workforce planning techniques. Created talent development programs encouraging team members to take on more responsibility.
The first veteran resume summary mentions workforce management, talent development, and leadership experience.
But the hiring manager might have no idea if workforce planning in the army is the same in corporate offices.
Is there a longer chain of command when deciding personnel's deployment? Is there a more red tape? What tools are used?
It also lacks keywords from the job description that hiring managers want to see.
Try to anticipate what questions a hiring manager might have after reading your military to civilian resume. Then find a way to address these questions on your post-army resume or in your cover letter. Addressing these questions is crucial for military resume writing.
The second example mentions that Michael's military experience is limited to the United States Army, but it elaborates on his transferable skills and responsibilities.
Pro Tip: You need to add keywords from the job description. Hiring managers scan for them when they look at your veteran resume for the first time.
Don't know how to tailor a military resume to a job description? Want to know what keywords are the most valuable? Read our guide: 6 Proven Tips On How To Tailor Your Resume To The Job Description
7
Demilitarize Your Work History and Skills
Don't limit your army experience to the core functions of your role. Think about other experiences and skills you gained as part of the job.
Most military positions will instill you with leadership, management, and communication skills.
Attention to details and the ability to work under duress are part of the package too. You just need to emphasize them.
Below is a sample navy resume, from Timothy Stergiou-Allen, Veteran Naval Officer from the UK.
You'll notice it's stripped of military jargon. If "Royal Navy warship" and "NATO deployment" wasn't mentioned, this military resume example could be mistaken for the resume of a civilian PR professional.

Aside from specific accomplishments (highlighted in yellow), the sample military resume also explains Stergiou-Allen's transferable skills as a PR officer and COO (highlighted in red).
Adding peer development and training coordination suggests he knows how to mentor others and conduct training sessions. Releasing stories via digital and social media channels means he's familiar with the tools used for digital marketing.
Here's another military resume example:
Security Specialist – U.S. Marine Corps 2008 to 2011
Led and mentored a diverse team of 25 people, attaining a 5% increase in promotions and 20% decrease in turnovers.
Received recognition for reporting and documentation accuracy.
Achieved a "zero loss" period in 3 years of managing the security of different equipment worth $125,000
When you read "security specialist," you might think of military or private protection services.
But that's not the case.
Transferable skills, such as mentoring, documentation, and security management, are good candidates for financial and management jobs. That's because integrity and accurate reporting are mandatory.
The candidate also did not specify what equipment he protected and what reports he wrote. Employers won't stereotype your skills as 'just for the military' if you remain less specific.
Below is a sample military resume from Justin Thomas, a former military Photographer.

You can see how Thomas explains his skills in photography and image management in a concise way while mentioning his competency with the expected skills and tools for the job.
Want to know how to put skills on your veteran resume? Not sure which skills recruiters find the most valuable? Read our guide: +30 Best Skills to Put On a Resume
8
What About Front Line Jobs With Combat Experience
Below are two versions of how to present your experience:
Civilian Resume
Military Resume

Led a 15 person team in completing different operational goals.
Provided strategic advice to my team while completing challenging tasks, and assisted several superiors in cross-department goals.

Led a 15-man team in combat missions.
Provided technical and tactical guidance to help both commanding officers and subordinates in completing several missions in Iraq.
What's the difference?
Hierarchy is different in the civilian setting. "My team" and "superiors" is better suited than "subordinates" and "commanding officers."
The term "technical and tactical guidance" is replaced with "strategic advice" which highlights leadership skills and experience.
"Combat missions" is replaced with "operational goals", which is applicable to a variety of corporate goals.
These changes prevent hiring managers from thinking your mentorship and leadership skills are limited to battle plans and military exercises.
Your choice of words can affect the way potential employers see you.
It's up to you to make your image positive.
Writing an effective military resume isn't all about avoiding jargon. Want to know what action words will give your resume a boost? Read our guide: +80 Examples of Resume Action Words for Every Profession
9
How to Spotlight Accomplishments on a Military Resume
Use metrics, percentages, time optimized, and money saved or handled to quantify your accomplishments.
Sample achievement from an air force resume:
Trained and managed the workload of 10 personnel in aircraft maintenance, resulting in a 27% decrease in unexpected repairs.
Doesn't that sound impressive with all those numbers?
Sometimes, an achievement can't be tied to a number. In that case, it's best to give your accomplishments some context. Write a sentence or two explaining the significance of your achievement to emphasize the impact you made.
Military resume example of an accomplishment:
Let's say you were selected to train new aviators to use the weapon systems and navigation equipment of different aircraft.
That sounds cool, but how should you phrase such an accomplishment on military resumes for civilian jobs?
Focus on the fact that you were hand-picked to train people.
Here's how to write an accomplishment for a post-military resume:
Developed my classroom and hands-on training skills after being selected to guide new aviators in using weapons systems and navigation instruments for different aircraft.
Want more examples of how to put achievements on your transitioning military-to-civilian resume? Read our guide: Achievements to Put On a Resume - Complete Guide (+30 Examples)
10
Here's How to Put Job Training on a Veteran Resume
Military training can be transferable to civilian employment. All you have to do is list the training events and courses you attended followed by a short description.
Not sure how to describe your training?
Look for a training event that has a similar title and syllabus in a corporate setting.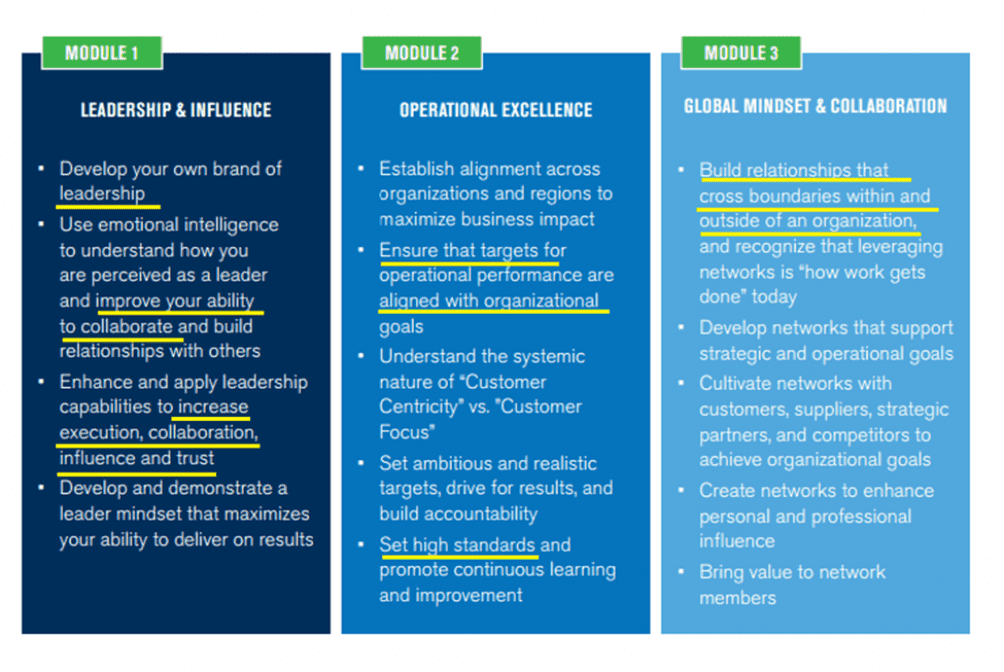 For example, a Google search for aviation leadership courses led to this training course from the International Air Transport Association (IATA) and Harvard Business Publishing.
Just compare the examples you find to the training you had in the military. What skills do both training courses have in common?
In the example above, leadership, collaboration, setting high standards, and building relationships are themes that match the following Airman Leadership School example.
You don't have to write the description verbatim. Choose a couple of common keywords and summarize the course description.
Example from a military pilot's resume:
Airman Leadership School (ALS), Community College of the Air Force 2012
A 5-week course designed to hone airmen into efficient front-line leaders. It develops the participants' communication, leadership, and management skills while giving them a broader understanding of the military.
The Profession of Arms, International Security, and Warfare Studies courses were also included in the training but the candidate did not include them on their military resume to avoid drawing attention away from the leadership material.
Here's another example showing education and training from a civilian resume with military experience highlighted for engineering:

Without a description, it's easy to conclude that the candidate's training doesn't have other applications. Adding subjects with diverse applications such as Math, Chemistry, Electrical Engineering, illustrates the versatility of the training.
11
Highlight Your Security Clearances and Certifications
Security clearances, even for non-sensitive and not so top-secret access, show proof of your accountability and responsibility to employers.
A Top Secret (TS) clearance can cost thousands of dollars, so companies would rather look for someone who's already undergone the background investigation and training required to get it.
Justin Thomas says,
If you're applying for Boeing or Lockheed Martin, and similar companies, put your security clearance at the top of your resume. It helps recruiters decide whether they want to take a chance on you.
Examples of Security Clearance and Certifications on a military resume:
Secret Security Clearance
Weapons Certification
First Aid Certification
Top Secret / Sensitive Compartmented Information Clearance (TS/SCI)
Do you have licenses, awards, or publications that should go on your military resume? Do you know where to put them? Read our guide: What To Put On A Resume To Make It Perfect [Tips & Examples]
12
Be Cautious When Adding Active Combat Details
"Most frontline troops look into private security or law enforcement. In this case, combat experience is incredibly relevant," says Allen.
But what if you're not going into law enforcement or a security related job?
In that situation, adding details about your active combat experience is a bit of a coin toss.
Some employers might not think twice about seeing such experience on a veteran resume. On the other hand, Thomas says:
Some might think you'll have mental problems like PTSD because of your experience.
Defending your country and its people is an admirable career.
The unfortunate reality is that many returning troops suffer from depression, PTSD, and other mental illnesses.
These ailments, while obviously not applicable to everyone with combat experience, may make some employers hesitate to hire you.
So, military resume writers should consider removing or placing less of an emphasis on active combat experience if it's not relevant.
13
Don't Forget to Write a Military to Civilian Cover Letter
Yes, you need a cover letter. Hiring managers often scan resumes for information to decide if you're documents are relevant.
After, they'll check your cover letter to get a fuller image of you. Don't repeat what you've written on your military resume.
Instead, use your cover letter to complement the information you've provided.
Your cover letter is the place for providing explanations and fleshing out information you kept brief on your veteran resume.
Not sure how to write a military resume cover letter? Need advice on what to include? Read our guide: How to Write a Professional Cover Letter in 8 Simple Steps
Plus, a great cover letter that matches your resume will give you an advantage over other candidates. You can write it in our cover letter builder here. Here's what it may look like: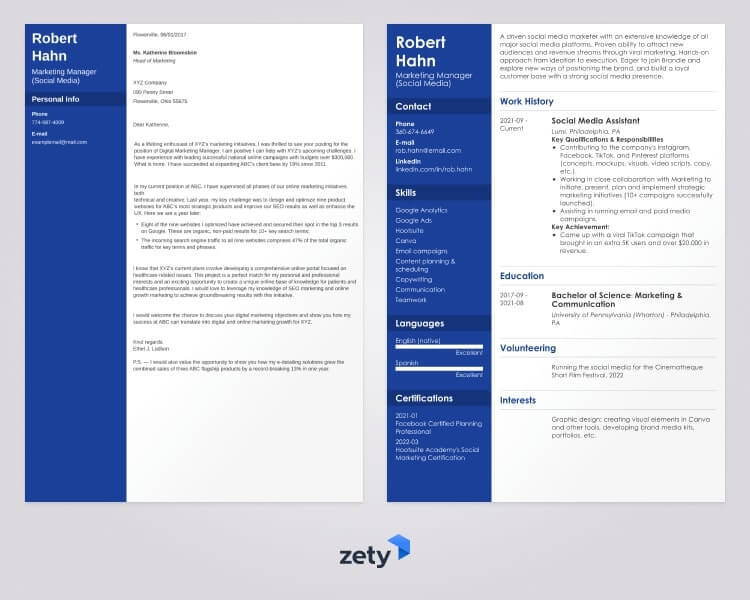 Key Takeaway
Let's recap. To write a military resume that get's you a civilian job you have to:
Choose a career path before putting your military experience on a resume.
Translate your military skills, accomplishments, and work history into layman's terms.
Include relevant training and education.
Emphasize your security clearances.
Be careful about including information about active combat.
Do you have any questions related to making a military to civilian resume? Give us a shout in the comments section!
About Zety's Editorial Process
This article has been reviewed by our editorial team to make sure it follows Zety's editorial guidelines. We're committed to sharing our expertise and giving you trustworthy career advice tailored to your needs. High-quality content is what brings over 40 million readers to our site every year. But we don't stop there. Our team conducts original research to understand the job market better, and we pride ourselves on being quoted by top universities and prime media outlets from around the world.
Sources