10+ Leadership Qualities You Need to Become a Great Leader
If you think that leadership qualities include driving a Lamborghini and wearing a Rolex, you're wrong. Learn what leadership characteristics you need to be a great boss.
Some people are natural-born leaders. Others become leaders due to external circumstances, such as an internal promotion or being born into a powerful family. And there are also those Machiavellian types that use manipulation, lies, and force to gain power. All of those groups possess certain leadership traits, but not all of them are good.
To be a great leader at work or in your community, you need to equip yourself with the best leadership qualities.
This guide will show you:
What leadership characteristics matter.
A leadership qualities list, including the most important skills a good leader needs.
Examples of lousy leadership qualities that you must avoid.
How to include qualities of a good leader on a resume.
Want to save time and have your resume ready in 5 minutes? Try our resume builder. It's fast and easy to use. Plus, you'll get ready-made content to add with one click. See 20+ resume templates and create your resume here.
Sample resume made with our builder—See more resume examples here.
Need guides about other important workplace skills? Check these out:
What Are Leadership Qualities?
Leadership qualities are personal characteristics and skills that can help a person be effective at influencing and directing other people. They can include both positive traits and negative qualities. In business, good leadership qualities are expected mostly from people working in management.
Does it mean you don't need to work on your leadership traits if you don't have a managerial position? Of course not! They can always prove helpful at any step of the career ladder. For example, leadership characteristics can help you reach an agreement with prospective customers if you're a sales representative. Working on these traits is important, even if you're unsure which career you want to pursue.
Continue reading to find more examples of good leadership qualities and how they can affect your work.
You expect to be respected by your bosses and colleagues. But which jobs are the most respected by the public? Learn here: The Most Respected Professions in America
Top 10 Leadership Qualities
Some people believe that men are the best leaders. Well, they couldn't be more wrong, and this unconscious bias is bad for business. According to a 2019 study, women in leadership positions score higher than men on 17 out of 19 skills that distinguish good leaders from bad ones.
As you can see, stereotypes are one of the factors that can hurt the workplace. Poor managers can do it, too, and that's why it's important to offer leadership positions to individuals with qualities of a good leader.
These are considered the top 10 leadership qualities in the workplace:
1. Credibility
Employees must be able to trust their leader. Without mutual trust, the work environment quickly turns toxic. Leaders can gain credibility by respecting their staff, holding themselves accountable, and going the extra mile to support their teams.
2. Self-Awareness
Employees notice pretty much everything about their managers—and the managers must be aware of that. That's why it's important to know what you're saying, how you're behaving, and even what you're wearing to work. Things that are fun to you may seem offensive to your subordinates.
3. Decision-Making
As a leader, you need to make decisions pretty much every day. Some of them are tiny, like choosing a birthday card for a team member. But the big ones concern the business. You must be able to use your decision-making skills sometimes on very short notice.
4. Empowerment
Being in a leadership position doesn't mean that you need to handle every single task of your team. You must learn to delegate responsibilities and provide authority to other people. When you notice a talent, provide opportunities to make this person shine and help them reach their career goals.
5. Communication
There's nothing worse than a manager who doesn't communicate with their team. You don't have to set up daily team meetings. Use various communication channels such as emails, instant messaging, or video calls to share updates, announce changes, and offer support. And don't hide anything from your team. They'll probably learn about that anyway but will be upset with you for not keeping them in the loop.
6. Inspiration
Not every day at work is full of excitement. In fact, most days are just routine. To help your employees stay motivated, you must inspire them. Remind of the end goal. Explain your vision. Provide incentives. To be inspiring, you don't have to be a famous entrepreneur like Elon Musk!
7. Open-Mindedness
Open-mindedness is considered the key aspect of learning. And you can't be an effective leader without learning continuously. Times change, and so do workplaces. Technology constantly goes forward. You must listen to new ideas if you want your business to stay relevant and successful. Even someone two decades younger than you may have valuable input to share.
8. Adaptability
If you want your every work day to be the same, then a leadership position might not be a great place for you. Unexpected things happen to the workflow all the time, and a good leader must be able to react to changes while keeping calm. Being unable to adapt may not only cause stress for you and your team but also disrupt the work significantly.
9. Dependability
Your subordinates need your approval for the upcoming holidays. Another manager needs to meet with you urgently to discuss the new department policy. And one of your team members has sent you a message asking if they can go home for the rest of the day because they've been sick. What do you do? Shut all these people off? Or prove that they can count on you no matter what? Being dependable is a critical leadership quality that makes people trust you.
10. Emotional Intelligence
You don't have to be all peaceful and loving 24/7, but having a well-developed emotional intelligence helps you communicate with others. Your employees and teammates go through their own everyday that may cause them to be less effective at work sometimes. It's good to understand when giving constructive feedback may help and when it may hurt.
Of course, those aren't the only qualities of leadership that matter in the workplace. If you need a long list of leadership traits, check out the next section of this article.
Thinking of boosting your critical-thinking skills? Check here: How to Improve on Critical Thinking
30+ Leadership Qualities List
The characteristics that make a good leader are strongly connected. And it's good news because if you work on one leadership quality, you're also developing another one at the same time. For example, working on your open-mindedness will help you approach problems from different perspectives.
And here's what a good leader should be like:
Accountable
Adaptable
Agile
Analytical
Authentic
Aware
Caring
Collaborative
Communicative
Confident
Decisive
Disciplined
Empathetic
Empowering
Enthusiastic
Fair
Flexible
Honest
Humble
Innovative
Inspiring
Integrity
Inquisitive
Knowledgeable
Learning continuously
Listening to others
Motivated
Passionate
Problem-solving
Resilient
Respected
Supportive
Tech-Savvy
Trusting
Trustworthy
Visionary
Quite a lot, isn't it? Not having all of those qualities doesn't automatically make you a poor leader. Nobody's perfect! In fact, those in leadership positions usually become bad because they have poor leadership skills in the first place. And we'll talk about them in the next section of this article.
Want to learn more about leadership skills? Check here: 100+ Leadership Skills for Work and Resume
20 Bad Leadership Qualities to Avoid (or Unlearn)
Let's be honest. You've certainly met a terrible leader at least once in your lifetime. Can you think of what made them so bad at leading people? The list of office sins is very long. For those in leadership positions, it's even longer. Check our list of poor leadership qualities that you must be aware of:
1. Being a Control Freak
Micromanaging is a sin. You need to give freedom to your employees and teammates. Why? Because you can't control everything anyway unless you install dozens of different surveillance tools in the workplace and spend all your time checking on them. People have their own ways of doing things. As long as the job is done, let them choose their own ways.
2. Always Right
You may have more experience up your sleeve than your employees, but that doesn't mean you're always right. Be open to fresh perspectives and other people's opinions. You never know when their input may turn into a great new business idea.
3. Vanity
If every team meeting becomes your monologue about how great you're doing, then you're the problem. You've got the right to be proud of yourself, but you don't have to advertise every single of your achievements. Be proud of others, too.
4. Prejudice
One of your team members exceeded all productivity targets, but you don't like how they dress, so you don't give them a bonus. You decide not to hire a qualified candidate because they're older than you. Guess what? Being a leader is not about your personal preferences. Be objective at all times, and treat your people as equals.
5. Expecting Miracles
If your idea to boost productivity is to increase targets by 50%, then I have bad news for you. You can't expect people to work miracles. Having unrealistic expectations can lead to workplace conflicts and burnout for your employees.
6. Focused on Money
Businesses are indeed supposed to make money. But thinking and talking about money all the time can make poor decisions that may hurt your people or even cause bad PR. Stick to the plan, and don't check the balance sheet every hour.
7. Not Giving Feedback
Your employees and team members must know when they do the job right. If they don't feel valued, they might quit their jobs in droves. They also need to know when they did something wrong. Not giving feedback regularly can lead to confusion.
8. Unpredictability
One day, you tell your employees they're doing a great job that deserves a bonus. The next day, you tell them they are lazy and must work overtime to meet the deadline. What's the result? They stop trusting you and soon start looking for a more predictable boss.
9. Lack of Development
If you think that the knowledge you learned 20 years ago will last forever, you're simply wrong. Not learning new industry tricks will make you appear backward, like a boomer in a startup.
10. No Clear Strategy
Having no business strategy, or changing the strategy all the time, will leave your employees unable to work effectively. How can they stay motivated if they don't know what to focus on?
11. Poor Work Ethic
You expect your team to start work at 8 am, but you always come to work late. Then, you grab a coffee with another manager instead of replying to emails. And throughout the day, you make dozens of phone calls to your friends to tell them how you hate this job. These aren't crimes but unethical behaviors that will discourage your subordinates.
12. Using Others
While good leaders know how to delegate tasks and authority, bad leaders just pile up additional duties for their subordinates. Don't use your employees to perform tasks that you find unpleasant. You must have a clear distinction between what your and their job is.
13. No Flexibility
Being unable to adapt to work challenges is a bad leadership quality. You can't expect the business always to go smoothly, and you shouldn't expect your team to always perform at 110%.
14. Poor Communication
Team meetings leave your subordinates needing clarification. Feedback sessions extend to hours because they don't understand what you mean. Your emails are left unanswered because the whole team discusses their hidden meaning in the break room. This can't go on.
15. Insensitive
Always be mindful of what you're saying to others. Especially when you're joking. Something that sounds perfectly fine to you may be hurtful to others. And remember that sexism and racism are never funny.
16. Unprofessional Conduct
Wearing a three-day-old T-shirt to a business meeting? Stealing prospective customers for your own side hustle? Lying to your own boss? These things set a bad example and may get you fired.
17. Unable to Resolve Conflicts
Everyone hates conflicts. But your team may count on you to resolve a few. You must recognize which side is right and support your workers' rights whenever necessary.
18. Disrespectful
Let's say one of your employees just told you that they've finally completed their Bachelor's Degree, and you reply,"Well, so what? I've got a Master's." Don't be like that if you want to keep your team working for you.
19. Lack of Authority
There are many ways to gain authority and also many ways to lose it. Not having enough industry knowledge is the main reason why employees don't trust their managers. If you have never worked in sales, why should your team of sales representatives listen to you?
20. Abusive
The worst sin of a leader. Some genuinely horrible leaders go as far as assaulting employees. Don't risk ruining your career. Harassing employees may eventually lead to you getting arrested and having a criminal record. If you can't control your negative feelings at work, seek help.
Now that you know what bad leadership qualities are, remember to avoid them at all costs. If you notice that your behavior as a leader is less than admirable, consider discussing with your HR department what could be done to improve your performance.
And if you are proud of your good leadership qualities, consider adding them to your resume. Many companies experience difficulties with finding suitable candidates for leadership positions. So, if you continue reading this article, you'll learn how to do exactly that.
If you're writing a resume, make sure you use the correct format. Check here: Best Resume Formats & Examples
When making a resume in our builder, drag & drop bullet points, skills, and auto-fill the boring stuff. Spell check? Check. Start building a professional resume template here for free.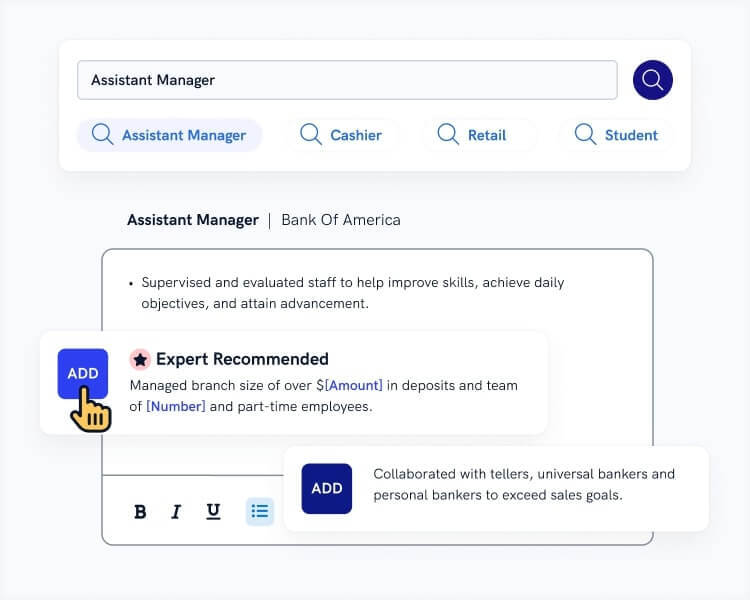 When you're done, our professional resume builder will score your resume and our resume checker will tell you exactly how to make it better.
Adding Qualities of a Good Leader to a Resume
When applying for a job in management, you must convince the recruiter that you possess some leadership traits. Even if you haven't worked in a similar role before, you can highlight experiences that involved supporting others, giving feedback, making decisions, and showing initiative to prove you're an excellent fit for the position.
Here's how you should add leadership qualities examples to your resume:
Make notes of the leadership characteristics you've got and can demonstrate them with relevant examples.
Read the job advertisement carefully and highlight the requirements related to leadership qualities.
Compare the requirements with your leadership traits.
Add examples of leadership qualities to various resume sections, including work experience, education section, summary or career objective, skills list, and extras.
The examples below can show you how to do it:
Leadership Qualities on a Resume: Summary Example
Right
Personable office manager with 4+ years of leadership experience. Enthusiastic about creating a supportive work environment at RattyWorks through staff-friendly policies and incentives. Managed to retain 97% of staff members in 2019 by setting up a flexible work-from-home program.
This person certainly knows what it's like to work with other people. They also have great leadership achievements to show off.
Adding Leadership Qualities to a Resume Work Experience Section
Right
Office Manager
Fans for Fours, Buffalo, NY
March 2018–Present
Introduced a monitoring process for office supply inventory, which led to a budget adherence of 94% in 2021.
Made recommendations for internal training sessions for promising staff members, which helped to improve the internal recruitment rate by 36% in 2020.
Created safety procedures during the first wave of the COVID-19 pandemic to adapt to the work environment to minimize work disruptions.
Collaborated with HR to hire and train over 150+ office staff members within 6 months in 2018.
Key achievement:
Planned and implemented the work-from-home program for all office employees, which helped to retain 97% of staff members in 2019.
Administrative Assistant
Rooppen, Buffalo, NY
December 2015–February 2018
Coordinated monthly team schedules to minimize disruptions caused by public holidays and the summer period.
Led quarterly presentations showing the productivity results of the sales team to the executive board.
Initiated monthly team-building activities that improved team communication and decreased conflict rate by 27%.
Key achievement:
Negotiated a two-year contract with a utility vendor that helped to protect the business from rising energy costs and led to savings of $450,000.
This job candidate demonstrated their leadership experience with clear examples of duties: coordinating teams, showing initiative, team building, solving problems, and empowering others.
Good Leadership Qualities on a Resume: Education Section
Right
Bachelor of Business Administration
D'Youville University, Buffalo, NY
September 2012–May 2016
GPA: 3.89
Extracurricular activities:
Elected president of Helping Hands club in 2013–2014.
Facilitated the creation of the Open Library project that involved the participation of over 100 university students and 50+ persons experiencing homelessness.
It's possible to show leadership qualities at school or college. Being a club president, running individual or group projects, and coordinating students mark a future leader.
Traits of Good Leadership on a Resume: Skill Section
Right
Analytical skills
Making informed decisions
Problem-solving
Time management
Dependability
Giving feedback
Effective communication
Team building
Remember to list a few leadership skills in your skill section. Always choose the ones that reflect the job requirements!
Leadership Characteristics on a Resume: Examples of Additional Sections
Right
Certificates
Leading Inclusive Teams Certificate (July 2021), School of Management, Buffalo, NY
Project Management Certificate (May 2020), School of Management, Buffalo, NY
Leadership Coaching Certification (March 2019), School of Management, Buffalo, NY
Volunteering
Community Leader at Streets of Buffalo, NY
Organized a community outreach program in February 2021 to engage disadvantaged youths in sports and artistic activities, including yoga, theater, and painting classes.
Planned a fundraising campaign involving 200+ volunteers that helped to raise funds to buy laptops and tablets for online learning in April 2019.
You can show off leadership qualities at work and in your personal life. Getting certification helps show you're interested in pursuing this type of career. And volunteering is a good opportunity to develop leadership qualities while helping others.
Do you know how to best describe your achievements on a resume? See here: Adding Accomplishments to a Resume
And congratulations! You're now braced with the fundamental knowledge of leadership qualities.
Plus, a great cover letter that matches your resume will give you an advantage over other candidates. You can write it in our cover letter builder here. Here's what it may look like: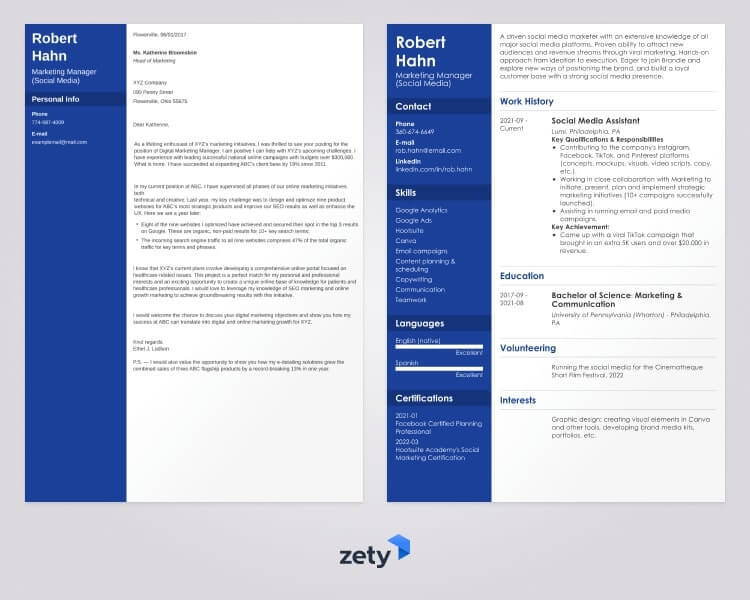 See more cover letter templates and start writing.
Key Takeaways
Need a reminder of the top 10 good leadership qualities? Here it goes:
Credibility: Always hold yourself accountable.
Self-awareness: Analyze your own strengths and weaknesses.
Decision-making: Make informed decisions promptly.
Empowerment: Give authority to others.
Communication: Update your team regularly.
Inspiration: Motivate others by being a good example.
Open-mindedness: Listen to new ideas.
Adaptability: Be flexible when the unexpected happens.
Dependability: Show people they can count on you.
Emotional intelligence: Understand your and others' emotions.
Thank you for reading this article! Now, I'd love to hear from you:
Have you met someone who demonstrated the top 10 leadership qualities?
Which leadership quality do you consider the most important at work?
Have you worked with a manager with poor leadership qualities?
Let me know in the comments below!
About Zety's Editorial Process
This article has been reviewed by our editorial team to make sure it follows Zety's editorial guidelines. We're committed to sharing our expertise and giving you trustworthy career advice tailored to your needs. High-quality content is what brings over 40 million readers to our site every year. But we don't stop there. Our team conducts original research to understand the job market better, and we pride ourselves on being quoted by top universities and prime media outlets from around the world.
Sources