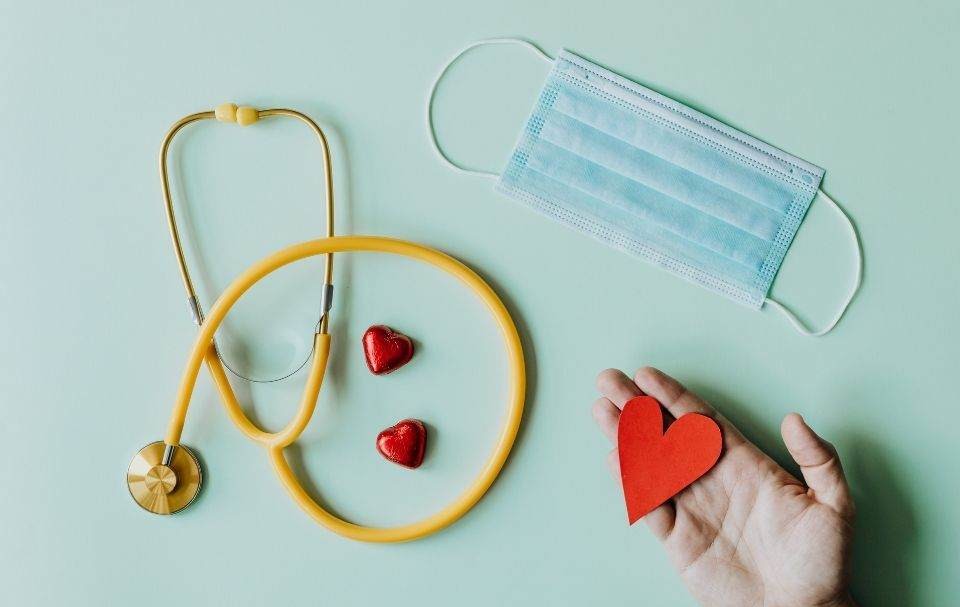 Nursing Cover Letter Example & Template (For New Grads Too)
Make sure your nursing cover letter is as flawless as your work ethic. The side effects? You'll get more invitations to job interviews than you can handle.
Nursing is hard enough.
But before you even get to doing the hard stuff, you need to get that nursing job—and that's a whole complicated procedure of its own.
Unless you know a lot of right people in the right places.
But most of us don't.
So… how do you stand out among hundreds of similarly qualified nurses all fighting for the same nursing job?
By crafting a memorable nursing cover letter.
This guide will show you a nurse cover letter example, plus the best tips on how to write a nursing cover letter step-by-step.
Want to write your cover letter fast? Use our cover letter builder. Choose from20+ professional cover letter templates that match your resume. See actionable examples and get expert tips along the way.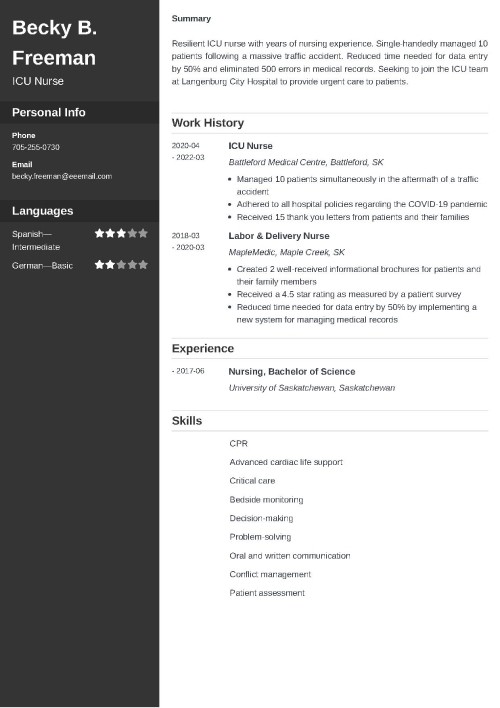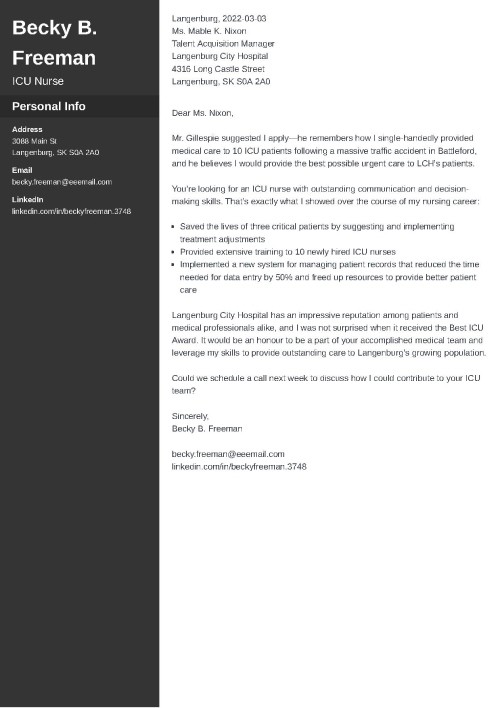 Cover letter sample for a resume—See more cover letter templates and create your cover letter here.
Nursing Cover Letter Example
Becky B. Freeman
ICU Nurse
3088 Main St
Langenburg, SK S0A 2A0
becky.freeman@eeemail.com
linkedin.com/in/beckyfreeman.3748
Langenburg, 03/03/2022
Ms. Mable K. Nixon
Talent Acquisition Manager
Langenburg City Hospital
4316 Long Castle Street
Langenburg, SK S0A 2A0
Dear Ms. Nixon,
Mr. Gillespie suggested I apply—he remembers how I single-handedly provided medical care to 10 ICU patients following a massive traffic accident in Battleford, and he believes I would provide the best possible urgent care to LCH's patients.
You're looking for an ICU nurse with outstanding communication and decision-making skills. That's exactly what I showed over the course of my nursing career:
Saved the lives of three critical patients by suggesting and implementing treatment adjustments
Provided extensive training to 10 newly hired ICU nurses
Implemented a new system for managing patient records that reduced the time needed for data entry by 50% and freed up resources to provide better patient care
Langenburg City Hospital has an impressive reputation among patients and medical professionals alike, and I was not surprised when it received the Best ICU Award. It would be an honour to be a part of your accomplished medical team and leverage my skills to provide outstanding care to Langenburg's growing population.
Could we schedule a call next week to discuss how I could contribute to your ICU team?
Sincerely,
Becky B. Freeman
becky.freeman@eeemail.com
linkedin.com/in/beckyfreeman.3748
Looks good? Well, you can have a nurse cover letter that's as good as Ms. Freeman's—or even better!
Just follow our step-by-step process for writing nursing cover letters.
Nursing Cover Letter Template
We've broken the process of writing a nurse cover letter into 7 easy-to-follow steps. Just go along and you'll have a top-notch cover letter in no time!
1. Use the Best Cover Letter Format for Nursing Jobs
You know that medical professionals don't have tons of spare time on their hands.
So make sure your cover letter is quick and easy to read. After all, you don't want to give your future boss a headache caused by easily preventable eye strain!
Here are some quick cover letter formatting tips for your nurse cover letter:
Set the page margin to 1" on all sides
Set the line spacing to 1 or 1.15
Pick a straightforward resume font that's easy on the eyes
Add an extra space between paragraphs
Following these tips will instantly make your cover letter look super-professional and easy to read.
2. Create a Header for Your Nursing Cover Letter
Before you get to the cover letter itself, you need to create a header. Fortunately, this is as straightforward as a paracetamol drip:
In the top left corner, add your name and contact info: your address, phone number, email, and LinkedIn profile
If you choose to add links to your social media profiles, make sure they look professional and don't contain any compromising posts or pics
Add the city and the date below the contact info
Now, write the addressee's name, job title, and business address
If you're not sure who will be reading your cover letter, you can check the hospital's website or just call them and ask who's responsible for the hiring process. It's always better to address your cover letter to a specific person.
3. Open with a Personal Greeting and a Compelling First Paragraph
After you've written your cover letter header, it's time to start the letter itself. Here's how:
Start with a classic salutation like "Dear Mr./Ms. X"
Avoid clichés like "I'm writing to apply" - they don't add any genuine value and are about as necessary as antibiotics for a viral cold
Start the first paragraph in a way that captures the reader's attention: drop a name or dive straight into your key achievements
The purpose of your first paragraph is to keep your future boss reading. Don't waste their attention on useless clichés.
4. Prove You're The Nurse They Need Right Now
Now that you've caught the reader's attention, start a new paragraph and prove why your unique personality and skillset make you the right person for this nursing position. Here's how:
Refer to the job ad and show that you understand what they're looking for in a candidate
Add a few bullet points with your key achievements
If you're a new grad, focus on your academic achievements and your practical placements
Focus on measurable achievements and don't hesitate to mention the numbers that show exactly how awesome you are
You might be tempted to copy and paste the bullet points straight from your resume, but don't do it. No one wants to read the exact same thing twice!
5. Show Your Passion for This Particular Nursing Job
There's a reason why you're applying for this particular job, right? And the reason is (hopefully) bigger than "I need money and these people just happened to have a job opening".
Here's how to explain why you want to work at this particular place:
Compliment the hospital on an award or another achievement
Show that you know about the team's current challenges and that you'll be able to help solve them
Make it clear that you want this particular job, not just any nursing job
Why spend so much time confessing your passion for a hospital? Well, no one wants to hire an employee who doesn't care about their job and who's just looking for a way to pay the bills while waiting for a better job opportunity.
6. End Your Nursing Cover Letter With an Offer They Can't Refuse
Straightforward communication is crucial for success in the medical field. So show you can get your point across clearly and end your nurse cover letter with a powerful call to action:
Ask the reader to schedule a call or a meeting with you
Remind them how valuable you are
Adding a call to action makes you sound confident and professional: you know what you're worth and you're eager to talk about the value you'll bring to the team.
7. Sign Off And Add a P. S.
Now's the time for a few final steps. But don't worry, they're as easy as applying a band-aid to a finger:
Use a closing formula that's commonly used in business letters, like "Sincerely"
Sign off with your full name
If you have a scanned version of your handwritten signature, paste it under your name
Add any enclosures if necessary
Give your nursing cover letter a footer with your contact information
Save your cover letter and give the file a nice, easy-to-read filename
If you've been following our template, you've most probably come up with somewhere between 200–400 words. This is the optimal cover letter word count to aim for: short, concise, and to the point.
Now just pair your brand new cover letter with a matching resume, submit your job application and lean back.
If you'd like a more in-depth approach to cover letter writing, check out the full guide: How to Write a Cover Letter: Complete Guide with Examples
When making a resume and a cover letter in our builder, drag & drop bullet points, skills, and auto-fill the boring stuff. Spell check? Check. Start building a professional resume template here for free.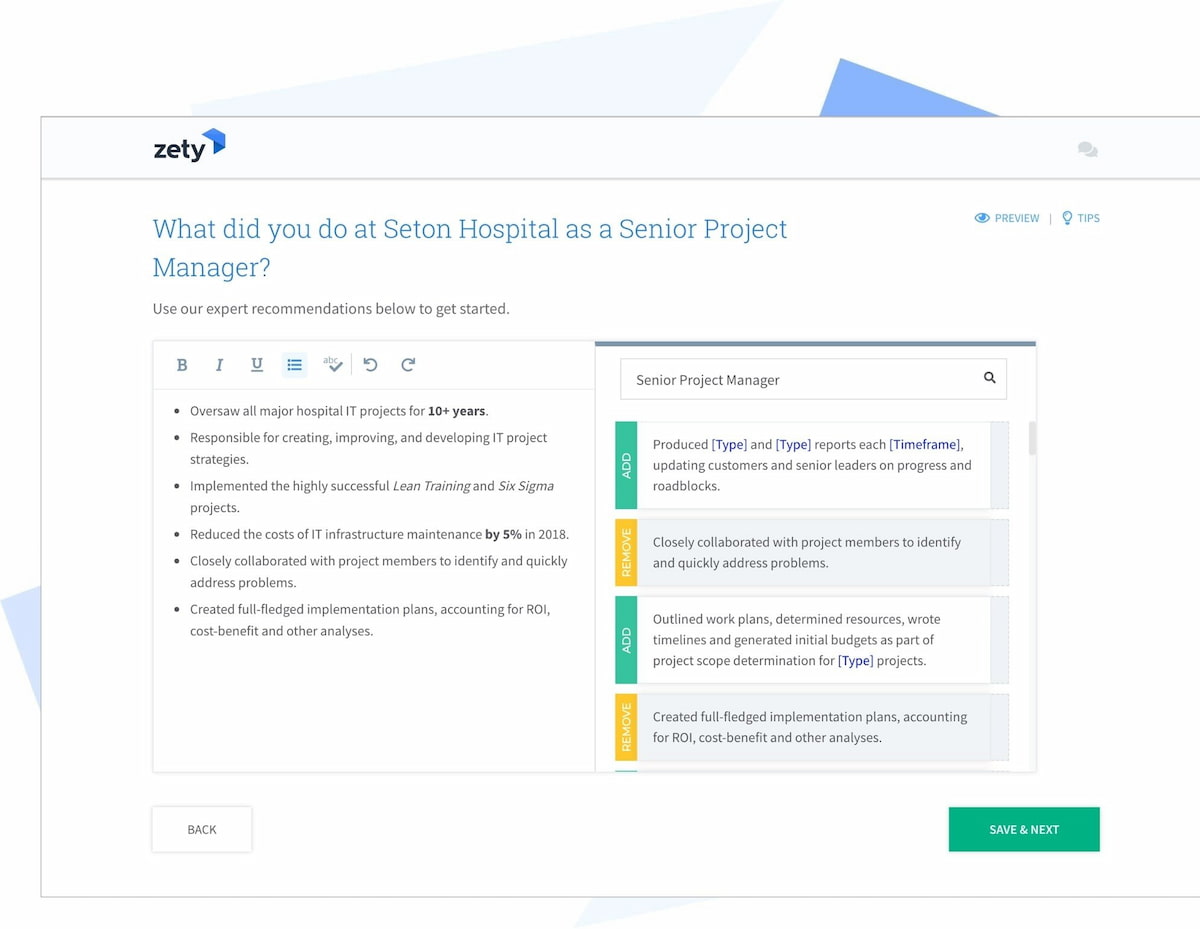 When you're done, Zety's resume builder will score your resume and tell you exactly how to make it better.
Thanks for reading! What do you think of this sample nursing cover letter? Are there any tips you think are missing? Let us know in the comments below!