10+ Job Interview Questions and Answers (for Recruiters)
Here's a selection of the best 10+ questions to ask a candidate at an interview. Learn from other recruiters what questions to ask at an interview. Find top talent!
It's no secret:
Recruitment is a complicated thing, to say the least.
Especially if you aim to build a team of A-players ready to take your business to new heights.
So—
How to attract and hire the cream of the crop?
Start with asking top interview questions.
This article will show you:
Examples of top interview questions to ask a candidate.
Unique insights from recruitment professionals.
Advice on how to prepare a set of good questions to ask at an interview and identify top talent.
Want to save time and have your resume ready in 5 minutes? Try our resume builder. It's fast and easy to use. Plus, you'll get ready-made content to add with one click. See 20+ resume templates and create your resume here.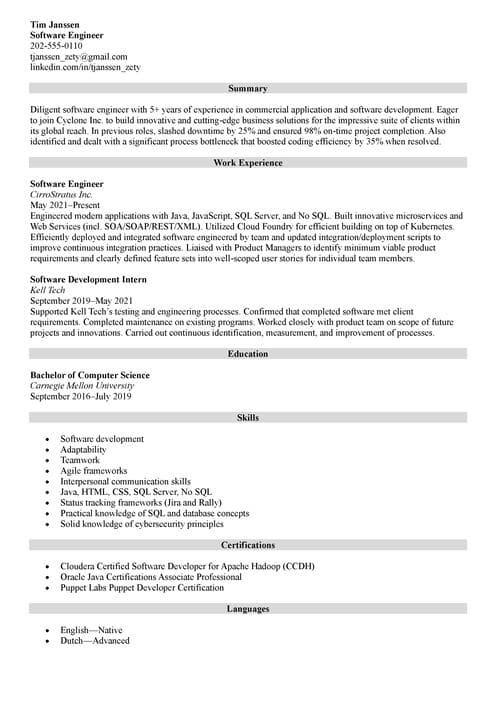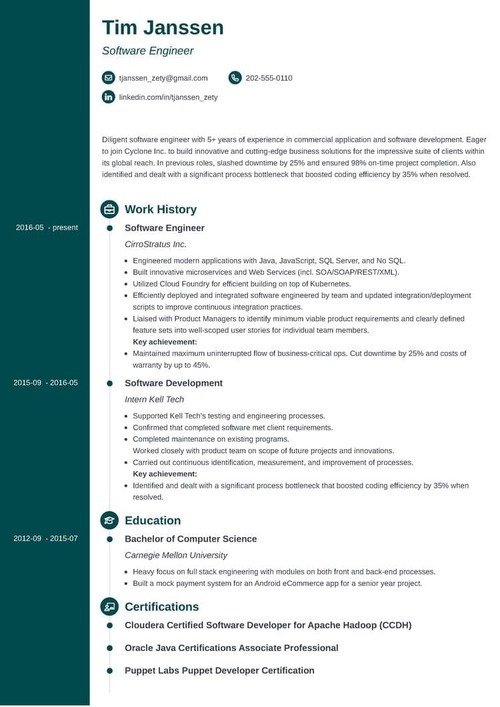 Sample resume made with our builder—See more resume examples here.
Good interview questions are vital. But there's more to recruitment than asking the best interview questions. Here's our guide on How to Conduct an Interview: Best Interviewing Techniques for HR Pros
Listen:
There's no such thing as a universal list of interview questions.
So, what do the best recruiters do?
They compile their own sets of questions that allow them to:
identify the best candidates for the job
and pick out the person with the best cultural fit for the company.
That's exactly why your set of good interview questions to ask must be tailored to reflect the needs of your organization.
How to come up with such a set?
See how the best recruiters do it!
We reached out to a group of diverse HR professionals, company owners, founders, CEOs, and academics to ask them about their recommended and preferred... questions.
Take a look at what questions they believe work best and learn how they can be helpful in finding top talent.
1
Competency-Based Behavioral Interviewing
First, we reached out to Pete Sosnowski of our own zety.com.
Pete successfully grew a startup he co-founded from three people to a company employing 50+ team-members to date.
His favorite interview questions revolve around three fundamental values the entire company is built upon:
Commitment
Passion and growth
Transparent communication
Pete likes to fall back on the proven competency-based behavioral interviewing (CBBI) questions.
Why?
"Because they give you a glimpse into real-life situations the candidate had to cope with," says Sosnowski. "Thanks to CBBI interviewing techniques you can get the evidence necessary to see if the candidate's past performance will make them successful in the position they're applying for," he adds.
So—
Here are some of Pete's best questions to ask at an interview to gauge the candidate's commitment:
1. Tell me about a goal you were unstoppable pursuing
Remember—
The idea behind CBBI is to focus on actual behavior rather than what-if scenarios.
The candidates who're truly committed should have no problems recalling a past situation.
"In fact, some candidates not only tell you about their goals but take you through the entire process step-by-step," claims Sosnowski.
As a recruiter, you have a perfect opportunity to ask some follow-up questions, such as:
How did you feel then?
Did you ask someone for help?
Did you experiment with the solution?
What happened next?
In fact, the possibilities are endless. And most importantly—
There's no single best answer. Everything depends on what it is that you're looking for in the candidate.
Plus—
The way candidates deliver their answers counts as well.
Are they excited? Does their excitement show through in their body language?
All these little things count!
2. The strangest moment when you found a solution to a work-related problem?
How does this question measure commitment?
Simple.
It shows the candidate keeps analyzing their challenges and doesn't put them on a shelf.
Some of the best answers?
In the shower.
When walking my dog.
I literally dreamed up the solution.
Now, let's move on to Pete's favorite interview questions to measure the candidate's passion:
3. Tell me about a time you failed
Everybody fails.
Sometimes.
If the candidate hasn't failed yet or tells you they've been successful all the time—
Something's not right.
Maybe they're not being honest with you. Maybe their knowledge is just too superficial?
Maybe, after all, they aren't passionate enough to have had an opportunity to taste failure yet?
Plus—
It's vital how the candidate perceives their failure.
Do they see it in terms of a dead-end alley? Or is this a learning opportunity for them?
Only those truly passionate will find sufficient motivation to draw conclusions from their failures and soldier on.
The question itself may take on different forms:
Ryan Moore, Director of Client Management at Peak Sales Recruiting, frames it like this:
Describe a time when you did not hit your targets or achieve a set goal?
The idea behind the question itself remains the same, though.
Moore explains:
"This question exposes the candidates work experience, particularly things they might not want to share and allows me to observe how they react to a direct question revolving around their past failures. I'm looking to see that they're comfortable owning up to their performance or if they blame external circumstances, and whether or not they can counter with steps they took to improve their results or any subsequent successes that made up for it."
Here's another question Pete Sosnowski likes asking:
4. What are you exceptional at?
"If the candidate tells you they're great at Jenga—
That's pretty cool.
But totally irrelevant in the context of a job interview.
The best answers should naturally gravitate toward professionally-relevant subject areas.
After all, it's a job interview," Sosnowski sums up.
If the candidate isn't sure what the question is really about, they can always ask you whether they should focus on their spare time activities or professional life.
As you're listening to the answer, you can ask a bunch of follow-up questions about the candidate's favorite sources of knowledge, modes of learning, etc.
The rule of thumb is to be as specific as you can get.
And finally—
Pete's interview questions to gauge the candidate's transparency:
5. Tell me about a time when you received negative feedback. How did you react? What happened next?
It's one of the toughest interview questions—
But the answer will show you how open the candidate can be with you about a negative situation.
Plus—
You'll learn about the candidate's reaction to criticism and how they use and build their knowledge to avoid failure in the future.
6. Tell me about a situation in your professional life when you were treated unfairly. What did you do?
Again—
The candidate's answer will show you how transparent the candidate is, and give you some invaluable insight into their understanding what's fair and what's not.
7. Tell me about a time when you gave someone negative feedback
"Apart from being yet another transparency-themed question, the answer to this one will demonstrate whether or not the candidate has the courage to give negative feedback to another person," Sosnowski explains.
We asked Pete a couple of follow-up questions.
Do you find situational interview questions along the lines of "What would you do if ..." not effective enough?
Pete Sosnowski: No. It's just a matter of focus. The CBBI technique is all about evidence. And that's what interests me the most. This is how I assess the candidate's skills and dedication. Questions about hypothetical situations are good if you want to probe the candidate's critical thinking, or problem-solving skills.
How do you test the candidate's technical expertise in an interview?
Pete Sosnowski: Job interviews are just a part of the entire recruitment process. The candidates who get invited to this stage were successful in solving a technical task beforehand. Obviously, this doesn't mean the interview must be entirely devoid of technical questions, no. But if you're willing to ask very specific technical questions, it's best to have the hiring manager next to you and hand over such interview questions to them.
And finally—
How can you tell if the candidate isn't lying?
Pete Sosnowski: By asking more and more detailed questions. As a recruiter, you expect a certain level of specificity. After all, you're looking for evidence. If the answers are becoming too general, you have a right to suspect something's not right. Plus, you can always ask the candidate for references. If you're having any doubts, the best way to dispel them is to compare the candidate's version against that from an independent source.
It goes without saying—
Past performance is one of the best predictors of the candidate's success.
It's no wonder the CBBI approach is highly popular among business owners and CEOs.
"I'm a small business owner who's continually hiring," says Ryan Knoll of Tidy Casa. "Bringing on great people is key to our growth so we've had to learn the hard way what about what works. Last month alone the business did over 60 interviews."
Ryan says it's imperative for him to ask questions that "get to the bottom of who a candidate is."
Over the years he realized that sometimes it all boils down to asking one good question, such as:
8. What's your favorite project you've worked on personally or at work?
"This question applies to many different fields. Everything from design, computer programming, to human resources," Knoll says.
"After asking this, it will be evident in the candidate's tone of voice and body language if they're genuinely passionate about a subject. The perfect candidate going for the programmer position will talk about how they program computer games on the weekends. The graphic design will speak about the children's book they're creating. The human resources executive will talk about the time they spend playing therapist to friends," he explains.
A genuine passion and dedication are what makes the hiring process so much easier.
"Any individual working in an area they're passionate about will work harder and bring better insights to problems because they care," Knoll sums up.
Other business owners chime in:
Here's one of the favorite questions Jeff Rizzo, Founder & CEO of The Slumber Yard, likes to ask:
9. What achievement are you most proud of?
"We are open to all answers. The real reason we ask this is to get a sense for the values of the candidate. We want to make sure that they've completed a meaningful project that took a lot of time and effort," Rizzo reveals.
The CBBI questions are invaluable when you want to fact-check the candidate's resume and you're looking for hard evidence of their skills and competencies.
The best answers follow the STAR model, and this is exactly what you should be looking out for as a recruiter.
Timothy Wiedman, a former hiring manager at two different Fortune-ranked companies and Associate Professor of Management & Human Resources at Doane University sums it up:
"As a general proposition, organizations seek people who can help them grow stronger. Thus, they want folks who will solve problems, not create them. So, as much as possible, I looked for applicants who discussed the relevant transferable skills and related work experience that they could bring to a particular job, a work team, and the overall organization."
He adds: "I always expected the whole truth: folks who over-embellished important facts were routinely 'discovered' down the line since my organizations (like most, these days) did thorough reference checks and background investigations!"
When making a resume in our builder, drag & drop bullet points, skills, and auto-fill the boring stuff. Spell check? Check. Start building a professional resume template here for free.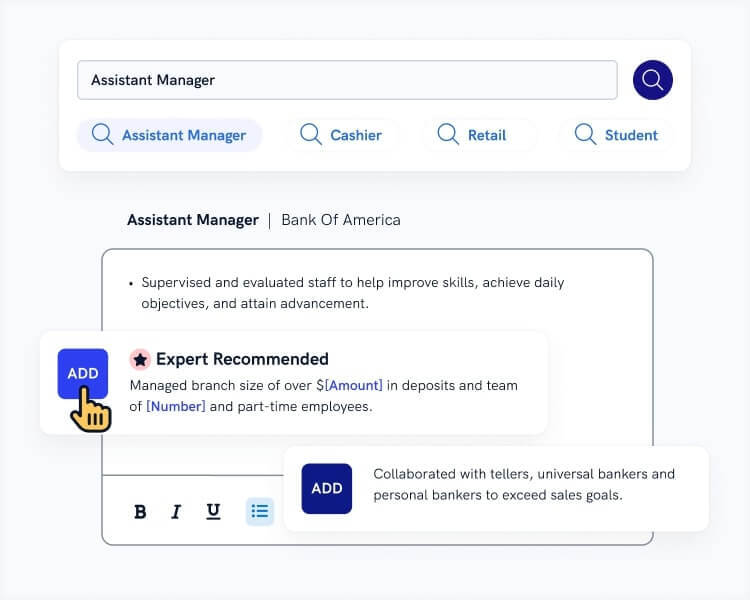 When you're done, Zety's resume builder will score your resume and our resume checker will tell you exactly how to make it better.
2
More Good Interview Questions to Ask Potential Employees
Here's the thing—
CBBI questions aren't the only good questions to ask at an interview.
There are many others a recruiter can ask to probe the candidate's motivation, industry knowledge, skills, or determine if the applicant fits the company culture.
Here's a look at a some of them:
10. Tell me what you know about the position and what we do as a company
Slumber Yard's Jeff Rizzo says this question is "the easiest way to weed out candidates that aren't serious."
If the candidate fails to offer a succinct and confident answer, their chances of getting hired fall dramatically.
"I've actually had a few qualified candidates admit to not knowing what we do. They were simply applying to jobs en mass," Rizzo concludes.
11. What do you need to be successful?
Ryan Moore, Director of Client Management at Peak Sales Recruiting explains:
"This question requires the candidate to respond with their own questions to provide a structured answer, and I pay close attention to what they ask.
This uncovers their expectations, critical thinking skills, and to what extent their previous experience can be directly applied to the opportunity at hand."
12. What is your biggest regret and why?
Initially, you may be tempted to think it's one of the CBBI type of questions—
But it's not.
Why?
Because the answers can be about the things that didn't take place.
So, what's the point of asking this?
Jordan Wan, Founder and CEO of CloserIQ explains:
"When hiring managers ask this question, they're looking for two things:
They want to see candidates give an honest response, and
They want to see how candidates overcame this regret.
This is an opportunity for candidates to explain something missing in their resume or something that might look bad in their career. For example, if they had a low GPA in college, this would be a great opportunity to explain how they regret not taking their coursework as seriously as they should have, and how they had to make up for it by working extra hard at a job or internship. This shows the hiring manager that they're honest and it can also clear any doubts about red flags in their resume."
If you want to see how the candidate behaves in an uncomfortable setting when they need to think on their feet, the next question is something you might want to give a shot to:
13. I'm not sure if you're the perfect fit for this role. I'm curious to hear why you think you'd be a great candidate.
"This is a great question because it's an objection," Jordan Wan says.
"Hiring managers want to see how candidates handle objections like they would from a potential client, business partner, or from a co-worker with a contrarian opinion.
It's also a way for hiring managers to see if the candidates have done their homework on the company and their depth of understanding for what it would take to be successful in this role."
14. What was your last good deed?
This is another one from Jeff Rizzo, Founder & CEO of The Slumber Yard.
"We want to see if they can recall anything selfless they've done recently. Unfortunately, we have a lot of people reply I can't think of something right now. Obviously, that's not what we want to hear.
I've had a recent college grad tell me (in a joking manner) that they recently bought beer for high school students at a liquor store.
The interview was casual, but apparently, the candidate got so nervous that they started resorting to the so-called humor. While I got a laugh out of the situation, this was one of several red flags in the interview process with this candidate."
15. What is something about yourself that you are currently working on improving?
This kind of question is a non-intrusive way of getting to know the candidates' weaknesses.
It's much subtler than asking "Tell me why we should NOT hire you," and in tandem with another question:
What do you foresee as being your biggest challenge in this position?
Can tell you quite a lot about the candidate.
Nate Masterson, HR Manager for Maple Holistics explains:
"When asking these questions, you might get some cliché answers like "I can sometimes be too much of a perfectionist' or 'I sometimes get too passionate about my work.' However, what makes for a great answer is something that is genuine and specific to the person.
For example: trying to work on being firmer with colleagues.
Bad answers include things that simply reflect a poor work ethic, such as the candidate saying that they are bad with time management or that they don't interact well with customers."
16. Why are manholes round and not rectangular or square?
Yes, it's a trick question.
But—
There's a method in this madness.
Here's an explanation from Jeff Rizzo, Founder & CEO at The Slumber Yard:
"This is a thought-provoking question, but the correct answer is that manholes are round so that the lid cannot slip back into the hole because it's a perfect circle.
We find that this remarkably simple question can really tell you a lot about someone's thought process. We prefer it over math questions or riddles because it has more to do with common sense, which we hold in high regard.
The most common response we get is 'I'm not sure.' We've had a few people answer the question correctly, but most people can't stop and think for a second about what practical reason there would be for the universal shape of a manhole.
We've had an individual reply to us that he thought that this was a 'fit' interview and wasn't prepared for technical questions. Of all the wrong answers, that's perhaps the worst. I personally didn't even know what to say back. It was almost as if the candidate thought he was going to lead the interview."
3
Advice for Recruitment Rookies from Recruitment Veterans
Here's a little bonus, which might come in handy if you're at the beginning of your adventure with recruiting talent.
This might help you set your recruitment priorities, build your own set of questions, or at least offer some food for thought.
"For recruiting newbies I recommend to hire for character and personality and not just for skills and experience the candidates claim they have. Would you hire a cat to fetch sticks out of a pond if they had 8 years experience and a masters degree in stick fetching or would you hire a Labrador Retriever?" Dave Munson, owner and CEO of Saddleback Leather
"Newbies need to dig into the terminology of the positions they are recruiting for and write down everything during the interview. Modern recruiters must have a strong desire to learn; Google is your best friend." Nevena Sofranic, CEO at Omnes Group
"The best advice I would share with recruitment newbies is to really understand the industry you're recruiting for from both the perspective of the candidate, but also the employer. If you understand what's going on in the business environment, you can ask the right questions and stay on top of trends, which adds a lot of value for everyone involved. This is what takes recruiting beyond matching a candidate to an employer, and effectively elevates the profession to strategic consulting, and can result in higher satisfaction and lower attrition." Ryan Moore, Director of Client Management at Peak Sales Recruiting
"A crucial piece of advice for any individual new to recruitment is to let the candidate do the talking and listen. If you're not satisfied with an answer from a candidate, using pauses and silence is often a good way to draw out more information." Lars Herrem, Group Executive Director at Nigel Wright Group
"Don't be afraid to ask the tough questions, when you're afraid to ask the question: just ask, and then be quiet and wait for the answer on the other end of the phone." David Armendariz, General Manager of the IT Practice Group for Lucas Group
"Advice for recruitment newbies is to always be prepared for the unexpected. Always have a list of questions ready, but also go with the flow and be ready to think on your feet as you get to know the candidate better and more questions arise." Nate Masterson, HR Manager for Maple Holistics
"Remain patient and interview as many candidates as you can because the greater the sample set, the better it is to find a resource (read gem) for your team." Damien Martin, Marketing Executive of Shufti Pro
Plus, a great cover letter that matches your resume will give you an advantage over other candidates. You can write it in our cover letter builder here. Here's what it may look like: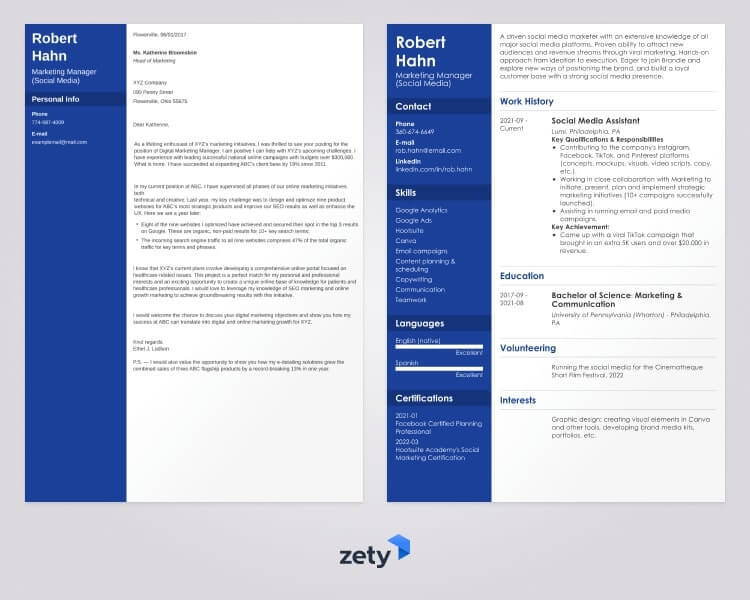 See more cover letter templates and start writing.
Here's a quick recap of all you need to know about the best interview questions:
Top interview questions are designed to reflect the organization's needs.
The best questions to ask at an interview focus on the candidate's past experience and transferable skills.
It's best if your interview questions to ask an employee are original and targeted at probing particular qualities and abilities.
Recruiters value the so-called CBBI technique because it's specific and evidence-based.
Situational interview questions are good for testing a candidate's problem-solving or critical-thinking skills.
Did you like the article? Do you have your own list of good interview questions to ask? Maybe you'd like to share some interviewing tips? Give us a shout out in the comments below! We'd love to hear from you!
About Zety's Editorial Process
This article has been reviewed by our editorial team to make sure it follows Zety's editorial guidelines. We're committed to sharing our expertise and giving you trustworthy career advice tailored to your needs. High-quality content is what brings over 40 million readers to our site every year. But we don't stop there. Our team conducts original research to understand the job market better, and we pride ourselves on being quoted by top universities and prime media outlets from around the world.