Our customers have been hired by:
Fidelity, Bravery, and Integrity are your motto? Then perhaps you are more than ready to serve your country in perhaps the most prestigious agency in the world. The Federal Bureau of Investigation will be more than happy to have you serve the nation and uphold the law.
But first—
Prove you're the right person for the job. Do you have what it takes to become the new start of the FBI? If you're not sure, it's time to start working on your FBI cover letter!
This guide will show you an FBI cover letter example, plus the best tips on how to write a cover letter for the FBI step-by-step.
Want to write your cover letter fast? Use our cover letter builder. Choose from 20+ professional cover letter templates that match your resume. See actionable examples and get expert tips along the way.
Sample cover letter for a resume—See more cover letter examples and create your cover letter here.
See more similar cover letter examples:
Want to explore your options even further? Check out our full selection of cover letter examples:Professional Cover Letter Examples to Apply for a Job in 2023
Let's take a look at a perfect FBI cover letter example:
FBI Special Agent Cover Letter Example
Richard Carr
Security Officer
2536 Mifflin Street
San Francisco, CA 53558
545-345-9374
rcarr@gmail.com
San Francisco, 01/13/2023
Bill Young
Recruiter
Federal Bureau of Investigation Headquarters
935 Pennsylvania Avenue NW,
Washington, DC 20535,
Dear Mr. Young,
I am excited to apply for the Special Agent position with the Federal Bureau of Investigation in San Francisco. I strongly believe my passion for justice, love for the United States of America, experience as a security officer, and 5+ years of individual combat training make me a great candidate for the position of FBI Special Agent. I graduated top 3% of my class with a Bachelor of Arts in Social and Criminal Justice at the University of California. At Celeb Security Services, I cut safety incidents by 60% thanks to best monitoring practices and excellent observation skills.
During my work as a security officer, I worked closely with 5+ top American celebrities, keeping them safe both in our country and abroad. I ensured their safety on a daily basis by monitoring security cameras and examining the area on day and night shift patrols. I also meticulously investigated all cases of safety disturbance and answered 100% of security alarms on time, and reduced breaches by 75%.
Working as a security officer for beloved figures of American culture and protecting them from dangers during foreign trips made me realize I want to protect not only the most wealthy citizens of the USA but also everyday people. And I firmly believe the FBI is a place I can do it under the supervision of the best agents in our country. Would you be willing to have this meeting at your HQ and discuss how my previous experience can be used in the FBI further? Perhaps next Wednesday, 10 a.m.?
Kindly regards,
Richard Carr
Security Officer
545-345-9374
rcarr@gmail.com
That's a great FBI cover letter. Let's start writing your own!
Pro tip: A great cover letter for the FBI is a good start. But you'd need more than that. You should also know how to make a resume that will partner it perfectly!
1. Choose the Perfect Format for Your FBI Cover Letter
Working for the FBI is probably more demanding than a regular 9-5. And it's not only about Fidelity, Bravery, and Integrity. You need more qualities than that to be the ace of the bureau. Paying attention to detail is definitely one of them. And there's a good way of showing you can do it straight away. It's by properly formatting your cover letter.
Before you start, visit the FBI Jobs website and learn more about their recruitment process.
How to format your FBI Cover Letter?
The structure of your cover letter is ready. Now let's start writing!
Learn more about writing a perfect cover letter in our guide: How to Write a Cover Letter
2. Build a Professional FBI Cover Letter Header
It's important to start your cover letter properly. Your cover letter header is the first thing a reader will see. You can expect the FBI's hiring manager to follow some strict rules of how things should be run. That's why you must be strict and precise about every step of writing a job-winning cover letter for the FBI.
How to write a correct FBI cover letter header?
Write your name, your job title, and contact information in the top left corner. That's where the readers' attention is focused, so make it right!
Add the city and date right below your personal information.
Include the addressee's name, job title, and address of the bureau you're contacting. Find out who will recruit you by doing some online research or contacting the bureau directly.
Your header is ready. Let's move on to the first way of grabbing your reader's attention.
Pro-tip:The FBI recruiter will definitely check your online presence before inviting you for an interview. Be ahead of them and check it before sending your application.
3. Start Your FBI Cover Letter Strongly
You might be thinking that people in the FBI have seen it all, especially if you've seen at least one X-Files episode when you were younger. So, how can you grab their attention? Having a great opening for your cover letter doesn't have to be flashy to make it work!
How to start an FBI cover letter?
Start with a proper cover letter salutation. Also, try to avoid e "To Whom It May Concern", as it's too general and reveals you haven't done your research well.
Write about why you want to pursue your career in the FBI. Think about serving the country, upholding the law, and fulfilling a dream.
Show your excitement. After all, you want to work in the most prestigious federal agency in the world, not just any other place.
Talk about your most relevant achievements or your most applicable skills that will help you convince the recruiter that you're the right fit.
Visit the FBI's Core Competencies Website and read more about their most valued skills. Perhaps you can prove you do tick all the boxes!
The first step has been taken. Now it's time for phase 2 of our operation code-named "Getting Hired in the FBI".
Pro-tip: There might not be currently any job openings that interest you at the FBI. In that case, sending a letter of interest might be a good idea.
4. Prove You're an FBI-Worthy Candidate in Your Cover Letter
Explaining why you're a perfect fit for the job is what the cover letter is really all about! But listing your experience is not enough even for your resume, so it's definitely not enough for a great cover letter. And you need one to get to the FBI.
How to write a great middle for your FBI cover letter?
Illustrate how you can use your professional experience in your work for the FBI.
Talk more about your achievements and your skills. Perhaps you've got some transferable skills worth a mention?
Quantify whenever you can. Those numbers are undoubtedly something you want to include in your cover letter, as they are proof of your accomplishments.
Perhaps you're not ready for what agent Clarice has gone through at the beginning of her career. But you're undoubtedly ready to end your FBI cover letter perfectly!
5. Write a Rousing Ending to Your FBI Cover Letter
Working in the FBI is not just any other work. You probably have tons of reasons you want to apply. Make sure they pop on your cover letter well enough so that you can avoid writing yet another generic cover letter that will not impress your reader!
How to end an FBI cover letter?
Compliment your potential employer. By this time, you surely admire the FBI for their work. It's time to make it crystal clear to the reader!
Explain why you think you'd bring value to the FBI. Think not only about your achievements and skills but also what motivates you.
Repeat how valuable you could be—make an offer or give them a promise of what you can deliver during an interview itself! Requesting a meeting is not unwelcome in a cover letter!
You're almost ready to send your cover letter. But before you start looking for a perfect cover for your FBI badge, there are two more steps you need to take.
There are many ways of ending a cover letter. Learn more about them in our guide: Great Cover Letter Closing Paragraph Examples
6. Include a Call-to-Action to Your FBI Cover Letter
Your cover letter is almost ready, and unlike a difficult federal case, this does not mean any more paper work on your side. But it means one more action. A call to action.
How to offer an interview in your FBI cover letter?
Ask for a call or a meeting and suggest when and where it could occur. What seems like a bold move is your way of securing an interview.
Repeat what value you could bring to the FBI, so that it accompanies the proposition. That's how you boost your chances of getting invited for an interview.
Now that your cover letter is ready, it's time to sign it.
Looking for a good way to finish your cover letter? Get inspired here: Great Cover Letter Closing Paragraph Examples
7. Complete Your FBI Cover Letter With a Perfect Sign-Off
All you need is a sign-off. So without further ado, let's sign your cover letter off!
Use your full name, job position, and contact details. That way your recruiter can contact you immediately after reading your cover letter.
Add any cover letter enclosures that might be valuable for the FBI. In this case, it's not only your resume but also a letter of recommendation, an online application, tests (such as intelligence tests and personality assessments), a full background investigation (SF-86), and medical, psychological, and security evaluations.
That's it. No need to thank us. We hope that with this cover letter, soon we will be thanking you for your service!
When making a resume in our builder, drag & drop bullet points, skills, and auto-fill the boring stuff. Spell check? Check. Start building a professional resume template here for free.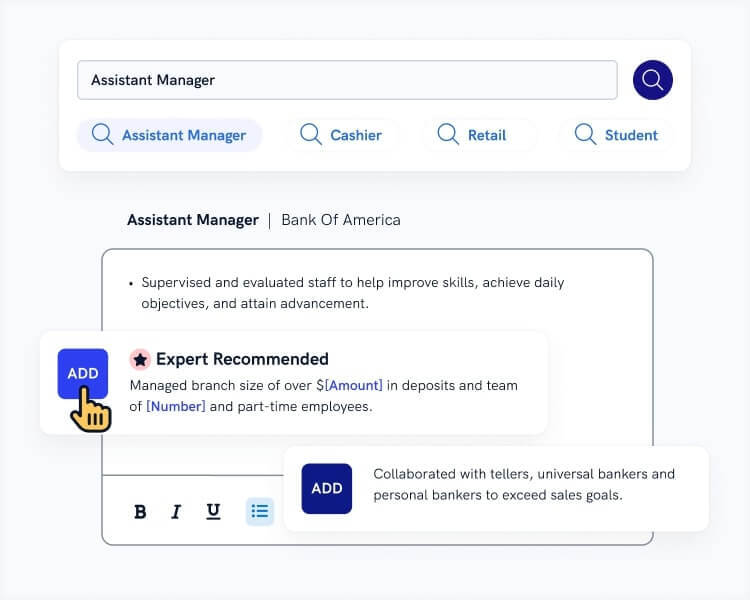 When you're done, Zety's resume builder will score your resume and our resume checker will tell you exactly how to make it better.
Thanks for reading! Is there anything else we can help you with? Let us know in the comments below!
About Zety's Editorial Process
This article has been reviewed by our editorial team to make sure it follows Zety's editorial guidelines. We're committed to sharing our expertise and giving you trustworthy career advice tailored to your needs. High-quality content is what brings over 40 million readers to our site every year. But we don't stop there. Our team conducts original research to understand the job market better, and we pride ourselves on being quoted by top universities and prime media outlets from around the world.