Every question recruiters and hiring managers ask is supposed to eliminate you from the pack.
Why?
They're looking for one person. Only one.
The question Why do you want this job? and similar aren't an invitation to get cute. They're tools for weeding out the candidates who applied for all the wrong reasons.
Not to worry.
In this guide, we'll show you how to best answer the why-this-company type of interview question. You'll learn how to prepare not to get caught off guard. You'll also get to see several sample answers to get you inspired.
Want to save time and have your resume ready in 5 minutes? Try our resume builder. It's fast and easy to use. Plus, you'll get ready-made content to add with one click. See 20+ resume templates and create your resume here.
Sample resume made with our builder—See more resume templates here.
Looking for advice on how to answer a similar but different interview questions? Here's a selection of guides to help you out.
1
Learn the Whys and Wherefores
The only way to answer any interview question meaningfully is to know the motivations behind it. If you don't, you risk giving an irrelevant answer.
But—
Why do you want to work for this company? may seem so obvious that it doesn't warrant any answer at all.
Well, you can't be more wrong.
The way you answer the question will show the recruiter three main things:
Why you're interested in joining this company rather than any other.
What you find interesting about the job you're pursuing.
How you can contribute to achieving the company's goals.
And—truth be told—this is exactly what Why do you want to work here? is supposed to gauge. Plus, the way you answer the question will further show the recruiter:
If you're really interested in this job, or you're just going from one interview to the next.
How much you know about the organization, its competitors, the industry, and the requirements of your prospective position.
What your career goals are and how well the position matches them.
So you need to make sure your answer covers all these aspects too.
Sounds overwhelming?
It should.
Remember—
Interview questions aren't friendly chats. They are supposed to eliminate the weakest candidates. After all, if you really care about getting the job, you'll care enough to prepare. (And in a moment, we'll show you how).
One more thing.
Why do you want to work for us? is never just about you. It's mostly about how the company will benefit from having you on board.
Answers along the lines of:
I would like to earn more.
I like your company and the products it offers.
I know how to do the things listed in the job ad.
Will leave recruiters seriously underwhelmed.
Why?
First off, they're about you. And hiring managers care about the company much more than about you.
Second of all, they're so generic that anybody could say it regardless of the company or position they're applying for.
That's just not good enough.
To nail the answer, you must prepare.
For more information on how to describe your motivation to join the company, visit our dedicated guide: What Motivates You? Sample Job-Winning Answers
There's always a tiny little chance that you'll wow the recruiter without any preparation.
But do you really want to entrust your professional career to chance?
If you're serious about getting the job you must research the company.
Where to start?
Visit the company's website.
Pay close attention to the "About" section. Usually, it will include the company values, goals, as well as some history: how they started and how it has shaped them.
Ask yourself: "Why do I want to work here?"
Note down the aspects of the company mission that resonate with you. Maybe you like something specific about the way they run their business?
Then—
Read about the company's products or services.
If there's no dedicated section on the website, check out their social media profiles. Pay attention to the language they use.
Jot down information on what aspects of their products/services they're especially proud of.
How does this resonate with you? Do you find their products or services useful?
Next—
Check the latest news on the company.
Google the name of the company and click "News" on the Google toolbar right under the search box.
This will give you an overview of the company's ongoing projects and current objectives, as well as potential challenges they might be facing and their biggest competitors.
Finally—
Revisit the job offer.
Reread the description from the job ad. Pay attention to the requirements and the duties you'll be expected to perform.
Ask yourself the following questions:
What makes you think you'll do well with those duties?
What about the position will feel rewarding for you?
What skills and experience will you be able to translate into success in this role?
Once you're done with the research, move on to preparing your perfect answer to the "Why do you want to work here?" interview question.
There's a special technique that will help you nail every job interview question. In this guide you'll learn how to use it to your advantage: STAR Method Technique: Interview Questions & Answers
When making a resume in our builder, drag & drop bullet points, skills, and auto-fill the boring stuff. Spell check? Check. Start building professional resume template here for free.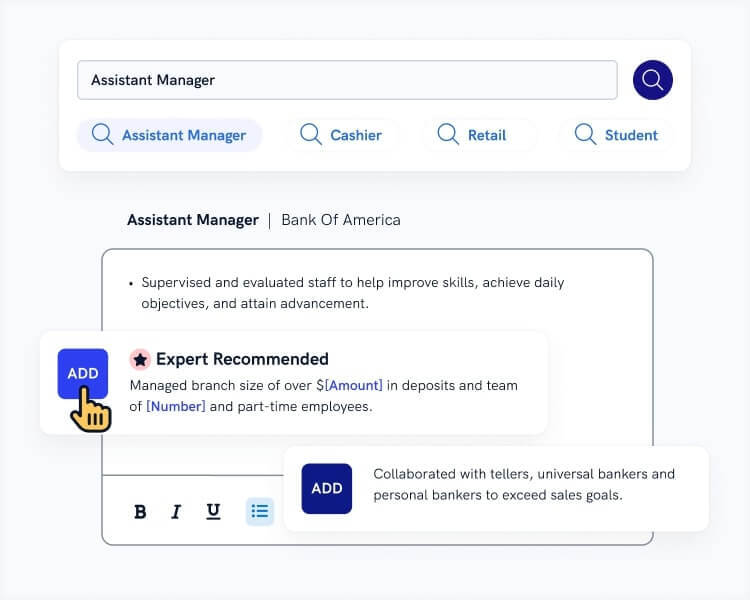 When you're done, Zety's resume builder will score your resume and tell you exactly how to make it better.
Now that you know the reasoning behind the question, you've investigated the company through and through, and you know exactly how your skills match the position—
You're ready to craft your answer.
Just remember: it's not just about you. It's about them. More specifically, it's about how the company can benefit from what you can do.
With this in the back of your mind, spin your answer around this three-step formula:
Why Do You Want to Work for This Company?—Formula for Your Answer
What inspires you about their mission and values.
What you know about the company and the job.
How your expertise and skills can be of benefit to the company.
If you incorporate all three into your answer, you're bound to give the recruiters exactly what they're looking for.
Here's what a professional recruiter has to say about how she evaluates the candidates' answers to the question:
I always expect candidates to show me how their skills can help further our mission. And I want them to go beyond simply reciting their skills—think bigger than just the specific requirements of the position. Good candidates can draw connections between past experiences (personal or professional) and the mission of our organization. But I've noticed that those who tell personal anecdotes when drawing these connections tend to stand out more. They are able to pinpoint something specific in their life that led them to the industry or to applying with our organization. It gives unique insight into the candidate that interviews sometimes fail to provide.
Why Do You Want to Work Here—Examples
Now—
The best way to prepare a great answer is to see what good examples look like and spin your own answer on this basis.
Here's a selection of sample answers to Why do you want to work here? to inspire you:
Why Do You Want to Work Here—Retail (Sample Answer)
I've been interested in fashion since I was a kid, and accessories form ABC have been my favorite for many years. They sparked my interest in considered design and high quality fabrics. In fact, I've been successful in turning five of my friends into your loyal customers. Your offer for a retail assistant resonated with me not so much because of my previous retail experience as my firm belief in your products' superior quality and timeless design. And I'd just love to be part of our success.
Why does this answer work?
The candidate displays her knowledge about the organization.
She highlights her understanding of the company's products and mission.
She shows how her passion drives her and aligns with the company's own values.
Why Are You Interested in This Internship—Sample Answer
Your company has a reputation for being a market leader. I know this, and that's what the latest issue of Forbes says as well. So—unsurprisingly—you seek the best internship candidates. Now, since you define success as where the willingness to learn and skill to make impactful decisions meet, I assure you I fall squarely into the definition. My high GPA testifies to my dedication to learning, and the real-life success of my student projects proves my skills and impact. I would love to use this internship opportunity to grow among experts such as yourselves, and contribute whatever I can to helping the company find optimal solutions to the current business needs.
Why does this answer work?
The candidate doesn't just show he knows the industry and the company, but also is up to date with the latest news about the company.
He proves that his experience and achievements are in line with the company's expectations.
Finally, he also mentions that as an intern he'd like to contribute to solving problems, not just learn new things.
Why Do You Want to Work for Us—Bank (Sample Answer)
I'd like to learn more about DCM. Having worked on debt crisis management at a government agency before, I'd like to see how debt financing works from the corporate perspective, while sharing my knowledge of the central side of things.
Why does this answer work?
The candidate says that the position will help him get a new perspective on what interests him professionally—she clearly shows how the position matches the career path she's chosen.
At the same time, she indicates that her specific knowledge will also benefit the bank she's applying to.
The last example is different as it will show you what NOT to do:
How Not to Answer the Question: "Why Do You Want to Work Here?
I've heard that your company offers great benefits—full medical and dental, paid paternity leave, and a lot of bonuses. I'll be honest, that's a strong motivation. But that's not all. There are so many renowned specialists working for you! I'd love to be surrounded by people I can learn from. Plus, I just love everything about your company. That's why applied in the first place!
What's wrong with this answer?
Too much, too soon. The money is important, but sometimes it's better not to say things out loud.
The entire answer is very generic and self-centered. Can you tell what the candidate has to offer?
Your interest in the new position matters. But so do the reasons why you left your previous job. Learn how to answer this difficult answer gracefully: Why Did You Leave Your Last Job? (Answers + Good Reasons)
Plus, a great cover letter that matches your resume will give you an advantage over other candidates. You can write it in our cover letter builder here. Here's what it may look like: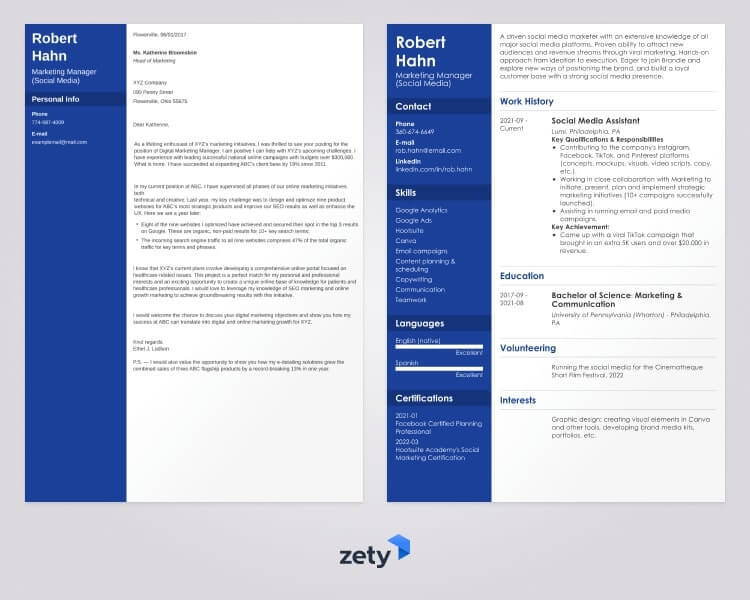 See more cover letter templates and start writing.
Here's all you need to know about how to answer Why this company? question:
The question Why do you want to work here? and all its permutations gauge your knowledge of the company and motivation to work for it.
To answer it most effectively, you need to prepare yourself by researching the company, studying the job ad, and linking everything to your unique skills and talents.
The best answers prove that you understand the company's mission, know its products and/or services, and that your skills will be of value to the company itself.
The worst answers are generic and focus on what you want as opposed to what you can give the company in return.

Do you have any other questions? Would you like to share your experience answering Why would you like to work here? Give us a shout out in the comments below. We're always happy to hear from you!