Best Resume Writer & Writing Services for Jobs in Australia
Is it time to hand over your resume writing to the pros? I've got you covered. Here's a review of the best resume writing services in Australia.
Google search only makes things worse.
Sometimes.
Especially when you're trying to find the best resume writing services, and there's too much choice.
The testimonials don't help either.
So what to do?
Read my article with a review of the best resume writers in Australia and pick yours.
But while I have you here—
With Zety, you won't have to wait for others to bring you the results. You're going to do that yourself and watch your success grow in real-time. Pick one of 20+ resume templates to create a resume that lands you a job.
LET ZETY BUILD YOUR RESUME NOW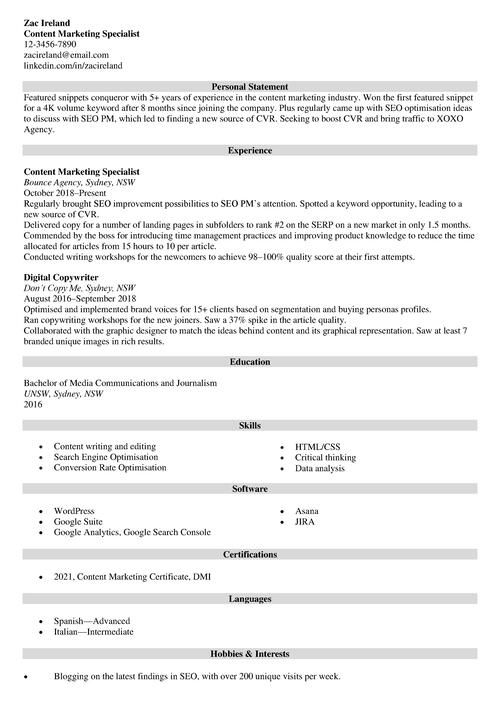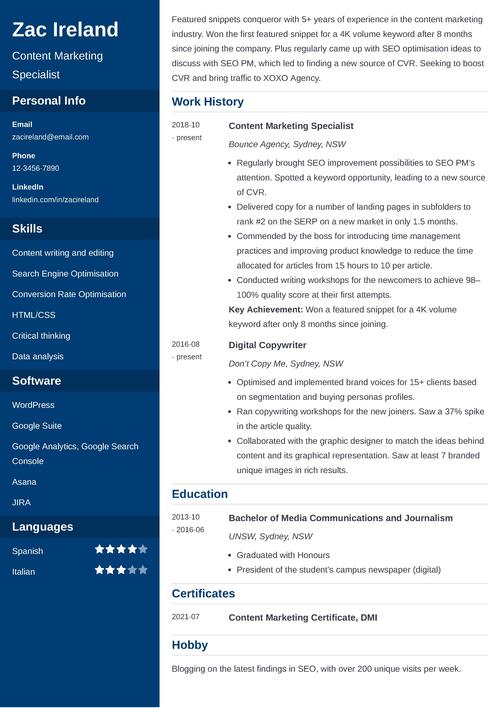 See the rest of our templates and create yours with the best resume builder.
Go straight to the resume writing service you want to read about:
Grab a list of the professional resume writer services in random order:
Resume Writing Services
1. TopResume
TopResume is a resume service that's known offshore, too. You can try out their services by uploading your resume and getting one resume review for free.
You can also get, but at a small price (compared to other resume services), a resume matched with a cover letter in one package.
Great news, everybody! Such a service does exist!
Pricing: $149–$349
Turnaround: about a week
Good if you:
Want to use a validated and trusted resume writing service. Based on over 8 000 reviews on Trustpilot, TopResume provides Excellent service to its clients.
Apply to government jobs or academia. TopResume covers them too.
Wish to secure the shared data with the consultant. Communication is only through a secure dashboard, no phone or popular messengers.
Not good if you:
Need a 60-day interview guarantee with a basic package. It's only available with the more pricey options.
Visit TopResume to learn more.
2. My CV Consultant
Ah—
What a breath of fresh air!
My CV Consultant has a pretty impressive website experience. Everything is clean, and the wording is simple. You know what to expect.
Or, do you?
There's no pricing or package information, but if you feel like booking a 15-min consultation to discuss it, then it's a win for both you and the resume writers.
Pricing: Set individually
Turnaround: 6 days
Good if you:
Don't like when someone beats around the bush.
Prefer to have a limited choice. There are only 4 consultants to work with.
Appreciate a smooth user experience on the page. (It can speak to the quality of the final product—your resume.)
Not good if you:
Want to have pricing and offer right there in front of you. You've got to book a consultation to find that out.
For more details, visit My CV Consultant.
3. Katie Roberts Career Consulting
Katie Roberts Career Consulting lays out all its cards on the table. There's no fine print, and everything is crystal-clear from the very beginning. You know what you pay for and what you get in return. But, most importantly, you know what you don't get.
There are 22 industries in which the resume writer service specialises. It offers three different packages—entry-level, experienced, senior/executive to which you can select a particular service: a resume, customised cover letter, and a LinkedIn writing service.
Pricing: $295—$595
Turnaround: 5–7 working days
Good if you:
Need full-stack career consulting.
Want to have a choice between remote and face-to-face consultations.
Feel like joining an online community of similar individuals supporting each other.
Are a fan of newsletters. Katie Roberts Career Consulting has its own with free career tips and the latest news on the job market.
Not good if you:
Need unlimited revisions. You can request only two.
Counted on a refund guarantee. There is none.
Check out Katie Roberts Career Consulting for more info.
4. Successful Resumes
Successful Resume has 25 years of experience in resume writing for all industries and across various sectors, including commercial. Having offices in 5 countries is also impressive.
It's striking how easy it is to begin cooperation with Successful Resumes. You only need to give your name and contact details and upload your resume.
That's it!
Oh, and the page is a cherry on top.
Pricing: Set individually
Turnaround: 5 business days
Good if you:
Wish to search for writers by location. You can choose one from each state.
Apply for jobs in the mining and resources sector.
Trust brands that are well-established. Successful Resumes have been a resume writing service for 25 years.
Not good if you:
Need quick service. You have to consult first to learn about the prices, which adds to the 5 business days of turnaround time.
See Successful Resumes for more information about the service.
Having experts doing things for you feels safe. But did you know you can feel precisely that using Zety resume builder? Certified Professional Resume Writers guide you all the way with their pro resume writing tips.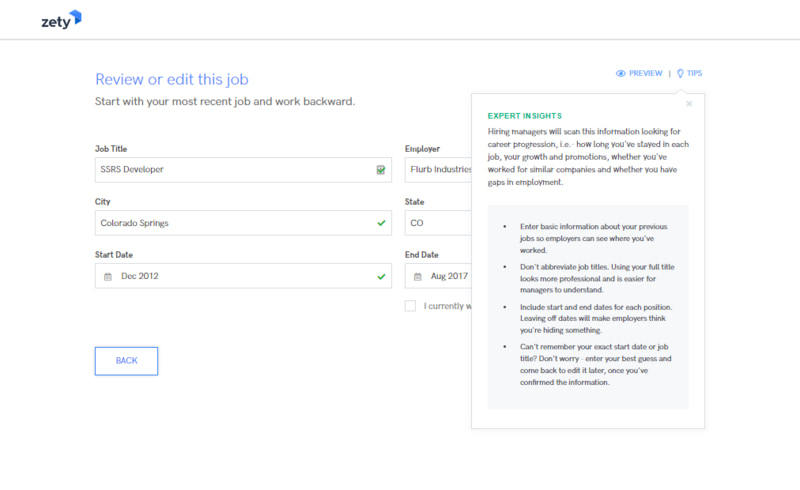 They've designed professional resume templates for you, too. Give them a fair go!
5. The Perfect Resume
The Perfect Resume is a whole package. You can get a resume, cover letter, a LinkedIn profile upgrade, and job interview coaching.
But, that's not all.
You can have your resume written by one of the writers, or they can teach you how to write it if you buy their TPRW certification course.
So, what's it going to be?
Pricing: $299–$1 499
Turnaround: 3 days
Good if you:
Want to stand out. The resume sample gallery is one of the best.
Don't feel like filling out the job applications. You can buy an additional service with job packs.
Would like to consult first. A 15-minute consultation is free of charge.
Not good if you:
Need to have your resume written from scratch. You only get a rewrite.
Visit The Perfect Resume for more information.
6. ResumesToYou
A resume writing service that lets you test out their skill? No way!
Way!
ResumesToYou offer standard resume writer service along with a one free resume review, which you can use before signing a deal. Plus, all writers are born and bred in Australia, so you don't have to worry about tailoring your resume to the Australian job market.
Pricing: $130–$607
Turnaround: 3–7 days
Good if you:
Apply to various jobs. The experts can help you tailor your resume to any industry you're interested in.
Recruit for government jobs and need help only with writing key selection criteria. You can pick that as a separate service.
Don't want to spend too much.
Not good if you:
Tend to miss the fine print. There's plenty, so be careful what you buy.
See ResumesToYou for more details.
7. Find My Profession
Find My Profession offers a wide range of services, including resume writing, career coaching, and a managed job search. Their resume writers work remotely from the US, UK, and Canada.
But you don't have to worry that the resume will get lost en route. You get a digital version in Word and PDF files within 3 to 5 days on your email account. If you need your resume faster, you can expedite the process to 2 days. (Of course, at a price.)
Pricing: $395 – $1 295
Turnaround: 2–5 days
Good if you:
Would like to get a guarantee on the service. If you don't get more interviews within 60 days of using the service, you get one rewrite without additional charges.
Need a federal resume or a CV. Both are available.
Want to make sure the resume and cover letter pass the ATS check. The documents Find My Profession provides are ATS-compliant.
Not good if you:
Prefer to meet in person—phone or email communication only.
Don't want to pay extra for a cover letter. It's not available in the basic package.
Visit Find My Profession to learn more.
8. Arielle Executive
Arielle Executive cater to refined taste buds—it's a resume writing service targeting C-level and executive job candidates. What's more, it promises not just to write a resume, but to create an unbeatable personal brand.
But! There's hope for mid-level candidates, as their sister company—Exceptional Resume Writers—can write a resume for you just as well.
Apart from the resume writing services, they offer coaching, job interview prep, and a business headshot, which you'd not expect from a resume writer service, would you?
Pricing: $2 500+
Turnaround: Not found
Good if you:
Are a senior-level manager, executive, or C-suite.
Have a small fortune to splurge on a resume writing service.
Pay attention to the details. The website's design, communication style, and colour scheme create a consistent and well-tailored image.
Not good if you:
Wish to know more about the resume writers who provide the services. There's not much information about them, except for the founder.
Want to know more about the resume writing service itself. Most of the web pages are only marketing copy.
Check out Arielle Executive for more information.
9. itouch Professional Solutions
TORI, The Australian Employment Guide Lifetime, and C-Suite are only a handful of the awards itouch Professional Solutions has received. Their business reviews on Google are virtually immaculate. It's clear that if you want the best out there, Roland Coombes is your guy.
To start, you only need to fill out a contact form and submit the necessary information like target salary range, positions, your comments and requirements. You should hear from an expert within a day.
Pricing:
Early Career and Rising Star $195–$310
The Experience Pro $320–$410
Current & Future Leaders $390–$480
Turnaround: 6–9 days
Good if you:
Rely heavily on reviews and testimonials.
Want to see proof of their work. Resume samples are available on the website for free.
Wish to contribute to a good cause. The service has a contribution policy and spends a percentage of its profits donating to charities.
Not good if you:
Need a full set of services in a single package. You need to pay extra for every add-on, such as a LinkedIn pump or cover letter.
Visit itouch Professional Solutions for more info.
10. The Resume Writers
If you're looking for resume writing services near you, then the Resume Writers are there for you. They have offices in Hobart, Sydney, Adelaide, Melbourne, Brisbane, and Perth. So no matter where you are, you can pop in to say, "Hi! Would you write a resume for me?"
Their A-game is a copywriting approach to resume writing. Does it pay off? Let a resume writer make you a resume and then test it out on their page. The Resume Writers offer a one-off report that'll tell you whether your resume has enough correct keywords to mark the entire ATS checklist and land on the recruiter's desk.
Pricing: Set individually
Turnaround: 2–5 business days
Good if you:
Apply for a government job.
Want to vet your resume against the ATS or have it critiqued by a professional. (You can pick either and get a report free of charge of each.)
Feel like consulting first. You get a free 15-minute consultation before making a decision.
Would like to have 14 days of unlimited revisions after receiving the drafts.
Not good if you:
Counted on getting a bundle with a matching cover letter.
Check out The Resume Writers to learn more.
So, here's the thing.
You're about to pay for an additional cover letter writing service, while you can do it just as well without spending a dime. Say "Hello!" to Zety integrated cover letter builder that matches your resume at a mouse-click. It's that easy.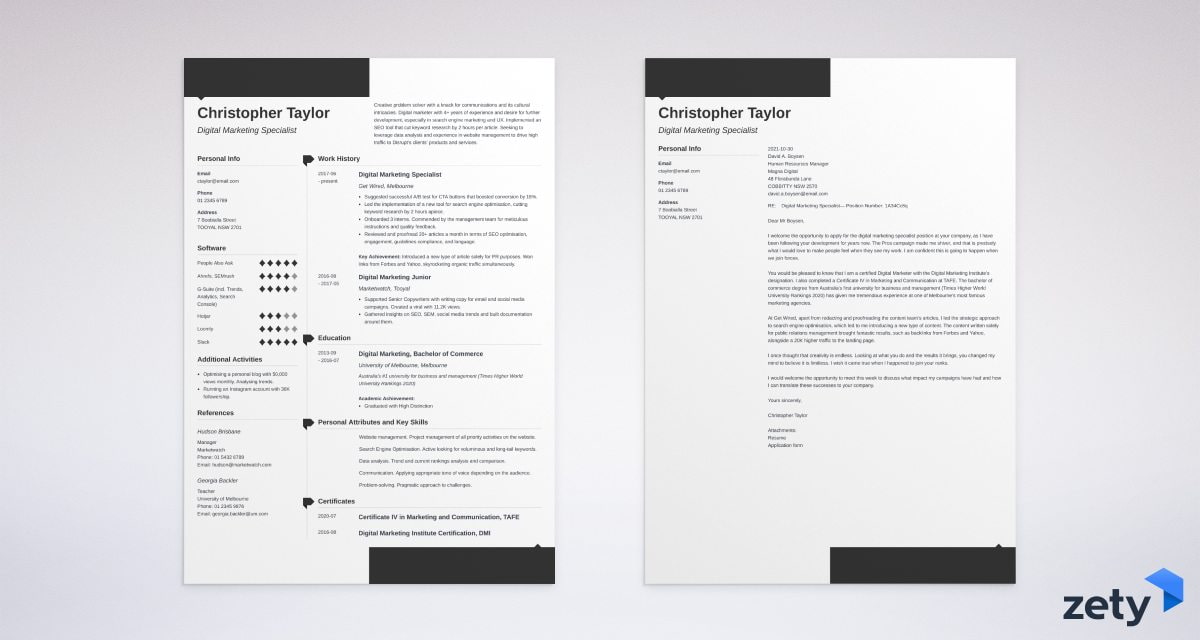 See more cover letter templates and let's get you a job.
If you decided to believe in yourself a bit more and write a resume or cover letter yourself, have a read of the below articles that'll give you answers to any question you might have:
Best of luck!
Please tell me now—
Do you have any questions about the above resume writing services? Would you use resume writer services to write your resume or cover letter? If you already have, what's your experience with a resume writing service?
Give us a shout in the comments! Let's get the conversation rolling.