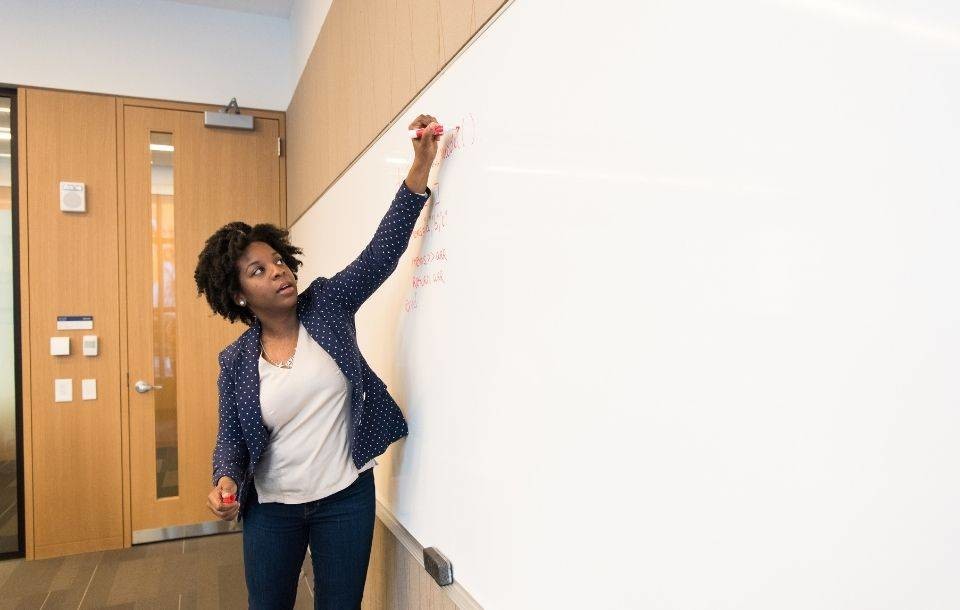 Teacher Resume: Example, Template & Skills for Australia
There's a new teaching job opportunity, but the dog ate your resume? No worries: let's engage in some collaborative learning and find out how to write the perfect teacher resume.
Only a teacher knows how hard it really is to work in education. Between teaching classes, planning lessons, taking care of documentation, and tending to each kid's individual needs, it's a wonder you find time to sleep!
...and it's an even bigger wonder that it's so hard to land a good teaching job, but there you have it.
So:
When the right opportunity comes up, how can you give yourself a fair go and make sure you're the one to step into the classroom?
Easy—
With an A-grade teacher resume that'll have the head teacher rolling out the red carpet for you.
This guide will show you:
A teacher resume example better than 9 out of 10 other resumes.
How to write a teacher resume in Australia that will land you more interviews.
Tips and examples of how to put teacher skills on a resume.
How to describe your experience on a resume for a teacher to get any job you want.
Want to save time and have your resume ready in 5 minutes? Try our resume builder. It's fast and easy to use. Plus, you'll get ready-made content to add with one click. See 20+ resume templates and create your resume here.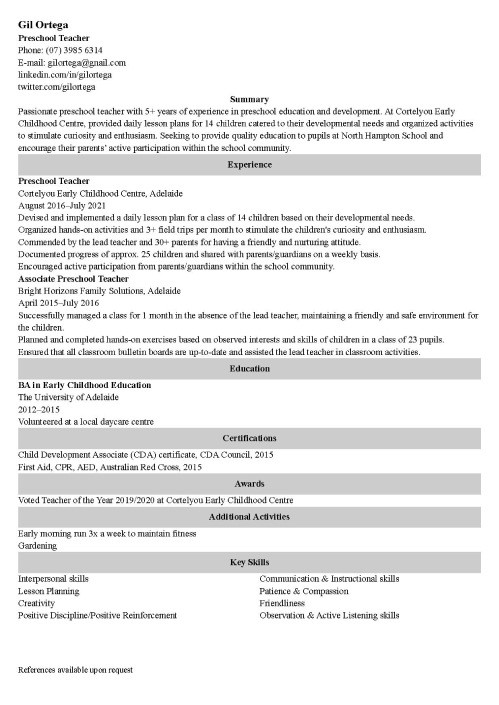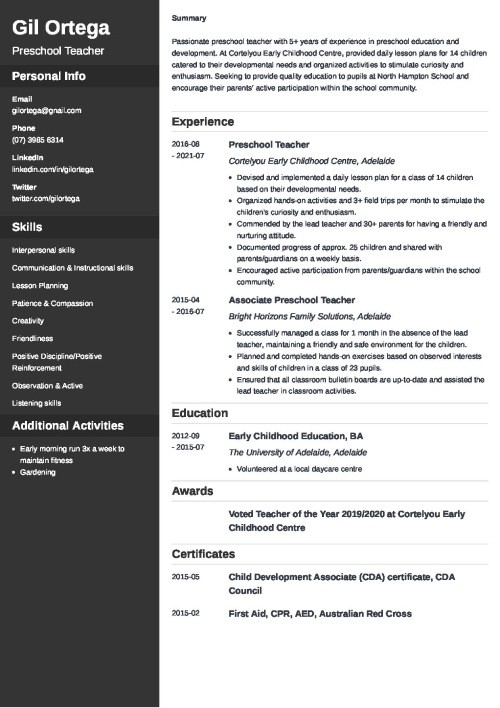 Sample resume made with our builder—See more resume examples here.
Teacher Resume Example
Gil Ortega
Preschool Teacher
Personal Info
Phone: (07) 3985 6314
E-mail: gilortega@gnail.com
linkedin.com/in/gilortega
twitter.com/gilortega
Summary
Passionate preschool teacher with 5+ years of experience in preschool education and development. At Cortelyou Early Childhood Centre, provided daily lesson plans for 14 children catered to their developmental needs and organized activities to stimulate curiosity and enthusiasm. Seeking to provide quality education to pupils at North Hampton School and encourage their parents' active participation within the school community.
Experience
Preschool Teacher
Cortelyou Early Childhood Centre, Adelaide
August 2016–July 2021
Devised and implemented a daily lesson plan for a class of 14 children based on their developmental needs.
Organized hands-on activities and 3+ field trips per month to stimulate the children's curiosity and enthusiasm.
Commended by the lead teacher and 30+ parents for having a friendly and nurturing attitude.
Documented progress of approx. 25 children and shared with parents/guardians on a weekly basis.
Encouraged active participation from parents/guardians within the school community.
Associate Preschool Teacher
Bright Horizons Family Solutions, Adelaide
April 2015–July 2016
Successfully managed a class for 1 month in the absence of the lead teacher, maintaining a friendly and safe environment for the children.
Planned and completed hands-on exercises based on observed interests and skills of children in a class of 23 pupils.
Ensured that all classroom bulletin boards are up-to-date and assisted the lead teacher in classroom activities.
Education
BA in Early Childhood Education
The University of Adelaide
2012–2015
Volunteered at a local daycare centre
Certifications
Child Development Associate (CDA) certificate, CDA Council, 2015
First Aid, CPR, AED, Australian Red Cross, 2015
Awards
Voted Teacher of the Year 2019/2020 at Cortelyou Early Childhood Centre
Additional Activities
Early morning run 3x a week to maintain fitness
Gardening
Key Skills
Interpersonal skills
Communication & Instructional skills
Lesson Planning
Patience & Compassion
Creativity
Friendliness
Positive Discipline/Positive Reinforcement
Observation & Active Listening skills
Huh.
That's some resume, right?
Let's pin it to the blackboard and use it as an example as you write yours!
Here's how to write a teacher resume in Australia:
1. Choose the Right Teacher Resume Format
Teachers provide education in schools, helping students to learn effectively and develop necessary life skills. They also document the students' progress and communicate with guardians. Your teacher resume has to show you have the right knowledge, skills, and approach to be successful in this role.
You can't hope to prove you're the ideal candidate if your resume looks like homework copied from a friend minutes before the bell.
So—
Set the right example and make an immediately positive impression with a clean, neat-looking job application.
Here's how to format your resume:
Get familiar with the reverse-chronological resume layout. This means listing your most recent experience first and working your way back through previous jobs you've held.
Set up your document properly: 1-inch margins, 1 to 1.15 line spacing, and an elegant resume font set to 10–12 points will work just fine.
Create a professional resume header to put your current contact information at the top of the page. Include your full name, job title, email address, and phone number.
Divide the rest of the page into clear resume sections to improve readability. Using 13–14 headings will make your resume easy to skim.
Watch the length of your resume: aim for around 3 pages if you're a highly experienced candidate. New teachers should go for 1–2 pages. Recruiters don't have time for reading practice: if they can't see value in your resume within a few seconds, they'll delete it and move on.
Keeping up so far? Good on you!
When you're ready, save your resume as a PDF file, but keep a Word Doc copy, too. PDFs work best, but some employers may still ask you to send in a .docx.
2. Write a Resume Objective or Resume Summary
You know that pang of guilt you feel when you ask a new student to introduce themselves to the class?
Yeah.
Introductions are never easy and always stressful. The good news is, you can make yours seem effortless with a well-written resume profile.
Your resume profile section goes right below the header, and its purpose is to give the recruiter a quick glimpse into your best skills and achievements. First, let's choose the best type of resume profile for you—
If you've spent a few years by the blackboard and have some professional accomplishments to share, use a resume summary. As the name suggests, it summarises the best bits from your resume into a 3–4 sentence paragraph that convinces the recruiter your resume's worth a read.
However, if you're new to the teaching profession, it's best to go for a resume objective. This format uses your academic achievements and transferable skills to show that you're up for the challenge of educating Australia's youth.
Made your choice? Now then—
Here's what to include in your resume profile:
A sentence outlining your years of experience, the position you're applying for, and a couple of your key skills.
One–two sentences on your best achievements, including numbers and active verbs for maximum impact. If writing an objective, use accomplishments from your education, internships, volunteer work, etc.
An offer to apply your skills towards helping the school achieve a specific goal. Make sure to use the name of the school you're applying to: tailored resumes do much better than copy-paste, generic applications!
Struggling? No worries:
Profiles can be harder to write off the top of your head than a paper on the use of pathetic fallacy in Great Expectations.
If you're not sure what to say, leave this section for now and come back to it at the end.
3. Create the Perfect Teacher Resume Experience Section
If you have some experience as a teacher, you probably look back on your first year of teaching with dread. Sure, you can learn a lot at uni, but in your profession, nothing's more valuable than practical teaching experience.
Employers know this too, of course—that's why your work experience is the longest and most important section of your resume. Let's tackle it one step at a time.
Here's how to create the perfect resume work experience section:
List your relevant experience, starting with the most recent job. Then, for each entry, add your job title, the name of the school or organisation, the city, and the dates you worked there (month and year).
Include 4–6 bullet points for each job, highlighting your best accomplishments. This shouldn't just be a bland list of responsibilities—head teachers already know what the roles of teaching professionals involve. They want to know what you managed to achieve within the scope of your job, so focus on your performance at these tasks.
(Optional) Add a separate Key Achievement with your proudest moment as a teacher.
Make sure to start each bullet point with an active verb like Achieved, Maintained, Provided, etc.—these sound much better than passive phrases like Tasked with or Responsible for.
Use numbers wherever possible to quantify your successes—these will really make you stand out!
As you create your work history section, remember to tailor your resume to each job you apply for. Highlight achievements that are most relevant to the school's values or goals, and focus on skills that the job ad emphasises.
4. Make Your Teacher Resume Education Section Shine
On a teacher resume, education is the name of the game:
And your own academic history is no exception.
It doesn't matter whether you're just starting out or if you were already grading papers when Malcom Fraser was sworn into office: your education has to make an appearance on your resume.
If you're writing an experienced teacher resume, all you need to do is list your highest degree of schooling, complete with the university name and years of attendance. Easy!
However, if you're working on a graduate teacher resume, include bullet points with additional information to use your education to its full capacity. Consider adding:
Your final grade/GPA, if you achieved High Distinction or equivalent
Scholarships and grants based on your academic performance
Awards and distinctions, like making the Dean's List
Completed coursework relevant to the job you're applying for
Extracurricular activities
...and anything else that's relevant, shows off your skills, and helps your resume hit all the right keywords.
When making a resume in our builder, drag & drop bullet points, skills, and auto-fill the boring stuff. Spell check? Check. Start building a professional resume template here for free.
When you're done, Zety's resume builder will score your resume and tell you exactly how to make it better.
5. Highlight Your Teacher Resume Skills
Patience is one thing, sure—
But you also need a range of other skills and qualities to help you translate your experience and education into your students' success.
That's why for our next learning activity, we'll figure out how to add the right skills to your teacher resume. Here are your step-by-step instructions:
First, make a list of all of your skills, focusing on ones that come in useful when managing a classroom. Soft, hard, and technical skills are all fair game.
Next, read the job ad again and look for keywords and skills that the school mentions. For extra marks, visit the school's website and see if you can gather any useful info from there. For instance, their vision or mission statements can sometimes give you insights into the qualities they would value in a teacher.
Now, cross-check your skills list with the keywords you've found. Congrats! You've identified a set of skills that you have and that the school is looking for.
When you're done, your teacher resume skills section might look something like this:
Teacher Skills for a Resume
Interpersonal skills
Communication & Instructional skills
Lesson Planning
Patience & Compassion
Creativity
Organisational skills
Conflict resolution
Computer skills
Positive Discipline/Positive Reinforcement
Observation & Active Listening skills
6. Add Other Sections to Your Teacher Resume
When you think about the influential teachers from your own school years, what do you remember most fondly?
Was it Ms Deakins' superior classroom management techniques and record-keeping skills that made you like her, or her sense of humour and personal approach?
Chances are it was the latter. And while your resume is not the place for mildly funny puns and cute nicknames, it can still show a glimpse of your personality to the recruiter.
The best way to do this is by adding extra sections—they're not mandatory, but you can think of them as an extra-credit project.
Here's what you could add:
Professional certifications you've gained after your degree
Awards you've received (yes, teacher of the year definitely counts!)
Teaching associations you're an active member of
Volunteer work (even if it's not relevant to teaching)
Foreign languages you speak
Hobbies and interests that show your creative, active, or fun side
At the end of your resume, remember to include your professional references. Alternatively, you can use the phrase References available upon request—just make sure you really have references available in case the school asks for details.
7. Attach a Cover Letter to Your Teacher Resume
Would you look at that? It's almost break time!
Grab a cuppa—when you come back, it'll be time for part two of your job application assignment:
Writing a cover letter to go with your teacher resume.
And yes, if you're serious about getting the job, a cover letter is necessary. The only exceptions are times when the school specifically asks applicants not to include one.
In case you're not quite that lucky, here's a cheat-sheet of how to write the perfect cover letter:
Use the correct cover letter formatting, complete with a business-style header.
Start your cover letter with an impressive professional achievement. Recruiters feel just like you do upon reading the 40th paper on the same topic: you need a strong opening to spark their interest.
Show that you understand the role and have the right skills to succeed in the middle of your cover letter. Use more teaching accomplishments and share brief mentions of your teaching success stories.
Prove you're a good cultural fit by mentioning the values you share with the school or showing appreciation for some aspect of the way it approaches education.
End your cover letter on a call to action and an offer to help the school achieve a specific goal.
See? That wasn't so bad! No need to go crazy with the word count, either: all in all, you're aiming for one page, max.
To make life easier for yourself, grab a set of matching resume and cover letter templates to fill out—you'll save heaps of time you'd otherwise spend playing around with margins and line breaks.
Plus, a great cover letter that matches your resume will give you an advantage over other candidates. You can write it in our cover letter builder here. Here's what it may look like: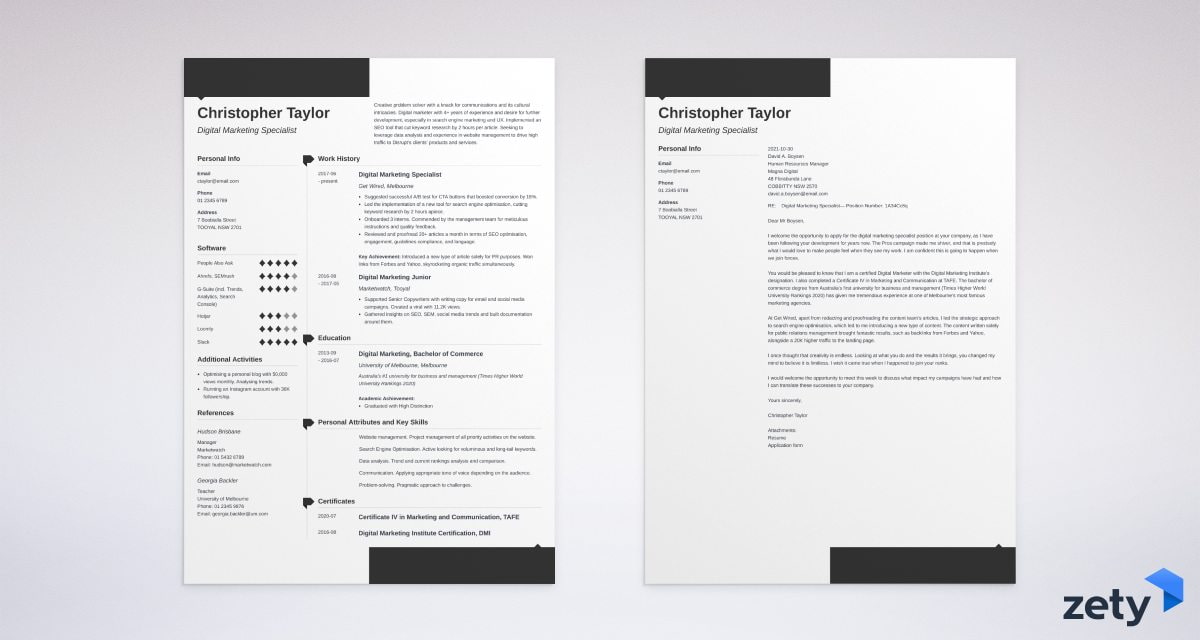 See more cover letter templates and start writing.
And you're done! With a teacher resume like this, head teachers will be on you like a pack of primary schoolers on a bowl of lollies!
Thanks for reading! Did you find our teacher resume template useful? Do you think writing a teacher resume in Australia is complicated? Anything still unclear? Drop us a line in the comments below, we're always up for a chat!