Apprenticeship Cover Letter Sample & Guide
Your passion for handiwork is rivaled only by your skills. When trying to score that first job, it's crucial to maximize your chances through a great apprenticeship cover letter.
You were practically born holding a power tool. Maybe it even feels like you know the inner workings of complex mechanisms just by looking at them. Convincingly pouring that kind of skill and aptitude onto paper may seem a bit challenging, though.
That's why you're here. To learn exactly how to write a stunning apprenticeship cover letter, no matter your profession.
This guide will show you an apprenticeship cover letter example, and reveal the best tips and the step-by-step process for writing an apprenticeship cover letter.
Want to write your cover letter fast? Use our cover letter builder. Choose from 20+ professional cover letter templates that match your resume. See actionable examples and get expert tips along the way.
Sample cover letter for a resume—See more cover letter examples and create your cover letter here.
Find more inspiration in some of these related guides below:
Apprenticeship Cover Letter Sample
Byron Sloan
Logistics Apprentice
323-606-4255
ByronSloan@zetymail.com
Linkedin.com/in/byrongsloan
Long Beach, 05/29/2022
Pamela Hawkins
Head of Logistics, Conrad Freight, LLC
180 Sarah Drive
Lake Charles, LA 70629
337-496-5247
Dear Pamela,
When I discovered the opening for a logistics apprentice to join your company, I felt the need to share my application with you immediately. I believe my contribution as a skilled initiate in logistics could help change your business for the better. I'm sure under the tutelage of more experienced professionals, my skills would flourish and prove useful to your team.
As a trained logistics apprentice, I know how to handle important goods and keep accurate, efficient, and organized records for customers from all industries and sectors. I graduated within the top 4% of my class at Santa Monica College, with distribution center management, system controls, and supply chain management being my favorite subjects. I never let my GPA drop below 3.8 across all three.
During my second-year, three-month internship at FCDO Services, I spotted a potential shipping error in the records of their 7 biggest clients. My supervisor, Martha Wilkes, later told me that rectifying an error saved the company up to $250,000 in damages. That's just one simple example of what I could bring to the table at Conrad Freight.
Pamela, it'd be an absolute delight to be able to talk to you in person about this apprenticeship opportunity. I would welcome the chance to discuss this position, my qualifications, and how I could help streamline your shipping system controls to increase their efficiency to 110%.
Sincerely,
Byron Sloan
323-606-4255
ByronSloan@zetymail.com
With that kind of a plugged-up cover letter, you won't even need insurance! Time to break down the inner workings of any great apprenticeship cover letter.
Apprenticeship Cover Letter Template
This is how you can write apprenticeship cover letters worthy of a true craftsman:
1. Use the Right Format for Your Apprenticeship Cover Letter
Plumbing, electricity, carpentry, or HVAC installations—they all have two things in common.
For one, they need a specialist to take care of them with their expert handiwork if these systems are to work properly at all.
Secondly, you need to ensure your cover letter follows the right format if you want to have the slightest chance of scoring the apprenticeship.
And trust me, it's worth it. In struggling and flourishing economies alike, apprenticeships have been shown to increase employment stability.
Here's what to do to score one for yourself:
You should know ahead of time what parts of the cover letter you want to include so that you have a rough schematic of how much space you will need.
Use correct cover letter margins in the whole document. 1" of space on each side is the right choice.
Set the line spacing to single or 1.15.
Choose a good cover letter font. If your letter looks like a poorly put-together piece of wooden furniture, guess what impression that makes on your future boss.
Read more: How Long Should a Cover Letter Be?
2. Learn How to Address Your Apprenticeship Cover Letter Correctly
Your apprenticeship could take place in many kinds of establishments.
Regardless of industry, the number one thing for you to do (or keep doing, rather) is to fight for a good first impression.
Learning how to address the cover letter to get that internship is therefore one of the keys:
Include your current contact information in the top-left corner, complete with your phone number, e-mail address, and full name.
Optionally add your LinkedIn profile or other socials. Just make sure to clean your online presence first
Below, after skipping a line, write down the city and date.
Skip another line, then add your recipient's name and contact information.
Don't know whom you'll be writing to? Search around online, or call in directly to ask for the name.
Read more: Professional Cover Letter Header Examples
3. Excite Them in the Opening of Your Cover Letter
Many people mess this part up.
It's surprisingly difficult because of the temptation to use "To Whom It May Concern" as your opening.
Big, massive red flag.
One, it's not the 1900s, and two, you're not addressing the Queen of England.
Do this instead:
Use a proper cover letter salutation. You guessed it, you should use the name of the recruiter, that's why we scouted it out.
Clearly state why you're applying, what position and trade interests you, and include an interesting fact or achievement to hook them right from the start before you elaborate.
Read more: How to Start a Cover Letter Like a Pro
4. Demonstrate Clearly Why You're The Best Choice for the Apprenticeship
The middle section of your cover letter is all about keeping them reading.
Applying to be an electrician's apprentice? Mention your penchant for tinkering with broken household appliances.
Apprentice plumber in the making? Maybe you helped out a neighbor unclog their rusty pipes.
Whatever it may be, this is how you want to bring up achievements on your apprenticeship cover letter:
The job posting you found? It should tell you exactly what skills they're looking for in an ideal apprentice—use that as leverage to demonstrate you actually have those skills and give examples based on past achievements.
Embellish those achievements with impactful numbers, you know, the time and dollars you saved, the areas you improved efficiency in, customer commendations, the like.
Emphasize more of your qualities, like willingness to learn, aptitude for handiwork, or inquisitiveness. Just be genuine! Lying on a cover letter or resume won't get you far.
Still not sure what to talk about? Read more: What Your Cover Letter Should Say
5. Explain Why You Want This Job
As an apprentice, you're not likely to possess the pro skills in the profession you're applying for. Not at the start, anyway.
That's why the company would need serious time to invest in you, and hopefully keep you around after your apprenticeship is over.
Prove that the feeling is mutual:
Look the company up on the internet. See what their website says, what kind of reviews they get. Are they known for customer relations? Excellence in their trade?
Find something that speaks to you personally and explain it's one of the reasons why you want to join their team.
By demonstrating excitement, you show them you're in it for the long haul, and not likely to jump ship after just a few months. This matters a lot, since most apprenticeships last 3 or 4 years, and they don't want to keep re-training newcomers.
Pro Tip: Avoid mentioning salary requirements on your cover letter. If you're just a beginner, they likely won't expect you to know much, so you're not really in a position to haggle.
6. Close out the Cover Letter With an Offer
We're almost done here, but you can't hang your hat up just yet.
What's an apprenticeship cover letter without an appropriate ending?
Provide a time and date for a possible call or in-person interview.
Repeat one more time why in your mind you are an excellent candidate they stand to benefit from.
Read more: How to End a Cover Letter: Examples & Tips
7. Add the Cherry on Top and Sign the Cover Letter Like a Pro
The hiring manager will not remember your cover letter if you let it go out with a whimper.
There are probably hundreds that he has to go through, so why would he?
Be unique, or be forgotten—that's the harsh truth of the world.
Sign off the cover letter using a phrase such as "Best regards", or "Sincerely". Repeat your full name below that to hammer it harder than an unruly nail that just won't stay put.
If you were asked to add any extra cover letter attachments, be sure not to forget about them.
Use your digital signature if you have one.
Save the cover letter with a professional file title. It should come in PDF format.
Pro Tip: After a week has passed, if you haven't heard back, follow up your application with another message. That is sure to send off some sparks!
When making a resume in our builder, drag & drop bullet points, skills, and auto-fill the boring stuff. Spell check? Check. Start building a professional resume template here for free.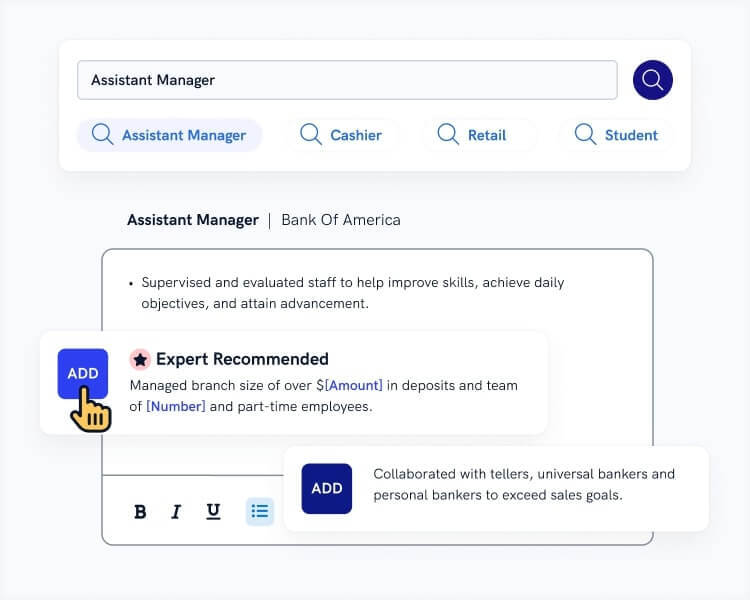 When you're done, Zety's resume builder will score your resume and tell you exactly how to make it better.
Thanks for the read! Do you think we left out any crucial info for this apprenticeship cover letter? Maybe you're not sure what to actually talk about—direct all questions to the comments section!
About Zety's Editorial Process
This article has been reviewed by our editorial team to make sure it follows Zety's editorial guidelines. We're committed to sharing our expertise and giving you trustworthy career advice tailored to your needs. High-quality content is what brings over 40 million readers to our site every year. But we don't stop there. Our team conducts original research to understand the job market better, and we pride ourselves on being quoted by top universities and prime media outlets from around the world.