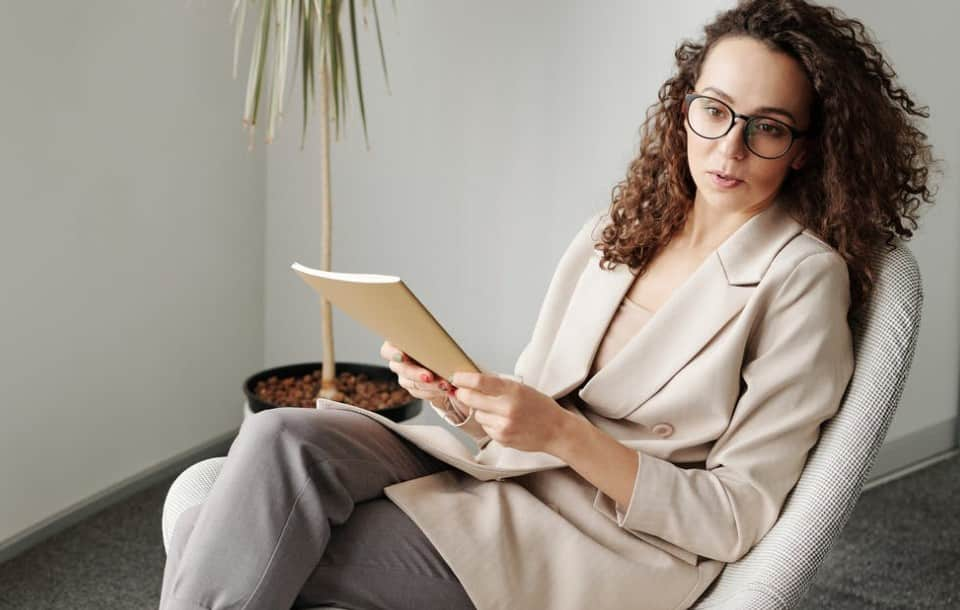 40 Behavioral-Based Interview Questions & Answers
Don't worry if you struggle to understand behavioral-based interviewing. Here, you'll learn everything about behavioral interview questions and get sample answers to prepare yours.
Are behavioral interview questions something you can prepare for? With many positive answers? And revolving around you only? Three times yes!
If you want that job, all you have to do is practice describing your experiences as positive turns of events or lessons learned. We'll teach you how to do exactly that.
In this guide, you'll see:
What behavioral interview questions are and how they differ from situational interview questions.
40 top behavioral interview questions and sample answers with formulas to ace your interview.
And how to prep for the most common behavioral interview questions, plus a bonus expert tip for how to get out of a tongue-tied situation.
Trying to land more interviews? See 18+ resume templates and create your resume here. Our resume builder's fast and easy to use. Plus, you'll get ready-made content to add with one click.
Sample resume made with our builder—See more resume examples here.
Want to know how to answer some of the most common interview questions? Check these guides:
Is it your first behavioral-based job interview? Do you need clarification on what behavioral-based questions actually mean? Click the below links to jump to chapters that will help you figure out just that:
What Are Behavioral Interview Questions?
Behavioral interview questions are questions based on your past behaviors. They can be about how you handled a specific problem or the way you acted. Recruiters use that interview technique to look for clues in your experience to predict your soft skills and future behavior more accurately.
You may have seen something about situational interview questions on your way here. The thing is, they aren't the same picture. So how are they different from behavioral ones?
Behavioral interviews focus on patterns of your past behavior. Sample questions could be, "Describe a time when you…" or "Give me an example of when you…."
Situational questions, on the other hand, are hypothetical situations. Recruiters create them to give you a glimpse of what you may encounter in the workplace and see how you would handle a certain situation. A sample question could be, "How do you prioritize your work when you have multiple high-priority tasks to do?"
Let's see some more examples of behavioral-based questions now.
40 Top Behavioral Interview Questions Examples
Below, you'll see 40 examples of behavioral interview questions that are most commonly used. For your convenience, they're divided into categories depending on the skills recruiters might want to learn.
Questions Around Stress Management
Use examples of when you kept cool in stressful situations. And give evidence of how you handled stress and reduced its effects. Recruiters would want to learn more about your problem-solving skills rather than failures. So, answer their questions with examples where your glass was half full.
Describe a time when something urgent came your way at the last minute. How did you handle it?
Give an example of when you faced a stressful situation. How did you approach it?
Tell me about a time when you couldn't finish your tasks on time. What did you do in the end?
Could you give an example of a time when you had to make an important decision but didn't have enough experience for it?
Describe a situation when you had a busy day and more work came to your desk. How did you handle that?
Read more about Problem-Solving Skills
Questions Around Decision-Making
Talk about making logical and thought-out decisions and your critical-thinking skills. Discuss the process, not the result alone. The correlation between mass and energy hadn't been E=mc2 all along.
Tell me about a situation you had to defend your point of view. How did it go?
Give me an example of a time you had to make a tough decision.
Could you tell me about when you covered your teammate and needed to make decisions on their behalf?
Describe a time when you decided to change your approach 180 degrees. What urged you?
Tell me about a time when you disagreed with your manager. How did you handle the conversation?
Read more about Critical Thinking Skills
Questions Around Adaptability
Here is where you prove you do well in a changing environment. Explain how you adapt to a new communication or working style, feel in uncharted territory, and react to unpredictable situations. Improvise. Adapt. Overcome.
Give an example of a situation where you had to do something for the first time. How did you approach it?
Describe a time when you had to do something outside your scope of work.
Tell me about a situation when you had to change your priorities. How did you go about it?
Give an example of when you had to adapt to someone's personality or style of work to achieve your goal.
Tell me about a time you failed. How did you handle the situation?
Read more about Adaptability Skills
Questions Around Collaboration and Teamwork
Everyone says they thrive in collaboration, and recruiters love putting that to the test. Prove you're Scottie Pippen to Michael Jordan, and you know what it means to be a team player. Understanding your position in working towards the same goal is crucial for scoring.
Give an example of when you relied on the other person to get information, and they didn't deliver. What did you do?
Tell me about a situation when you gave feedback to your teammate. What were their reaction and the outcome?
Give an example of working with someone situated higher in the company hierarchy.
Describe a time when your team came to you to make a decision. How did it turn out?
Tell me about a time when you had to cancel your commitments for a coworker.
Read more about Collaboration Skills&Teamwork Skills
Questions Around Interpersonal Skills
You don't have to run The Oprah Winfrey Show to excel at interviews. Show the recruiter that you know how to be patient with others, resolve conflicts, and understand your place in someone else's picture.
Describe a situation when you used your assertiveness. How did it go?
Could you tell me about a time you approached someone to pitch an untested idea? What was the outcome?
Tell me about a time you had to handle a problematic person. How did you approach them?
Give an example of a situation when you wanted to make a good impression. How did it end?
Describe a time you had to finish a project with a person you didn't like.
Read more about Interpersonal Skills
Questions Around Communication
Find the words to prove you have Martin Luther King, Jr.'s communication skills. Use them to convince the recruiter that you can write an e-mail instead of holding a meeting.
Could you describe a situation in which you used your negotiation skills? What was the outcome?
Tell me about a situation where you were in the middle of a presentation and got distracted. How did you navigate the situation?
Think of a time when you had trouble communicating with your colleague. What was the reason? How did you overcome it?
Describe a time when you explained something complex to someone unfamiliar with the topic. How did you do it?
Give me an example of a situation when you had to use your writing skills to get your idea across. What was the result?
Read more about Communication Skills
Questions Around Leadership
You choose the tallest to play center but the quickest for the point guard. You know how to organize a team and assess skills to reach a common goal. Show in your responses that you are the next John Wooden.
Give an example of a situation where you had to delegate a task. How did you approach your teammate?
Describe a time when you had to take over the leadership role in the middle of a project. How did you handle it?
Tell me about a time when you motivated your teammate.
Could you tell me about a situation when you wished you'd behaved differently? Why? How did you go about that?
Give an example of a time when something wouldn't have happened without you.
Read more about Leadership Skills
Questions Around Taking Initiative
It's never about what is but about what can be. Nikola Tesla also worked on things that weren't broken. If you face questions about motivation, speak about your accomplishments and the ideas that drive you.
Tell me about a situation when you felt accomplished.
Give me an example of a time when you went the extra mile for someone. Why did you do it?
Describe a time when you took the initiative and opened a project.
Could you tell me about a time when you made changes to improve your, your team's, or your department's efficiency?
Give an example of when you foresaw an undesirable result. How did you tackle that?
Read more about Personal Skills
When making a resume in our builder, drag & drop bullet points, skills, and auto-fill the boring stuff. Spell check? Check. Start building a professional resume template here for free.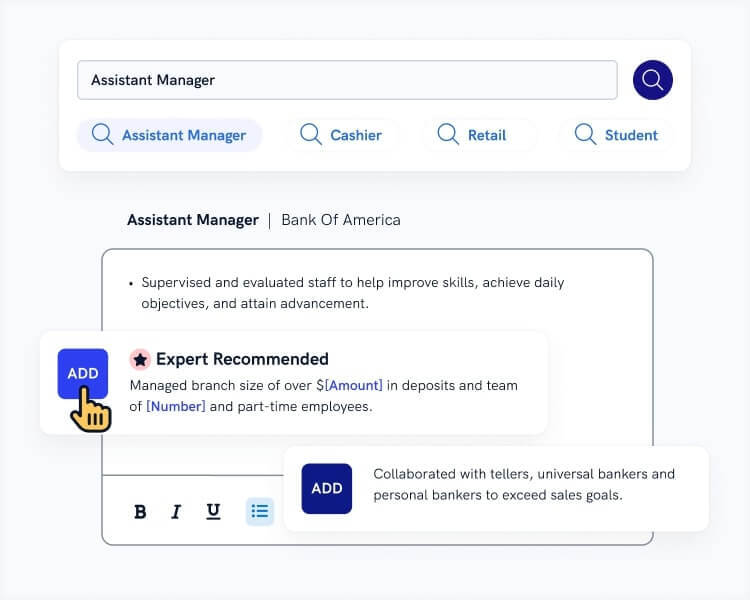 When you're done, Zety's resume builder will score your resume and our resume checker will tell you exactly how to make it better.
How to Answer Behavioral Interview Questions
Before you step into the behavioral interview, make sure you know the STAR method and how to use it when answering questions. (Winging it is not the way to go.) STAR stands for Situation-Task-Action-Result, which is how you should formulate your responses. Let's use an example to discuss it further.
Say they ask you about a time when you performed a task under great pressure. Based on the STAR technique, your answer should be something like this:
Situation: Start by describing an event or challenge you encountered.
At my last job, my coworker needed to miss work for some time, and their project was left unfinished and without a manager.
Task: Note the responsibilities you had.
My supervisor instructed me to take on the project, and with no leniency on the deadline, I had days to complete a project that originally should have taken several weeks.
Action: Mention what you did to complete the task.
I requested and was granted reduced weekly goals, giving me more time to finish the special project. As far as my weekly goals, I was able to delegate them to teammates. With my reduced goals, I dedicated more time to the special project.
Result: Conclude with the outcomes.
This allowed me to finish it on time and with complete accuracy. My supervisor appreciated my attitude and drive, and I was given several more projects after that, along with an eventual promotion and pay raise.
Below you'll find more instances of using the STAR method.
8 Behavioral Interview Answers Examples
The following examples of behavioral interview questions and answers use the above technique. Each will come with an answer trigger to help you quickly think of a relevant example for your answer.
1. Describe a situation when you had a busy day and more work came to your desk. How did you handle that?
It was the time before Christmas when everyone wanted to close their year and start cleaning in January. I had next year's budgets to draft, requiring a deep focus for a couple of hours. The number of unread e-mails requiring my attention only grew. My coworkers needed me to sign off on their items. But I had to close my priorities. So I outlined what was urgent, and I could finish that day, and what was critical, but I could delegate. My boss was available, so we made a quick call and decided upon priorities and what my teammates could help me with. Based on everyone's capacity, we shared the workload. We responded to what was necessary, with no need to do overtime or leave the stakeholders waiting.
You can come up with an answer to that question by thinking about an exam session, a significant role in a project, meeting new people, making an error, or personal issues affecting work.
2. Give me an example of a time you had to make a tough decision.
I was at the point of choosing a college. There was one in my state where I could stay at home and only take a train to get there every day. The other one was across the country, and obviously, it was more expensive. But it was a way better school with challenging courses. I would've needed to take a side job and study in the late hours. In the end, I went for the more expensive one after discussing it with my family. And it was a great decision. I managed to adjust my class schedule so well that the part-time job didn't interfere with my grades at all. And I graduated from one of the top schools in the country.
Build your answers around doing a group project, discussing a new process, researching and analyzing data, putting forward an unpopular opinion, or playing sports.
3. Give an example of a situation where you had to do something for the first time. How did you approach it?
I joined the vetting team. After a few months, my manager asked me to take over a process from another department. I took part in several meetings with the SME and went over every single step in the process. Then, created an SOP that described the process from beginning to end. And at the end of the project, I ran training with my team and took the questions that arrived to have them answered. The stakeholders were happy with the take-over and looked forward to our cooperation. At a town hall meeting, my manager recognized me in front of an entire department for a flawless job.
Answer by talking about missing an obvious point, the best team player/teammate quitting, a holiday/peak period in a company, teaching/explaining how something works, or being in a multicultural environment.
4. Tell me about a time when you had to cancel your commitments for a coworker.
I was signing off and rushing for a bus to pick up my daughter from school when my colleague stopped me to ask if I could help him fix a mass-mailing macro. He needed to send out a bulk communication to notify our staff about changes in the tax law. I knew it was necessary, so I called my wife and asked if she could pick up our kid while I stayed longer and helped. But I also asked my colleague to contact me to follow through so that he'd be able to fix the macro by himself next time. After a 20-minute call, we were free to go home. The next day, I received a text message from my boss, who thanked me for staying longer and helping the other team. Apparently, my colleague sent my boss an e-mail with recognition.
Here are some inspirations to draw up your answer: playing team sports, trying to get insight from others, evaluation period at work/school, team-bonding activities, or reaching a team goal.
5. Describe a situation when you used your assertiveness. How did it go?
I was in the middle of working on a newsletter I had to finish that day and still had quite a lot of work to do. My colleague texted me if I could help her translate a paragraph for a pamphlet. She was confident that it would take only a couple of minutes. I understood she needed my help, but I texted her back to say that I wasn't available. I asked her if she had time in the afternoon. I needed to finish my assignment before I could help her with the translation. She hesitated but agreed eventually. She was very happy with the quality of my work and thanked me for taking the time to commit to the task.
Have you ever asked for help? Used your strong traits to avoid conflict? Or maybe you scheduled a meeting with your boss to discuss your promotion? All these can make a great answer to that question.
6. Describe a time when you explained something complex to someone who had no clue about the topic. How did you do it?
I was taking part in a project committee meeting about a big reorganization in the company. My role in the project was to supervise the technical part of it. The committee struggled to understand how the tool would reflect the structure after the transfer. I used an everyday analogy of a box when moving from one place to another. Some parts we can move ourselves and will fit, but others need reorganization. And for those, we'll need the help of a moving agency. The meeting concluded with each party having the same understanding of the issue. We scheduled another meeting to brainstorm what to do with the second-category boxes.
Have a go with these ideas for your answer: thinking about the recipient's needs first, adjusting the tone and level of formality, writing or responding to online reviews, sharing or receiving bad news, or delivering a presentation in front of a large audience.
7. Give an example of a situation where you had to delegate a task.
I was preparing for my annual leave, and it wasn't possible to close one issue before my vacation. My manager decided it couldn't wait until my return, so I proposed delegating it to my coworker. I set up a meeting with my teammate to explain the whole matter and share the e-mail exchange to fill her in. We'd sat down together a week before I left so that she could ask me questions in case of any doubts. I informed the involved stakeholder that I'd be gone for the following two weeks and my colleague would take over the issue. The day before my leave, I set up an automated out-of-office response informing senders about my absence and that my teammate would be my backup for that time. Everything went smoothly, and the client thanked me for handling it that way.
You can design your answer by saying how open to ideas you are, how you maintain work-life balance, pull resources from various places, or seek opportunities where no one else does.
8. Tell me about a situation when you felt accomplished.
Football is my passion, and I've been playing for twelve years now. Coach told us there would be a draft to get into the state team. He picked two other players and me to take part. It wasn't easy to prepare for the particular stages of the event. It required four hours of practice more each day and staying late to keep up with the curriculum at school. After all, the tears and sweat paid off. Together with my teammate, we joined the ranks of the best football players in the state.
These will serve as an excellent groundwork for your answer: receiving a scholarship, taking care of a relative, volunteering, pursuing a degree with dedication, or using your knowledge and experience in a project to overcome challenges.
Now that you're familiar with the ins and outs of a behavioral interview learn how to prepare for it.
How to Prepare for a Behavioral-Based Interview
Can you prepare sample answers for each behavioral interview question? Not really, no. As you've found out already, behavioral questions have tons of variations. And learning your answers by heart is a poor strategy. (Your memory gets faulty under pressure.)
What you can do is find ways to avoid getting stuck, even if you hear a question you never saw coming. So here are some tips to think of when preparing for your behavioral interview:
Behavioral Interview Tips
Read the job description again and again. You'll find competencies and qualities hiring managers look for and will build their questions on. Think of examples from your experience that respond to such a skill set.
Look into your resume. If you tailor your resume to the job ad, it'll hand you the most recent and relevant accomplishments on a plate.
Use the STAR method to answer questions. It's THE strategy for behavioral interviews that will ensure you mention everything your recruiter wants to hear.
Think about situations outside your workplace experience. Snoop for your achievements from volunteering, class environment, or playing sports. You can also go for personal ones, like becoming a valedictorian, scoring a hat trick, or winning an award.
Talk to yourself out loud. You won't type your answers during your interview. So imagine the environment you'll find yourself in and fake-test it out. Answer sample questions out loud to yourself or a friend. This way, you'll observe the words you use, how your body moves, and if you can keep eye contact. (You should, ideally.)
Get ready for questions in a negative tone. Although the questions sound negative, come up with examples where you made something good come out of a dire situation.
Bonus Expert Tip for When You Hit the Wall
"What if I can't quickly find a relevant example for my answer?"
Don't worry! Thinking about your interview can throw an instant kill to the blood-tingling joy of receiving a callback. But what if you don't need to have an immediate answer to all your recruiter's questions?
Behavioral questions are designed to round out the candidate's personality, i.e., what's not on paper. For some, interviews can be stressful, and it's not uncommon to run into mental blocks during an interview. If you can't think of a quick response to a behavioral question, it's important not to panic. Take your time to draw the most appropriate experience and to frame your answer properly. It's better to delay your answer but deliver it perfectly than to deliver it rushed and seem as if you made it up on the spot.
Don't be afraid to say you need more time to reflect on the best-suited example. The quality of your answer is crucial. So, give yourself time to pick the right words with care.
Vague language, saying "we" instead of "I," or throwing whatever comes to your mind at the interviewer is never a good idea. It'll make you seem like a liar, and recruiters will do everything possible to pick your answers apart.
And this is it! Now you're equipped to nail your behavioral interview.
Plus, a great cover letter that matches your resume will give you an advantage over other candidates. You can write it in our cover letter builder here. Here's what it may look like: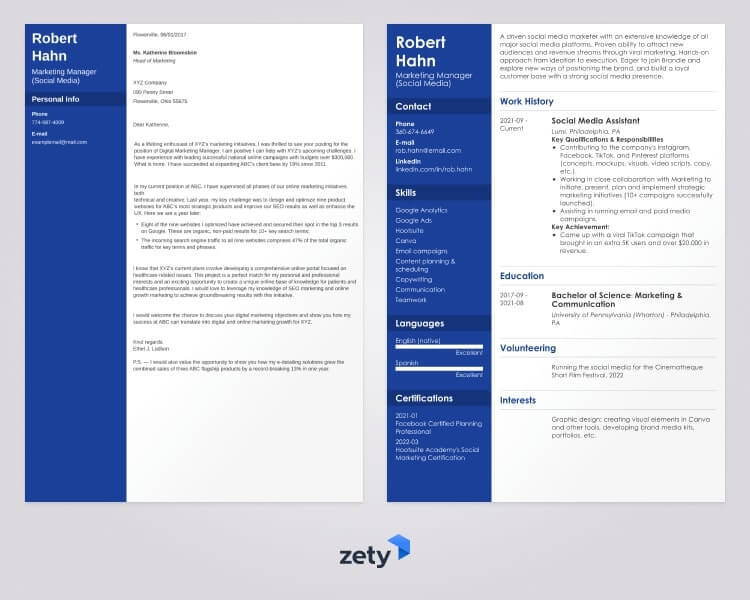 See more cover letter templates and start writing.
Key Takeaway
Take these home after reading the behavioral interview questions guide:
The job description is your bible. You'll find there all qualities your future boss wants you to have.
Think about situations from job- and non-job-related experiences during a behavioral interview.
Apply the background-action-result structure to your answers.
Tell the truth and ask for more time if you need it.
Practice makes perfect.
Off you go for an interview. Good luck!
Do you have questions about behavioral interview questions and answers? Maybe we missed key behavioral-based interview questions? Give us a shout in the comments! Let's get the conversation rolling.
About Zety's Editorial Process
This article has been reviewed by our editorial team to make sure it follows Zety's editorial guidelines. We're committed to sharing our expertise and giving you trustworthy career advice tailored to your needs. High-quality content is what brings over 40 million readers to our site every year. But we don't stop there. Our team conducts original research to understand the job market better, and we pride ourselves on being quoted by top universities and prime media outlets from around the world.