We're about to talk about the latest online job board, Google for Jobs, but first:
You're looking for a recipe. Or you want to read up on a future travel destination. Or you just want an answer to a question that's bugging you.
What do you do in these cases?
That's right—you Google it.
Well, now the search giant is testing the waters of a new tool aimed at making your search for employment as easy as any other: Google for Jobs.
In this article, we'll cover:
What is Google for Jobs and how to use it to search for employment.
How Google is trying to become one of the leading job search engines.
How to search for jobs online in your locality or elsewhere using Google.
Want to save time and have your resume ready in 5 minutes? Try our resume builder. It's fast and easy to use. Plus, you'll get tips and right vs. wrong examples while writing your resume. See +20 resume templates and create your resume here.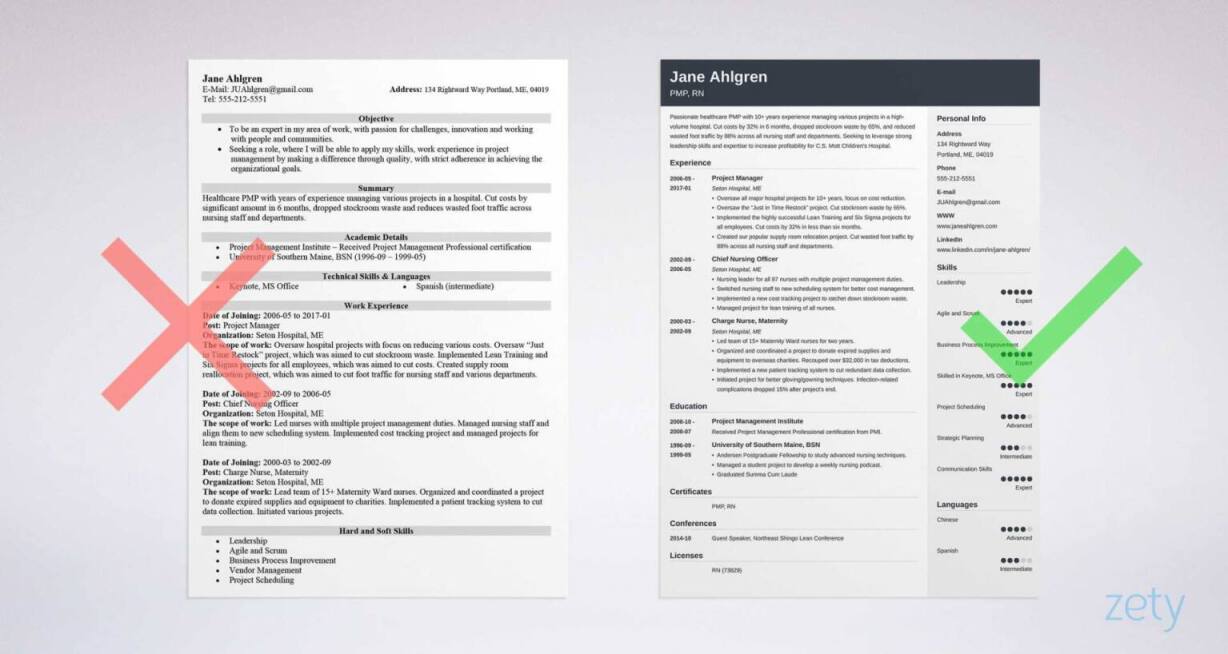 Resume Example - See more templates and create your resume here.
1
What is Google for Jobs?
Announced at the Google I/O conference in mid-2017, Google for Jobs is a new job search engine tool.
Now, it's not a "Google job board," so don't get confused.
Rather, Google for Jobs is a whole lot like the basic Google Search product—it simply aggregates job openings that are already out there and displays them to users in one place.
Websites like Glassdoor, Indeed, LinkedIn, CareerBuilder, or Monster, store their own job ads. Google Jobs search engine shows you all relevant career listings from any supported outlets all in one go.
Originally rolled out just in the United States (google.com), it appears to be available now in the UK (google.co.uk) and India (google.co.in), with more countries to be supported in the near future.
Disappointed that Google for Jobs is not yet available in your country? Don't worry—I'll show you how to "hack" your way in and get it to work for you, too (later in this article).
2
How to Search for Work Using Google for Jobs
The first thing to understand with the Google for Jobs search tool is that there is no dedicated URL. If you are in the US or UK, you simply initiate a regular Google search. Here's an example as we search for jobs in New York City:

Then, you should have a nice embedded application before all the standard Google results:
Doesn't look like much, does it? However, this little snippet is the gateway into the full Google for Jobs app.
See that little arrow followed by 100+ more jobs? Yup, click on that and you are taken into your new job-seeking center of operations: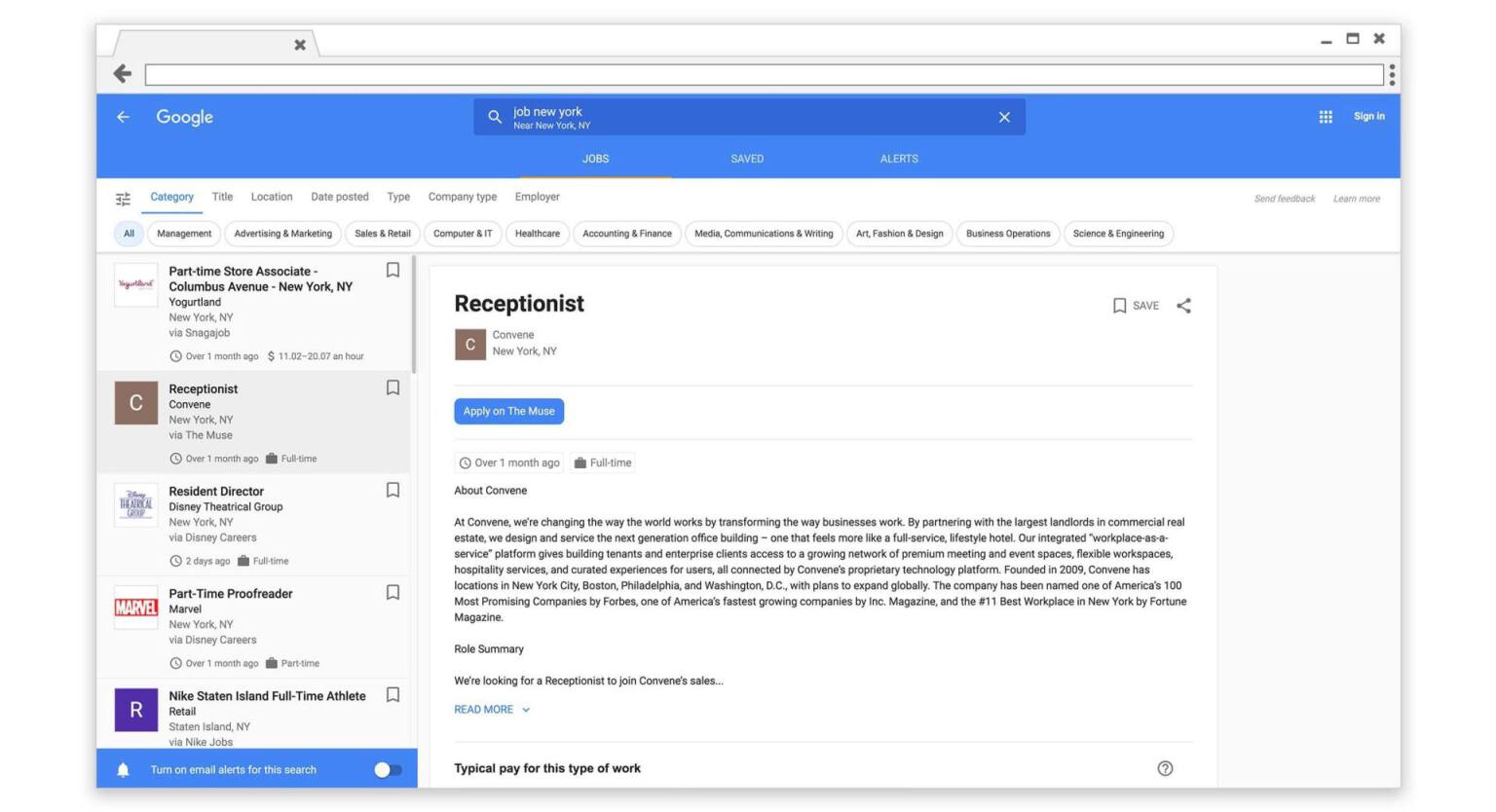 This is the full dashboard you're taken into, and it is jam-packed with features. Let's break this down into more detail:

Just beneath the search bar, you have three main tabs:
Jobs is the initial page with all the results.
Saved is any particular listing which you bookmark for later.
Alerts is where you'll find any saved search alerts (which will also be sent to your Gmail inbox).
Below that is a submenu which is chock-full of filtering options:

As you hover your mouse above it, the submenu drops down a bit, allowing you to see all available sort options.
You begin in "category," which lets you narrow down your query to more specific industries, but there are several other tabs.
Title - Searches for titles, or positions, within your chosen industry.
Location - Lets you increase search area by mileage and to include nearby cities.
Date Posted - Choose only the latest posted results or go back as far as a month.
Type - Choose from full-time, part-time, contractor, or internship.
Company Type - Similar to the category, but relates to the company rather than your position.
Employer - Search for jobs with a specific employer (Uber, NYC Dept. of Education, etc.).
And now, underneath those menu bars, you get to the results:

On the left, you have a scrollable list of the job listings (search results), and on the right, you have the contents of a chosen listing.
It's minimal design makes it that much more appealing. Take a look at a result on the left: you've got the position at the top, bolded, the company, the city, and then where Google aggregated that result from. Below that, you see how much time has elapsed since it was posted and the type of work. Also, note that bookmark icon to put this result into your "Saved" tab.
On the right side is the specific job listing, with a nice, big, blue button to apply.
Pro Tip: Is there a contact person's email address listed? Hold on to it! The next best thing after applying, is to follow up in a week or two: How to Follow up on a Job Application in 6 Easy Steps [+Email Template]
After that, you have a brief job description, and then, unseen in my screenshot, you have reviews of the company from both Glassdoor and Indeed, followed by a link to the company website and to find other jobs available at this particular company.
Finally, there's a blue tab at the bottom-left corner for you to enable email alerts for the particular search. So, after you've narrowed down what you want using all the different filtering options, you won't have to come back and tinker with it again. Instead, additional results matching your search will be emailed to you and also placed in that third tab up top, the Alerts.
3
How to "Hack" Google for Jobs for Other Countries
Not in the US, UK, or India but want to use all the handy features that Google for Jobs offers?
I don't blame you!
First, you have to search for jobs in a US or UK city using google.com (or google.co.uk). For example, use this link to search for jobs in NYC using google.com.
Then, when you get that embedded jobs box in the search results (as we showed you above), you click the bottom link again to be taken into the entire application (as before).
That's all nothing new, but now that you're in the Google for Jobs full application, you simply go to the search bar and edit your search: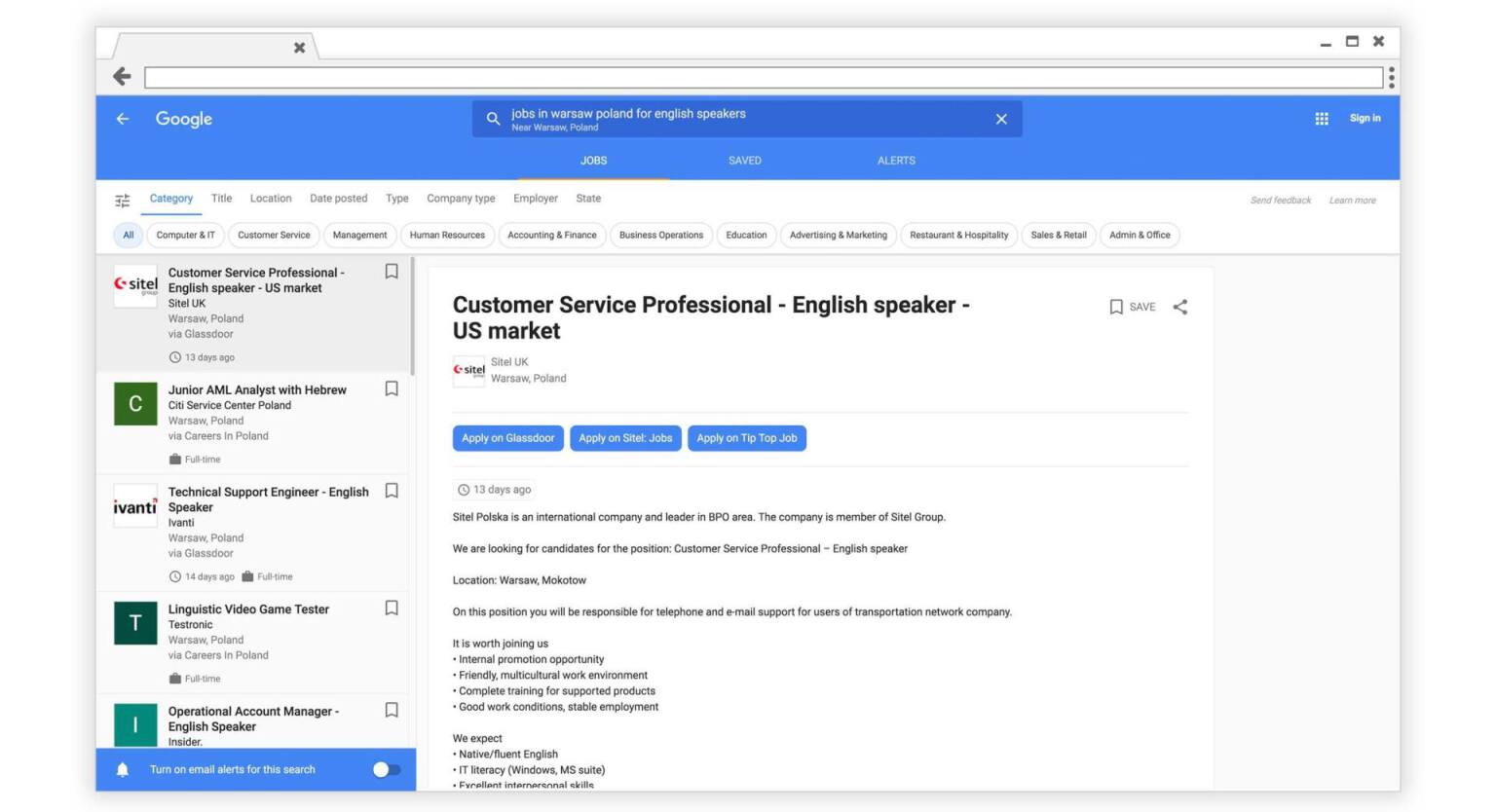 Voila!
How do you like that? I found jobs in Warsaw, Poland with this method, and I'm sure that it works in many larger cities around the world, as well.
I'm not quite sure why this is not available yet, seeing as it looks like it works just fine, but perhaps it has to do with launching it in the local language.
No success? Not enough job offers for your locale (US or internationally)?
We've got the guide for you: Job Sites: 15 Best Job Search Engines and How to Use Them Perfectly
Key Takeaway
So, what did you think? Remember:
Google for Jobs is one of the newest job boards online, so functions are still being tested.
Google for Jobs is an aggregator, not a full-fledged online job posting site.
As one of the best job boards online, it is competing directly with heavyweights such as Indeed.
Hopefully now you have a good, working understanding of how to use Google for Jobs finder to land your next career or employment opportunity.
Do you have any questions on how to use Google for Jobs? Do you still feel more comfortable using the "traditional" career and job search websites (or recruiting sites)? Get at us in the comments below, and, as always, thanks for reading!