Our customers have been hired by:
You've come all this way, why take off your lab coat now?
All that stands between you and that job you've been ogling is an above-average lab assistant cover letter. But you probably already knew that coming in here.
If you're not quite sure how to proceed, you've come to the right place.
In this guide, you will learn the basics of writing a lab assistant cover letter. We'll also show you how to take it up a notch, and we'll back that up with a stunning lab assistant sample cover letter.
Want to write your cover letter fast? Use our cover letter builder. Choose from 20+ professional cover letter templates that match your resume. See actionable examples and get expert tips along the way.
Sample cover letter for a resume—See more cover letter examples and create your cover letter here.
Check out the similar articles that we prepared just for you:
Lab Assistant Cover Letter Sample
Ethan Malkeet
Laboratory Assistant
4977 Havanna Street
Greensboro, NC 27401
336-379-7036
EthanEM@zetymail.com
06/23/2018
Agnes Carbajal
Head of Research
Coraltech
1384 Delaware Avenue
San Francisco, CA 94112
Dear Agnes,
Over the past 2 years spent working as Lab Assistant for SpeciGel, I was praised numerous times for my strict adherence to safety procedures and meticulous lab equipment preparation. Seeing as the ad for the Laboratory Assistant at Coraltech states these qualities as some of the most important ones, I am beyond excited to submit my application.
After a mere 3 months at SpeciGel, I was able to optimize laboratory operations to a never-before-seen level, reducing redundant spending by as much as 90%. Additionally, I've learned how to excel at reducing risk of equipment contamination, decreasing such occurrences by half. I'm proud to say that despite having left medical school just 2.5 years ago, I was able to make a real impact in the workplace and outperform two other lab assistants despite their seniority.
Coraltech has been known around the San Francisco area to be one of the key labs driving technological innovation. It would be a delight to become a part of your team to keep raising that bar of excellence and contribute to long-term groundbreaking successes in laboratory research.
Would it be possible for us to talk over the phone sometime next week? I'd love to discuss potential solutions to enhance quality control for Coraltech with you!
Sincerely,
Ethan Malkeet
Laboratory Assistant
There, put that in your Petri dish and smoke it! That wasn't that hard, huh?
Don't get too far ahead of yourself, though. The bond between a cover letter and a resume should be stronger than the ionic, covalent, and hydrogen bonds combined. So, check out this article if you're still working on your resume: Lab Assistant Resume Example & Guide
Cover Letter for Lab Assistants: Template
Here's the rundown on writing a great lab assistant cover letter:
1. Clean up Your Lab Assistant Cover Letter Format
Without a doubt, a clean, speck-free cover letter structure will open up a lot more doors for you than a cover letter sent with no thought whatsoever.
Set the line spacing of your cover letter to 1 or 1.15. Double it when spacing out paragraphs.
Use a professional cover letter font, at 11 or 12 pt. Calibri or Arial will do just fine.
Make use of white space to enhance readability, just like with a resume.
Lastly, set the margins of the document to 1" on each side.
How many pages should a cover letter be? The answer is always the same, for every profession: one page; 3–4 paragraphs.
Not feeling very creative? Take these under the microscope: Modern Cover Letter Templates to Download & Use
2. Go with a Non-Experimental Cover Letter Header
A laboratory setting is no place to go buck-wild and disregard safety measures. On the contrary: showing familiarity with the various layers of security will definitely pay dividends when it comes to increasing your chances of employment.
Likewise, no point in risking anything and going experimental on your lab assistant cover letter:
Your name and current contact information should find their way to the top left corner of your cover letter header (mirroring your resume).
Add your full name, phone number, e-mail, and physical address.
(Optional) Include your LinkedIn profile and other social media—double-check your online presence first, though.
Write the current date and location.
Then, after skipping a line, add the recipient's information.
Read more: How to Address a Cover Letter
3. Start Your Lab Assistant Cover Letter Correctly
Starting a cover letter is like performing pre-analysis, which just so happens to be one of the most important competencies for lab assistants.
How you begin your cover letters matters just about as much for your success:
Lead with a professional cover letter salutation, like "Dear [Name]". No need to get fancy, otherwise you may not get the necessary reaction.
Your first message to the hiring manager needs to be direct to achieve maximum potency. "To Whom It May Concern" cover letters are the opposite of that, so avoid.
State the position you're applying to.
To keep them from pressing that big red X in the top right, transition to talking about your lab assistant achievements and keep the reader engaged.
Read more: How to Start a Cover Letter with a Bang
4. Demonstrate Your Value in Your Lab Assistant Cover Letter
The middle portion of your cover letter is where things really start to shape up. Play your cards right, and you'll be getting peer-reviewed in no time.
Show off your skills! Maybe you can juggle three vials at once? Tell them about it! Actually, maybe don't—but instead, focus on your past and present job duties, and how you carried them out efficiently.
Prove your understanding of what the job requires and provide evidence that you're the right fit. In this case, evidence means accomplishments from previous jobs.
Utilize numbers, percentages, and dollars to convey the real impact of your actions. Hiring managers love to see that.
If you're writing a cover letter for lab assistant jobs with no experience, don't worry—
Rely on accomplishments from college, internships, and volunteering, alongside highlighting your transferable skills and bringing out your passion for the job. If they're hiring for an entry-level job, they won't expect a robust work history from candidates, anyway.
Read more: How to Write a Cover Letter with No Work Experience
5. Show Exactly Why You Want This Lab Assistant Job
The chief lab technician will not want their assistant to be a quitter who will just… up and leave in the middle of a delicate experiment.
Indeed, you need to show a bit of commitment before they will be willing to sign on the dotted line.
Every cover letter needs a part in which you single out the company and highlight your desire to work specifically for them. Without it, there is no guarantee you're in it just for a quick gain.
To satisfy them, mention the company's history, reputation, or elements from their mission statement you found personally compelling.
Read more: What Does a Great Cover Letter Look Like?
6. Make Them an Offer They'd Be Silly to Decline
The final stretch is key. Really easy to mess up, for example by mentioning salary requirements in your cover letter. That's a no-no.
Do this instead:
Here's the final test: highlight your prospective value one more time. You can also express your excitement about joining the company.
Then, ask about setting up an interview or phone call to discuss specifics.
Read more: How to Sell Yourself on a Cover Letter
7. End the Lab Assistant Cover Letter Like a Real Pro
Closing out the lab assistant cover letter requires some expertise, like writing the conclusions to a lab test.
Do it poorly, and all you'll get is a smugly raised eyebrow.
Here's how to avoid embarrassment:
Use a professional sign-off, like "Best regards", or "Sincerely". Use your full name once again to leave a lasting impression.
If you have one, sign using your digital signature.
If necessary for the application, don't forget to include the required cover letter enclosures.
Save the file and give your cover letter a professional name. In reality, hardly anybody goes for anything original here, so you have a chance to stand out.
Pro Tip: Include a postscript after you're done with the body and the sign-off to catch their eye one more time!
Zety's resume builder will generate hundreds of server job descriptions as well as suggest bullet points, skills, and achievements. If that doesn't get your mouth watering, what will?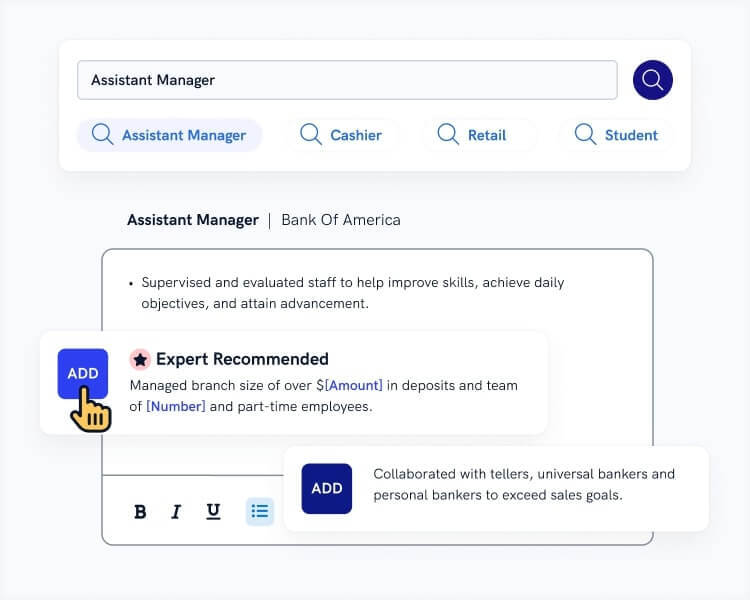 Create a resume with perfect job descriptions using the Zety resume maker now
Do you need assistance with closing out your cover letter? Not sure how to write a captivating opening statement? The comments are always there, so ask away!
About Zety's Editorial Process
This article has been reviewed by our editorial team to make sure it follows Zety's editorial guidelines. We're committed to sharing our expertise and giving you trustworthy career advice tailored to your needs. High-quality content is what brings over 40 million readers to our site every year. But we don't stop there. Our team conducts original research to understand the job market better, and we pride ourselves on being quoted by top universities and prime media outlets from around the world.