Maintenance Cover Letter: Examples & Full Guide
You fix appliances at the touch of your quarter-inch ratchet driver like a magician. Do the same with your job application by writing an awesome maintenance cover letter.
You need to write a maintenance cover letter if the agency or company is to even consider hiring you—you've made your peace with that.
But actually sitting down and putting words onto paper has you up at 3 a.m., unable to sleep, as if there were a rickety AC unit making an awful noise.
Well, nothing a bunch of good old-fashioned elbow grease can't handle.
This guide will show you:
A maintenance cover letter better than 9 out of 10 others.
How to write a cover letter for maintenance positions that will get jobs.
Tips and tricks to structuring your cover letter to get 10x more interviews.
Want to write your cover letter fast? Use our cover letter builder. Choose from 20+ professional cover letter templates that match your resume. See actionable examples and get expert tips along the way.
Sample cover letter for a resume—See more cover letter examples and create your cover letter here.
Looking for a different cover letter guide? See these:
Maintenance Cover Letter Example
Sean Alvarez
Maintenance Technician
415-600-6792
Salvarez@zetymail.com
1808 Boring Lane
San Francisco, CA 94115
San Francisco, 04/25/2021
Walter Mills
Hiring Manager, Carlisle Materials
2036 Paradise Lane
Fullerton, CA 93632
909-702-2347
Dear Walter,
With 4 years of industrial maintenance experience, I jumped at the opportunity to join the team of technicians at Carlisle Materials. My background in industrial electrical appliances and plastics manufacturing would no doubt come in handy when performing standard maintenance at your Fullerton plant.
My past position at Campbell-Lafarge involved overseeing up to 11 facilities in rotating shifts. In each instance I always emphasized a strong sense of safety consciousness, giving several talks to other employees displaying examples of negligent behavior. I can proudly say that the company's accident occurrence rate decreased by 67% over just half a year.
I have no doubt that the daily operations at Carlisle could use a well-rounded technician like myself. My experience in electric circuits and heavy-duty machinery maintenance would definitely allow you to cut costs—in the past I did just that, saving a company $40K per annum through careful planning, observation, and proactive part modernization.
Would you be able to meet with me next week to discuss how my contribution to Carlisle could slash workplace accidents while boosting productivity?
Sincerely,
Sean Alvarez
Maintenance Technician
Want to write a cover letter just like that? Keep reading!
Remember that a cover letter and a resume go hand-in-hand. If you've got a bunch of loose screws to tighten on your maintenance resume, take a look here: Maintenance Resume Example & Guide
Maintenance Cover Letter Template
This is how to write a great cover letter for maintenance jobs:
1. Format the Maintenance Cover Letter Correctly
First things first: the layout of your cover letter.
If it's looking sloppy, it's a red flag for the recruiter right from the get-go. They will easily identify it as a signal that your toolbox is lacking in some crucial faculties.
Follow these cover letter tips to tighten any loose nuts and bolts:
Your cover letter line spacing should be set to 1 or 1.15, and double that for paragraph breaks.
Set the margins to 1" on every side to give your content some breathing room.
The cover letter font you choose to use needs to be the same one as on your resume. Set the size to 12 pt.
Read more: What Are the Parts to a Cover Letter?
2. Crank the Voltage on Your Maintenance Cover Letter Header
When a client needs maintenance on their water heater and you get sent over, what is your approach?
Do you dress in cartoonish denim overalls stained with grease, or are you a professional expert who's ready for the job?
Point is—
Presentation matters from the very first second:
Insert your name, your contact information (phone, email), and other personal websites (if you have them) in the top left corner.
Skip a line, then write down the current date.
Skip another line, then put down the name of the hiring manager and their mailing address.
Pro Tip: Addressing the cover letter properly is job application etiquette 101. If you can't find the name of the hiring manager, call in directly or give it a quick Google search instead of writing an abominable greeting like "To Whom It May Concern".
3. Start the Maintenance Cover Letter off Right
"I'm great with tools and good at building maintenance".
So are the other 1.5 million maintenance workers in the States.
No, my friend, your cover letter opening needs to be way catchier than that:
Open with a polite cover letter salutation, and immediately proceed with stating the name of the position you're trying to apply for. Things get lost and tangled in paperwork, and you want to make sure your cover letter ends up in the right department.
With the formalities out of the way, transition to talking up your maintenance game—by mentioning achievement or two straight away. This will pin their attention and keep them reading.
Don't overdo it, though, because you need to save up more achievements for the rest of the letter (which we're getting to).
Read more: How to Start Your Cover Letter: Examples & Ideas
4. Electrify Them with the Idea of Hiring You for a Maintenance Position
Now we're getting down to brass tacks. As a maintenance technician, you've no doubt handled your fair share of pesky appliances, parts, modules, all kinds.
It's time to show them what'd make you fit in with them better than a perfectly tight screw:
Highlight some of your most noteworthy accomplishments. It's best not to repeat the ones from your resume.
As always, use numbers, percentages, and dollars saved to convey your message like a strong current.
Pro Tip: Do not underestimate the value of safety in the workplace. In fact, prioritizing it over everything else may be your best move.
5. Demonstrate Why This Job Is Important for You
Life's a game of give and take, and it comes into play on the cover letter, too.
They know you're a great asset, but is it time to start talking about your expectations yet?
Probably not.
At this stage, it's still better to convey excitement and keep highlighting the importance of this particular job:
Poke around their website to see what sets the company apart from its competitors. Find something you really like about them.
Weave that into your cover letter and brandish it as one of the main reasons you'd love to get employed by them.
Why? Because a happy employee is a long-term employee, companies are aware of that. Keeping someone on is way more cost-efficient for them.
Read more: How to Mention Salary on a Cover Letter
6. Learn How to End Your Maintenance Cover Letter
It's been smooth sailing up until now.
You've engaged them, you've shown value, and you've emphasized how the company and you make a great pair.
Time to seal the deal:
Reiterate your excitement one more time and ask to schedule an interview.
Once again, make it thrilling for them as well by making an offer to "Reduce repeat incidents by X%", or "Grow their customer base by word-of-mouth marketing" because your services are just that good!
Read more: How to End a Cover Letter on a Strong Note
7. Sign off and Name the Cover Letter Properly
Finishing off your cover letter properly is trickier than you might think. Just like with the heading, there's a set of rules to follow with the sign-off.
Approach it like you would any house call: with professionalism.
Sign off using a phrase such as "Best regards". Repeat your full name after that.
If any extra cover letter attachments are needed, include those as well.
Got a digital signature? Great, now would be the time.
Name the cover letter file in a professional way. They probably received five dozen "Cover Letter.pdf"s just today already.
Read more: How to Follow up on a Job Application
When making a resume in our builder, drag & drop bullet points, skills, and auto-fill the boring stuff. Spell check? Check. Start building a professional resume template here for free.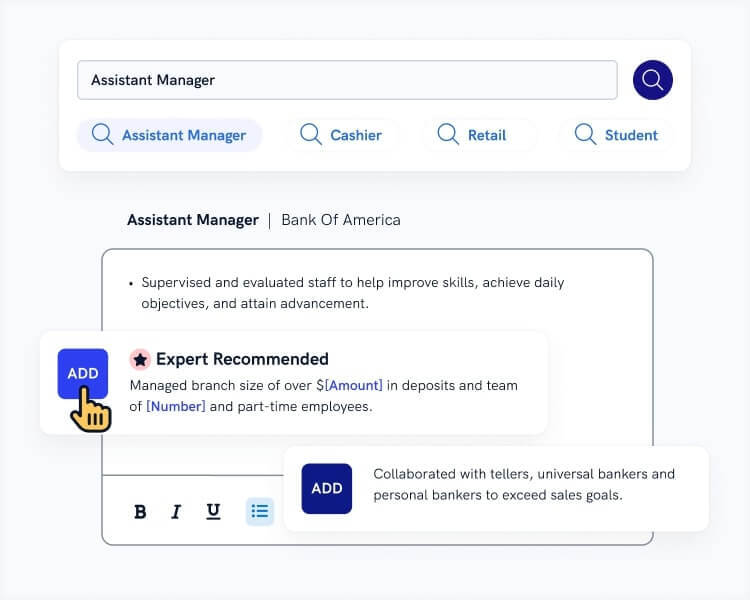 When you're done, our professional resume builder will score your resume and our resume checker will tell you exactly how to make it better.
Thanks for reading! What did you think of this maintenance cover letter? Should we have included some other information, or did we hit the nail on the head? All feedback is welcome in the comments!
About Zety's Editorial Process
This article has been reviewed by our editorial team to make sure it follows Zety's editorial guidelines. We're committed to sharing our expertise and giving you trustworthy career advice tailored to your needs. High-quality content is what brings over 40 million readers to our site every year. But we don't stop there. Our team conducts original research to understand the job market better, and we pride ourselves on being quoted by top universities and prime media outlets from around the world.