Our customers have been hired by:
"Walk me through your resume, okay?"
Well, sure, that's not that hard, is it?
So you start going through your entire resume, point by point. And you can see the recruiter trying real hard to stay engaged. You start to panic.
You're doing exactly what they asked you, right?
Literally? Yes. But that's not what they wanted to hear.
Avoid this nightmare and learn how to answer the "walk me through your resume" question that will have the recruiter all ears.
Want to save time and have your resume ready in 5 minutes? Try our resume builder. It's fast and easy to use. Plus, you'll get ready-made content to add with one click. See 20+ resume templates and create your resume here.
Sample resume made with our builder—See more resume examples here.
Looking for advice to other, tricky interview questions? These guides can be super helpful:
Why Do Interviewers Ask This Question?
The trouble with this question is that it sounds suspiciously straightforward.
But it's not about going through your entire resume from top to bottom. That's too much focus on the details and it'll take up too much time.
So what do recruiters really want to know?
They want more of a bird's eye view of your career history and how you've grown over the years in experience and skills and how that makes you the perfect candidate for the job. In other words, they don't want a step-by-step history, they want an elevator pitch type summary of your professional life.
Read more: How to Introduce Yourself
Use This Expert Formula
Even though they're asking for you to walk them through your resume, they're not looking for a chaotic trip down memory lane.
Stick to this key formula to really nail the question and give hiring managers the information they're waiting to hear:
When making a resume in our builder, drag & drop bullet points, skills, and auto-fill the boring stuff. Spell check? Check. Start building a professional resume template here for free.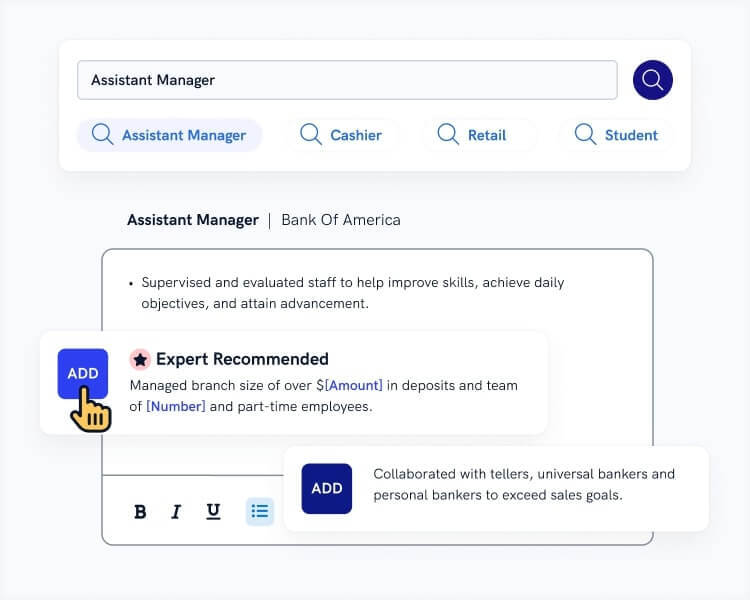 When you're done, our free resume builder will score your resume and our resume checker will tell you exactly how to make it better.
How to Answer "Walk Me Through Your Resume"
Start off with where you went to school and the degree you graduated with. There's no need to get into details here, this is just a natural starting point.
Move on to how you started your career. Keep this super brief.
Focus on key points in your career that demonstrate your growth and professional development.
Wrap up with your goals for the present and how the job you're applying for is the natural next step for you.
It's easy to drown the interviewer in tons of information. Be concise and relevant, your whole answer really shouldn't last more than 2-3 minutes.
Here's a little hack I'll let you in on—your resume is here to help.
Use the same resume keywords and action verbs in your response to make it more compelling and powerful.
Remember that your professional accomplishments and achievements are important, but remember to also mention your growth in soft skills and hard skills.
Let's take that recipe and put it into practice:
Walk Me Through Your Resume Sample Answer
Right
I graduated from ASU with a degree in software engineering, which is what I knew I wanted to do since I was in school. I interned at Rockstar Games because I grew up on every GTA version I could get my hands on and given my interest in gaming mechanisms and graphics, I wanted to start my career with a personal connection. I learned two key things there: I loved the creative and dynamic environment of game development and that having a history with specific gaming titles allowed me to understand both what gamers expect and their experience better. That in turn lets me focus on creating an even better gaming experience for customers. Those lessons ultimately led me to Activision who I appreciate through titles like Need for Speed or Battlefield. Here I could not only incorporate what I've already learned, but also take my skills to the next level in PvP gaming scenarios.
Wrong
I graduated from ASU with a degree in software engineering. I was a really good student and got really good grades. I always thought games were cool and I spent a lot of time playing them when I was young so working for a game development company is a dream come true. I started as an intern and did really simple stuff, but I learned along the way and over time I got more responsibilities. Now I feel it's a really good time for me to take the next step and move my career forward.
See the difference? The right example tells the interviewer not only what job experience the candidate has, but also what they've learned over time and how they incorporate that into their job.
The wrong example doesn't really convey any strong message and the interviewer knows just as little about the candidate as they did at the start. There's also no value offered to the company.
Pro Tip: Practice answering the question at home. Tape yourself or do it in front of a friend. This will help make sure that you don't ramble and that everything makes sense and is relevant.
Let's deep dive into that value proposition for a moment.
Read more: Most Common Interview Questions
Keep It Relevant and Tailored
No matter how you look at it, "walk me through your resume" isn't really about you. It's more about what value you can bring to your potential employer. After all, you're walking them through your resume.
You should never just cut your response off at the present day and leave it at that. Unless you're Michael Ross, you didn't find yourself at that interview by accident.
Just like you would with building your resume, do some digging and find out more about the company and position. Highlight the skills and achievements you have that are relevant to the role and can show interviewers that you're a great fit.
At the end, drop a mention of how the company also ties into your career plans. This demonstrates a budding two-way relationship in which both parties can be happy.
Read more: The Best Job Interview Tips & Tricks
Plus, a great cover letter that matches your resume will give you an advantage over other candidates. You can write it in our cover letter builder here. Here's what it may look like: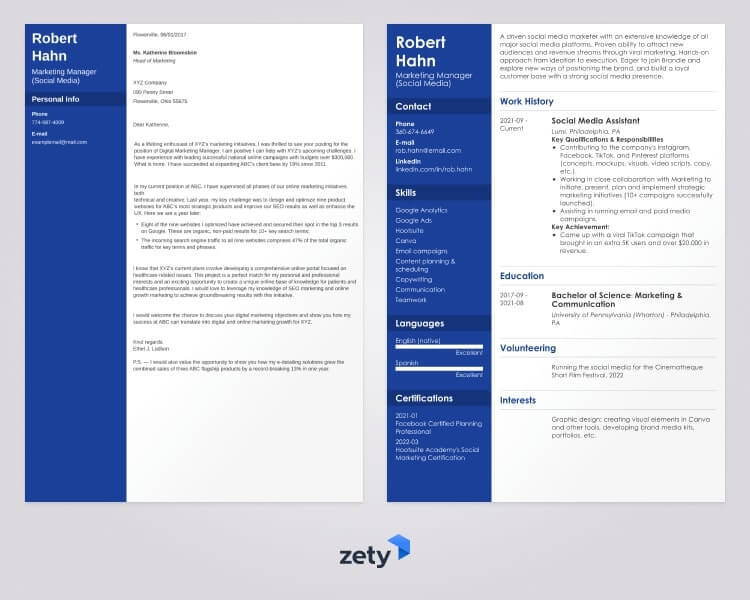 See more cover letter templates and start writing.
Key Takeaway
"Walk me through your resume" is one of those dreaded interview questions, but it doesn't have to be. With the right preparation, you'll be hitting that question out of the park:
Keep your answer short and concise, no more than a few minutes are needed.
Focus on key accomplishments and skills that are relevant to the role.
Show the recruiter how the present job ties into your plans and ambitions.
Don't ramble. Practice your answer beforehand.
Now go ace that interview!
Thanks for reading! Do you have any questions about "walk me through your resume"? Let us know down in the comments below!
About Zety's Editorial Process
This article has been reviewed by our editorial team to make sure it follows Zety's editorial guidelines. We're committed to sharing our expertise and giving you trustworthy career advice tailored to your needs. High-quality content is what brings over 40 million readers to our site every year. But we don't stop there. Our team conducts original research to understand the job market better, and we pride ourselves on being quoted by top universities and prime media outlets from around the world.