Collaboration Skills: Definition, Examples & How to Improve
Teamwork is so natural for you that you put the "me" in "team." Show employers you're the A team with the best collaboration skills for your resume.
Collaboration skills are one of those things that everyone knows they have in one way or another, but few can explain.
The thing is, you need to explain them because the employer is asking for them. In fact, collaborative skills are one of the things that recruiters pay most attention to.
But how do you mention your EQ and ability to work in teams without making it sound overinflated and fake?
Easy.
We not only have a list of the collaboration skills employers are looking for, but we'll also show you how and where to put them so that your resume outshines the rest with goodness.
Follow us.
Want to save time and have your resume ready in 5 minutes? Try our resume builder. It's fast and easy to use. Plus, you'll get ready-made content to add with one click. See 20+ resume templates and create your resume here.
Sample resume made with our builder—See more resume examples here.
Already have the collaboration skills you need? Add them to the best resume examples for any job.
Interested in other important skills sets that you could add to your resume? Check these out:
What are Collaboration Skills?
Collaboration skills, also called collaborative skills, are the skills you use when working with others to produce or create something or achieve a common goal. Collaboration skills aren't a skill set in themselves, but rather a group of different soft skills and behaviours that facilitate collaboration and teamwork.
Good collaboration goes well beyond working well together. Some good collaborative skills aren't about working with others directly, but can be indirect like productivity, adaptability, and organization. Others are focused on direct, face-to-face contact with others like emotional intelligence, communication, and open-mindedness.
So why do employers care about how people work in teams? Because studies suggest that good team collaboration skills amount to better team performance. That's something both employers and employees can appreciate!
Read more: Job Skills You Should Include in Your Resume
List of Collaboration Skills
You know why collaborative skills are important, but what skills are they exactly?
We've broken them down into two groups based on the distinction made before: direct (face-to-face contact) and indirect (productivity, etc.).
Indirect Collaborative Skills
Productivity systems (Agile, Lean SixSigma)
Adaptability
Stress management
Productivity tool management (JAVA, Asana, Zoom, file sharing, Skype, Notion, Slack)
Dependability
Responsibility
Direct Collaborative Skills
Emotional intelligence (EQ)
Patience
Nonverbal communication
Conflict resolution/ Deescalating
Open mindedness
Tolerance
Brainstorming
Compromising
Diplomacy
Empathy
Wow, when you put it all together, that's a pretty long list, isn't it?
Think that you don't have any collaboration skills since you don't have a traditional 9-5 job or are just starting your career? Think again!
Here are some examples of collaboration and teamwork inspiring environments that can help you prove you have an EQ that matches your IQ:
Pro Tip: Make sure to highlight that you can work well with teams in a digital setting as well as a physical one. Research shows that face-to-face interaction is on the decline so demonstrating you can collaborate well at work via Skype or Zoom will be a big plus.
A bit of advice—share the collaboration skills you can prove through life or work and that pertain to the job you want. Lying on a resume is risky, especially when most employers will do background checks and ask around whether you're the great workplace colleague you say you are.
Read more: Hard Skills vs Soft Skills: What is the Difference?
When making a resume in our builder, drag & drop bullet points, skills, and auto-fill the boring stuff. Spell check? Check. Start building a professional resume template here for free.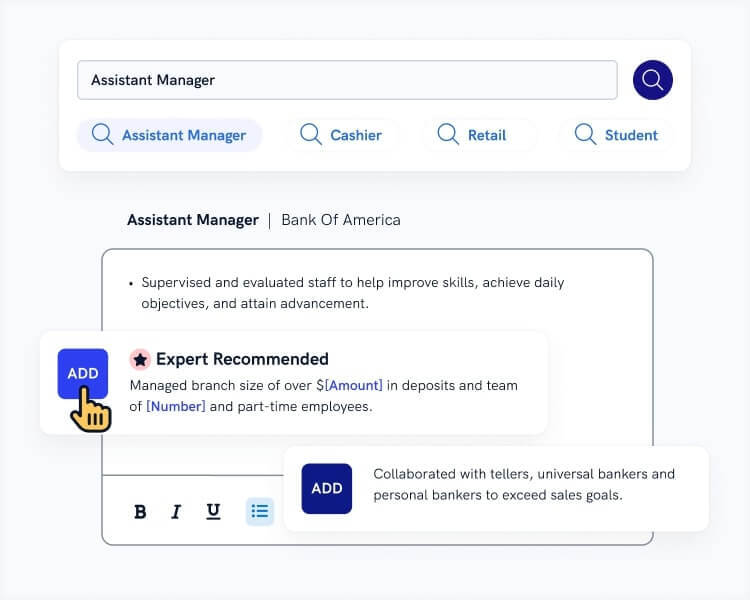 When you're done, Zety's resume builder will score your resume and our resume checker will tell you exactly how to make it better.
Collaboration Skills on Your Resume
Simply mentioning "I'm a team player" isn't going to go very far on your resume. Everyone says that and it doesn't really mean anything.
Instead of just listing a skill like a weak tap, add numbers and achievements to give your collaborative skills more of a superman punch.
It's not as hard as it sounds.
Use the job ad as a guide to tailor your resume. It's useful on two counts: 1- the employer might feed your job application into an ATS so it's good to have an ATS-friendly resume template and 2- you need to keep it relevant to the job you're applying for.
How to List Collaboration Skills on a Resume
Just because they're called collaborative skills doesn't mean that you can only include them in your resume skills section. Your resume work experience section or other additional sections in your resume are also a great place to demonstrate that you think about more than yourself.
Your work experience section gives you the chance to go more in depth with your collaborative skills and give effective examples. The additional sections in your resume can underline your experience through certificates, hobbies & interests, and other extra activities both in and outside the workplace.
Examples of Collaboration and Teamwork on a Resume
Let's share a few examples to see what effective collaboration skills look like on your resume.
The job ad wants: excellent interpersonal and communication skills
Your resume work experience section:
Established and maintained close, interpersonal working relationships with suppliers for all four branch offices.
Coordinated remote daily stand ups with the team to communicate project status and important announcements.
The job ad wants: demonstrate leadership to guide project
Your resume work experience section:
Established and led cross-functional team that both developed and launched a new software project 1 week ahead of schedule, $50K below budgeted cost, and over delivered on UI expectations (we included 3 extra elements to improve customer experience).
The job ad wants: responsible team player
Your resume skills section:
Team player with strong initiative and accountability
Responsible and reliable even under stressful and deadline driven circumstances
The job ad wants: empathetic to childrens' needs
Your resume addition section (volunteering):
Volunteer 3x a week at YMCA as patient and empathetic math tutor for frustrated children who have been held back. All 20 of my students have improved their grades to pass their classes.
The key is to use the language mentioned in the ad, but without just copying it verbatim. Use the job ad wording and then throw in a little extra to show your team collaboration skills are top notch.
Noticed the wording in the work experience and additional sections? Using action words really make your selling points pop.
Read more: How to Write a Targeted Resume
How to Improve Your Collaboration Skills
Collaboration skills aren't something you're born with—it's something you learn. And as with everything, learning is an ongoing process.
Here are five solid tips to improve your collaboration skills and help you and your team shine:
1. Approach Change Positively
Change is almost always at least a little stressful, but that doesn't mean that you have to be the Negative Nancy in the room. When implemented well, change can be a good thing and your team will be looking for someone to show them that. Replace negative feelings with a safe environment for sharing doubts and worries and keep the lines of communication open.
2. Build and Maintain Trust
Trust is key in every good relationship. It's also hard to build and super easy to lose. Instead of telling everyone how trustworthy you are, show it in actions. Keep your promises and take confidentiality seriously.
3. Use Project Management Tools
It's not always about soft skills. Working better with a team sometimes involves getting the tools and processes right first. You don't need to go out and buy the most expensive and complicated project tool out there. Sometimes even the things you already have access to (like Office, Outlook, Google Docs, Slack, Asana, Trello) can be helpful. Ask your team what would be most helpful so that they can be involved.
Pro Tip: Tutorials on Lynda and LinkedIn will help you learn how to develop your collaborative skills, use online tools for teamwork management, and motivate teams.
4. Improve Your Self Awareness
EQ is really big nowadays and it centers mostly around being aware when you're hitting your stressors and controlling how you act then. Pay attention to how you act in stressful situations or how your behavior comes across to others. You can even simply ask others for feedback. Try to curb negative influences you might have on others through understanding your behavior.
5. Celebrate Differences
We're all different and there's no reason to expect or try to make everyone the same. Play to an individual's strengths and different perspectives and use that to enrich teamwork. Team members then feel more included and engaged.
Pro Tip: Harvard professor Linda Hill has studied some of the world's most creative companies to check what the secret to unlocking creativity is. Watch the TEDTalk video here.
Plus, a great cover letter that matches your resume will give you an advantage over other candidates. You can write it in our cover letter builder here. Here's what it may look like: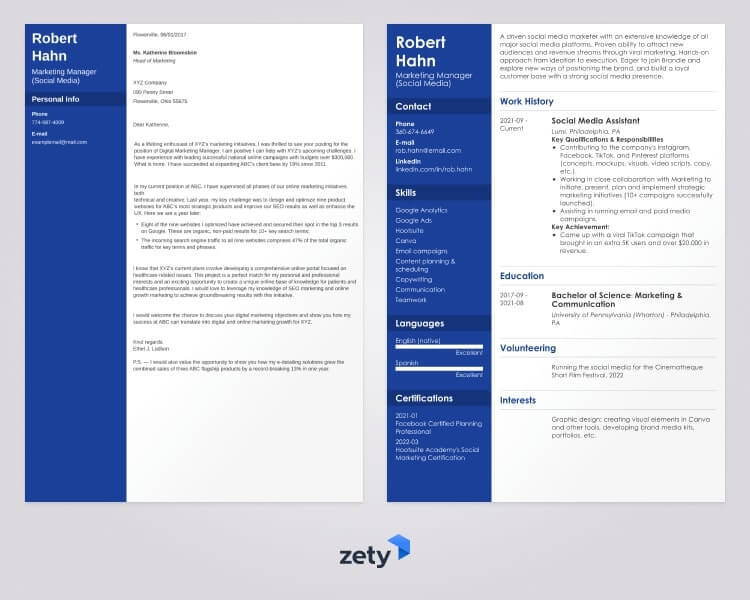 See more cover letter templates and start writing.
Key Takeaway
Collaboration skills are the backbone of the modern job and business workplace. That's why getting them right on your resume is absolutely key.
Go through the list above and see which collaboration skills fit you.
Check the job ad and match the skills they're looking for.
Include your collaborative skills in your resume skills section, work experience, or other additional sections in your resume that are relevant.
Develop your collaborative skills on a daily basis.
Thanks for reading! Have any questions about collaborative working examples to put in your resume? Wondering which resume section you should put your collaboration skills in? Share your questions down below and we'll help you out!
About Zety's Editorial Process
This article has been reviewed by our editorial team to make sure it follows Zety's editorial guidelines. We're committed to sharing our expertise and giving you trustworthy career advice tailored to your needs. High-quality content is what brings over 40 million readers to our site every year. But we don't stop there. Our team conducts original research to understand the job market better, and we pride ourselves on being quoted by top universities and prime media outlets from around the world.
Sources