Executive Director Cover Letter: Sample & Writing Guide
You're a natural leader that any organization could use. Learn how to write a perfect executive director cover letter that will get the whole board, well, on board!
Everybody thinks running a company is easy until you put them up to it. Then, it all falls apart. That's where you come in.
You've got what it takes to raise profits and lead with fearless resolve. But these are abstract qualities. An executive director cover letter, on the other hand, is very tangible.
It seems impossible to reconcile the two—but is it?
This guide will first show you an executive director cover letter example, as well as the best tips on how to write an executive director cover letter step-by-step.
Want to write your cover letter fast? Use our cover letter builder. Choose from 20+ professional cover letter templates that match your resume. See actionable examples and get expert tips along the way.
Sample cover letter for a resume—See more cover letter examples and create your cover letter here.
See our other related cover letter guides below:
Executive Director Cover Letter Sample
Diana Archer
Executive Director
479-822-7868
dianaarcher@zetymail.com
Linkedin.com/in/12diana.archer
3767 Cambridge Court
South West City, AR 64863
04/27/2022
Kelly Jackson
Head of Recruitment Board
Passionates Ltd.
4352 Joy Lane
Calabasas, CA 91302
Dear Kelly,
I've spent the past 6 years as executive director of Greyporium Consulting, where I generated a 52% increase in revenue in the first 3 years alone. Now, seeing the opening for a similar position at Passionates Ltd., it's a tremendously exciting opportunity for me to bring the same level of success to your brand.
Your website shares plenty of details about Passionates' efforts to increase your outreach and grow your business among certain groups. As executive director for Greyporium, I prepared scalable strategies and introduced new company policies which both lowered employee turnover by 50% and allowed the company to exceed some of its key goals and metrics. In addition, thanks to my bold breakthrough campaign ideas, we increased overall customer satisfaction ratings by 14%.
Passionates is very well known and respected for its client-first approach, which is a policy very dear to my heart. I would love to spearhead your company's actions and accelerate upskilling of success roles for your company, all while meeting new challenges.
Could we schedule a call or meeting for next week? It'd be great to be able to discuss potential system improvements and possible budget savings for Passionates.
Sincerely,
Diana Archer
479-822-7868
dianaarcher@zetymail.com
Not too shabby. Keep reading to discover how to get yourself an executive director cover letter just like that.
Don't have a resume ready just yet? Make sure to check out this guide, too: Executive Resume: How to Write + Examples
Executive Director Cover Letter Template
Here's how to write an executive director cover letter:
1. Format Your Executive Director Cover Letter Properly
The temp worker wanders into the board's office with a fresh batch of resumes and cover letters.
Yours is the first off the stack.
If you did it all wrong, they'll forget about it before lunch break.
But if you know the best tips for writing a cover letter, you'll remain in their memory for a long time:
Read more: How to Format a Cover Letter the Right Way
2. Create the Perfect Executive Director Cover Letter Header
You know exactly what a business-style letter header looks like, so this'll be a walk in the park.
Include a header on your cover letter, containing your contact information. Ideally, use the same header as on your resume for a customized, professional look.
Next, provide the date and place of writing, followed by the recipient's contact details. If possible, address the cover letter directly to the person who'll read it—be it a hiring manager, a recruiter, or the company board. If you're not sure, call the company and ask who the recipient should be.
Pro Tip: Calling will also give you the one-of-a-kind opportunity to start dropping your name around, show the crucial quality of being a great communicator, and get remembered as the one candidate that cared. Wins all around.
3. Start the Executive Director Cover Letter on the Right Foot
How many executive-level employees are there currently in the US?
The national estimate lies around 200K.
Quite the competition.
Fortunately, people usually don't quit these jobs. However, take into account the ravenous masses gunning for that sweet, sweet salary, and you may quickly realize—
There's no room for error here.
Your executive cover letter has to impress from the very beginning, and this is how:
Use a professional cover letter salutation to kick things off.
The first sentence that comes immediately after should inform the reader which position you're applying for and provide your years of experience.
Then, the real hit—casuallybring up a key professional achievement that will have the board's jaws and Rolexes drop to the floor in harmony.
Pro Tip: Trying to get a promotion to top-level exec in a company you're already working for? See our article on writing an internal cover letter.
4. Emphasize Why You're the Best Executive Director Candidate
Now that you've got the shark's attention, time to reel him in with even tastier morsels:
Boast about your biggest achievements.
Use numbers to quantify those achievements and thus make them more meaningful.
Generate more interest in your candidacy just as you would during your normal day-to-day: by tailoring your descriptions to the needs of your client, or in this case, the board.
Read more: How to Sell Yourself in a Cover Letter: Tips & Examples
5. Explain How the Company and You Could Achieve Greatness
The worst way to come off during the initial stages is as just a blind, deaf, and dumb exec seeking to fatten up his pockets. Instead, your cover letter needs to prove that you care about the company to which you're applying and that you're determined to help them achieve success.
If you know nothing about them, they won't trust you or respond to your leadership skills. Search around the company's website for things that seem important to them.
Bring that up in the third paragraph of your cover letter to show engagement and interest.
If you're aware of any struggles or challenges in particular that the company has faced/is facing, elaborate on how your experience and transferable skills could prove useful as captain of the ship.
Read more: Short Cover Letter Examples for Various Roles
6. Learn How to End Your Cover Letter for Executive Directors the Right Way
Wrapping up is just as critical as starting.
We've left a great first impression, now let's leave an even better last one:
Make the company a promise, like raising profits, or increasing shareholder value. Using numbers should be a default tactic in your rule book by now, wink wink.
Propose a time to schedule a meeting or phone call to talk about the details.
Read more: Examples of How to End a Cover Letter
7. Add Final Touches to Get a Perfect Cover Letter Finish
With that out of the way, time to practice putting an important skill in the life of an executive director:
Signing things!
Repeat your full name one more time after courteously signing off with a simple "Sincerely".
Use your digital signature to double down on that debonair professionalism.
Add your contact details to ensure they know how to reach you.
After that, it's smooth sailing, so get yourself ready for that interview!
Read more: How to Follow Up on a Job Application
When making a resume in our builder, drag & drop bullet points, skills, and auto-fill the boring stuff. Spell check? Check. Start building a professional resume template here for free.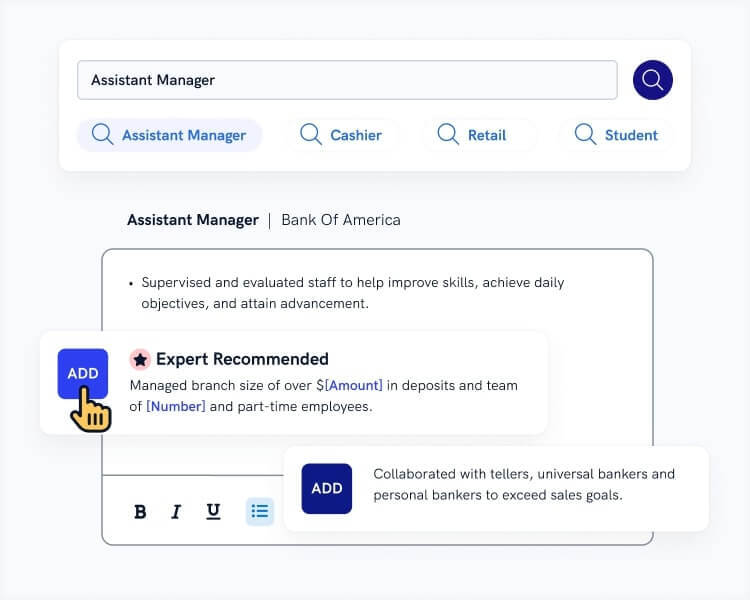 When you're done, our online resume builder will score your resume and our resume checker will tell you exactly how to make it better.
Thanks for reading! What did you make of this executive director cover letter guide? Do you have any feedback or tips for our readers? We'd love to hear from you in the comments.
About Zety's Editorial Process
This article has been reviewed by our editorial team to make sure it follows Zety's editorial guidelines. We're committed to sharing our expertise and giving you trustworthy career advice tailored to your needs. High-quality content is what brings over 40 million readers to our site every year. But we don't stop there. Our team conducts original research to understand the job market better, and we pride ourselves on being quoted by top universities and prime media outlets from around the world.