Our customers have been hired by:
Maybe you tried creating a resume, and the results are less than awesome. Or maybe you don't even know where to start, so you're looking for another way to make a decent job application quickly. Jobscan caught your attention, but you're not sure. Is it worth trying out? Or just a waste of time and money?
Don't worry, all the answers are in this honest Jobscan review. Just keep reading.
This guide will show you:
Customer reviews of Jobscan.
Pros and cons of using Jobscan's builder, including their templates.
A review of selected Jobscan resume templates.
Want to save time and have your resume ready in 5 minutes? Try our resume builder. It's fast and easy to use. Plus, you'll get ready-made content to add with one click. See 20+ resume templates and create your resume here.
Sample resume made with our builder—See more resume examples here.
Want to learn more about what can make a resume great? Check these guides:
Why Trust Us
We put your needs first. That's why we always try out the products we review for you so that our first-hand experience can help you make the right choice. Our Certified Professional Resume Writers test all resume builders available on the market to make sure you know the pros and cons of each tool. This approach allows us to create reviews that are not only objective but also answer all your questions so that you can create a job-winning resume quickly and easily.
Jobscan Reviews from Customers
First, a few words of explanation of what Jobscan is: It's a company offering products promising to help you succeed in your job search. Their website features a bunch of online tools, including a resume builder. However, if you already have a resume, you can try a different product—one that aims to improve your resume by making your job application ATS-friendly.
But first, let's see what customers say about them:

On Trustpilot, Jobscan has 4 out of 5 stars, with 60+ reviews. 89% of users rated their experience with 5 stars, which is excellent!

Meanwhile, on Sitejabber, reviewers have left over 1,600 comments, giving Jobscan a total of 4.43 stars. That's a great rating as well.
So, what do these Jobscan reviews say? Positive customer feedback concerns the ATS optimization tool and power editing features. Users found them helpful for creating a tailored resume that matches a specific job description. As for negative reviews, customers mention unclear pricing, difficulties with canceling services, and an outdated user interface. Some users said that the optimization tool suggests irrelevant keywords.
Is Jobscan Worth It?
Time to get a closer look at the products Jobscan offers. As I've mentioned, the website consists of more than just a resume builder. It also features a job tracker board, an AI-powered resume editing tool, a LinkedIn optimization app, a cover letter generator and optimizer, and a career change tool. This means that if you have an old job application at hand, you can scan it and get a resume critique showing what should be improved. It tries to mimic running a resume through ATS, and the resulting report can help you make an ATS-friendly resume. This tool can also compare your application to a job posting you like to see if your resume matches the requirements.
Well, at least that's what the tool promises. My experience was a little different, as you can see below:
However, I managed to set up an account and tried a sample resume scan to see how it works. The report concerns five areas: searchability, skills, recruiter tips, formatting, and cover letter. In each category, you can see tips that can help make your resume more compatible with ATS scans as well as better tailored to the job. For example, the app may suggest you should label your resume sections with clear headings, or use a standardized resume font.
What about Jobscan's resume builder? If you want to create a new resume from scratch, you can choose from 3—yes, that's right—resume templates. The builder will lead you through the process by asking questions about your contact information, professional background, work experience, and education. You can add a few additional sections, such as skills or certifications. Once you're done, you can scan your newly created resume and get tips for making it even better.
Here's what your resume might look like if you choose the Modern Professional template: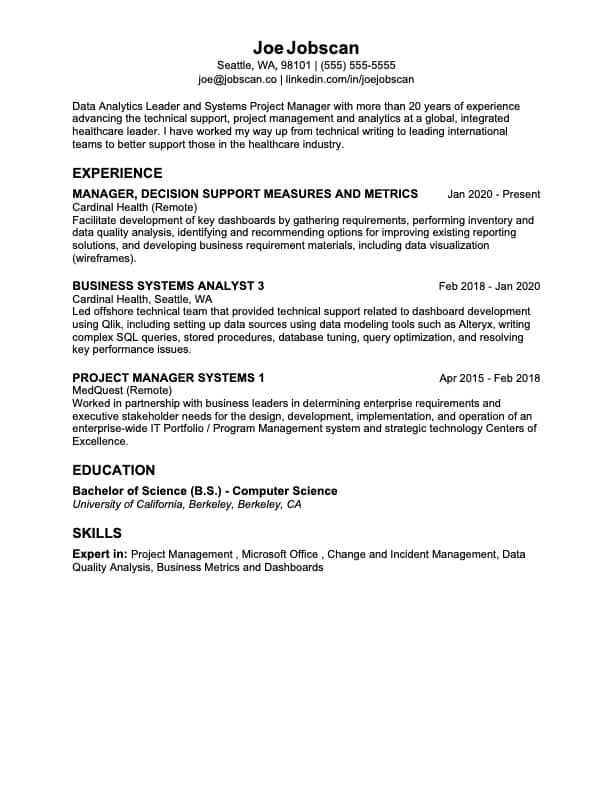 Jobscan's Pros
1. ATS Resume Scan
The Resume Optimization Report from Jobscan impressed me. It's an excellent tool for job applicants who prefer to write a resume in Word or another program, but need a professional to analyze it. This online resume checker can help you tailor your resume to a specific job and ensure it won't get blocked by ATS screening. What's more, you can try up to five checks for free.
2. Free Resume Templates for Download
Jobscan offers a bunch of free resume templates for Word as well as Google Docs resume templates. They feature basic resume layouts, but they're still a nice option if you prefer to create your own resume in a word processor.
3. Additional Features
With a premium Jobscan account, you can also try other products designed to make the job search easier. For example, a LinkedIn Optimization Tool will give you tips on how to improve your LinkedIn profile to make it more visible to headhunters.
Jobscan's Cons
1. Difficult to Navigate
I've found Jobscan's platform a little difficult to navigate at times. After I created a sample resume, I could only scan it in the Optimizer tool, and I didn't find any option to further edit my job application. When I tried downloading a free resume template, I had to provide my name and email address, though I was already logged in to my account. Plus, I couldn't find much information about the available premium features of the resume builder.
2. Limited and Basic Templates
This definitely surprised me the most. Jobscan's resume builder features only three resume templates. I know that many job applicants prefer simple resume templates, but that trio is as basic as can be. You can make a similar one in Word in five minutes. Which kinda makes the whole point of using a resume builder pointless.
3. No Content Suggestions
When creating a resume in Jobscan's builder, you must rely on your writing skills. If you're not great with words, you might get stuck easily. This is pretty surprising since many resume builders (including Zety's!) feature auto-generated content suggestions.
When making a resume in our builder, drag & drop bullet points, skills, and auto-fill the boring stuff. Spell check? Check. Start building a professional resume template here for free.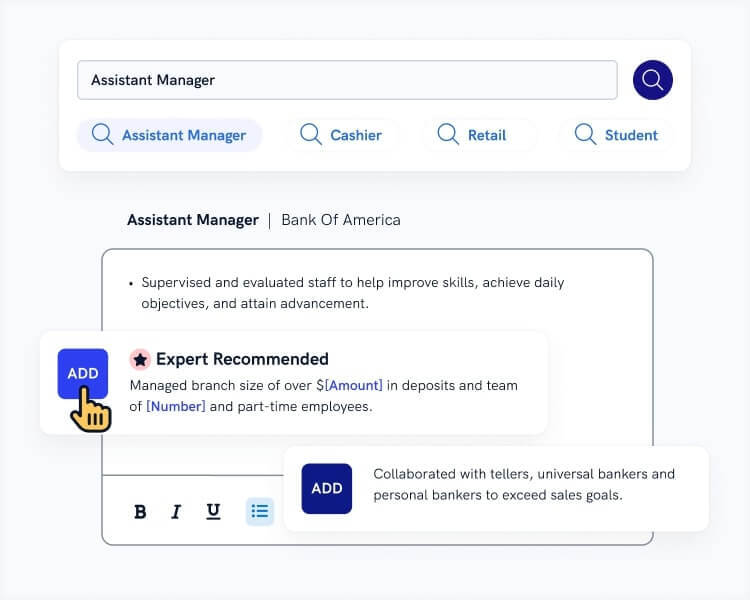 When you're done, Zety's resume builder will score your resume and our resume checker will tell you exactly how to make it better.
Resume Templates from Jobscan—Review
OK, maybe you didn't believe me when I said Jobscan's templates are basic. Here's proof.
As I've said before, Jobscan's resume builder features three minimalist resume templates. You've seen one of them in the previous chapter, so now, let's see the other two.
Classic Professional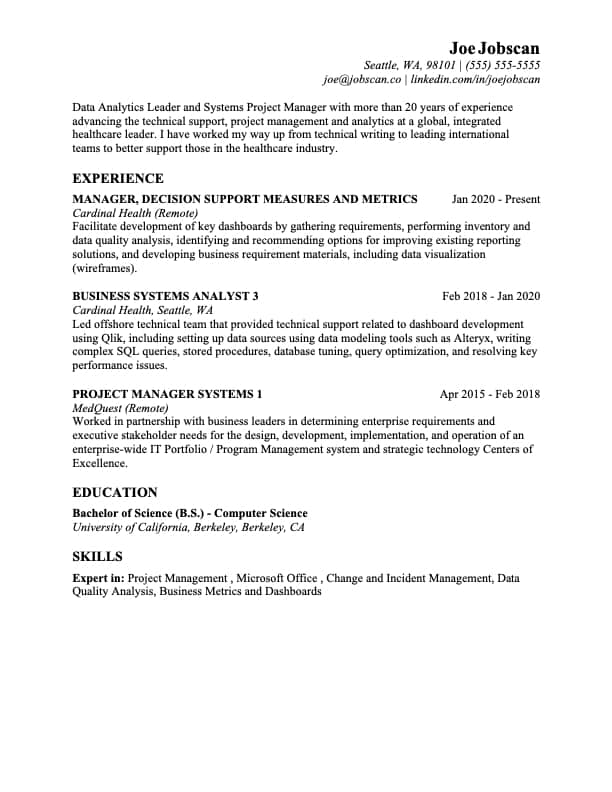 This template is true to its name: it features a classic resume design, and it's a good fit for professionals. I think it'd work well for a C-Level resume, because it's the type of resume that puts contents much higher than the aesthetics.
Modern Student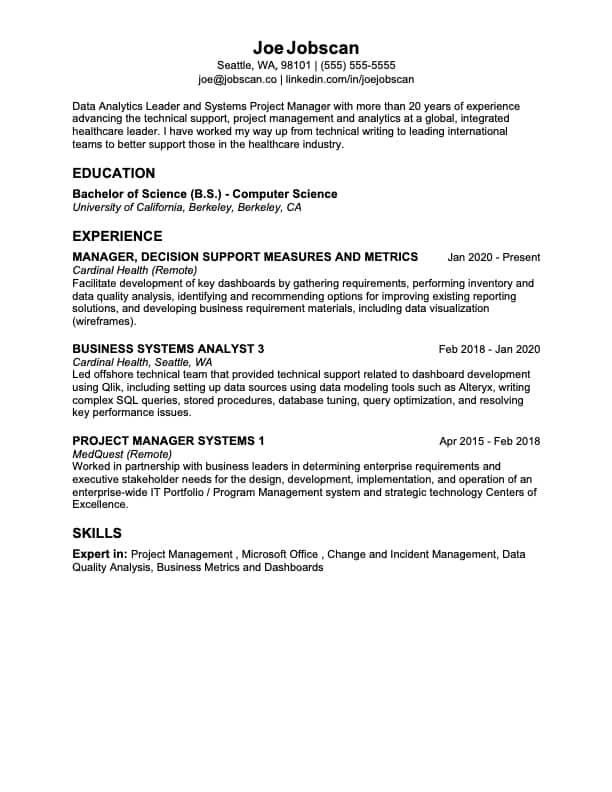 In this resume template, the education section appears above the experience section. That's why it's more suitable for an entry-level resume or a student resume. However, it's more than likely that any job posting will receive hundreds of very similar resumes. Personally, I wouldn't use a template like this one for the risk of blending in with other applicants.
If templates like these are your thing, consider making your resume in a word-processing app. We've got a guide that will help: How to Make a Resume by Yourself
Plus, a great cover letter that matches your resume will give you an advantage over other candidates. You can write it in our cover letter builder here. Here's what it may look like: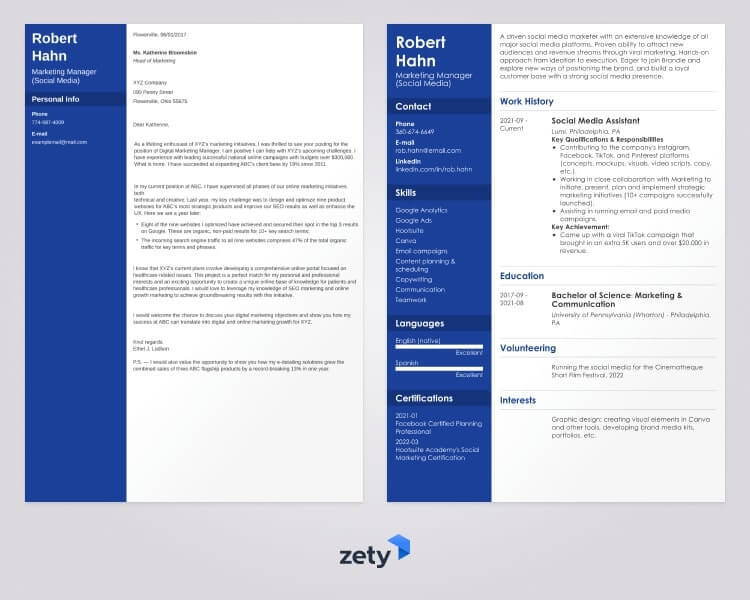 See more cover letter templates and start writing.
Time for the final statement: Is Jobscan worth it? Well, it depends on what you need. I think their Resume Optimization Tool is well worth trying out. However, I'm not a fan of their resume builder and resume templates. I think you're better off creating a resume elsewhere and using the optimizing tool to see if anything could be improved.
Thanks for reading this Jobscan review!
Do you have any questions about Jobscan? Do you have any experience using their products? Let me know in the comments section!
About Zety's Editorial Process

This article has been reviewed by our editorial team to make sure it follows Zety's editorial guidelines. We're committed to sharing our expertise and giving you trustworthy career advice tailored to your needs. High-quality content is what brings over 40 million readers to our site every year. But we don't stop there. Our team conducts original research to understand the job market better, and we pride ourselves on being quoted by top universities and prime media outlets from around the world.