Management Consulting Cover Letter: Examples & Guide
In the business world, you are second to none at optimizing the performance of entire companies. Let them know your worth with a perfectly optimized management consulting cover letter.
Management consulting is the triple Michelin star restaurant equivalent in the world of business jobs. And you're about to serve the recruiting team the best course of their life:
Your management consulting cover letter.
It will take some finesse to prove you're capable of accurately assessing their business needs, but don't despair.
This guide will show you a management consulting cover letter example, plus the best tips on how to write a management consulting cover letter step-by-step.
Want to write your cover letter fast? Use our cover letter builder. Choose from 20+ professional cover letter templates that match your resume. See actionable examples and get expert tips along the way.
Sample cover letter for a resume—See more cover letter examples and create your cover letter here.
Seeking to branch out with your cover letter? We have guides that may be of interest:
Management Consulting Cover Letter Sample
Alyx Bawles
Management Consultant
alyxbawles@zetymail.com
303-606-4391
4020 Pretty View Lane
Santa Rosa, CA 95407
New York, 01/11/2018
Julia Reid
Hiring Manager
Bain & Company
New York, NY 10036, United States
Dear Julia,
I'd be remiss not to express my excitement at the recent opening for a Management Consulting position at Bane & Company. One of your associates, Warren Redfield, suggested I apply. Given my previous experience of 8+ years as a management consultant who was able to expand one of my client's profits by 17% through a four-stage expansion program, I believe joining the team at Bain & Co. can only result in mutual benefit.
Previously, when working for Gold Fond, I juggled 7 different international entities with a combined total asset net worth of $65 million. All the clients in my portfolio reached their pre-2008 levels of profitability approximately 8 months ahead of their competition, in no small part due to my strategizing, business acumen, and managerial expertise. One of my clients, PerlBlack, actually came to me after switching from McKinsey.
I personally try to understand every client's needs with a bottom-up approach, which is why I found your "Thought Leadership" initiative very close to home. I adapt my method to my clients when conducting workshops, no matter if they work in big finance, or as HR team leaders.
I'm looking forward to the opportunity to discuss my methods of creating support for your portfolio of clients.
Sincerely,
Alyx Bawles
Management Consultant
That's a hell of a cover letter! Read on to learn how to write one just like that.
But be careful not to get too far ahead of yourself. They'll be expecting a full resume from you as well. You can read about that, too: Management Consulting Resume Guide
Management Consulting Cover Letter Template
This is how you write an effective management consulting cover letter:
1. Learn How to Format Your Management Consulting Cover Letter
There are elements of devising the perfect business growth strategy for your clients, regardless of the industry. Not having an adequate business plan counts as one of the top mistakes made by management consultants.
Likewise, when writing a management consulting cover letter, what you need first and foremost is a plan. And it starts with using the right formatting for a cover letter:
Margins: 1" each side.
Line spacing: 1 or 1.15 for lines in the same paragraph, 2 for paragraph breaks.
Cover letter font: 11 or 12pt will do, in a professional and elegant typeface that matches your resume font.
Cover letter length: likely never in excess of 4 paragraphs on a single page.
Read more: Modern Cover Letter Templates That Work and Look Great
2. Structure the Header of Your Management Consulting Cover Letter
Making a good first impression is the key to your success here. The cover letter heading will be used to judge you, whether you like it or not.
To format it properly, put in the following information:
Your name
Contact information (phone, email)
Optional links to your online portfolio, e.g. on LinkedIn or your personal website
Date (with space before and after)
Company address
Pro Tip: Remember, if you can't find the name of the hiring manager easily, call them directly. Such proactive moves score you bonus points, just remember to sneak in that tidbit when it's interview time.
3. Start the Management Consulting Cover Letter the Right Way
The first three or so words that actually begin your cover letter are probably way more important than you'd think.
If you address the cover letter using "To Whom It May Concern", all you'll be consulting are the other, more successful applicants on their way to their interview.
Then, once you're in the first paragraph, don't waste anybody's time. Tell them what position you're applying for, how you discovered the vacancy, and then—straight to your strengths.
Read more: How to Start a Cover Letter: Guide and Ideas
4. Demonstrate What Makes You the Perfect Applicant
The US Bureau of Labor Statistics predicts a 14% growth in management consulting positions over the coming ten years.
It's as yet unknown if or when the field will get saturated. In any case, having a contingency plan is something you should be well accustomed to.
Well, throw it out the window then, because just this time, you're here to succeed. Winner takes all.
How can you put yourself in that position, though?
In essence, to show you're the management consultant they need, you need to refute their doubts before they even appear:
Think about this: what kind of consulting firm are you applying for? Who are their clients, any big names? Do a bit of research to scout the important qualities they'll be looking for.
Mention your experience and achievements and highlight their relationship to those very same qualities.
Prove that based on your track record, any extraneous challenges you might end up facing are also no match to you.
Sending a cold-call application? Read more: Guide to Writing and Submitting Unsolicited Cover Letters
5. Mention Why You Want to Work for Them in Particular
What good is a management consultant who won't stick around? Considering many plans and analyses result in optimization strategies that need to run for years on end—
Not much.
So, you need to prove your commitment and reassure them you won't be jumping ship anytime soon.
Look through the company's website and read about their values. Search for something you personally relate to, like their CSR efforts.
Talk at length about why your devotion to similar causes means their position in big finance would improve with you among their ranks.
Read more: What Should a Cover Letter Say?
6. End the Management Consulting Cover Letter with an Offer
With the amount of personal touch you've added thus far, it'd be a crime to give up your efforts at the last leg.
State once again that you're absolutely ready to tackle the company's challenges and consult their clients to the best of your ability.
Stress that during an interview, you'd be able to go into more detail about your methods, solutions, and strategies.
Read more: How to End Your Cover Letter
7. Sign Off Your Management Consulting Cover Letter Professionally
Time for the juiciest part, the one you love the most when negotiating a contract for a consulting strategy with a new client:
Signing on the dotted line.
And yes, there's a science to that, too:
Finish up the cover letter using a standard phrase like "Sincerely," or "Best regards".
Include a postscript to catch their attention with something impressive one last time.
Use your digital signature to add a nice touch.
Repeat your contact information once more, so it doesn't get lost.
If required, include any cover letter enclosures.
Save the file as a PDF and give your cover letter a professional name.
When making a resume in our builder, drag & drop bullet points, skills, and auto-fill the boring stuff. Spell check? Check. Start building a professional resume template here for free.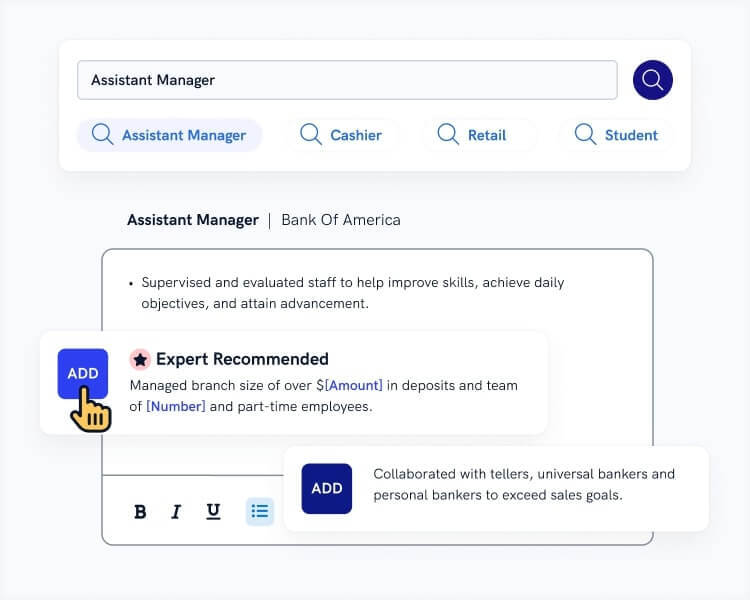 When you're done, our professional resume builder will score your resume and our resume checker will tell you exactly how to make it better.
Now that's a management consulting cover letter! Ready for your TIME cover?
Thanks for reading! Do you have any extra management consulting tips to add? Let us know in the comments, we'd love to hear it!
About Zety's Editorial Process
This article has been reviewed by our editorial team to make sure it follows Zety's editorial guidelines. We're committed to sharing our expertise and giving you trustworthy career advice tailored to your needs. High-quality content is what brings over 40 million readers to our site every year. But we don't stop there. Our team conducts original research to understand the job market better, and we pride ourselves on being quoted by top universities and prime media outlets from around the world.