Virtual Assistant Cover Letter Sample & Guide
To expertly carry a company's business day-to-day on your back, you need to first prove you're able to on your virtual assistant cover letter. Learn how to write it with our guide.
You're a pillar, supporting an exec or even an entire organization in so many ways. Time management, scheduling meetings, handling customers—you do it all.
Best part? You can do it at home while hanging out in your PJs and eating peanut butter straight from the jar. Man, that job sounds like a dream come true! And indeed, for many, it is.
For way too many to count.
If you want to succeed in your career, your virtual assistant cover letter needs to absolutely smash the competition to bits.
This guide will show you a virtual assistant cover letter example. Then, we'll discuss the best tips for writing a virtual assistant cover letter to get any job you want.
Want to write your cover letter fast? Use our cover letter builder. Choose from 20+ professional cover letter templates that match your resume. See actionable examples and get expert tips along the way.
Sample cover letter for a resume—See more cover letter examples and create your cover letter here.
Check out our other administration/assistant-related guides here:
Virtual Assistant Cover Letter Example
Derek S. Broxton
Virtual Assistant
253-928-6685
DSBroxton@zetymail.com
951 Dale Avenue
Tacoma, WA 98423
8/29/2021
Charles Hoffman
CEO
CorEvitas
4785 Rhapsody Street
Ocala, FL 34471
Dear Charles,
I've always been fascinated by technology and the rapid pace at which we see development in the industry, which is why I'm applying to become your new virtual assistant today. Your company provides the leading edge at the intersection of technology and health care, and I believe my self-reliance, motivation, and past executive assistant experience could help you and your company become more flexible than ever before.
In the past, I've interacted with several executive/department leaders and helped them handle travel arrangements and meetings. However, due to my background in HR and psychology, on occasion I was also tasked with matters of recruitment and onboarding. This allowed my past employer's HR department to free up resources, speed up hiring efforts, and prepare specialist teams to undertake projects up to $4.5M in value they would have otherwise had to miss out on.
Some of my other strengths include:
Diligent, timely, and organized communication which allowed me to shorten the submission times of final project reports by up to 2 weeks;
High degree of computer skills and proficiency with all kinds of communication/social media/CRM software;
Preparing presentations for meetings, and handling the business's social media presence.
I'm certain my addition to your team would not only allow me to grow my skills and knowledge under your direct supervision, it would also prove tremendously helpful to further develop your brand's stellar reputation as the market leader in healthcare technology.
Sincerely,
Derek S. Broxton
Virtual Assistant
253-928-6685
DSBroxton@zetymail.com
P.S.: Would you be willing to schedule a Skype call with me next week? I'd like to discuss my plans for streamlining the internal communications of your company and the expected rise in time efficiency it would most likely result in.
You could squeeze Alexa, Cortana, and Siri into one, they still wouldn't beat that kind of virtual assistant cover letter!
Also, remember that you have a standing appointment today to check out our Virtual Assistant Resume Guide if you need help writing a resume to complement your cover letter.
Virtual Assistant Cover Letter Template
Without further ado, this is how to perfect your virtual assistant cover letter:
1. Choose the Right Virtual Assistant Cover Letter Format
They may never get to see you in person.
But—
Whatever big-shot busy-body you're trying to start working for needs to know you're not a slob when it comes to outward presentation and communication.
Giving off a good first impression is your number one priority, so put ample focus on the format of your cover letter:
Get started by choosing an elegant cover letter font, like Arial, Helvetica, or Calibri, and set it to 11pt or 12pt.
For aesthetics, a 1-inch margin all around your virtual assistant cover letter is an absolute necessity.
As for the spacing on your cover letter, it should be set to 1 or 1.15 for lines and slightly more for in-between paragraph spaces.
Pro tip: You've got the formatting formalities figured out, but can't quite put your thumb on what general look you want your virtual cover letter to have? Check out our handy list of modern cover letter templates and get inspired!
2. Create a Virtual Assistant Cover Letter Header They'll Remember
We've already highlighted how you can expect to see lots of fierce competition whenever you throw the term "virtual assistant" around.
Indeed, the World Economic Forum predicts at least 41% of businesses to expand their reliance on services provided by contractors and remote/offshore employees.
All the more reason for you to shine brighter than every other competitor and administrate yourself a great cover letter header:
In the top-left corner, put your name and contact information.
You should add your phone number, email address, and your LinkedIn profile. Your mailing address is entirely optional, especially for remote roles.
Below that, put the city and current date.
Then, after another blank line, insert the details of your addressee.
Read more: How to Address a Cover Letter [+Examples]
3. Begin Your Virtual Assistant Cover Letter with a Strong Introduction
One of the main benefits driving demand for your profession is the ability of companies to divert routine tasks away from key team members, unlocking them to do more and increasing their efficiency.
Problem is, if you yourself aren't efficient, those rudimentary, necessary tasks will still take up time in the pipeline, eventually causing backlogs to pile up.
Can't have that.
A strong cover letter opening will let your employer know you don't mess around:
A professional cover letter salutation is the first step, and then, you need to address the hiring manager by name.
Do not start with "To Whom It May Concern"—that lets them know you yourself need assistance more than anything else.
Immediately state what position you're applying for, and begin listing a few of your strengths and professional achievements to keep them interested in reading further.
Read more: How to Sell Yourself In a Cover Letter and Get an Interview
4. Show Them You're the Ideal Virtual Assistant (And Why)
The best part about being a virtual assistant?
There's no real hard-defined skill set you need to possess.
You can have a background in IT, accounting, HR, or graphic design, and your employer could likely use a bit of all of them.
It's crucial you nail and tailor the approach in the middle section of your cover letter to actually hit the bullseye:
Look through the job posting carefully to see what exact qualities the hiring manager is looking for.
Refer back to your actual work experience to show them you're already equipped to doing that job.
If their requirements and your skills don't match very well, it's best to move on. Lying on an application doesn't end well.
However, if there's plenty of common ground, continue riffing on your strengths and add numbers to add even more value to your self-presentation.
Pro tip: Just as you should tailor your resume to each job you apply for, it's worth writing a new cover letter every time—or at least adapting it to the point where it reads like you wrote it specifically for that job. Using the company name a few times helps to make it obvious!
5. State Your Reasons for Wanting This Job in Particular
By now, they know why they should hire you.
Employment is a two-way street, though.
So, it's time for you to shine a bit of light on why you want this job and not any other:
Once again, you'll need to take a look at the company's profile to find out something unique you like about them.
Make them feel special and secure—no self-respecting exec will hire an assistant without vetting them ahead of time to make sure they're not going to get ditched after 3 months.
Compliment their reputation, work culture, or even their success and brand reputation. Coming off genuine is the key to success here.
Pro tip: Writing a cover letter with no experience? Read up on the dos and don'ts to avoid blunders.
6. Finish the Virtual Assistant Cover Letter with an Exciting Offer
The ending of your cover letter needs to include an offer they'd be dumb to refuse.
Show a bit of generosity and prove you're not just about taking, but also about giving:
Hint at how you could improve the way the business is run by increasing efficiency and removing extra weight from other people's backs.
Then, ask them to schedule a meeting, interview, or phone conversation to discuss next steps, strategies, and your ideas.
Read more: Salary Requirements on a Cover Letter: To Ask or Not to Ask?
7. Sign off Your Cover Letter Professionally
It would be a terrible shame to mess up at the end.
If they read your cover letter up until now, trust me, they're considering you.
Too many people rest on their laurels, neglect putting the finishing touches on their virtual assistant cover letters, and end up rejected.
Don't let this happen to you.
Wrap up with a simple "Sincerely," your full name, and job title.
Include your digital signature if possible.
Repeat your contact information one more time.
Read more: Job Application Follow-Up: Examples, Dos, & Don'ts
When making a resume in our builder, drag & drop bullet points, skills, and auto-fill the boring stuff. Spell check? Check. Start building a professional resume template here for free.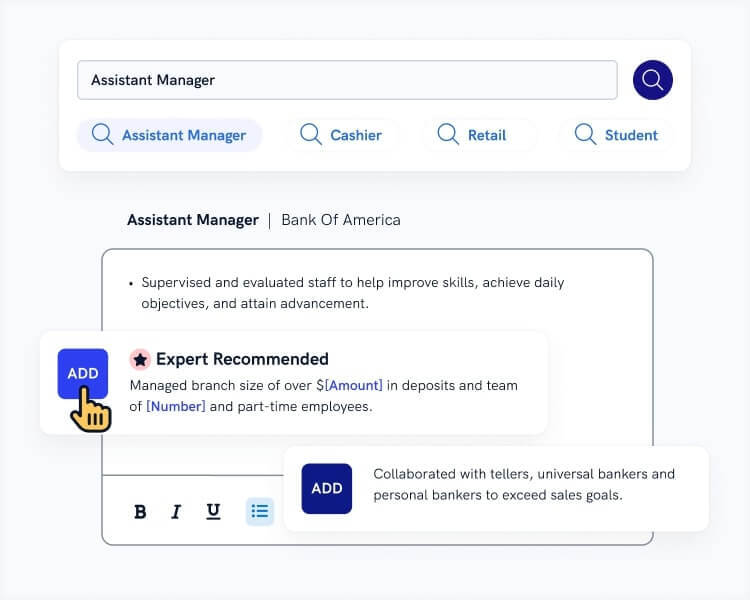 When you're done, Zety's resume builder will score your resume and tell you exactly how to make it better.
Thank you for reading!What did you think of this sample virtual assistant cover letter? Are there any tips you think we missed?Let us know in the comments below!
About Zety's Editorial Process
This article has been reviewed by our editorial team to make sure it follows Zety's editorial guidelines. We're committed to sharing our expertise and giving you trustworthy career advice tailored to your needs. High-quality content is what brings over 40 million readers to our site every year. But we don't stop there. Our team conducts original research to understand the job market better, and we pride ourselves on being quoted by top universities and prime media outlets from around the world.