Adaptability in the Workplace (Is Adaptability a Skill?)
Someone told you that employers expect adaptability. But how do you define adaptability? Are flexibility and adaptability the same thing? Find out the answer now with this article.
The circumstances at work change constantly, and it annoys you beyond belief. But the job required adaptability. So can you be mad? On the other hand, does being adaptable mean you must accept everything that happens without questioning?
Read the article, and you'll know what adaptability means and why it matters in the 2023 workplace.
This guide will show you:
What adaptability is, plus the difference between adaptability and flexibility.
Examples of adaptability skills employers want and why adaptability in the workplace is a hot topic.
Ways to develop your adapting skills.
How to prove your adaptability skills on a resume.
Want to save time and have your resume ready in 5 minutes? Try our resume builder. It's fast and easy to use. Plus, you'll get ready-made content to add with one click. See 20+ resume templates and create your resume here.
Sample resume made with our builder—See more resume examples here.
Would you like to learn about other skills that matter to employers? Check these articles:
What Is Adaptability?
Adaptability is the ability to adjust to unexpected changes in the surrounding environment without experiencing much stress. At a workplace, it may involve a sudden change in the workload, project schedule, objectives, structure of a team or management, or company strategy.
Some workplaces have a toxic atmosphere that decreases employee productivity. It often happens when bosses believe their employees are servants. But adaptability isn't about doing everything your boss wants.
Want to know specific examples of adaptability in the workplace? Go ahead:
Adjusting personal schedules during the summer holiday season to ensure an even number of employees for all shifts.
Working overtime in retail during December to accommodate the needs of customers shopping for holiday gifts.
Making necessary adjustments in a project workflow to consider the stakeholders' expectations.
Delegating tasks to other team members to find time for mentoring new employees during the onboarding process.
Attending business meetings on short notice.
Preparing ad-hoc project reports to present to stakeholders.
Accepting ideas from a new manager that are vastly different from past practices.
Transitioning to a new type of project management application within the specified timeframe.
Working on professional development to keep up to date with current industry trends.
Yes, such changes in the workplace sound stressful. If they happen too often, they can certainly lead to burnout. But if they happen only rarely and in truly unexpected circumstances, it should be okay to accept them. Of course, you can complain about them, but quitting your job immediately is not the way to go.
Is Adaptability a Skill?
Adaptability is one of the soft skills. It encompasses other common workplace skills, such as resilience, problem-solving abilities, open-mindedness, effective communication, active listening, interpersonal skills, and organizational skills.
For some people, adaptability is a personal quality that was always a part of their life. But only some are naturally easygoing and accepting of changes or challenges. Luckily, you can learn adaptability, and you will later in this article.
Employers value certain skills more than others. Check here: Skills That Employers Want in 2023
Flexibility and Adaptability: Similar or Different?
Surprise, surprise! Flexibility and adaptability are not the same things:
Flexibility is the ability to compromise when a change occurs. For example, a team can show flexibility to adjust the project deadline to meet the stakeholder's needs.
Adaptability is the ability to change when faced with challenges or new expectations. For example, a team that agrees to a new deadline can adapt its workflow and delegate tasks to complete the project on time.
It's a pretty subtle difference; many people use those terms interchangeably, although they shouldn't.
Psst… Did you know that some skills guarantee high salaries? See here: High-Income Skills You Need to Learn
Why Do Employers Expect Adapting Skills?
Everything can happen at work, from your colleague spilling coffee on their laptop and being unable to work the next day to the company signing a massive project requiring everyone to work overtime six days a week. All of these things may happen unexpectedly. And without adaptable workers, they can end up ruining the business.
The COVID-19 pandemic posed huge challenges for the modern workplace. Businesses had to adapt overnight to make their work environment safe to keep the employees working on-site or offer alternative remote work solutions whenever possible. Businesses that couldn't adapt to the challenges simply failed and went bankrupt. So, not only do employees need adaptability skills, but workplaces also have to be flexible.
The situation has shown that adaptability is one of the critical skills of the 21st century. Employees on all the steps of the company ladder need it, including those in leadership positions.
To encourage adaptability in the workplace, employers can:
Encourage diversity among employees: By showing that everyone is welcome, the business can encourage open-mindedness and fight discrimination and bigotry.
Support collaborative work: Adapting to new challenges is easier when you can rely on your colleagues.
Listen to new ideas: When the management listens to the ideas of their employees, they prove that everyone's input is valuable.
Communicate openly: It's much better to announce challenges openly rather than pretend everything is perfect.
Show appreciation for hard work: If employees adjust to the demands of the upper management, it's best to show gratitude for a job well done.
Offer flexible working solutions: It's much easier to be adaptable when working in a comfortable environment, be it your own home, a café, or an air-conditioned office.
So, why do you need to know these points if you're not a business owner? Because you may realize that your workplace is unhealthy. If the company expects employees to be adaptable but doesn't offer anything in exchange, it might be worth reconsidering your job.
Some workplaces have discriminatory age-related policies in place. Learn more: Signs of Ageism at Work
How to Develop Your Adaptability Skills
Some are truly excited about the new opportunities that arise with the challenge, but others face unexpected changes by hiding in a dark corner under a gravity blanket. If you're worried that you're not adaptable enough, you're not alone. But there's good news—you can develop adaptability!
Here's how you can improve your adapting levels:
Face changes without prejudice: Avoid negative thinking when faced with work challenges. You don't have to be excited about them. You can just stay neutral and prepare for the things to come.
Work on problem-solving skills: Knowing you can solve complex problems will help you stay calm when facing major changes at work.
Stay open-minded: If you expect new ideas to fail because they're strange to you, you won't be successful. Accept that other perspectives can bring something valuable to the table. Even if you disagree with someone's view, listen to them and discuss their points calmly.
Accept feedback: Listening to constructive feedback can help you find areas for improvement.
Manage your stress levels: It's perfectly normal to feel stressed in challenging situations, but having nervous breakdowns every week can signify burnout, depression, or an anxiety disorder.
Set goals for yourself: Deepen your industry knowledge, plan personal challenges, and try to learn something new in your free time.
Did you know that you can add professional skills to your LinkedIn profile? Learn how: Boost Your LinkedIn Profile With Skills
When making a resume in our builder, drag & drop bullet points, skills, and auto-fill the boring stuff. Spell check? Check. Start building a professional resume template here for free.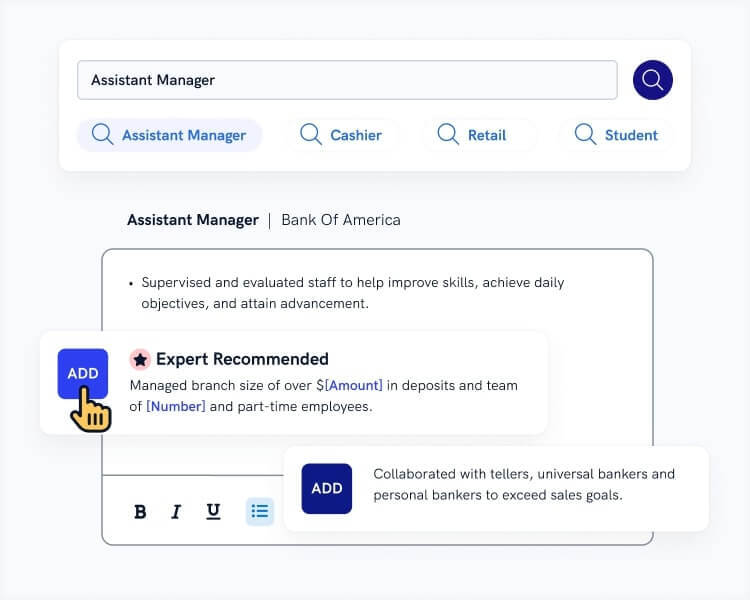 When you're done, Zety's resume builder will score your resume and our resume checker will tell you exactly how to make it better.
How to Include Adaptability Skills on a Resume
The job you want requires adaptability? Then it's time to prove your adaptability skills by adding them to your resume. But rather than working on a resume headline that simply screams, "I AM HIGHLY ADAPTABLE, Y'ALL!!!" do it in a smart way. Mention various experiences that required being flexible, well-organized, and open to challenges.
Here's how you can show adaptability on a resume:
Describe work experiences and professional accomplishments that demonstrate adaptability skills. For example, mention an unexpected change that you had to accommodate for.
Show off examples of effective communication, teamwork skills, organizational skills, critical thinking, and problem-solving skills, such as overcoming a big obstacle effectively.
Add experiences outside work that prove you're highly adaptable, such as your personal interests, academic accomplishments, freelance projects, or continuing education.
Have a look at the examples below to understand these points better:
Adaptability Skills on a Resume: Example of a Resume Summary
Right
Reliable travel assistant with in-depth knowledge of travel planning for individuals and groups of over 100 persons. Enthusiastic about assisting Woodland Lodgings' staff with finding the most attractive business trip options in the desired destinations. Managed to save over $850,000 in travel costs in 2020.
It's easy to see that this person is good at overcoming obstacles and solving complex problems. Organizing business travel is a complex responsibility that requires multitasking skills, researching, making important decisions, and accepting sudden changes.
Adaptability Skills on a Resume: Work Experience Section Example
Right
Assisted board members and company personnel during 20+ international travels and performed ad-hoc duties, such as finding alternative travel arrangements when necessary.
Discovered and utilized an attractive airfare option to arrange a business trip of 50+ staff members, which led to savings of over $850,000.
Organized a business trip for 6 staff members on 24-hour notice, including booking international flights, arranging hotel rooms, and scheduling an appointment with the key business contacts at a prestigious local restaurant.
Changing plans on short notice, finding alternative solutions, discovering unique opportunities... Sounds like a pretty awesome job candidate, right?
Examples of Adaptability Skills on a Resume: Skill Section
Right
Travel planning and research
Creating itineraries
Working with budgets
Organizational skills
Scheduling
Problem-solving
Flexibility
Adaptability
It's good to add various adaptability skills, such as organization, problem-solving, and flexibility, to the skill section to prove that you can face challenges with ease.
Example of Adaptability Skills on a Resume: Additional Sections
Right
Volunteering
Children Matter, Nairobi, Kenya
January 2016–May 2016
Assisted the local staff in taking care of orphaned children whenever necessary.
Prepared daily activities for children, including English language lessons and team games.
Researched and organized a field trip to a local museum for 35 persons.
Getting out of the comfort zone by volunteering in a foreign country shows resilience and courage. Additionally, this job candidate participated in tasks that required organization, creative thinking, and flexibility.
Right
Interests
Learning the Spanish language through travels to South America
Backpacking and sharing travel memories on a personal blog
Learning a new language or skill is a good sign of being open-minded and open to improving yourself. A hobby such as backpacking is also good proof of adaptability. Traveling without the help of agencies can bring many unexpected challenges.
And now you're ready to update your resume with examples of adaptability skills.
Do you know which resume format is the best? Check here: The Perfect Resume Format in 2023
Plus, a great cover letter that matches your resume will give you an advantage over other candidates. You can write it in our cover letter builder here. Here's what it may look like: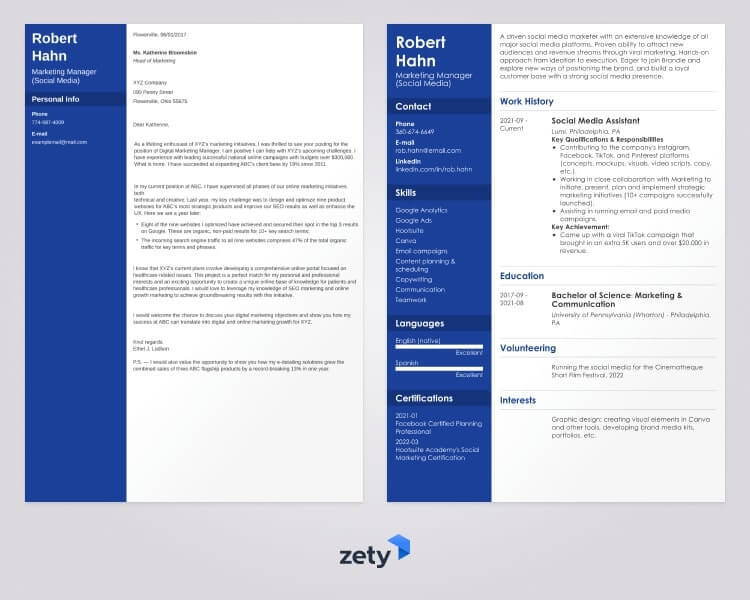 See more cover letter templates and start writing.
Key Takeaways
Need a recap of the ways you can develop your adaptability? Here it goes:
Don't be afraid of changes—see them as opportunities instead.
Learn to solve problems by yourself.
Keep an open mind when faced with new ideas.
Listen to feedback from your colleagues and managers.
Manage your stress levels.
Pick personal and professional goals to stay motivated.
Learn new things continuously.
That's it! Thank you for reading my article! Have something to share? I'd love to hear from you:
What's your view of adaptability in the workplace?
Do you consider yourself highly adaptable?
What's your reaction to sudden changes at work?
Let me know in the comments below!
About Zety's Editorial Process
This article has been reviewed by our editorial team to make sure it follows Zety's editorial guidelines. We're committed to sharing our expertise and giving you trustworthy career advice tailored to your needs. High-quality content is what brings over 40 million readers to our site every year. But we don't stop there. Our team conducts original research to understand the job market better, and we pride ourselves on being quoted by top universities and prime media outlets from around the world.