Our customers have been hired by:
Being able to share your knowledge at a university is not only prestigious, but also very rewarding. And just imagine how great it will look on your resume in the future!
However, before jumping in your tweed jacket to inspire young brains, you might first want to attend Zety's classroom. Today's subject: how to write a perfect adjunct professor cover letter. Let's find out, shall we?
This guide will show you an adjunct professor cover letter, plus the best tips on how to write a cover letter for an adjunct professor step-by-step.
Want to write your cover letter fast? Use our cover letter builder. Choose from 20+ professional cover letter templates that match your resume. See actionable examples and get expert tips along the way.
Sample cover letter for a resume—See more cover letter examples and create your cover letter here.
Looking for something different? See some other cover letter examples:
Let's take a look at one of the great adjunct professor cover letter examples!
Adjunct Professor Cover Letter Example
Olivia Poole
Adjunct Professor
222 Logan Boulevard
San Diego, CA 91919
502-023-2586
o-poole@gmail.com
www.linkedin.com/in/opoole
www.udemy.com/course/how-to-write-creativity-101
01/02/2023 San Diego
Penelope Niams
Hiring Official
University of San Diego
5998 Alcala Park,
San Diego, CA 92110
Dear Mrs. Niams,
I have found out that San Diego University is currently looking for someone willing to teach literature and creative writing.. As a copywriter with 10+ years of experience and someone experienced in teaching others, I would love to apply for this opening.
I have been a copywriter at CreativLabz for the past 5 years. During that time, I have participated in creating 100+ content campaigns. I've been a lead copywriter in almost every single one of them. My passion for creative writing also made me start my course on Udemy, titled How to Write: Creativity 101. The number of participants currently stands at 2500 students, and I created 10+ course syllabuses I was planning lectures and preparing presentations and assignments. I was also creating, administering, and grading quizzes and tests. All that while recording students' progress!. My course received a 4,8 grade, and has been in the top 3 creative writing courses.
I believe that my passion for writing, combined with the ability to share my knowledge successfully, would make me an amazing addition to the teaching staff at San Diego University. Furthermore, sharing it all in my alma mater has always been my dream.
Thank you for considering my application. I look forward to meeting you in person and learning more about your expectations for an adjunct professor at San Diego University.Can we schedule a meeting next week to discuss how I can help students become passionate readers and passionate writers?
Best regards,
Olivia Poole
Adjunct Professor
502-023-2586
o-poole@gmail.com
That's a great sample of an adjunct professor cover letter. Time to teach you how to create one just like that!
Adjunct Professor Cover Letter Template
Here are the best tips on how to write a perfect cover letter for an adjunct professor:
1. Use the Correct Adjunct Professor Cover Letter Format
You probably ask your students to deliver their documents in the right format. The same applies to your adjunct professor's cover letter. The easiest way to learn how to format a cover letter? Start by following these simple tips!
How to format a cover letter?
Choose a modern cover letter template and make sure it works well with your resume template.
Stick to the correct length of your cover letter. Your document should be more than half a page long, but not more than a full page. Aim for 250–300 words.
Follow the right cover letter line spacing and margins rules. Line spacing should be 1.15, and margins should be 1 inch long on each side of your cover letter.
Add double-spacing between sections. That way, you can help the hiring official breeze through your document.
Select a correct cover letter font (there are more options than just Arial, Cambria, and Helvetica!). Choose the size of 12 pt.
That's the first step of learning how to write a cover letter. Let's begin our second lesson!
Want to know more about the basic rules of how to layout a cover letter? Read our guide: Best Cover Letter Layouts
2. Create a Professional Adjunct Professor Cover Letter Header
The cover letter header is the very first thing a hiring official sees. No wonder why it's essential to have it correctly written. Unless you want your hiring official to give you a low grade for your application (aka, not be interested in your candidacy at all!).
How to write a good cover letter header?
List your name, exact job title, and contact information in the top left corner.
Include your phone number, email address, and LinkedIn profile. Checking your online presence is one of the first things recruiters do – and so should you!
Add the city and date right below your personal information.
Write the addressee's name, job title, and address.
Even though the heading is at the very top of your document, it's not exactly the start of your cover letter. Keep on reading and keep on learning how to wow the hiring officials!
Pro-tip: Have trouble finding a hiring official's name? Check the company's website, LinkedIn profile, and social accounts, or just ask Google for help! If that doesn't work, call up the company and ask.
3. Start Your Adjunct Professor Cover Letter With a Personal Greeting and a Captivating First Paragraph
You know well how to engage with your students, and you know how important it is. Think of this part of your cover letter as the first time you can really engage with your reader. And get the highest mark for the perfect start of a cover letter!
How to begin a cover letter?
Your thesis seems ready. Now it's time to convince the hiring official that you're a perfect fit for the opening!
Pro-tip: Your dream school doesn't advertise any job openings? Send them a letter of interest that will help them notice you!
4. Prove You're the Candidate They Need in Your Adjunct Professor Cover Letter
According to a survey, 83% of recruiters said cover letters were important in making their hiring decisions. It's a perfect document to show that you're who they're looking for. And here are some tips to make it work!
How to show you're the perfect candidate for the job in a cover letter?
Demonstrate how your professional experience can benefit the adjunct professor position you're applying for.
Mention some of the relevant skills that can prove further you're a great candidate.
Note quantifiable achievements, as they can easily draw the reader's attention to your candidacy.
The next part of your adjunct professor cover letter might feel like a quick test of why you want to work in this specific place. But you're ready to ace it!
If you're about to create a sample cover letter for an adjunct professor with no experience, writing a letter of motivation might come in handy! Read our guide: How to Write a Motivation Letter
5. Explain Why This Is the Job You Want
As a student, you don't apply to just any university. You want to study a very specific one – or at least that's what a cover letter should say! The same goes for any job and applying for an adjunct professor is no different!
How to show that you're interested in a specific company?
Express how much you value this specific school by including compliments regarding the institution.
Prove that you have some knowledge regarding the school's culture and current educational challenges. Explain how you could bring value if they decide to hire you!
Avoid creating a generic cover letter by telling the hiring officials that you're interested in that very position at that very school.
You're about to hear the bell signaling the end of our class. But not just yet! Let's learn how to finish your cover letter!
Pro-tip: Sending your cover letter via email? Write an email cover letter. It's a short message explaining why you're submitting your resume and how your expertise makes you the perfect candidate!
6. Make an Offer and Include a Call to Action in Your Adjunct Professor's Cover Letter
It's time for the final move! Put the ball in their court, even if you're not teaching anything ball-related! Adding a call to action is one of the essential parts of a cover letter. Don't depend on the hiring official to take action. What you should do instead is, according to the Cover Letter Dos and Don'ts provided by Hofstra University, request an interview to show your proactive attitude.
How to add a call to action to your cover letter?
Ask for a call or meeting and suggest a precise time.
Repeat how much value you can bring to the institution—make an offer to help educate students and improve the institution's score!
Seems like our cover letter 101 is almost over! However, you should learn one more thing before you send it to the school you want to teach at!
Pro tip: Stressed that you need to write both a cover letter and a letter of application? Fear not – these are just two different names for the same document!
7. Close With a Professional Sign-off
Class dismissed is not how you end a cover letter, obviously. You should follow some simple steps to inspire your hiring official to invite you for an interview!
How to sign off a cover letter?
Use your full name. That's one of the ways to be remembered!
Repeat your contact details in your footer.
Include a digital copy of your handwritten signature below your sign-off to add a personal touch!
Be sure to add any cover letter enclosures that might be required or valuable.
Name your cover letter for an adjunct professor with a professional cover letter title.
Remember: whether you're writing a cover letter for an adjunct professor with no experience or for one that's already a pro: you still want your cover letter to be flawless. With our guide, you're ready to create your own! Good luck!
Want to have a closer look at some perfect cover letter examples? Read our guide: How a Cover Letter Should Look Like
When making a resume in our builder, drag & drop bullet points, skills, and auto-fill the boring stuff. Spell check? Check. Start building a professional resume template here for free.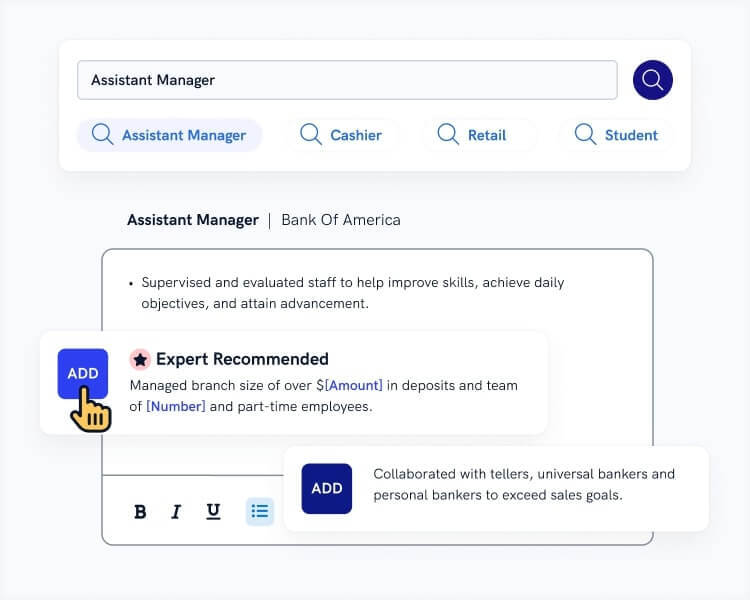 When you're done, Zety's resume builder will score your resume and our resume checker will tell you exactly how to make it better.
Thanks for reading! Let's discuss your sample cover letter for an adjunct professor in the comments below!
About Zety's Editorial Process
This article has been reviewed by our editorial team to make sure it follows Zety's editorial guidelines. We're committed to sharing our expertise and giving you trustworthy career advice tailored to your needs. High-quality content is what brings over 40 million readers to our site every year. But we don't stop there. Our team conducts original research to understand the job market better, and we pride ourselves on being quoted by top universities and prime media outlets from around the world.