Our customers have been hired by:
You've got your eyes set on a top-level school. Well, the task ahead of you is monumental. There are loads of people who apply for these, and for good reason. This is the crème de la crème of future professionals, leaders, and innovators.
And your competition won't even be local—international students flock to apply every year in droves. You're going to be up against hundreds, if not thousands, of applicants.
Your MBA cover letter better be able to stand up for itself.
This guide will show you an MBA cover letter example and the best tips on how to write an MBA cover letter step-by-step.
Want to write your cover letter fast? Use our cover letter builder. Choose from 20+ professional cover letter templates that match your resume. See actionable examples and get expert tips along the way.
Sample cover letter for a resume—See more cover letter examples and create your cover letter here.
Check out these other related guides if you're interested:
MBA Cover Letter Sample
Billy Kean
1407 Sherman Street
Salina, KS 67401
785-955-4797
BillyKean@zetymail.com
Salina, 05/26/2020
Camille Vasquez
Director of Admissions Board
Dartmouth Tuck School of Business
100 Tuck Hall
Hanover, NH 03755
Dear Camille,
It's with tremendous honor that I formally submit my application to join the MBA Program at Dartmouth College's Tuck School of Business. For the better part of my life, it's been my calling to elevate myself and those around me and inspire to do better. And though I've used every opportunity I could during my graduate years when I ran the Young Entrepreneur's Student Club, joining Tuck could be a watershed moment for me.
While gathering professional work experience as Project Manager Team Lead in a translation agency, I've never lost sight of what's truly important for me: inspiring initiative. For the past 9 years, I've been a member (and now a regional mentor leading a subgroup of 12) at the Co-Active Initiative youth organization. Our group primarily deals with assisting disenfranchised and impoverished families hit by natural disasters.
During my years there, I've had to adapt to multiple leadership roles. In 2018, our group won a competition to attend a business seminar with local entrepreneur, Peggy Matthews. As part of the seminar, Peggy let me shadow her over the course of 8 intense weeks, where I learned a lot about forging professional relationships, developing business opportunities, and leading those around me with full force and consciousness.
Joining the MBA Program at Tuck would surely allow me to infinitely build upon the skills I already have. With heartfelt gratitude, I invite you to look over all the attachments I prepared as part of my application. Thank you for taking the time.
Sincerely,
Billy Kean
P.S.: Feel free to contact me about any organizational matters—I will be in New Hampshire in person toward the end of June if you would like to put a face to the name.
An MBA cover letter will let you get into your preferred program in a flash. You'll learn how to write one just like this in a few minutes.
Then again, a cover letter is only as good as its corresponding resume. If you've yet to brush up on that, check out this guide here: MBA Resume Writing Guide & Examples
Here are our tips on writing a fantastic MBA cover letter:
1. Format Your MBA Cover Letter Correctly
Whether it's MIT or Harvard, applying for an MBA program will require convincing the admissions committee that you're a true doer and a fearlessly creative individual.
The opportunities offered aren't just those of your typical business school. I mean, what other school has its graduates start off with a $150K salary? Not bad.
To get in, you need to perfect your cover letter format:
Choose a professional cover letter font and keep it between 11 and 12 pt.
Set the alignment of the text to the left.
Use proper cover letter margins: 1" on each side is the right choice.
Set the line spacing to either 1 or 1.15.
Pro Tip: Knowing what parts of the cover letter you want to include in advance can prevent you from having to cram stuff in later (or cutting it out).
2.Write an Appropriate MBA Cover Letter Header
So, how much room for error do you think you have on an MBA application?
I'll let you in on a secret: not much at all.
It comes down to the simplest things, like addressing the cover letter. Write "To Whom It May Concern", and you're out.
Follow these top cover letter tips to avoid mistakes:
Put your name and mailing address in the top-left corner. Add your contact information, and links to your professional profiles, like LinkedIn. Make sure you clean up your online presence first!
Leave one line blank.
Next comes the date of writing. You can also include the city name.
Leave another blank line.
Finish off by including the contact information of your cover letter recipient, like the Dean of Admissions or a faculty member.
Read more: Professional Cover Letter Header Examples
3. Learn How to Introduce Yourself Well in the First Paragraph
No matter what school you're applying to when you're trying to swing in the big leagues, you need to go big or go home.
The competition, the prestige, and even the culture around these programs means they attract more applicants than you could count.
Standing out from the crowd from the first second of your cover letter opening should be your number one priority:
Use a proper cover letter salutation. That means you'll need the name of the person likely to read your letter. Don't know who that is? Call, search, ask, find out at all costs.
Mention what school/program you'd like to apply for in the very first sentence.
Give them the reason behind your application. Make it a good and personal one.
Taper off the introduction by bringing in details from your educational background, so that they immediately realize you'd be a good fit.
Read more: How to Start a Cover Letter with a Bang
4. Prove Your Application is a Notch Above Others
You've got your foot in the door, and that's great. But—
That was just the easy part.
Include the following in the middle paragraph of your MBA cover letter:
Talk up your past achievements. They don't really have to stem from academia or real work experience—Harvard, for example, emphasizes roles and responsibilities that shaped you into a leader.
What you definitely don't want to do is mention skills and experiences that are irrelevant. Nobody at MIT has any time for that.
Read more: What Should a Cover Letter Say?
5. Explain Why You're Applying for This Program
Demonstrating your commitment to the particular program can pay dividends.
Otherwise, it's just an application for its own sake, not very convincing.
Express your interest in the MBA program, what drew you to it. Make sure to really convey the message by picking out something particular.
If you're not entirely certain, you can poke around their website and read about their educational policies, academic environment, alumni, or student clubs.
Read more: What to Include in a Cover Letter?
6. Close out the MBA Cover Letter Courteously
No MBA cover letter can come without a proper closing statement.
And, if you've written cover letters for a job before, they differ slightly in this regard:
At the end, you'll want to thank the recruiter/admissions member for their time and consideration. Be polite!
Re-state your excitement at the opportunity of starting on the program.
Read more: How to End a Cover Letter
7. Sign off the MBA Application Professionally
Time for the finishing touches.
And just because they come last, doesn't mean they should be least:
When making a resume in our builder, drag & drop bullet points, skills, and auto-fill the boring stuff. Spell check? Check. Start building a professional resume template here for free.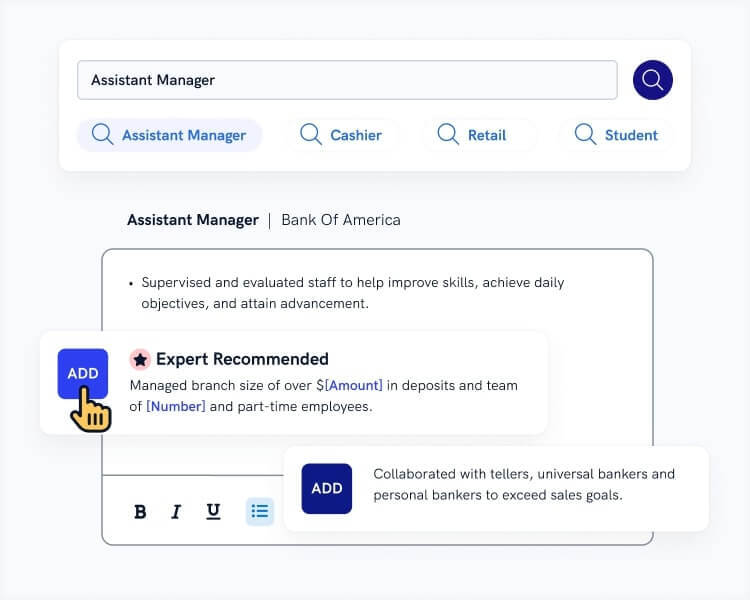 When you're done, our professional resume builder will score your resume and our resume checker will tell you exactly how to make it better.
They'll be clawing their eyes out for a candidate like that!
We hope this MBA cover letter helps you on your path to success. Got any questions or tips we didn't mention? Head to the comments below if so, and thanks for reading!
About Zety's Editorial Process
This article has been reviewed by our editorial team to make sure it follows Zety's editorial guidelines. We're committed to sharing our expertise and giving you trustworthy career advice tailored to your needs. High-quality content is what brings over 40 million readers to our site every year. But we don't stop there. Our team conducts original research to understand the job market better, and we pride ourselves on being quoted by top universities and prime media outlets from around the world.
Sources