10+ Pretty Resume Templates in 2023: Samples + Download
Pretty resume templates are not that difficult to find. But which one should you choose, and what should you consider before selecting the one for you? Read on and find out!
The superb experience listed in your working history, incredible educational background, and remarkable list of skills that shout "Hire me!". But perhaps there's one more thing you might want to consider when creating a job-winning resume. And that thing is getting noticed and making a positive impression after the first glimpse.
Pretty resume templates are your go-to solution whenever you want your achievements to pop immediately on your recruiters' desks. So here's a list of beautiful resume templates that might get the job done.
This guide will show you:
Pretty resume templates examples better than 9 out of 10 others.
A list of pretty resume templates that will impress your future employer.
Some of the most beautiful resume templates online.
Want to save time and have your resume ready in 5 minutes? Try our resume builder. It's fast and easy to use. Plus, you'll get ready-made content to add with one click. See 20+ resume templates and create your resume here.
Sample resume made with our builder—See more resume examples here.
Looking for other lists of inspiring resume templates? See some of the best ones below:
Pretty Resume Templates—Our Top Choice for 2023
You'll find plenty of nice resume templates online. Choosing the right one for the job you're after gets more and more challenging the more examples you see. After all, this template can determine your entire future! So let's take a look at just some of the ones we selected from tons of online resume templates that are both pretty, eye-catching, and professional.
1. Initials by Zety
A personal touch, a dash of color, and creativity that pops! That's what Initials has to offer!
Wondering whether you should put a picture on a resume? Don't make that mistake! Instead, add some uniqueness to your resume with a logo composed of your initials. It's a perfect alternative for your profile picture that helps you get remembered. And that's only one advantage of choosing a pretty resume template called Initials.
There's a big circle containing your quasi-handwritten initials in the top left corner, precisely where, according to the study, readers' eyes go in the first place. That's why the professional header is also on the left-hand side. But these are not the only attributes that make it a beautiful resume template. You'll also find minimalistic icons that stand out amongst other templates. And that's a great first impression!
Pro tip: Keep your cover letter short. 3 to 4 paragraphs should do the trick.
2. Modern Resume CV Template by More Profesh
Talking about initials being turned into your own professional logo…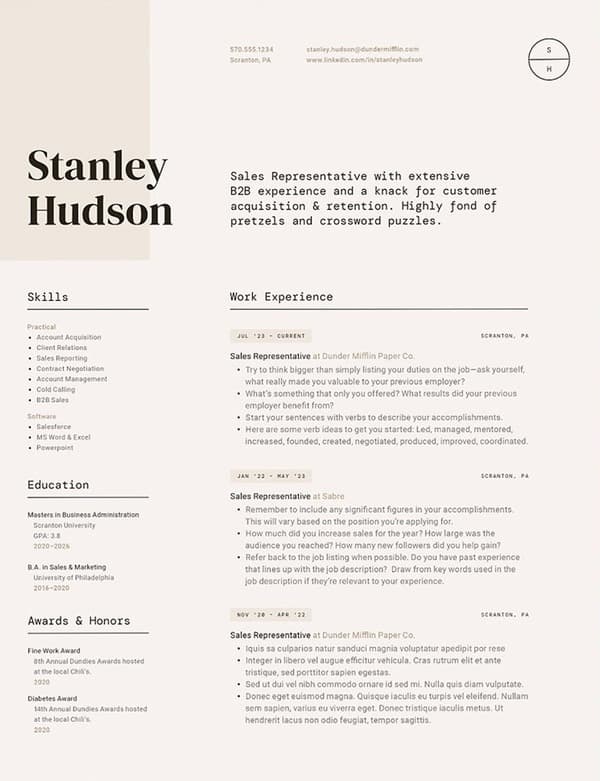 Here's another great example of a pretty resume template that does just that! However, this logo is way smaller and placed on the right-hand side of your document. That doesn't mean your recruiter won't notice it, as it is separated from the resume header and still catches the eye!
What also catches the eye is a resume summary written in a bigger font on the very top of the document, right below the header. Two columns of this resume template give much more space to describe your work experience, so we recommend it for candidates with more extensive experience. Education, skills, and additional sections, such as awards, are placed in the left, much narrower column.
Find it here at Behance.
Pro-tip: Selecting one of the pretty resume templates is necessary. However, tailoring a resume to the job ad is just as important, as it basically tells the recruiter that you want this specific job, not just any other job on the market.
3. Muse by Zety
You won't consult Muses because with the right resume template, writing your resume feels natural and simple.
You might want to select Muse resume template, as it's a perfect combination of classic resume format with some eye-catching touches that make it a beautiful resume template. And even if the content of your resume is job-winning, having a template that looks nice can only help you impress the recruiter.
With an elegant, two-column design, your recruiter won't miss your summary, experience, and education section on a resume. The ribbon-like arrows are an enjoyable addition that delivers a 3d effect to a resume that simply cannot be missed.
4. Green Customer Service Simple Resume Template by Venngage Inc.
Green calms you down. It relaxes you. It makes you feel at ease. Perhaps it will do the same to your recruiter.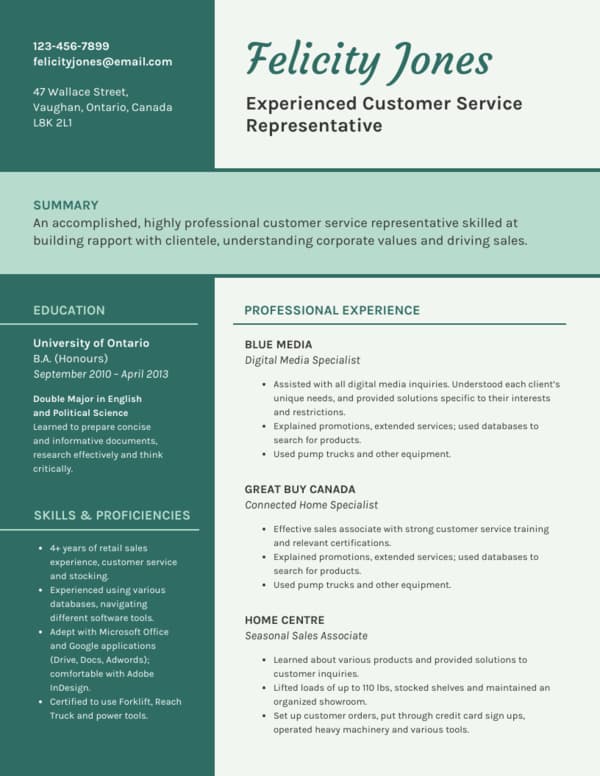 This pretty resume template created by Venngage INC. is greener than Kermit the Frog or Baby Yoda. But, just like these two beloved figures, you can't miss that template. And, even though Venngage called it a Customer Service Resume Template, we think it will work well for many different professions.
Your name is written in an elegant, modern font that resembles handwriting. It's in the right-hand column, together with your experience section. Your education and skills are, together with a header, in the left column. Both these columns are crossed by a summary that simply cannot be missed.
Find it here at Venngage.
Wondering how to organize a resume so that your recruiter will only need a quick look at it to invite you for an interview? Read our article: Resume Structure Guide.
5. Valera by Zety
Since we're talking about your name written with a nice font, we simply can't skip this pretty resume template.
Valera is a very classic resume template. From the top to the bottom, it's divided into resume categories in a single column that makes it very easy to read and navigate through. However, in this resume template, classic meets creativity.
It's the one-of-a-kind typography used at the very top of this template that makes it so unique. That combined with a simple, timeless structure, makes an incredibly simple yet gorgeous resume template. Perfect for anyone who loves to make a great first impression. And since you only got 7 seconds to make it, Valera is an excellent choice.
When making a resume in our builder, drag & drop bullet points, skills, and auto-fill the boring stuff. Spell check? Check. Start building a professional resume template here for free.
When you're done, our free resume builder will score your resume and our resume checker will tell you exactly how to make it better.
6. Yellow Simple Resume Template by Venngage Inc.
Pretty, colorful, and impactful. And yet, somehow, minimalistic. And definitely eye-catching!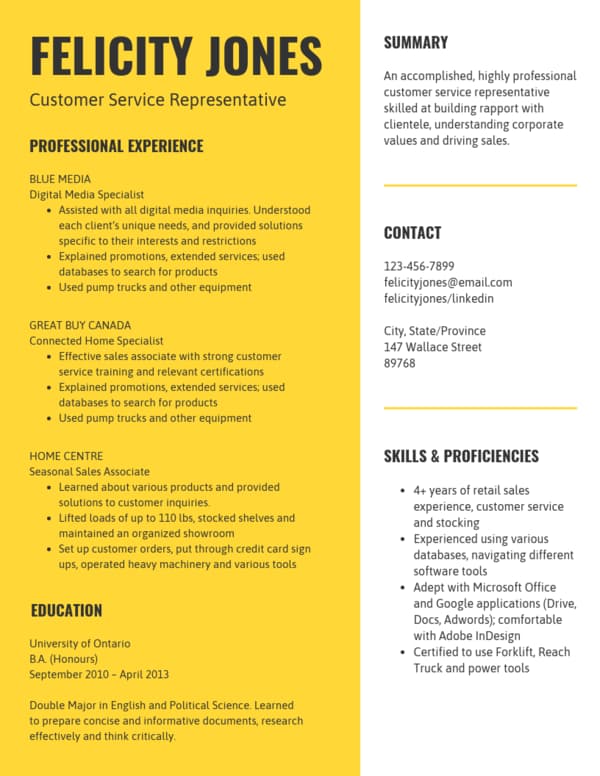 This resume template found on Venngage follows a classic, two-column structure. The header with your name on the left-hand side and a job title underneath it are what the recruiter sees first. And it's absolutely unmissable!
The entire left side is yellow, so it pops even in a pile of different resumes on the hiring managers' desks. And the division into categories and sections is clear, so it's not only innovative and pretty, but it's also very professional!
Find it here at Venngage.
Pro-tip: Many recruiters use Applicant Tracking Systems to manage recruitment processes by identifying qualified candidates immediately. That's why, apart from thinking about looking for pretty resume templates, you also might want to make sure you choose those that pass the ATS. Many resume builders allow you to create an ATS friendly resume.
7. Primo by Zety
Two-column structure doesn't have to be boring. Primo is a great example of a good-looking resume template that works.
The classic structure of Primo resume template blends with timelines and graphs that helps your resume stand out among your competitors. Just like Initials, it uses your initials as a logo that's placed just where many people would wrongly place their photo on a resume. The structure, even though classic, breaks some rules.
All the personal information and relevant links are placed on the right-hand side of your resume. But it doesn't mean it's messy or badly divided into sections. Primo can be read very easily, and with some modern icons, it's a great-looking resume template that will impress hiring managers.
8. Resume CV Template by Reuix Studio
Sometimes less is more. And that's a great example of a pretty resume template that does it just well.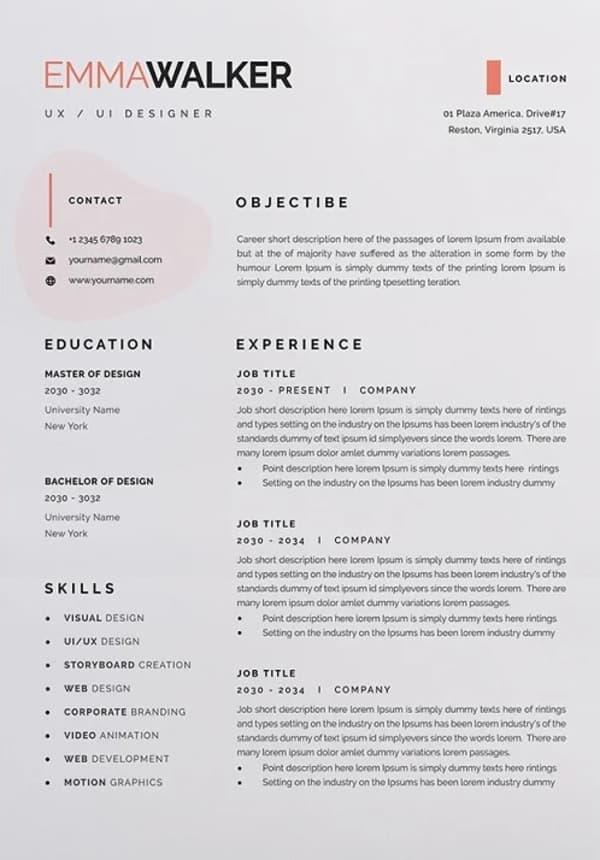 Reuix Studio delivered a simple yet very pretty resume template. It's eye-catching, it uses two colors, and the contact section is simply superb. It's placed on a stain-like orange shape, which makes it impossible to miss. And your contact information is something you don't want any recruiter to miss!
Divided into two columns, with your name written in orange and a tiny orange rectangle next to your header, this is a very minimalistic resume template. However, it's still very nicely done, neat and professional. Well done, Reuix Studio!
Find it here at Dribble.
Want to boost your chances of getting hired? Sure you do! See our list of helpful words that you can't skip in your application: Resume Keywords to Pass the ATS.
9. Diamond by Zety
Here's our gem. A true Diamond among pretty resume templates.
The eye-catching, huge header at the top of the document contains your name and contact details. Thanks to its size, your recruiter will immediately know whose document that is. And thanks to its one-column layout, your document will be easy to navigate through. But that's not why we adore this beautiful resume template so much.
What makes it stand out are its bullet points. They are all shaped like diamonds, hence the name of this template. They can be found in each category, at each entry, and also as advancement bars in your skills section. It's neat, it's pretty, and it's eye-catching. With great content and this template, winning a job should not be difficult!
10. Blue Design Student Resume Template by Venngage INC.
Yet again, minimalistic design meets bright colors, and the outcome is a good-looking resume template.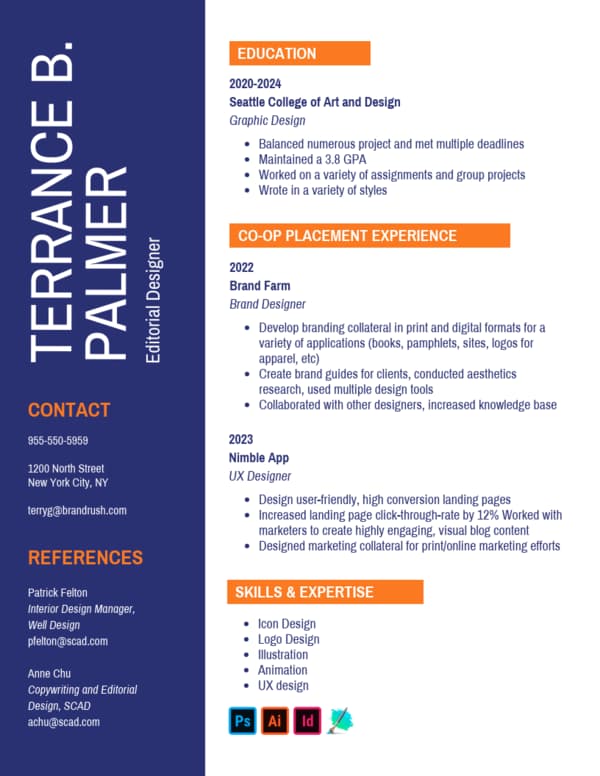 Combining blue and orange is always a bold move, but usually, it's the right move. And so it is in this resume template found on Venngage. It's divided into two columns. One is placed on a huge blue rectangle on the left-hand side. The other contains experience, education, and skill section.
Throughout the entire template, the usage of those two colors differs. There are words and headings in both blue and orange. And each section stands out. It's truly a nice-to-read and pleasant resume template.
Find it here at Venngage.
Pro-tip: A great resume is often not enough. These days, you also need a perfectly-written cover letter. Learning how to write a cover letter is a great idea that will allow you to highlight your persona, your achievements, and your candidacy even more. Having a cover letter that's consistent with your resume, and has the same template, fonts, and colors, is how you impress the recruiters even more!
11. Concept by Zety
Here's a Concept for you: choose one of the pretty resume templates that are impossible to miss.
It's classy and effective. A dark column on the right-hand side contains only dates relevant to your experience and education sections. Everything else is kept in a neatly-aligned one column with plenty of places for everything that can wow your recruiter.
The timeline and icons make everything even better, as they add professionalism and uniqueness to this template. And by far, it's one of the best pretty resume templates we have, especially for junior candidates who want to impress their future employers, even with little experience in their portfolio.
Plus, a great cover letter that matches your resume will give you an advantage over other candidates. You can write it in our cover letter builder here. Here's what it may look like:
See more cover letter templates and start writing.
Key Takeaway
As you can see, there are many pretty resume templates to choose from when looking for something to surprise recruiters. However, as you can see, there are also some things to think of when selecting a resume template.
Select the right resume template. Having simply a pretty one might not get the job done (aka land you the job you're after). Use a template from our builder, as it's ready to go in seconds!
Remember that you should have an ATS-friendly resume. That will only boost your chances of getting positively verified and being invited to the job interview.
Pretty resume templates can sometimes be too flashy. Try selecting ones that are not only eye-catching but also easy to read.
Think about your resume format. If a template you've picked allows you to list your experience, education, skills, accomplishments, and hobbies, you've got yourself a great resume template!
Consider choosing a resume builder. Many online builders have a variety of pretty resume templates you can easily adjust to your needs, selecting font size, margins, colors, etc. Some of them, just like Zety, also allow you to upload your already-made resume, so updating all the information is quick and efficient!
With that quick recap, you have all the information necessary to select one of the pretty resume templates available online. And then, simply find out how to make a resume and get the job you're after. Good luck!
Would you like to learn more about selecting the right resume template? Visit our comment section, share your thoughts, and let's talk about it!
About Zety's Editorial Process
This article has been reviewed by our editorial team to make sure it follows Zety's editorial guidelines. We're committed to sharing our expertise and giving you trustworthy career advice tailored to your needs. High-quality content is what brings over 40 million readers to our site every year. But we don't stop there. Our team conducts original research to understand the job market better, and we pride ourselves on being quoted by top universities and prime media outlets from around the world.