Our customers have been hired by:
Imagine staring at a blank page and a blinking cursor. Not fun, huh? Yet that's what you would have to go through if you were to write your resume entirely by yourself. Fortunately, there are online resume builders, and Resume.com offers one of them.
But—is it the one you should choose to create one of the most important documents in your life? Let's find out!
This guide will show you:
Customer reviews of Resume.com.
Pros and cons of using Resume.com builder, including their templates.
A review of selected Resume.com resume templates.
Want to save time and have your resume ready in 5 minutes? Try our resume builder. It's fast and easy to use. Plus, you'll get ready-made content to add with one click. See 20+ resume templates and create your resume here.
Sample resume made with our builder—See more resume examples here.
Need some helpful advice? Check out some of our guides about resumes and cover letters:
Why Trust Us
We put your needs first. That's why we always try out the products we review for you so that our first-hand experience can help you make the right choice. Our Certified Professional Resume Writers test all resume builders available on the market to make sure you know the pros and cons of each tool. This approach allows us to create reviews that are not only objective but also answer all your questions so that you can create a job-winning resume quickly and easily.
Resume.com Reviews From Customers
Resume.com offers a resume builder that lets you create your resume using one of 15 ATS-friendly resume templates. Resume.com used to charge its users in the past, but since Indeed acquired them, they've become a free-to-use online tool. Is it worth using?
I took a closer look at what Resume.com customer reviews look like. Let's see how people view Resume.com.

On Trustpilot, Resume.com has 1.8 out of 5 stars from slightly over 30 reviews. Negative one-star ratings constitute 31% of the feedback, whereas exactly half of all reviews are positive five-star ratings.

On Sitejabber, Resume.com has a 4.0 rating based on almost 20 reviews. There are 12 five-star reviews, and the rest of the ratings are either one or two stars.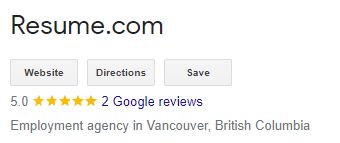 On Google, Resume.com has an average rating of 5.0 stars, but it's based on just 2 reviews.
The reviewers often pointed out that the customer service experience that Resume.com offered was really good and that their builder was easy to use. However, not all of the customers were satisfied with their resume templates.
Is Resume.com a Good Resume Builder?
Resume.com offers a very simple builder. First, you choose one of over a dozen resume templates. Next, you input all the necessary information to fill all the resume sections, and your resume is ready to download. If you go for the Bianca template, your resume will be similar to the one below: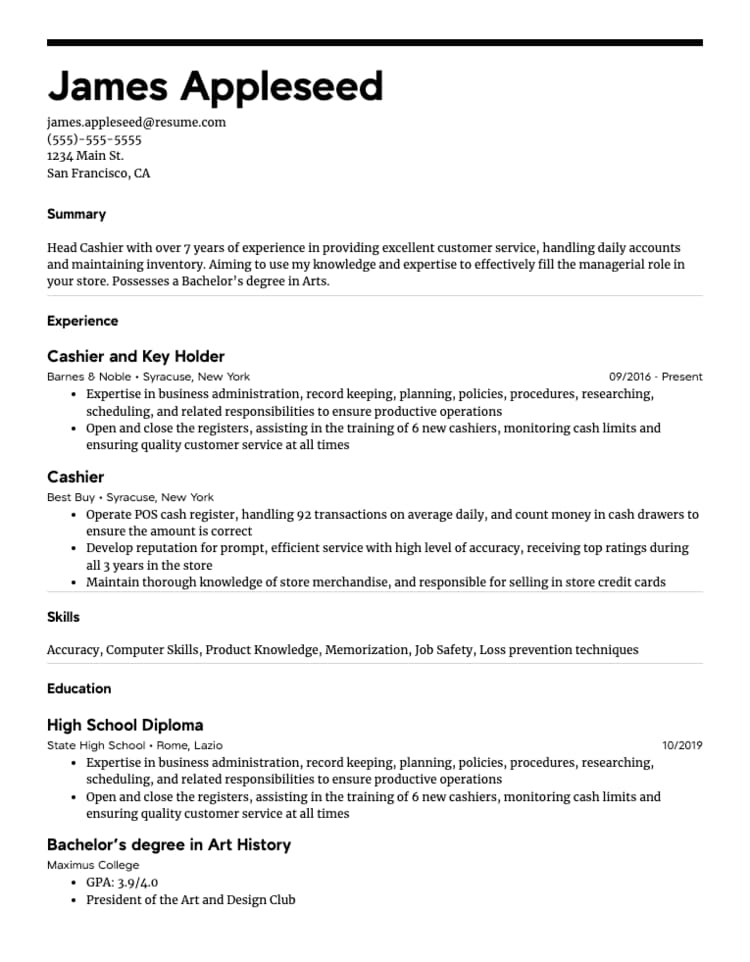 Okay, it's time to get to the nitty and gritty details of what it's like to create your resume on Resume.com.
Resume.com Review—Pros
1. Easy to Use
The Resume.com online resume builder is quite intuitive. Its user-friendly interface means that even if you're writing a resume for your first job, you won't feel confused using it.
2. Integrated Cover Letter Builder
You should always attach a short cover letter to your resume, and it's a plus that on Resume.com, you can create a complete job application. Their cover letter builder is similar to their resume builder, offering you 6 simple cover letter templates to choose from.
3. Resume Samples
Resume.com combined a library of resume samples for various professions. It's a nice place to start if you're looking for inspiration on how to describe yourself on your resume.
Resume.com Review—Cons
1. Limited Selection of Templates
Resume.com offers resume templates that are very generic in terms of their design and formatting. Many people may find them too plain, and they're certainly not the best choice if you're applying for a creative job or trying to make an eye-catching resume.
One customer mentioned in their review, that the templates make a poor use of the available space—it was also my impression. Having used their builder and templates, I feel like more experienced candidates can struggle to make a one-page resume.
2. Very Few Customization Options
No matter which of the templates available on Resume.com you choose, you can't implement any significant changes to it. There's no possibility of changing the resume font style or size. Adding color is also not an option—all the templates are entirely monochromatic.
3. Restricted Download Options
Resume.com allows you to download your resume as a PDF or TXT file. It's a shame there's no possibility of saving it as a DOC file, as many job advertisements ask you to use precisely this file format for your job application.
4. You Can Log in Only With an Indeed Account
You can use Resume.com without logging in, but if you want to save your resume, you must log in with an Indeed account. There's no other way to log in, so you must create an Indeed account.
If you decide to stay in the guest mode, your resume will be deleted after 48 hours. The builder even features a clock counting down the time to the disappearance of your resume.
When making a resume in our builder, drag & drop bullet points, skills, and auto-fill the boring stuff. Spell check? Check. Start building a professional resume template here for free.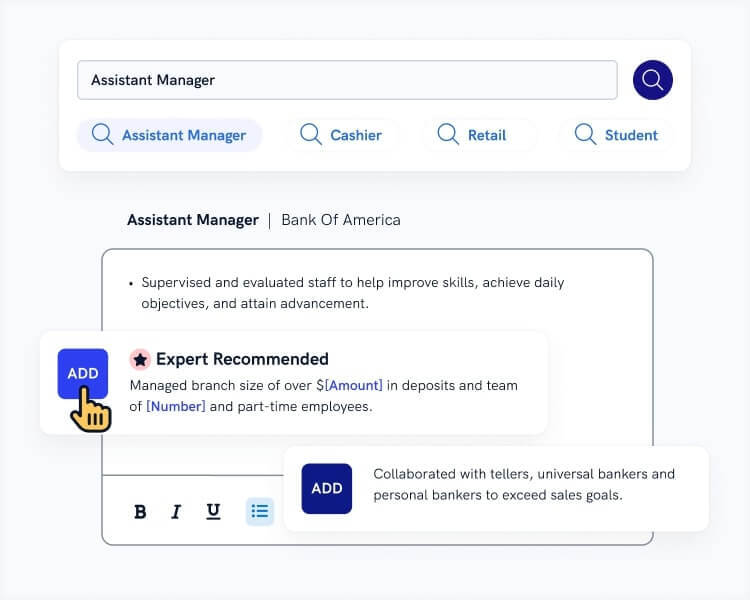 When you're done, Zety's resume builder will score your resume and our resume checker will tell you exactly how to make it better.
Review of Resume.com Templates
Your resume has a significant impact on the way your career develops. Choosing a resume template is an essential first step in this journey. Let's see what kind of free resume templates Resume.com has to offer.
Apollo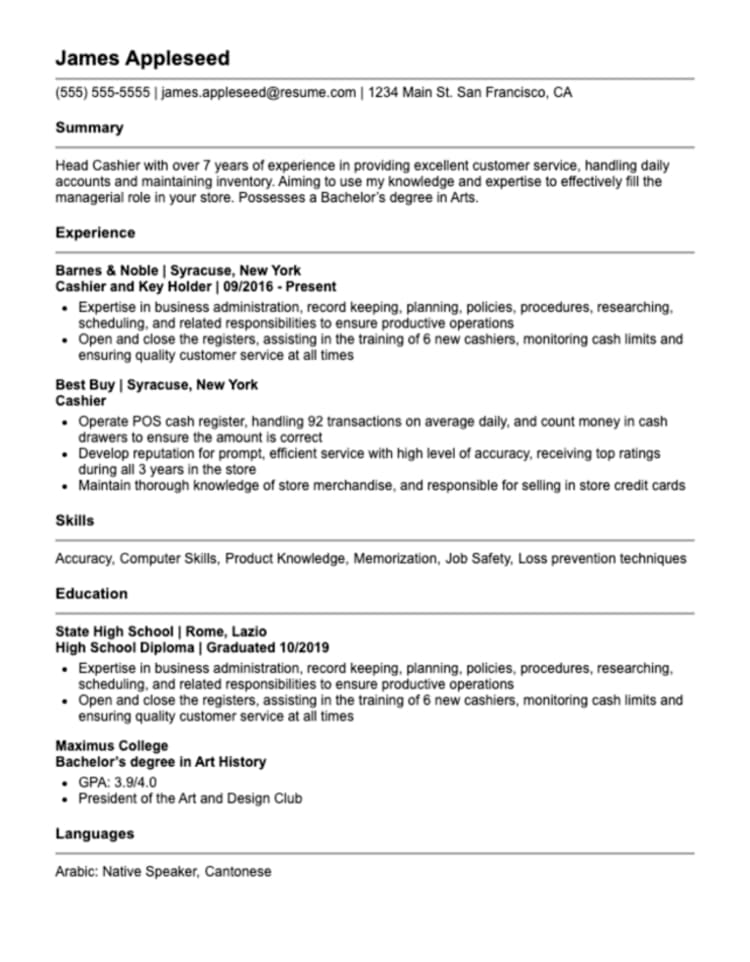 Apollo is one of the most minimalist resume templates that wait for you on Resume.com. Both the resume body text and resume headings are very similar to each other in terms of font size and style.
Tempe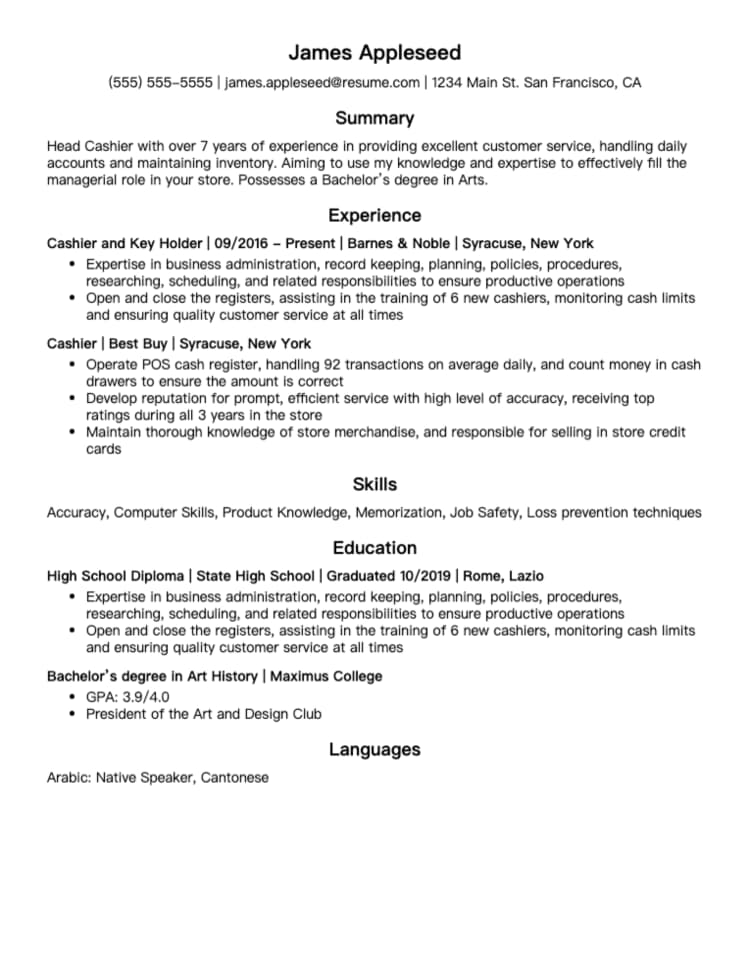 This resume template makes it easy to find the resume section you're looking for, thanks to justified resume headings. It's not a particularly eye-catching resume template, but it's quite easy to skim. Like all the templates available on Resume.com, the Tempe resume template has address information in the resume header. Remember that you're not required to disclose on your resume where you live.
Estella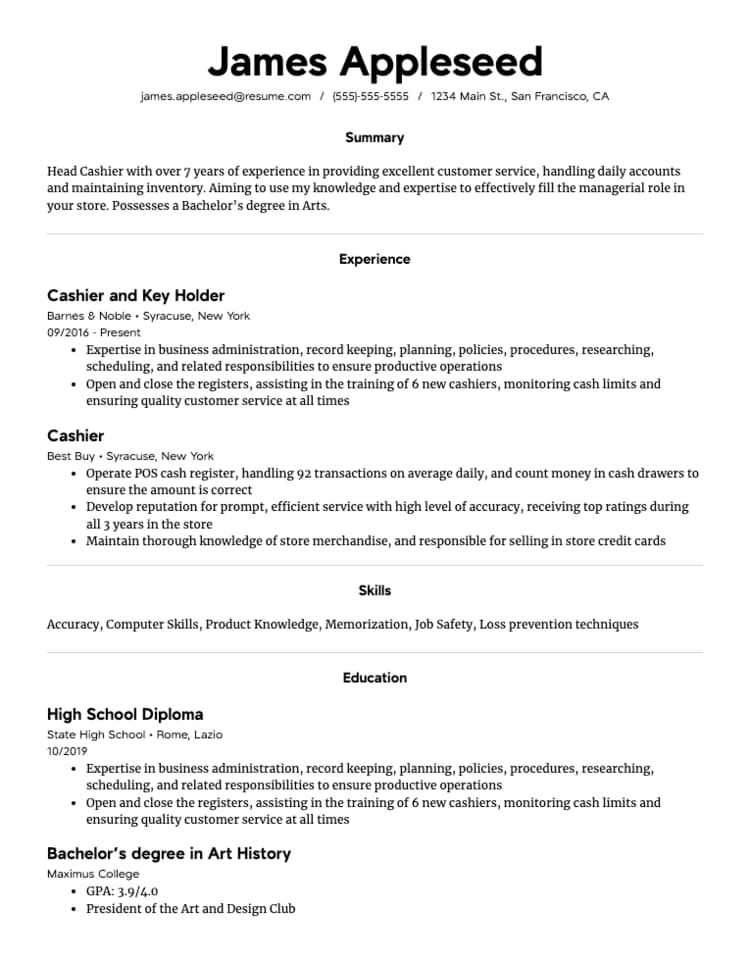 This template uses a simple trick to grab the recruiters' attention—the candidate's name is written in bold and using a much bigger font size. All resume sections are separated by horizontal lines, making it a good and simple resume template.
Luna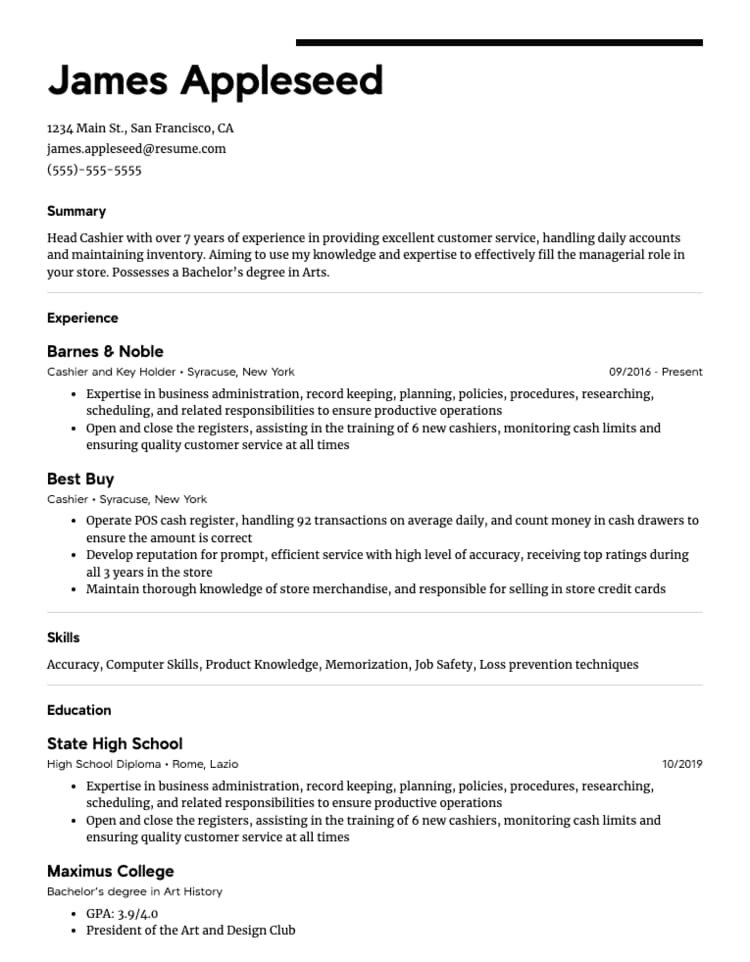 This one is similar to the Estella template since the candidate's name is much bigger than in the other templates we've analyzed. Yet here, all the text is aligned to the left with just one right-aligned element—a thick horizontal line at the top, giving the entire resume design a modern resume template vibe.
Dawn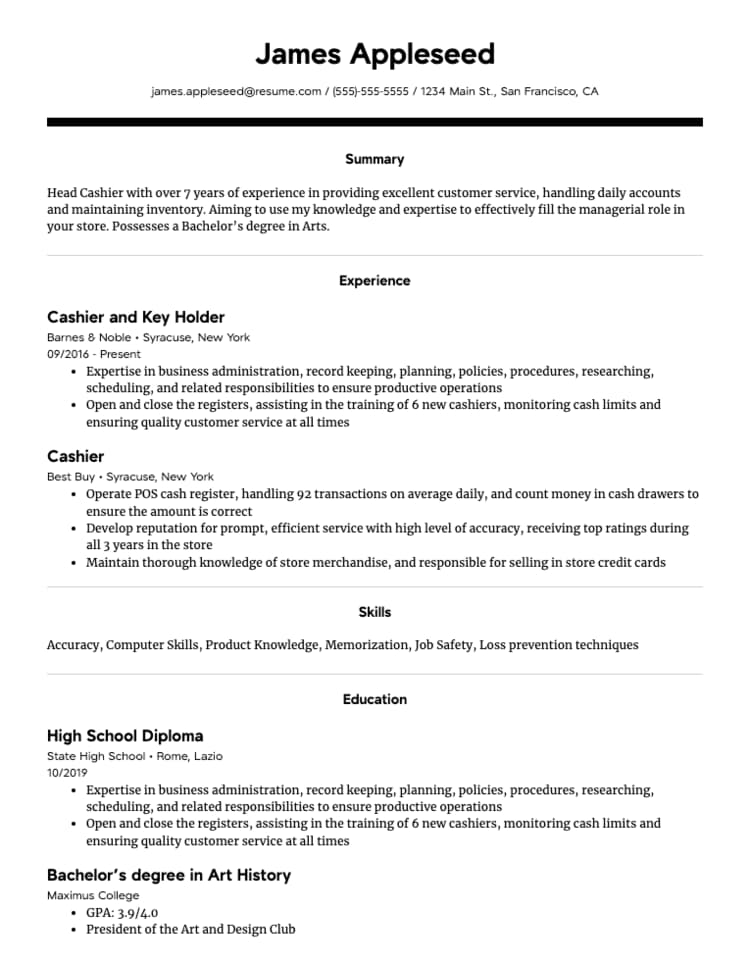 This time, the horizontal line spans across the entire template. It naturally draws the eyes and separates the resume header from the rest of the resume sections.
What if a step-by-step guide would show you exactly how to write an excellent resume? There you go: How to Create a Great Resume: All You Need to Know
Plus, a great cover letter that matches your resume will give you an advantage over other candidates. You can write it in our cover letter builder here. Here's what it may look like: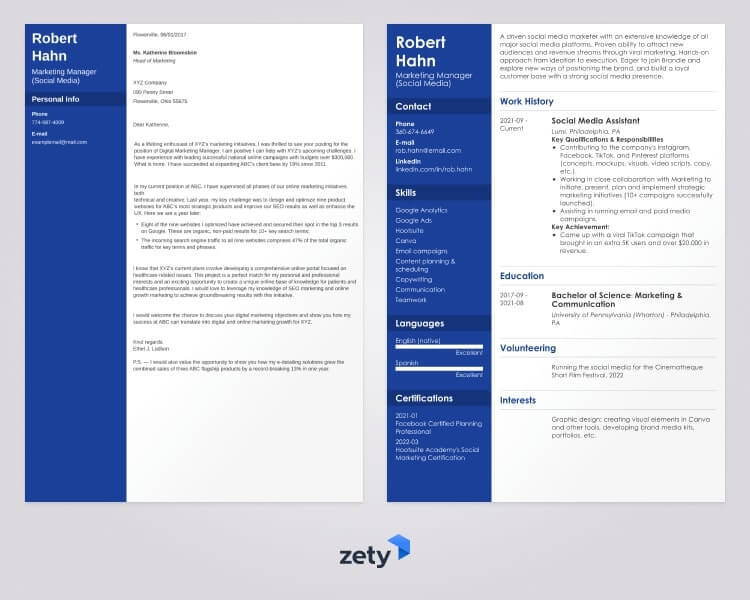 See more cover letter templates and start writing.
Resume.com is free to use, but the resume templates it offers are very similar to each other and pared-down in terms of design. All of them are entirely monochrome, and you can barely customize them. It surely is not a way to create a truly eye-catching resume.
Thanks for reading this Resume.com review!
Do you have any questions about Resume.com? Do you have any experience using their products? Let me know in the comments section!
About Zety's Editorial Process
This article has been reviewed by our editorial team to make sure it follows Zety's editorial guidelines. We're committed to sharing our expertise and giving you trustworthy career advice tailored to your needs. High-quality content is what brings over 40 million readers to our site every year. But we don't stop there. Our team conducts original research to understand the job market better, and we pride ourselves on being quoted by top universities and prime media outlets from around the world.