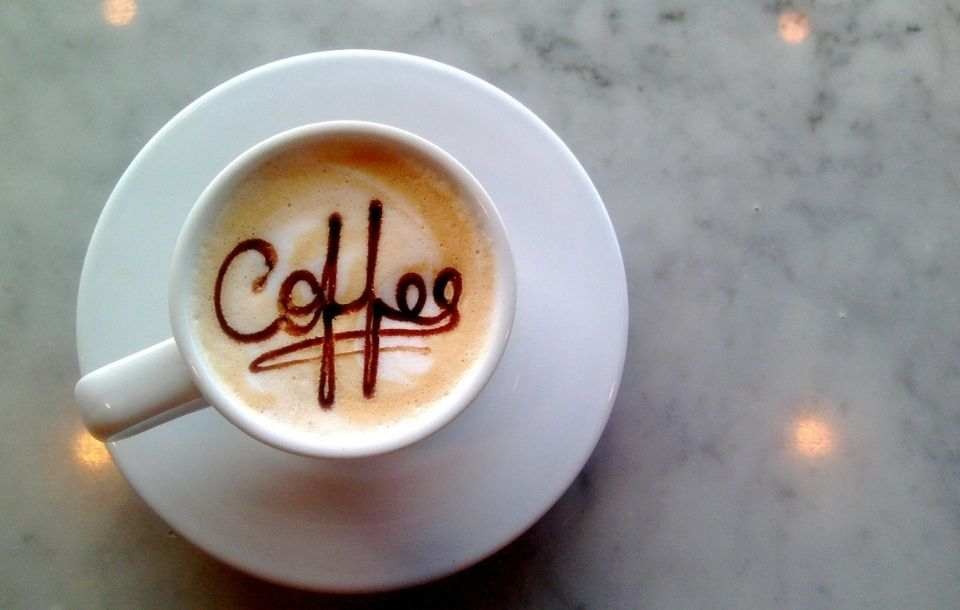 Barista Cover Letter Sample & Guide (Also for No Experience)
Your cover letter is a tasteless reminder of a cold and foam-free cappuccino? Turn the tables with this guide and brew a barista cover letter with cocoa powder on top.
The coffee culture in Australia is bananas.
No wonder you want to be part of it full time.
Don't you worry. It's a goer.
You only need to brew a barista cover letter and let your recruiter take a sip. With this guide, it'll be worthy of the AICA award.
This guide will show you a barista cover letter example and the best tips on writing a cover letter for a barista step-by-step.
Want to write your cover letter fast? Use our cover letter builder. Choose from 20+ professional cover letter templates that match your resume. See actionable examples and get expert tips along the way.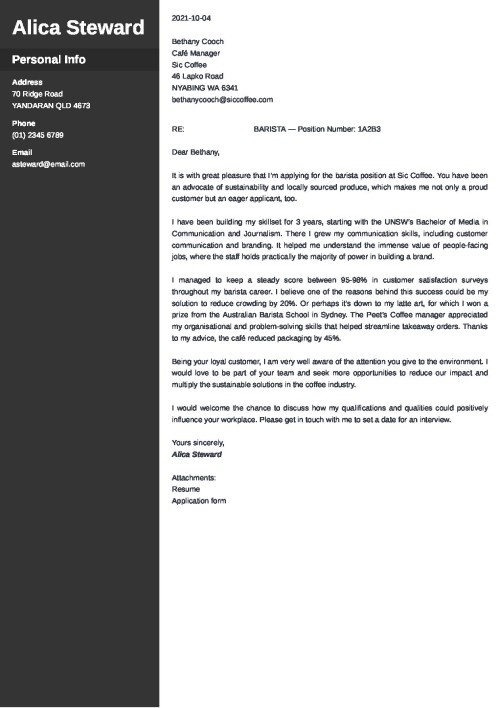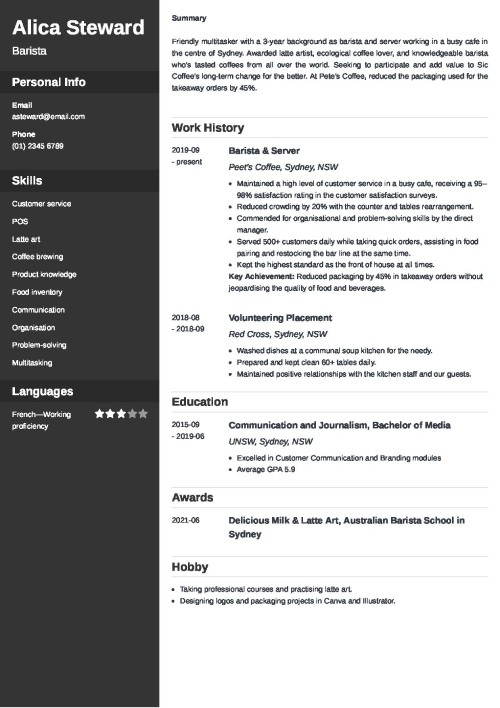 Sample cover letter for a resume—See more cover letter templates and create your cover letter here.
Barista Cover Letter Sample
Alica Steward
70 Ridge Road
YANDARAN QLD 4673
(01) 2345 6789
asteward@email.com
4 October 2021
Bethany Cooch
Café Manager
Sic Coffee
46 Lapko Road
NYABING WA 6341
bethanycooch@siccoffee.com
RE: BARISTA — Position Number: 1A2B3
Dear Bethany,
It is with great pleasure that I'm applying for the barista position at Sic Coffee. You have been an advocate of sustainability and locally sourced produce, which makes me not only a proud customer but an eager applicant, too.
I have been building my skillset for 3 years, starting with the UNSW's Bachelor of Media in Communication and Journalism. There I grew my communication skills, including customer communication and branding. It helped me understand the immense value of people-facing jobs, where the staff holds practically the majority of power in building a brand.
I managed to keep a steady score between 95-98% in customer satisfaction surveys throughout my barista career. I believe one of the reasons behind this success could be my solution to reduce crowding by 20%. Or perhaps it's down to my latte art, for which I won a prize from the Australian Barista School in Sydney. The Peet's Coffee manager appreciated my organisational and problem-solving skills that helped streamline takeaway orders. Thanks to my advice, the café reduced packaging by 45%.
Being your loyal customer, I am very well aware of the attention you give to the environment. I would love to be part of your team and seek more opportunities to reduce our impact and multiply the sustainable solutions in the coffee industry.
I would welcome the chance to discuss how my qualifications and qualities could positively influence your workplace. Please get in touch with me to set a date for an interview.
Yours sincerely,
Alica Steward
Attachments:
Resume
Application form
Cover Letter for a Barista Job: Template
Use the below best tips on writing a barista cover letter:
1. Plant a Number-One Cover Letter Format
Your barista cover letter needs a format like a KeepCup needs a cup. The only difference is, you can't replace the layout parts.
And they are:
Cover letter design: it's best to copy the same design from your barista resume or the other way round. Your application will look consistent, and it'll be easier to remember you.
Cover letter font: choose an easy-to-read and professional font, like Calibri or Helvetica. Make it between 10 and 12 pt in font size.
Cover letter spacing and margins: create enough white space by setting 1-inch margins on each side, single to 1.15 line spacing, and double-spacing between paragraphs.
Cover letter text alignment: always left-align your contents.
Cover letter file format and name: save it as PDF with the following title: JobTitle_YourName_CoverLetter.pdf.
Cover letter outline: design a smooth transition between the opening, body, and closing paragraphs to fit your contents on one page.
When making a CV in our builder, drag & drop bullet points, skills, and auto-fill the boring stuff. Spell check? Check. Start building a professional CV template here for free.
When you're done, Zety's CV builder will score your CV and tell you exactly how to make it better.
2. Lace the Cover Letter Header With Hiring Manager's Details
In cover letter headers, there's no room for filter batch brew. You need to speak short black, ristretto, and latte.
So stick to a classic, business letter format of a cover letter header:
Start in the left upper corner.
Write your full name, mailing address and contact details, including phone number and email address.
Mention the date of writing the cover letter down under.
Address the recruiter by their full name, job title, email address, and list company details at the bottom.
Between the address and salutation, say which position you're chasing. Write: "RE:" followed by the position name and number.
Pro Tip: If you failed to find the recruiter's name, call the place and ask. But get prepared to reach precisely that person.
3. Brew the Cover Letter Opening
When your hiring manager reads your cover letter opening, they should feel like coming home from vacation in Byron Bay—
Thrilled to see it again soon.
Make them come back to you, then, by sticking to the below advice:
Greet your hiring manager with "Dear Ms/Mr" and their last name. If you fail to find it, just go with "Dear Hiring Manager."
Open the cover letter with a relevant accomplishment that immediately brings your competition to its knees.
Drop names and tell who introduced you to the job offer.
Already use a few keywords from the job description to show you know your stuff.
4. Filter Your Experience and Skills
For the middle paragraphs, pick relevant experience and skills as if you were filtering coffee. Everything matters—how long you brewed the skills, how big they grew, and how well they're roasted.
Once you're done, aero-press your biggest achievements into the cover letter body.
Check the points below to extract the most flavour out of it:
Recruiters read cover letters first, so they know it's only an introduction to your job application. That's why you shouldn't copy and paste your entire resume into it.
Choose one of your most significant achievements and describe them in more detail. Give your recruiter insight into what you did, how, and your logic behind that.
Make it relevant. Your barista cover letter should refer to qualifications and qualities your employer seeks in a candidate. Everything you need to know is in the job description.
If you're writing a cover letter for a barista with no experience, show off your transferable skills and any relevant experience you gained before applying. You didn't have to work in a coffee shop to be considered fit.
Prove that you have the skillset to solve the company's problems.
One or two paragraphs are more than enough.
5. Top Your Cover Letter With a Benefit-Froth
Your favourite coffee shop serves locally sourced blends, baked goods, and their caffeinated brewing is sick.
That's the place you see yourself working at.
I don't see why not!
Tell your recruiter all the reasons behind your application. They need to know you'll put your heart into every order.
Say why the company appeals to you by referring to their values or a mission statement.
Comment on their culture, atmosphere, or events.
Perhaps you took part in one of their brewing workshops? Tell them!
6. Pour a Call to Action
In the last but one paragraph, you need to shout, "Let's have an interview!" like a Starbucks barista calling to pick up orders.
Here's what you need to do:
Drop the idea to write, "I look forward to hearing from you." There are better ways to say you want the job.
Ask them to schedule an interview with you soon, and mention briefly what you want to discuss.
Reinforce your motivation by using a positive tone and language.
7. Sign-Off With Latte Art
Cappuccino, latte, or flat white—no matter which one you choose, the cloudy foam is there.
If you sign off with "Yours sincerely" and your full name, you'll achieve a similar, heavenly result.
The last thing, though, enclose every document you attach to the cover letter, e.g., barista resume, reference letters, or application form.
But this is it!
Your barista cover letter is ready to be sent.
Plus, a great cover letter that matches your CV will give you an advantage over other candidates. You can write it in our cover letter builder here. Here's what it may look like: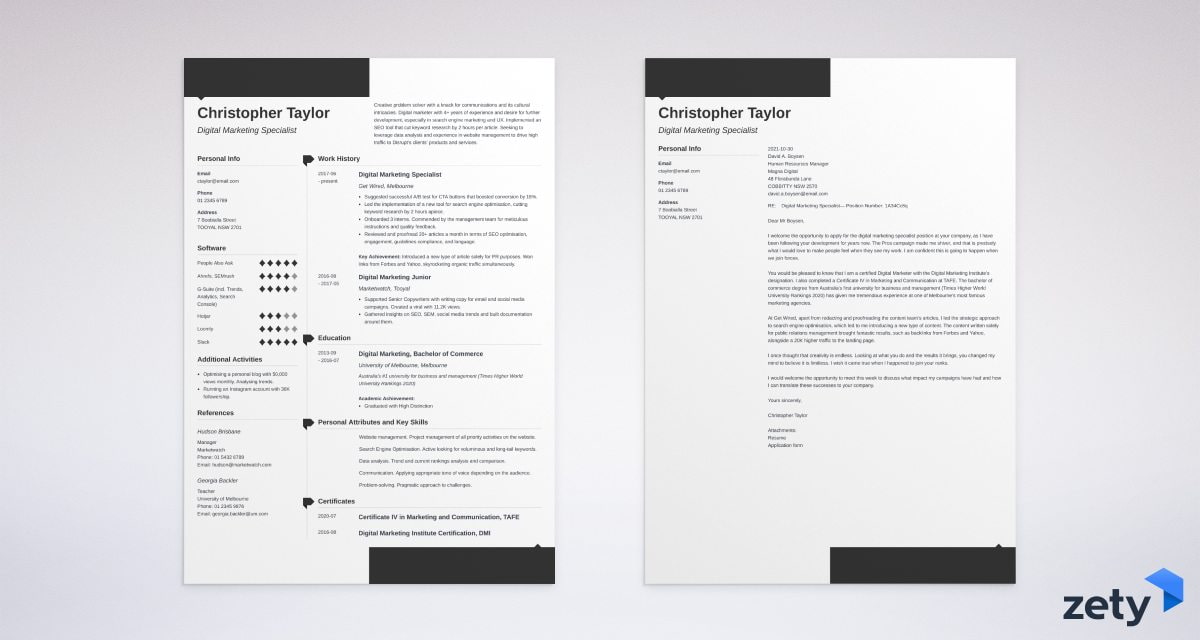 See more cover letter templates and start writing.
Thanks for reading!
What do you think of this barista cover letter sample? Do you feel any tips for a barista cover letter with no experience are missing? Is writing a cover letter for a barista difficult? In what way?
Let us know in the comments below!