Our customers have been hired by:
You need a great event planner cover letter, because you want to keep bringing people happiness and making sure their important moments are remembered. It might look effortless from aside, but you know better than anyone that it takes meticulous planning and precision.
If you want your event planning cover letter to help you get gigs, it has to be just as well-thought-out. Luckily, we have the master list of tips to get it right!
This guide will show you an event planner cover letter example, along with step-by-step instructions for writing a cover letter for an event planner that truly shines.
Want to write your cover letter fast? Use our cover letter builder. Choose from 20+ professional cover letter templates that match your resume. See actionable examples and get expert tips along the way.
Sample cover letter for a resume—See more cover letter examples and create your cover letter here.
Not what you're looking for? Try these:
Event Planner Cover Letter Example
Suzanne Long
Event Planner
2384 Joes Road
Albany, NY 12207
518-723-7331
suzanne.long@email.com
linkedin.com/in/suzlong
www.suzannelongevents.com
Albany, 7/12/2022
Ms. Jennifer Vincent
Head of Human Resources
The Polka Dot
4885 Bingamon Branch Road
Fishkill, NY 12525
Dear Jennifer,
I'm willing to join The Polka Dot as Head of Event Planning, and I'm convinced that my expertise fits right into the scope of this position. When Jennifer Coolidge, Head of Marketing at Polka, reached out to me about the opening, I instantly had an array of ideas on what I could bring to the table.
I've been in the industry for over 5 years, eventually narrowing my focus and stepping into artisanal, one-of-a-kind events. If you can imagine it, I can make it happen. With a strong web of trusted, proven partners and contractors, I can satisfy the most exquisite desires and tastes—fast and within budget. I'm known for my can-do attitude and never settle for just "good"—it's the best or nothing. AD magazine featured three events I organized.
Having read about the philosophy behind The Polka Dot, I know that we share the same values.
I'm willing to jump on a call or meet for lunch to discuss the concepts for future events I have in mind and see if our collaboration could be a new era of Polka Dot excellence.
Sincerely,
Suzanne Long
suzanne.long@email.com
518-723-7331
www.suzannelongevents.com
This is a great example of a cover letter for an event planner that you can use as a basis for yours. Follow our advice below to find out how to write one just like this.
Event Planning Cover Letter Template
To write an engaging event planner cover letter, follow these tips:
1. Follow the Correct Format of Your Cover Letter for Event Planner
Even if you organize a celebration well, it'll still not be a huge success unless it really impresses visually. The same applies to your cover letter for an event planner—the formatting is just as vital as the cover letter structure and layout. Here's how you get it right:
Start with a good font for your cover letter. Aim for good readability and a sleek look—12 pts in font size is appropriate.
Set cover letter margins and line spacing. The former should be 1" on all sides, the latter 1–1.15, and consistent throughout the document.
Use double-spacing between paragraphs. According to studies, this can make your event planning cover letter easier to follow and more legible.
Following these basic guidelines will give your cover letter a professional and coherent look.
Yet to write your resume? This guide will help: Event Planner Resume
2. Create a Header for Your Event Planner Cover Letter
As you start arranging your cover letter layout, begin with the header. This part located in the top left-hand corner of your letter is fairly easy to get right:
Add your name, desired job title, and current address.
Mention the phone number and email you can be reached by, plus your LinkedIn profile and other social media or websites, if applicable.
Follow by the city you're located in and the date of writing.
Finish with the addressee's contact details (name, title, and address).
If you're adding social media links, remember to check your presence online—it's common practice for recruiters to look you up during candidate screening.
Read more: Cover Letter Header Examples
3. Open Your Event Planning Cover Letter With a Personal Greeting and a Strong Introduction
First impressions matter. Just like you'd want the topic of your theme party to be instantly clear to everyone entering, the intention of your event planner cover letter should be just as obvious:
Address the client or the hiring manager by name. If you don't know the name, try finding it via LinkedIn or the company website. Alternatively, start with "Dear Hiring Manager."
Get straight to the point. Avoid clichés and placeholders (aim for optimal cover letter length), and start off with why you're a perfect candidate for the job. Focus on strengths and relevant experience.
Remember to write which position you're applying for and how you found out about it—this is the best place to mention if someone is referring you. There are studies showing people hired this way are most likely to be a better match for the company and to perform better, and employers are aware of that.
Spend time proofreading this part. An incorrect cover letter salutation (for example, misspelling the client's name) can eradicate all your efforts, so don't let seemingly minor errors undermine the effectiveness of your event planning cover letter.
Read more: Tips to Start Your Cover Letter Like a Pro
4. Hit Every Spot With Your Event Planner Cover Letter
No matter how great your vision for an event is, it's only a success if it matches the client's expectations. The same applies to your cover letter—you have to give the potential employer what they want:
Demonstrate how your relevant professional experience addresses the challenges the client is facing (according to the job description).
Convey that you're a solution to their needs, but don't repeat the ideas from your resume.
Focus on transferable skills if you're just starting out in the industry and writing an event planner cover letter for entry-level positions.
Expressing an understanding of the tasks the job entails (at least to some extent) and confidence that you can perform those well will definitely set you apart from other candidates.
Read more: Perfect Cover Letter (With Examples)
5. Reveal Your Motivations (Strategically)
Showing that you did research is another great way to "sell" yourself via a cover letter. It'll prove you're thorough and will give you bonus points by indicating that your application isn't generic:
Add a personal story—explain why you're drawn to the position in the first place.
Express why you admire the company culture or how its values correlate with yours.
Mention some projects the company or client has executed that you really liked.
All of those approaches will work great for an event planner cover letter with no experience.
Read more: What to Include in a Cover Letter?
6. Include a Compelling Call to Action to Your Event Coordinator Cover Letter
A good event planner has everything under control (okay, let's leave a tiny possibility for a Force Majeure, shall we). If your desired outcome is securing that interview, don't leave it to chance and apply one of our top-secret tips for cover letter success. Here are some ideas:
Propose a time for a phone call or meeting (i.e., be proactive and precise with your goals).
Suggest some simple concepts for potential collaboration, and express your willingness to share your thoughts and give more details during that call.
Adding an incentive for the client will make your event planning cover letter irresistible!
Read more: How to End Your Cover Letter
7. Close Your Event Planning Cover Letter Professionally
Time for wrap-up—just a couple more things to keep in mind:
Sign off with Sincerely,/Best regards, + your full name.
Reprise your email and phone number below.
Remember to rename your cover letter.
If you're adding any cover letter enclosures, mention them (and don't forget to attach the files).
Zety's resume builder will generate hundreds of server job descriptions as well as suggest bullet points, skills, and achievements. If that doesn't get your mouth watering, what will?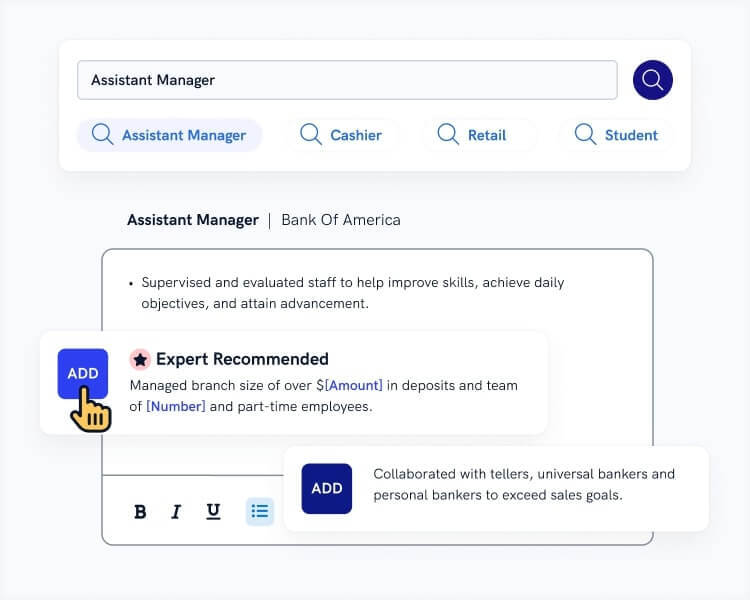 Create a resume with perfect job descriptions using the Zety resume maker now
Thanks for reading! Did you find our guide on writing an event planning cover letter helpful? Anything we should add? Let us know in the comments below!
About Zety's Editorial Process
This article has been reviewed by our editorial team to make sure it follows Zety's editorial guidelines. We're committed to sharing our expertise and giving you trustworthy career advice tailored to your needs. High-quality content is what brings over 40 million readers to our site every year. But we don't stop there. Our team conducts original research to understand the job market better, and we pride ourselves on being quoted by top universities and prime media outlets from around the world.
Sources