Cover Letter For Menards: Application Example and Guide
Ready to help people make some home improvements? Well, first, you might want to improve your job application. Let's start with your cover letter for Menards!
In many ways helping people improve their houses is like helping them improve their lives.But before you commit to that, there's your own special project worth improving—your cover letter for Menards.
Stop looking for a specialist to help you gather all the necessary materials. Everything you need is here. Let's get to work because you might be wearing that blue vest sooner than you think!
This guide will show you a cover letter example for Menards, plus the best tips on how to write a Menards cover letter step-by-step.
Want to write your cover letter fast? Use our cover letter builder. Choose from 20+ professional cover letter templates that match your resume. See actionable examples and get expert tips along the way.
Sample cover letter for a resume—See more cover letter examples and create your cover letter here.
Considering similar jobs? See more cover letter examples for other positions in your industry:
Want to explore your options even further? Check out our full selection of cover letter examples: Professional Cover Letter Examples to Apply for a Job in 2023
Now let's have a look at a great example of a cover letter for Menards:
Cover Letter for Menards Example
Patrick Powell
Retail Manager
2536 Mifflin Street
Madison, WI 53558
545-345-9374
pat_powell@gmail.com
Madison, 01/13/2023
Maurice Carrey
Hiring Manager
Menards
430 Commerce Drive
Madison, WI 53719
Dear Mr Carrey,
I was thrilled to hear that a Menards Store Manager position is opening in my hometown Madison, WI. During the first half of the year as a store manager at Home Depot, I increased the profit by 15%through a thorough departmental spending review and introducing an improved system for measuring demand. I firmly believe my 5+ years of experience can help achieve even bigger growth at Menards.
During my career as a store manager, I was a dedicated leader who adapted practices and policies to constantly-changing circumstances. Being able to quickly adjust how the in-store team operated and shore up our store's financial defenses during the first wave of COVID-19 pandemics has helped us increase profits by 10%. With my help, the store could successfully switch from operating with ten associates and two supervisors per shift to five associates and one supervisor. It also helped cut down payroll expenses by 17%.
Working at Menards seems like a dream come true, as I strongly believe in delivering the highest quality in a place that I myself choose to visit over other home improvement retail companies. As a retail veteran who believes the business needs to emphasize a friendly work environment, I am constantly impressed with Menards. Being part of an employee-friendly company that's more and more profitable is truly amazing.
I would love to have the opportunity to discuss how I would identify and increase the KPIs while making sure the employees' satisfaction is still at a sky-high level. My experience combined with Menards' quality of service would result in being even further ahead of the competitors as Wisconsin's #1 in the home improvement industry! Would you be willing to have this meeting at your HQ and discuss my candidacy further? Perhaps next Wednesday, 10 a.m.?
Best regards,
Patrick Powell
Retail Manager
545-345-9374
pat_powell@gmail.com
That's one way to write a cover letter for Menards. Now let's focus on yours!
Pro tip: Knowing how to make a perfect cover letter is handy. But you might also want to learn how to make a resume that will go with it!
1. Select the Perfect Template for Cover Letter for Menards
Think about creating your cover letter as you'd think about any renovation work. What these two have in common is they need proper planning. And nothing helps with that better than a good checklist!
Cover Letter for Menards—Checklist
1. Your contact info in the cover letter header
2. Place and date of writing below the header
3. The addressee and company's info
4. Dear Ms/Mr + (recruiter's or hiring manager's name)
5. Paragraph #1: an opening line introduction + a great job-fitting achievement
6. Paragraph #2: your key skills + why you're the perfect fit for the job
7. Paragraph #3: your passion + the reason you want the job you're applying for
8. Paragraph #4: your Call To Action where you ask them for a meeting
9. Best regards + your name + your job title
10. Postscript. Add one more spectacular achievement that will impress the hiring manager
There are some more instructions you might want to follow before you start writing your cover letter. Following them will make your document more readable.
So that's the structure of your cover letter on which you can build a winning application.! Now let's get to it!
Make sure you address your cover letter properly! Read our guide: How to Address a Cover Letter
2. Create a Professional Cover Letter Heading
Did you know that according to the study, readers' attention is concentrated at the top and the left side of the page? That's why creating a proper header for your cover letter is so extremely important.
How to write a good cover letter header?
List your name, exact job title, and contact information in the top left corner.
Think about including a link to your LinkedIn profile. Your online presence is one of the first things recruiters check!
Add the city and date.
Write the addressee's details (name, title, address).
Now that you have your header ready, it's time for some serious writing. And starting with a personal greeting and a compelling first paragraph is how we want to do that.
Pro tip: For this project, a cover letter might not be enough. What you need is a resume template that will make your application shine even brighter!
3. Begin Your Cover Letter For Menards Firmly
You want to start your cover letter with a bang to grab your future employer's attention better than an evergreen one-liner. (The "Save Big Money at Menards" jingle has been stuck in our heads since the early 80s!) There are some simple tips on how to do that.
Here's how to start a cover letter for Menards:
Try avoiding the "To Whom It May Concern" line. It might be difficult in a big company, such as Menards, but there are other examples of great cover letter salutations.
Engage with your reader from the start. Include some information about Menards as a company, and tell them what position you're interested in and why.
Demonstrate you're excited about the possibility at Menards. This is a good moment to prove that you're interested in working for that specific company.
Highlight your most relevant achievements. That will make the hiring person see you as an adequate candidate for the job.
Opening's ready. But there's more! Show you're exactly who Menards needs for company improvement!
If you want to write a short cover letter for Menards, read this article: How to Write a Short Cover Letter
4. Prove You're the Candidate the Company Needs in Your Cover Letter for Menards
Demonstrating you're a perfect fit is what the cover letter is really all about! But listing your experience is not enough even for your resume, so it's definitely not enough for a great cover letter. The hiring manager at Menards surely wants to see more than that.
How to write a great middle for your cover letter for Menards?
Demonstrate how your professional experience can be beneficial to Menards.
Mention not only your achievements but also some of the relevant skills that you think will convince the hiring manager of your candidacy.
Use quantifiable achievements whenever you can. Those numbers are undoubtedly something you want to include in your cover letter, as they are proof of your accomplishments.
Now for the final touch, let's write a perfect ending for your cover letter for Menards.
5. Explain Why You Want This Specific Job in Your Cover Letter for Menards
You want to work at Menards, not The Home Depot, Ace Hardware, or Lowe's Home Improvement. So go and visit Menards' website and look for its mission and vision. They'll help you find reasons why you want to work for them and no one else. Talking about your future employer is how you distinguish your document from other generic cover letters!
How to end a cover letter for Menards?
Including a couple of genuine compliments towards Menards to indicate that you value them as a brand and you want to work for them. Think family values, customer happiness, and high quality of service.
Show that you have some knowledge about Menards' culture and the challenges of the industry. Explain how you'd bring value to the company by addressing these issues.
Tell them that you're interested in that very position at Menards, not just in any other company. That's what a cover letter should say because that's how you show you're passionate and might work for them for a long time!
You might think all it takes now is a signature and hitting the "Send" button. But let's make a bold move, shall we? Just like John Menard did after graduating from college and purchasing a piece of land where he placed a small office and shop on the Eau Claire site (some history here!).
Pro tip: Check Menards' social media. It's a good source of some extra information that can be used in a cover letter!
6. Finish Your Cover Letter for Menards With a Call to Action
What might surprise you, a call to action is one of the parts of a cover letter you want to include. Seems like a bold move, perhaps even stepping out of a line a bit, but that's how you should do it. Requesting an interview instead of depending on your employer to take action is a great idea to end a cover letter with.
How to add a call to action to your cover letter?
Ask for a call or a meeting and suggest a time.
Repeat how valuable you could be—make an offer or give them a promise of what you can deliver during an interview itself!
Seems like everything's done and ready to go. The last step would be a sign-off. So let's have a quick look at that too!
Looking for some more inspiration on how to finish your cover letter? Read our guide: Great Cover Letter Closing Paragraph Examples
7. Close Your Cover Letter for Menards With a Professional Sign-Off
Not much to improve now. Your cover letter is nearly done, and all you need to do now is to sign it off. And that's the easiest yet quite important part!
How to sign off your cover letter?
Sign off with your full name, job position, and contact details. Repeat them from the header to be sure your recruiter can contact you right away after reading your cover letter.
Add any cover letter enclosures that might be required or valuable. Use one line for each individual enclosed document.
Name your cover letter with a professional cover letter title.
Your cover letter seems as well-stocked with what your job application needs, as Menards stores are with everything a home needs. So that's a nice fit, isn't it?
When making a resume in our builder, drag & drop bullet points, skills, and auto-fill the boring stuff. Spell check? Check. Start building a professional resume template here for free.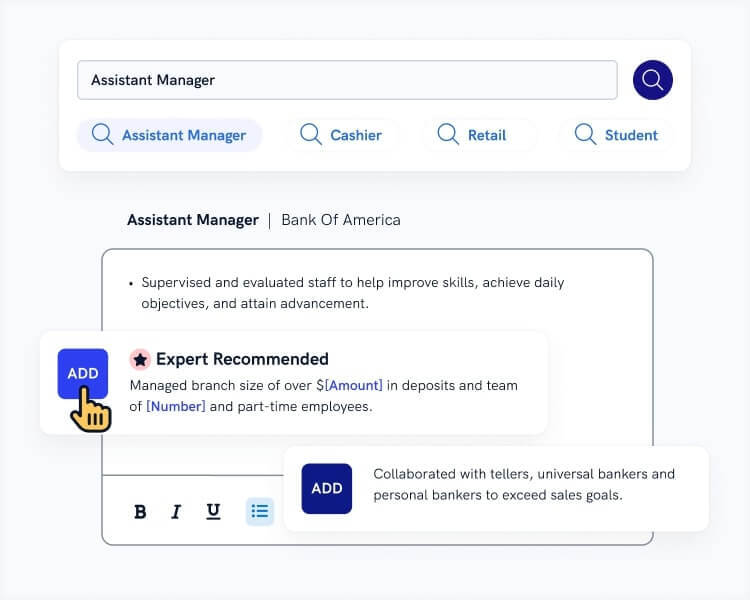 When you're done, Zety's resume builder will score your resume and tell you exactly how to make it better.
Thanks for reading! Hope our guide will help you land that job at Menards! Is there anything else we can help you with? Let us know in the comments below!
About Zety's Editorial Process
This article has been reviewed by our editorial team to make sure it follows Zety's editorial guidelines. We're committed to sharing our expertise and giving you trustworthy career advice tailored to your needs. High-quality content is what brings over 40 million readers to our site every year. But we don't stop there. Our team conducts original research to understand the job market better, and we pride ourselves on being quoted by top universities and prime media outlets from around the world.